10 Dishes Cooked in Batter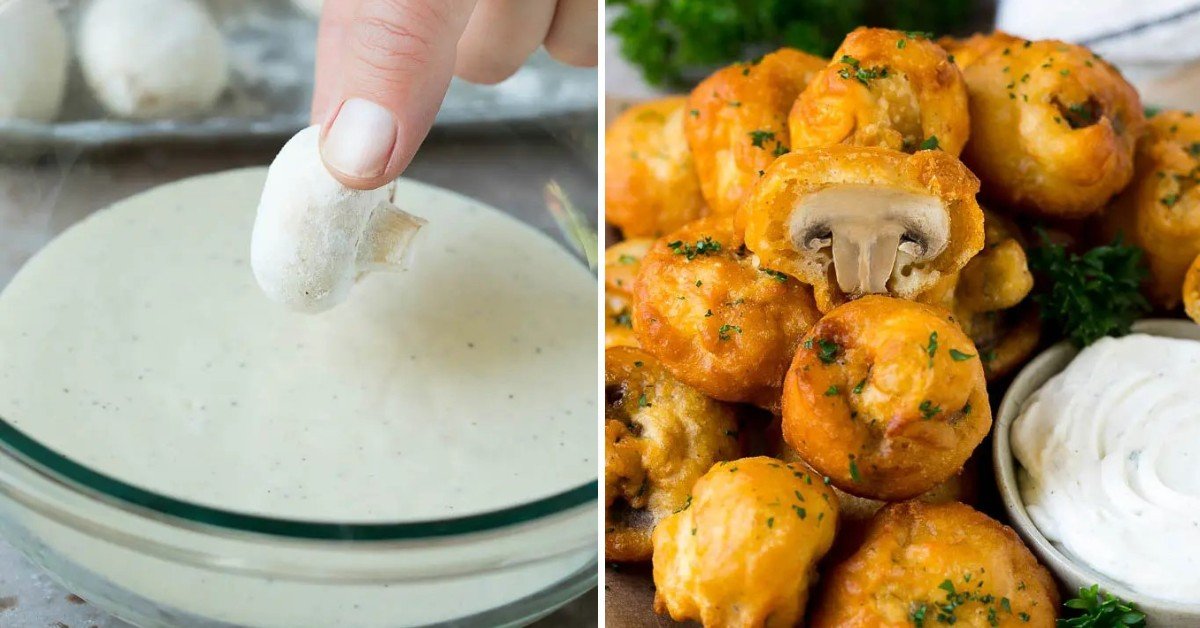 AftLike many sophisticated things in cooking, batter, as we know it today, was invented by the French. Regardless of how crisp or soft, you can cook anything in it, not just pork chops or pieces of fish. Moreover, although batter principally consists of eggs and flour, there are many different ways to prepare it. Cook It will gladly share a few unusual recipes for dishes cooked in batter.
A golden coat of batter provides satiety and tenderness. If you mix it using sparkling water, you get a crispy crust. Don't forget: meat is not the only product to fry in batter — battered vegetables and fruits taste magnificent as well.
How to Cook in Batter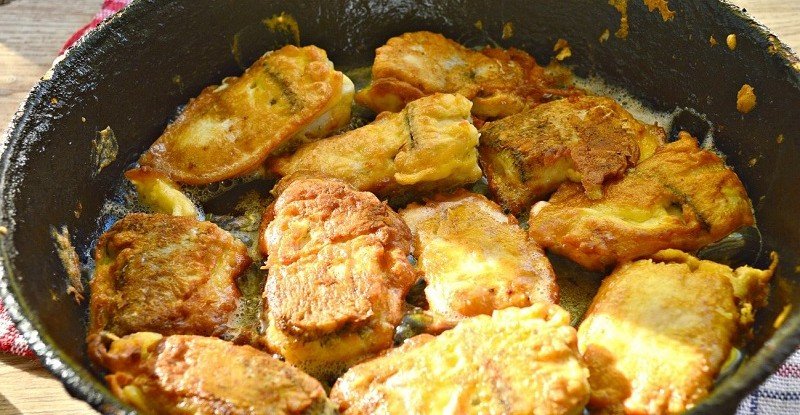 Cauliflower in Beer Batter
Traditionally, beer batter is used for frying fish and meat, but, of course, these are not the only alternatives. Firstly, beer batter has a bittersweet and intense taste. Secondly, gas gives it an airy and crispy texture.
Battered cauliflower turns out airy, does not absorb a lot of oil and does not burn when frying.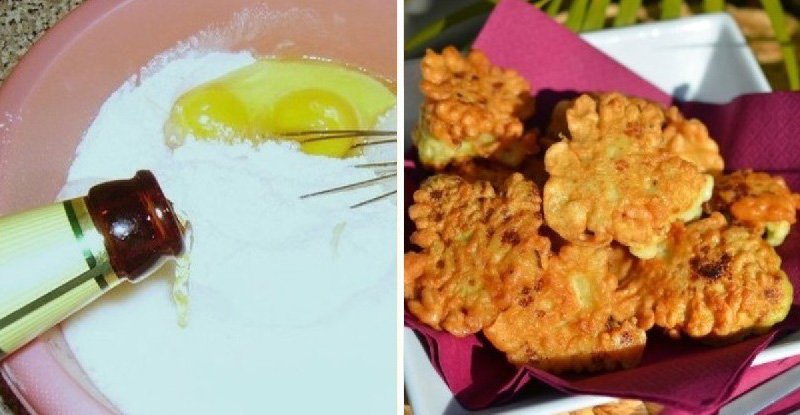 Ingredients:
1 cauliflower
1 egg
1 tbsp lemon juice
5 oz (140 g) wheat flour
4 ¼ fl oz (125 ml) light beer
3 ⅓ fl oz (100 ml) sunflower oil
Salt, pepper to taste
Instructions:
Beat the egg, flour, and beer with a whisk, season with salt and pepper. Wash cauliflower and divide into florets.
Boil salted water and cook the florets for 5–7 minutes. Tip the contents of the pan into a colander to drain. Put the cauliflower in a bowl and sprinkle with lemon juice. Let cool.

Pour half an inch of vegetable oil into the pan and turn on the heat. Roll cauliflower florets in batter and dip in hot oil. After that, fry until golden brown on all sides.
Put fried cauliflower on a napkin or paper towel to remove excess fat.
Chicken Fillet in Batter
The restaurant dish, which bears the French name "Francese", can often be found on the menu of Italian establishments. Most likely, it was named after the sauce beloved by the French. Without it, "Francese" would be an ordinary chicken fried steak! We strongly recommend that you cook the battered chicken using this simple recipe.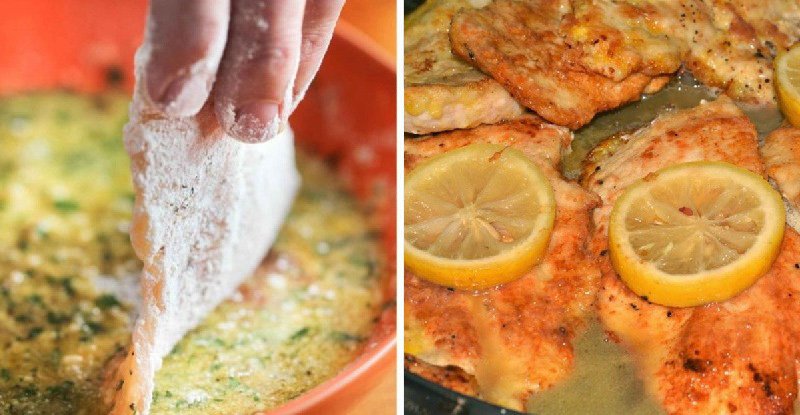 Ingredients:
1 lb (500 g) chicken breast
4 ⅔ oz (130 g) wheat flour
1 tsp garlic powder
4 eggs
2 tbsp Parmesan
4 tbsp olive oil
4 cloves garlic
5 fl oz (150 ml) dry white wine
4 tbsp parsley
4 tbsp butter
1 pinch ground red pepper
10 fl oz (300 ml) chicken broth
Salt, pepper to taste
Instructions:
Beat chicken fillet and cut into several pieces. Set aside.

Combine flour with salt, pepper, and garlic powder. Set aside 2 tablespoons of the dry mixture to use it in the preparation of the sauce later.
Mix eggs, grated Parmesan, half chopped parsley, pepper, and salt. First, dip each piece of chicken in the flour mixture, and then in the egg mixture.

Heat olive oil in a pan, add 2 tablespoons of butter to it. Fry the meat in the batter for 3 minutes on each side.
When all the meat is fried, add another 2 tablespoons of butter, chopped garlic cloves, and hot pepper to the pan with the remaining olive oil. Heat the mass over medium heat for 3 minutes. Add 2 tablespoons of flour; mix thoroughly. Fry for 2 minutes, add wine, chicken stock, lemon juice, salt and pepper. Remove from heat and let cool.

Before serving, top the meat with the sauce and garnish with parsley.
Tomatoes in Batter
A very satisfying recipe for tomatoes in batter! They alone are a good enough reason to throw a cozy family dinner (due to the thick batter with cheese). They are especially magnificent as appetizers; we recommend serving the golden circles with tartar sauce.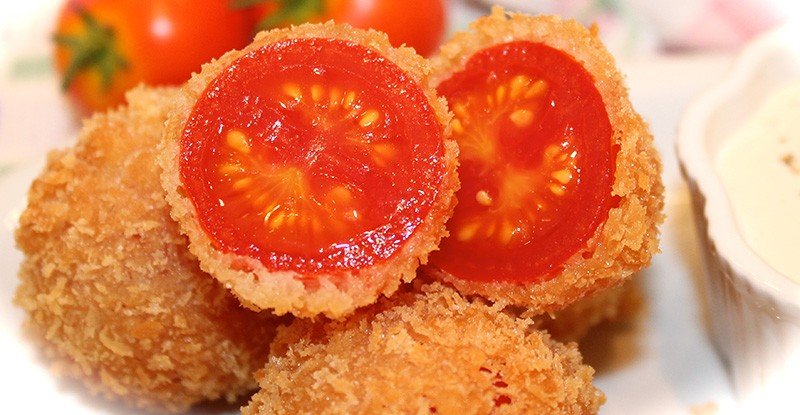 Ingredients:
5 ¼ oz (150 g) hard cheese
2 eggs
1 cup flour
Basil to taste
5 ¼ oz (150 g) tomatoes
2 tbsp sour cream
½ cup sunflower oil
Parsley to taste
Salt, pepper to taste
Instructions:
Batter: mix grated cheese with 2 tablespoons of flour, sour cream, basil. Add eggs, beat them, season with salt and pepper.
Cut tomatoes into circles. Pour the remaining flour onto a flat plate.

First, dip both sides of each circle in flour, then in batter.
Fry the tomatoes in sunflower oil on a heated frying pan until golden brown.

When tomatoes are ready, first place them on a paper towel, and then on a plate. Garnish with herbs.
Liver in Batter
In Bulgaria, they love liver and know how to cook it. The dish even has a name — drobcheta. To make it, they add brandy and nuts to the batter, thus giving the liver a distinct spiciness. The only fundamental condition to successfully making the dish is that the liver must be as fresh as possible.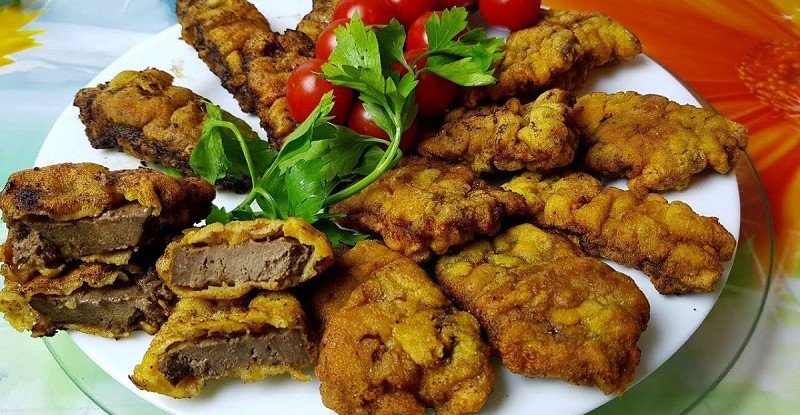 Ingredients:
1 lb (450 g) beef liver
5 ¼ oz (150 g) wheat flour
2 ½ oz (70 g) walnuts
2 eggs
3 tbsp cognac
Salt, pepper to taste
Instructions:
Firstly, make batter. Crush walnuts into small crumbs (the smaller, the better).
Beat eggs and mix them with the walnut powder, add cognac, salt and pepper to taste; mix thoroughly.

Gradually introduce flour, kneading a homogeneous batter without lumps.
Rinse liver, clean it of any vessels and skin and cut into medium-sized pieces. Season with salt and pepper to taste. Put a pan on the heat and add oil. Dip each piece into the batter, place all pieces in the pan, and fry for several minutes until golden brown. Then turn them over and fry for a couple more minutes. Done!
Mushrooms in Batter
When you cut the stem and fry the caps in a thick batter and breadcrumbs, you get mushroom croquettes — a snack that goes perfectly well with soft alcoholic beverages. Best served with sour cream sauce with herbs and garlic.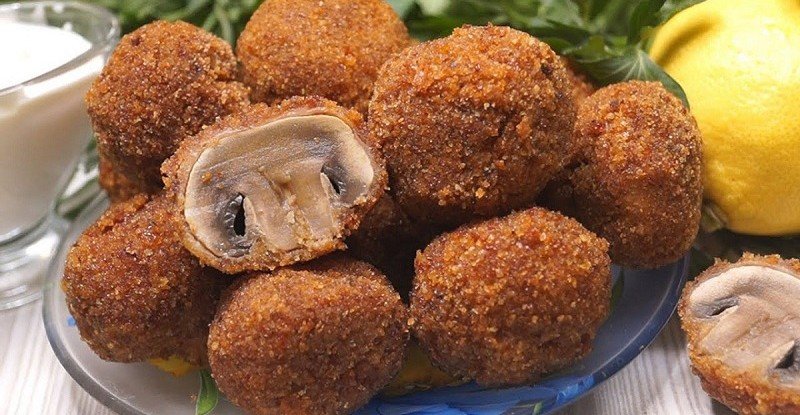 Ingredients:
7 oz (200 g) mushrooms
1 egg
1 ¾ oz (50 g) dried breadcrumbs
1 ¾ oz (50 g) wheat flour
Salt to taste
Instructions:
Wash mushrooms and cut the stems so that they are level with the caps. Cover them with boiling water and stir from time to time for 10 minutes.
Beat egg and add salt. First, roll each mushroom in flour, then in the egg, and finally, in breadcrumbs.

Heat a lot of oil in a saucepan, reduce heat, and fry several pieces of mushrooms for 5–6 minutes. Pat with paper towels.
Chicken Wings in Batter
Fast food culture is based on the combination of chicken and batter. The famous wings are even more delicious home-made. To give them sweetened flavor, add a little kvass or dark, sweet beer to the recipe. Use your preferred spices and choose a hotter sauce.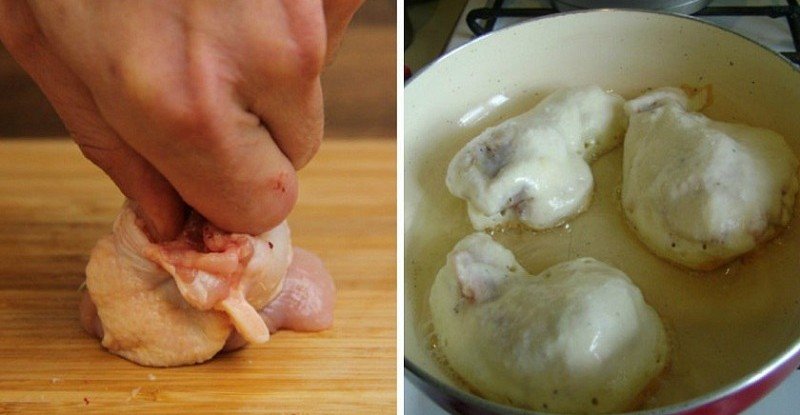 Ingredients:
6 chicken wings
3 eggs
1 ¾ oz (50 g) wheat flour
Salt, pepper to taste
Instructions:
In a deep bowl, beat eggs with salt and pepper, add flour, and mix everything until smooth.
Wash wings, cut them in half, add salt and pepper to taste.

Roll the wings in the batter and put in a pan with a lot of warmed sunflower oil.
Fry the wings on low heat on both sides until cooked.
Fish in Batter
It is impossible to imagine Japanese cuisine without this culinary classic. Sure, their seafood in tempura differs from our ordinary whitefish in a delicate shell. For the batter to obtain an airy texture, in our recipe, we beat the egg whites separately and use light beer.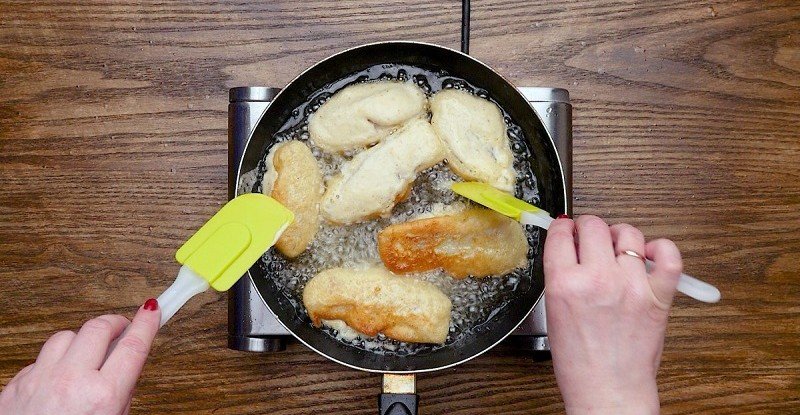 Ingredients:
5 ⅔ oz (160 g) wheat flour
½ tsp salt
2 egg yolks
1 lb (450 g) whitefish fillet
½ tsp curry
8 ½ fl oz (250 ml) light beer
2 egg whites
17 fl oz (500 ml) sunflower oil
Instructions:
Beat cooled egg whites with a pinch of salt until stable peaks.

Combine flour with salt and curry, then pour in beer and add yolks. Beat the mixture lightly with a mixer.
Defrost fish, pat dry with kitchen paper, cut into small pieces.

Heat oil in a pan. Dip each piece of fish in the batter and fry on both sides until golden brown.
Chicken Fillet Baked in Banana Batter
As we mentioned earlier, you can use different ingredients to make batter — even banana. Chicken tastes delicious with fruits, and this banana base will almost entirely replace flour. This chicken fillet is a very festive dish — the batter recipe calls for a glass of champagne.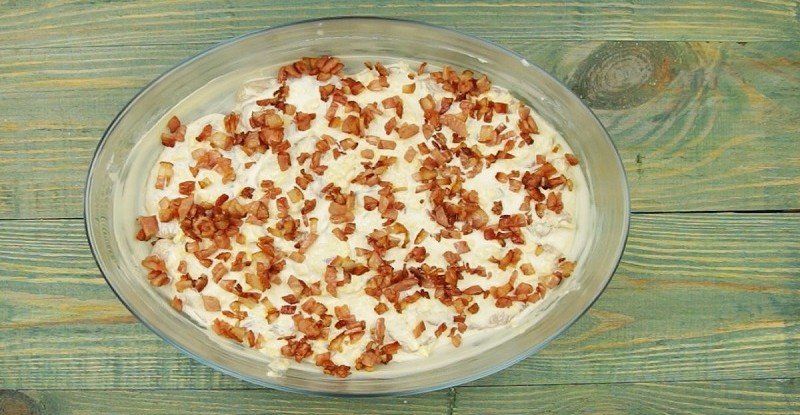 Ingredients:
1 ½ lb (600 g) chicken fillet
1 banana
3 ½ oz (100 g) hard cheese
1 ⅔ fl oz (50 ml) champagne
6 ¾ fl oz (200 ml) cream
1 tsp wheat flour
3 ½ oz (100 g) smoked bacon
Instructions:
Prepare chicken fillet (rinse, pat dry with a paper towel) and cut it into three-quarter-inch thick slices.
Dice bacon and fry it in a dry pan.

Peel banana, cut into large pieces, and place in a blender bowl. Add flour and cream and whisk.
Add finely grated cheese into the mixture and pour champagne.

Dip each piece of fillet in the cooked batter and place it on a baking dish greased with butter. Sprinkle the meat with fried bacon, and pour the remaining creamy banana mixture on top. Bake the dish for 10–15 minutes at a temperature of 360–290 °F.
Bananas in Batter
Desserts and batter? Yes, please! This dish is similar to sweet pancakes, only in a different form and with lots of filling. There are two options for making bananas in batter: cutting them into small pieces, after which they look like little donuts with filling, or rolling them in batter whole and frying them.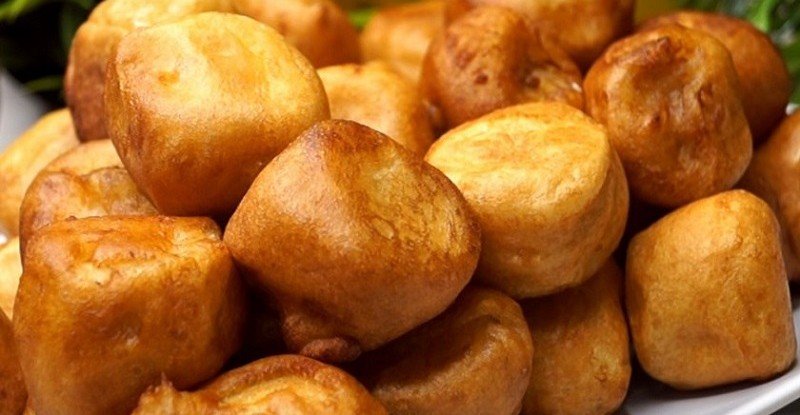 Ingredients:
4 bananas
3 ½ fl oz (100 ml) sparkling water
3 ½ oz (100 g) rice flour
5 fl oz (150 ml) sunflower oil
Powdered sugar to taste
Instructions:
In a deep bowl, mix rice flour with sparkling water and bring the mixture to a uniform consistency.
Peel bananas and cut each into three pieces. Then dip the slices in the batter so that it completely covers them.

Sauté the bananas in butter over medium heat until a pleasant golden crust appears. When they are done, put them on a paper towel to remove excess fat.
Apples in Batter
Many things can be sliced into rings and fried: squid, onions, apples. You can prepare a thick batter using kefir or use the standard apple batter recipe with a small amount of baking powder. You can fry apples in circles, rings, or slices, then sprinkle them with powdered sugar and serve with jam.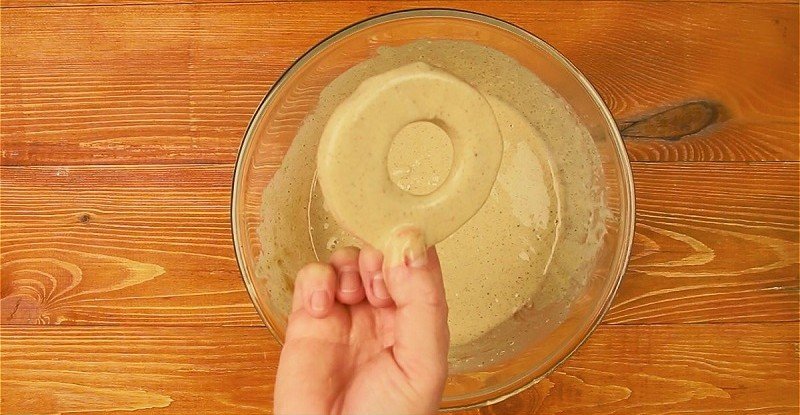 Ingredients:
1 egg
3 apples
1 tsp cinnamon
¼ tsp salt
1 cup wheat flour
2 tbsp sugar
1 cup cream
Instructions:
Slice apples into rings and remove the core using a knife.
Combine flour with sugar, cinnamon, baking powder, and salt.

Separately beat egg and add low-fat cream. After that, mix with dry ingredients until smooth.
Dip the apple slices into the mixture and fry in hot vegetable oil on both sides until golden.

Dry on a paper towel.
Serve with toppings, or roll in a mixture of sugar and cinnamon.
Meat and fish balance well with the flavor of malt, which is why beer is so often used to make a batter. Moreover, a few spoonfuls of strong liquor can and should be added to the batter to remove the taste of fat. These recipes make spectacular dishes, but we do recommend eating them fresh — the dough becomes soggy quickly, especially when stored in the refrigerator.