7 Delicious Ways to Make an Omelet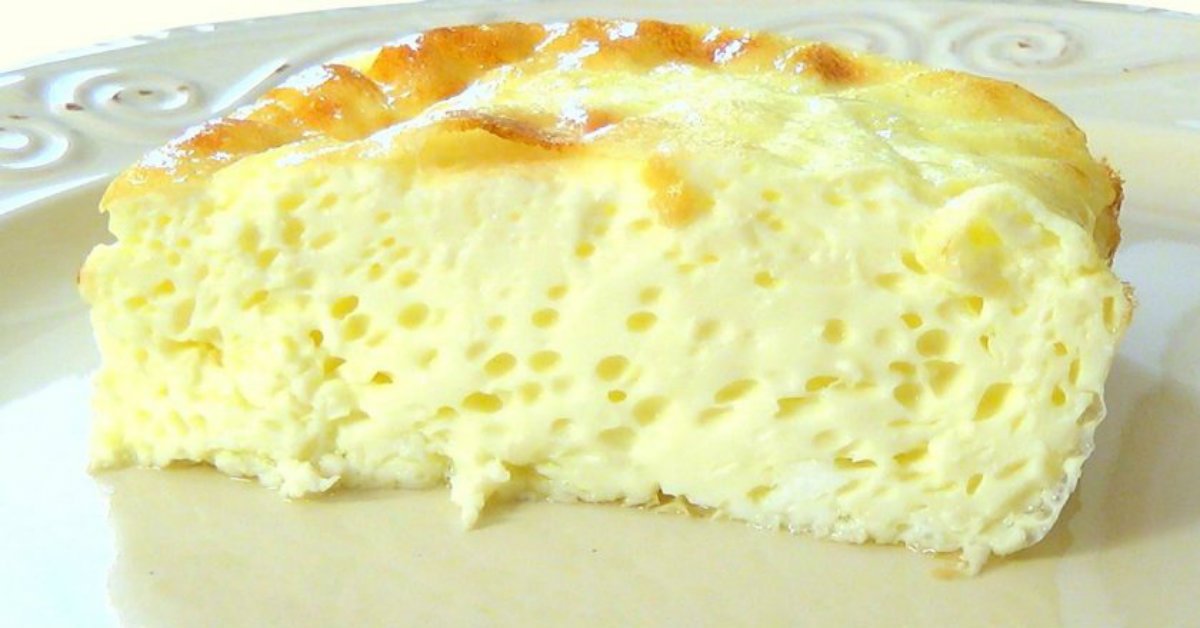 Have you ever wondered how many ways of making an omelet are there in the world? Well, we need to start with a hardball question. What country do you think is the homeland of an omelet? At first the answer seems obvious: majority of cooks thinks it's France. Yet eggs have been cooked this way long before the French. For example, ancient Romans loved to mix eggs with milk and honey. When the honey completely dissolved, the mixture was thoroughly seasoned with pepper and fried until tender. Well, if you look closely at the history of famous dishes, you can find variations of egg preparation even among the cave paintings. The modern version of the omelet is really from France though.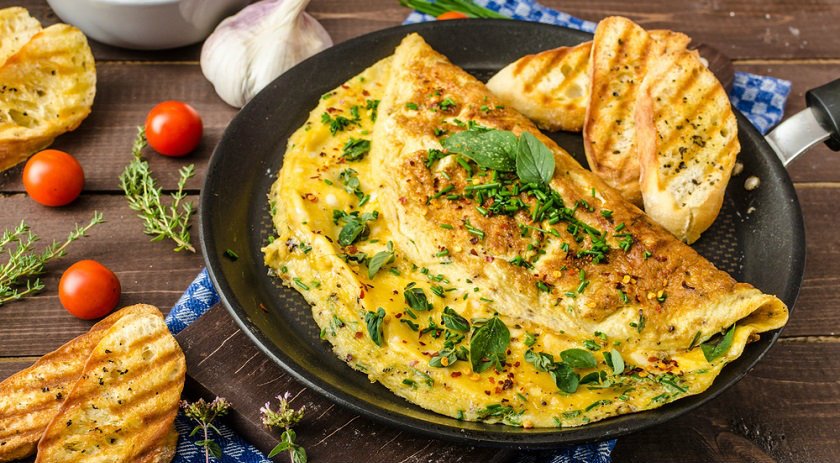 Proper french preparation of an omelet has its strict rules. This is the first recipe for any self-respecting cook to learn. You have to beat the eggs with a fork, and fry them only in a skillet and only with butter. And don't you dare to add anything else! At least, this is how the authentic omelet is prepared. But we are not French. We can beat eggs with a mixer, add our favorite spices and filling, fry in any cutlery we have at home. If you are ready to break the tradition in order to cook not just any beaten eggs, but a delicious omelet, here are some amazing recipes!
Fluffy Omelet With a Crust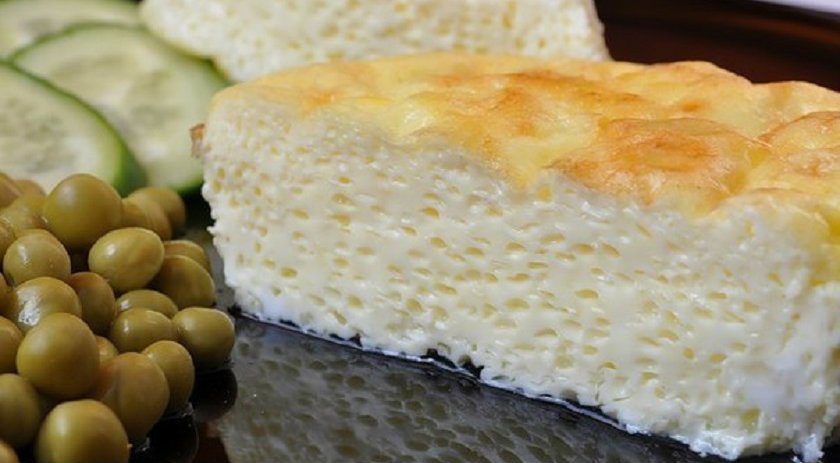 Light, fluffy texture with a golden crust… Once you've tried this recipe, it's the only way you'll be cooking an omelet. This one is so simple, that everyone can cook a magnificent meal for breakfast.
Ingredients:
4 eggs
⅔ cup (150 ml) milk
1 ½ tbsp butter
1 tsp vegetable oil
½ tsp salt
It would seem that the ingredients are very simple. But the secret is that you don't need to beat the eggs, just stir them. Then add milk and salt, stir again. Take a baking dish, grease it with vegetable oil, pour the mixture and put in the oven for 20 minutes to bake at 475 °F (250 °C). Noticed a golden crust? Feel free to remove the omelet from the oven. Top off with melted butter.
Ham and Cheese Omelet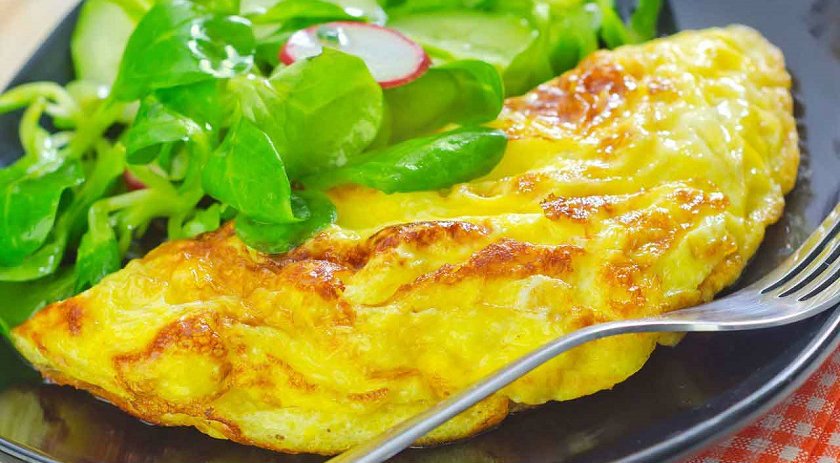 The meal looks quite unusual and resembles a calzone, mainly because it's folded in half. Many people love this omelet for its juiciness.
Ingredients:
2 eggs
3 tbsp milk
2 tbsp wheat flour
1 cup (100 g) hard cheese
a pinch of salt
1 tbsp vegetable oil
½ cup (75 g) ham
fresh herbs to taste
Preheat the milk. Beat the eggs in it and add salt. Gradually add flour. Set the mixture aside for a few minutes. Meanwhile, cut ham into small cubes, and grate cheese on a medium grater. Heat a frying pan with vegetable oil. Pour the egg mixture onto it. Fry the omelet on one side and flip over. Sprinkle grated cheese on the surface. Put sliced ​​ham on one half. Now fold the omelet in half. Fry until golden brown. Garnish with finely chopped herbs.
Potato Omelet
What we consider an unusual combination of ingredients is very common and loved in Spain. For a change, cook it in your own kitchen!
Ingredients:
4 potatoes
4 eggs
olive oil
1 onion
salt to taste
Peel potatoes and julienne them. Lay them on a paper towel to dry for just a couple of minutes. Peel an onion and cut it into thin circles. Heat olive oil in a pan and lay out the chopped potatoes and onions. Oil should cover the vegetables. Salt the potatoes and fry until tender, then drain the excess oil.
Beat eggs until smooth. Add the mixture to the vegetables and mix everything. Put the half-cooked omelet in the pan. Fry until the egg mixture has thickened. Fry on both sides. Simple as that!
Semolina Omelet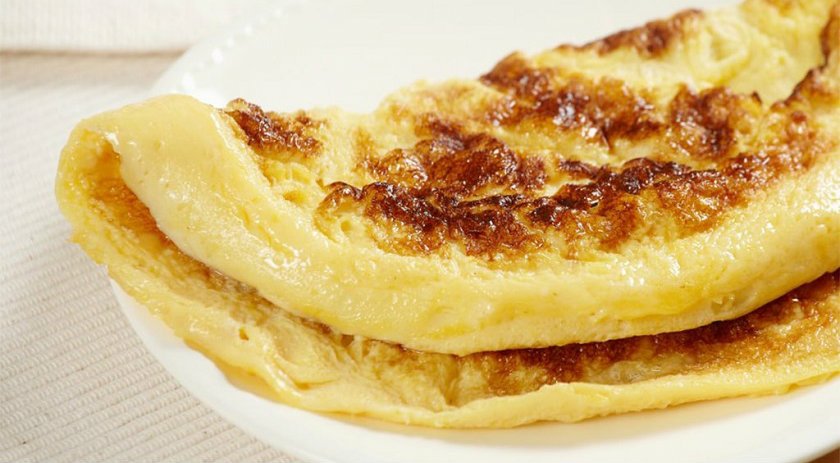 This unique sweet omelet with semolina is very popular with children. Adults are no exception though. Below is what you'll need for this recipe.
Ingredients:
2 eggs
½ cup (100 ml) milk
1 tbsp semolina
½ tbsp sugar
1 ¾ tbsp butter
Just stir the eggs. Don't beat them. Pour in the sugar, then pour in the milk and mix the ingredients again. Pour the semolina and beat the ingredients with a mixer. When the butter is melted in a pan, pour the mixture in it. Cover with a lid. Cook your breakfast for 10 minutes over medium heat. You can tell whether the omelet is fully cooked by its mat surface.
Ham and Tomato Omelet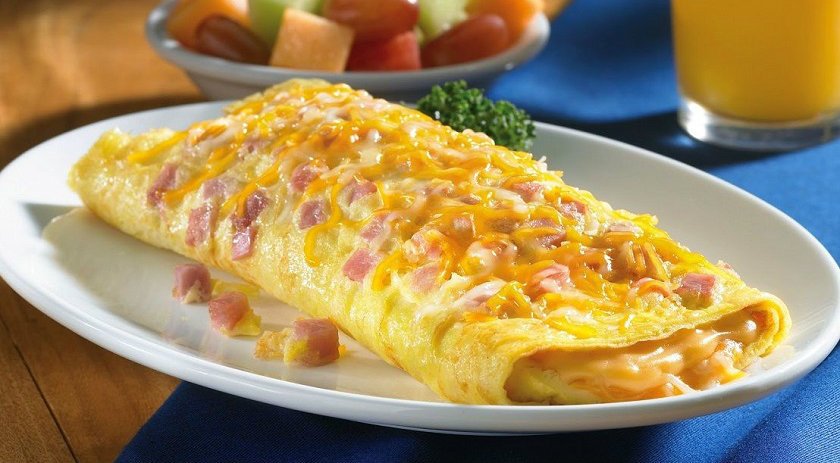 How about an omelet stuffed with vegetables? If you like the idea, this recipe is for you. Due to a special cooking method, the meal is very juicy and tasty. But don't be scared: in this case, "special" doesn't mean "difficult".
Ingredients:
4 eggs
2 tbsp milk
⅔ cup (100 g) ham
1 tomato
salt, pepper to taste
2 tbsp vegetable oil
Beat the eggs with a mixer, add pepper and salt. Dice the tomato. Do the same with ham. Pour about ⅔ of the mixture into a preheated pan. Fry until the top has set. Put tomatoes and ham on the omelet. Now roll up the omelet right in the pan. Move the roll to the center of the pan. Gently pour the rest of the egg mixture. Wait for 1 minute. When it's fried, roll up the omelet again. The filling will remain juicy, because it's inside. If you like hard cheese, you can add it to the filling. It will be even tastier!
Seafood Omelet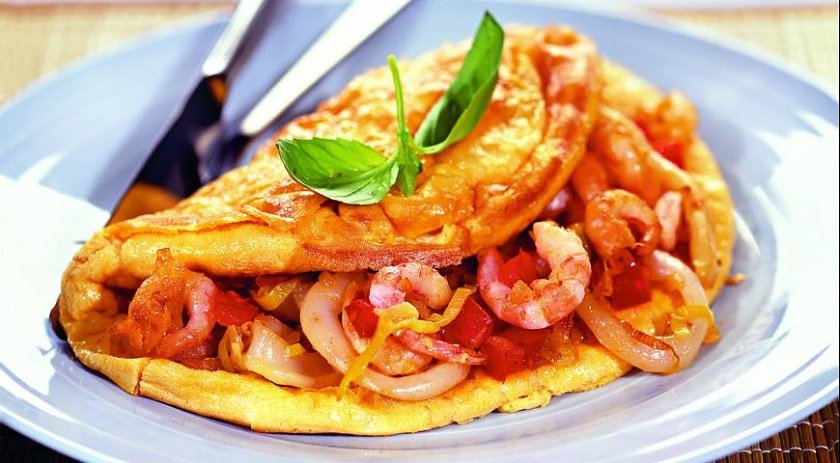 This is not a common option, but rather an unusual one. The ingredients are not the most accessible as well. But that doesn't mean you can't cook and serve such breakfast once in a while.
Ingredients:
2 eggs
1 bell pepper
3 ½ tbsp milk
2 oz (50 g) squid
2 pinches of salt
1 oz (25 g) peeled shrimp
1 oz (25 g) mussels
1 tbsp vegetable oil
1 clove of garlic
parsley to taste
Defrost cooked shrimp. Do the same with mussels. Slice the squid. Cut peeled garlic into thin slices. Deseed a bell pepper, cut into cubes. When the vegetable oil has warmed up, fry all seafood with garlic for 2 minutes. Do not be afraid to fry over high heat. Then add pepper to the pan and fry for another 30 seconds. Pour the ingredients into a bowl.
Beat the egg and milk mixture with a mixer and salt it. Pour into a still hot pan. Fry over medium heat until the scrambled eggs become thick. Sprinkle seafood onto one half of the omelet, and cover with the second one. Turn off the heat and wait a couple of minutes. Omelet is ready. Garnish with parsley.
Omelet With Pickles and Sausage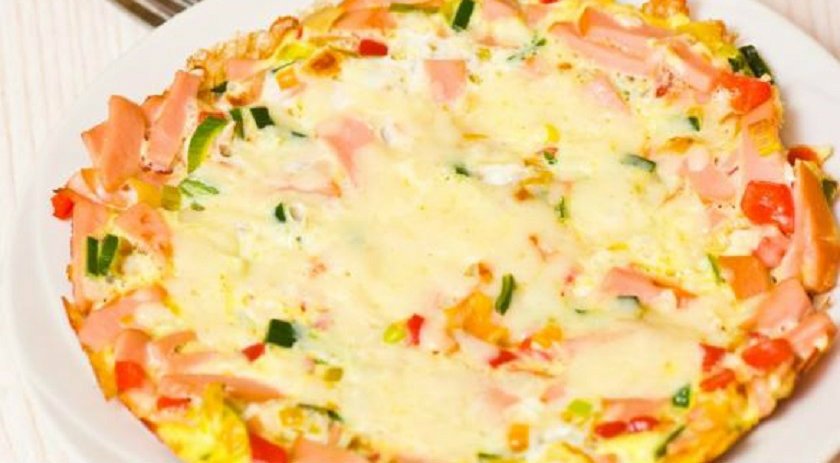 It is a very pungent and tasty omelet due to a rather unconventional ingredient — pickles. If you like unusual combinations, feel free to try this recipe!
Ingredients:
4 eggs
1 ½ cup (375 ml) milk
2 pickled cucumbers
16 oz (450 g) bologna sausage
spices to taste
fresh herbs
Combine the milk, eggs and salt. Dice the cucumbers and sausage. Add chopped foods to the egg mixture and stir. Finely chop the herbs. Add it to the mixture along with your favorite spices. Mix and fry in a preheated pan. Fry on both sides until cooked.
Delicious, fluffy, tender and melting in the mouth — this is how you can describe a perfect omelet. Of course, we have no doubt that ones you prepared to this day were also great. But there's always a way to do something better!