Make-Ahead Christmas Dinner Ideas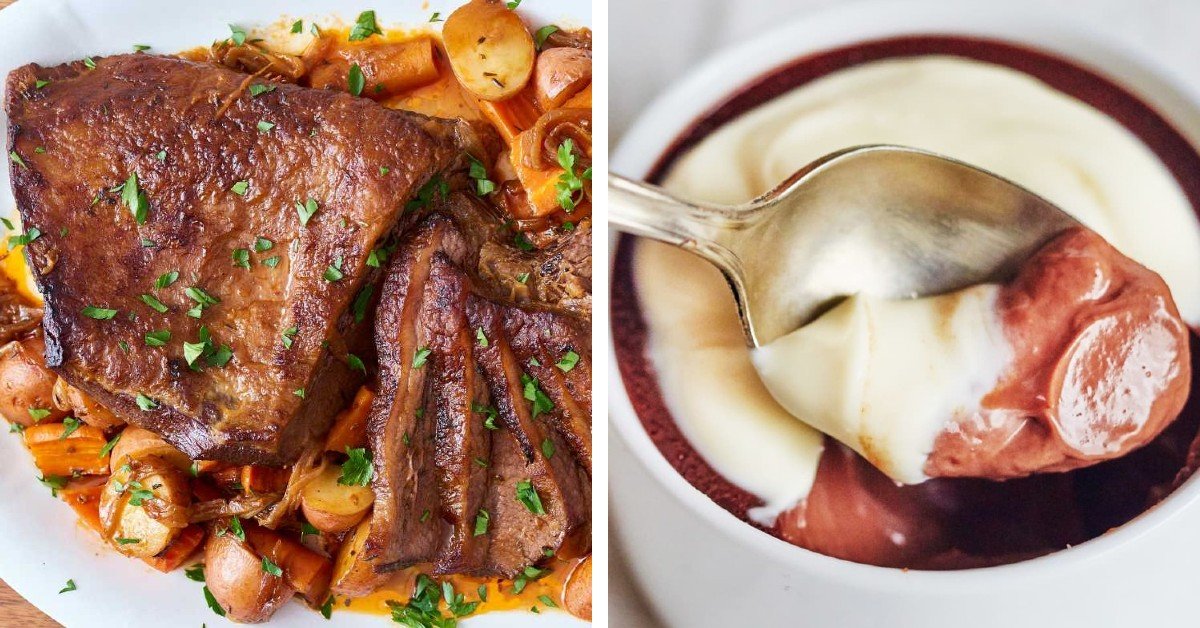 No matter how much thought goes into planning and narrowing down ideas for your Christmas dinner, the holiday does tend to get away from you. Having snowball fights, building snow creatures, sledding, spending time with your loved ones, and taking pictures is a pretty busy agenda as it is. When you add cooking a festive meal to it, it may get overwhelming.
One approach that might make things more relaxed is to start cooking Christmas dinner a couple of days in advance. It may look like only getting a head start with the main course or dessert, or perhaps you fancy getting the whole holiday meal ready ahead of time. From the appetizers to the main course to the sides and dessert, today, Cook It is super excited to share 8 make-ahead Christmas dinner ideas — two from each category. Without further ado, let's dive in!
Christmas Dinner Appetizer Ideas
Fresh Vegetables With Cumin-Lime Yogurt Dip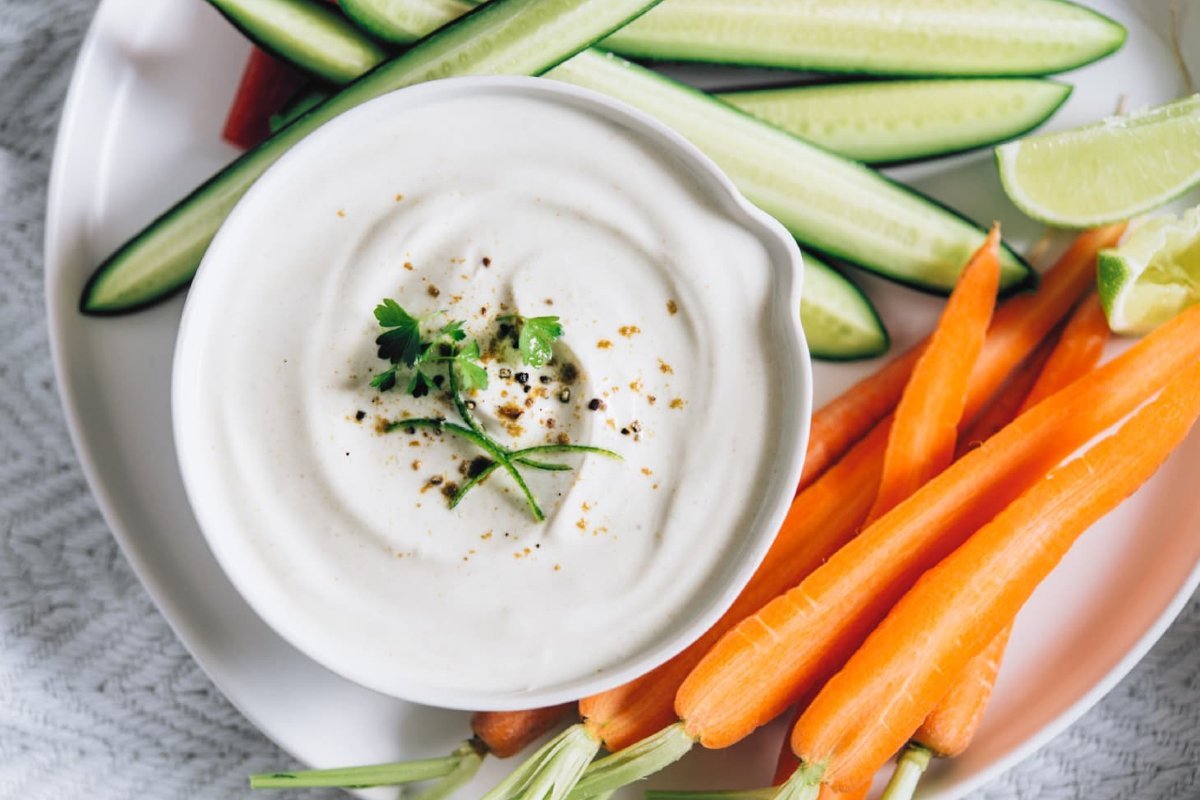 Ingredients:
2 cups plain Greek yogurt
1 tsp finely grated lime zest
juice from 1 lime
1 ½ tsp ground cumin
½ tsp kosher salt
assorted cut fresh vegetables
Instructions:
Combine yogurt, lime zest, lime juice, cumin, and salt in a bowl and mix thoroughly.
Wash, peel and cut vegetables into large chunks.
Just before serving, drizzle the cut vegetables with some more lime juice. Serve with the dip.
Beet-Pickled Deviled Eggs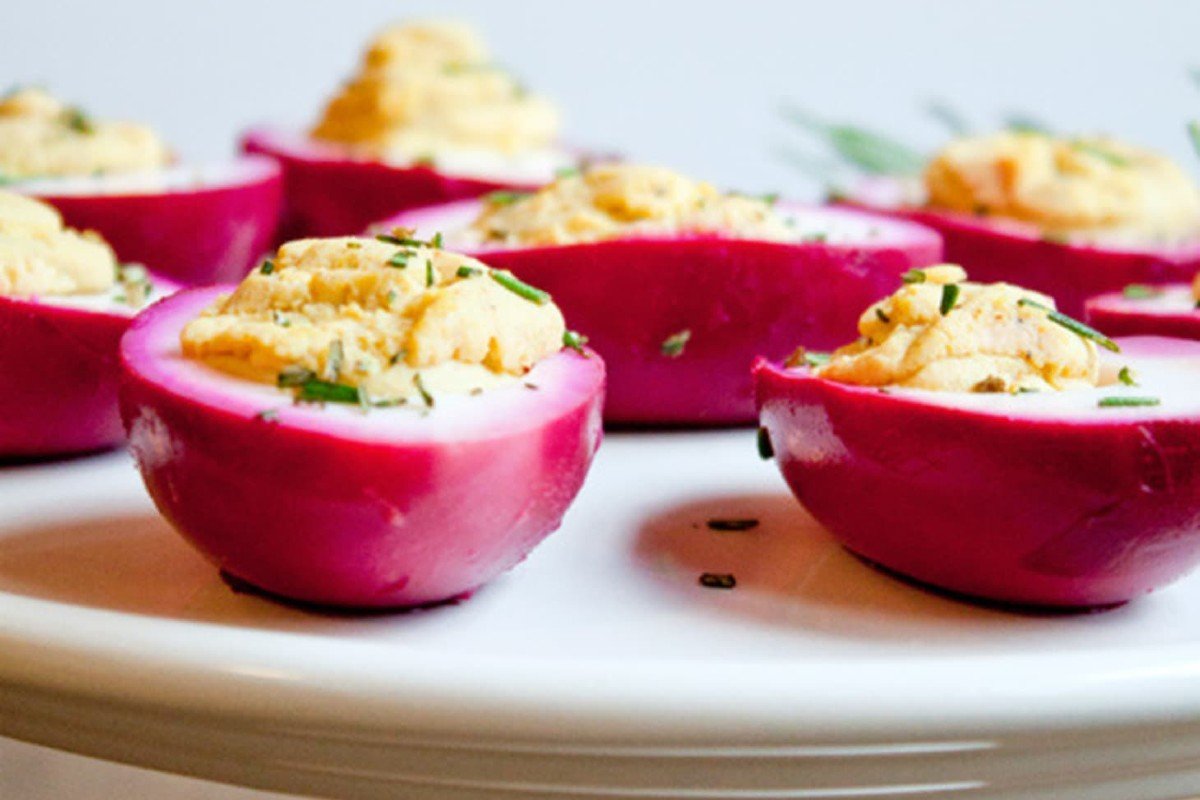 Ingredients:
6 eggs
1 can pickled beets
1 cup apple cider vinegar
⅓ cup brown sugar
1 tbsp whole peppercorns
1 tsp salt
2 tbsp olive oil
1 tbsp mayonnaise
1 tbsp distilled white vinegar
½ tsp curry powder
1 tsp Dijon mustard
ground black pepper to taste
fresh rosemary leaves to taste
Instructions:
Hard-boil and shell eggs; set aside.
To prepare the brine, transfer the contents of the can of pickled beets into a deep bowl. Stir in cider vinegar, sugar, peppercorns, and salt.
Place the eggs into the brine, cover, and refrigerate for at least 12 hours or up to 3 days. The longer the eggs sit in the brine, the more sour and pink they will become.

Once the time is up, remove the eggs from the brine. Cut each egg in half from top to bottom and scoop out the yolks, placing them in a bowl. Stir in olive oil, mayonnaise, white vinegar, mustard, curry powder, and mix until smooth; season with salt and pepper.
Transfer the filling into a piping bag and pipe the filling into the center of each egg white. Garnish with chopped rosemary and season with salt and pepper.
Christmas Dinner Main Dish Ideas
Slow-Cooker Beef Brisket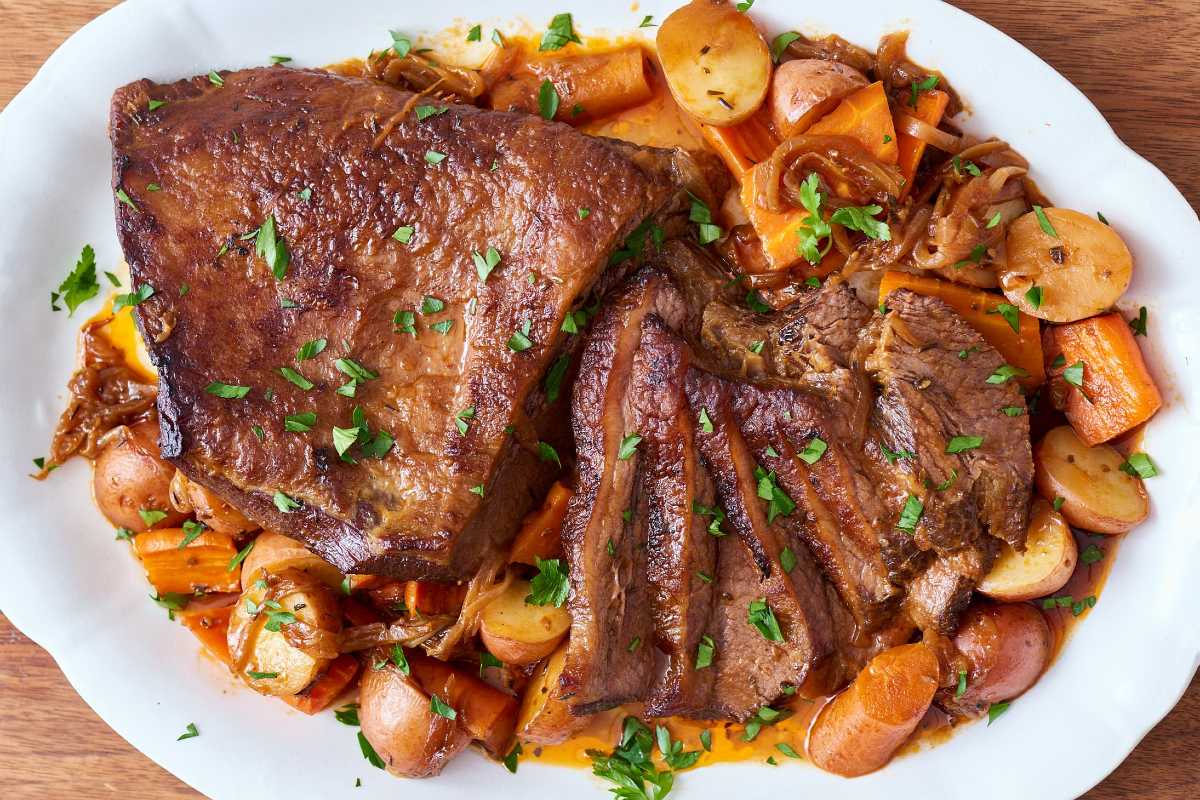 Ingredients:
3 lb (1 ⅓ kg) beef brisket
2 tsp kosher salt
3 tbsp vegetable oil
3 sweet onions
1 tsp smoked paprika
1 tsp freshly ground black pepper
6 cloves garlic
1 tsp dried thyme
1 tsp dried oregano
2 cups low-sodium beef broth
½ cup ketchup
1 tbsp tomato paste
½ cup light brown sugar
1 lb (450 g) red potatoes
1 lb (450 g) carrots
Instructions:
Pat the brisket dry with paper towels before sprinkling it on all sides with a teaspoon of salt and placing it in a slow cooker.

Thinly slice onions and mince garlic. Heat some oil in a skillet until shimmering before adding the onions and cooking until softened, about 8 minutes. Next, add the garlic and cook until fragrant, about 2 minutes.
Add the spices and cook, occasionally stirring, until fragrant, about a minute.

Transfer the onions and garlic to the slow cooker and place them over the brisket.
Deglaze the skillet by returning it to heat and adding broth. Next, stir in ketchup, brown sugar, and tomato paste, and bring to a simmer. Finally, pour the sauce on top of the brisket.

Cut potatoes into 2-inch pieces and carrots into 1-inch pieces. Add them to the slow cooker, tucking them around the brisket. Cover and cook on LOW for 7 hours, or until the brisket easily shreds when pulled yet does not fall apart.
Vegan Lasagna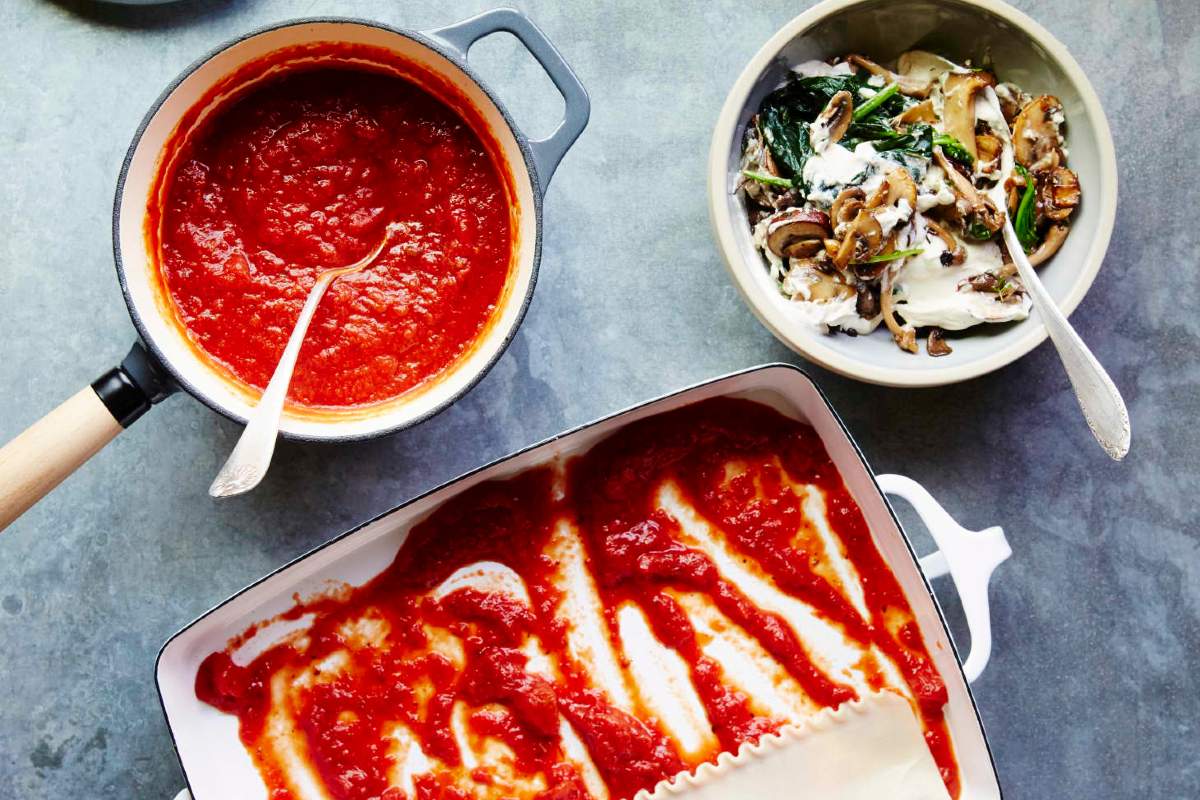 Ingredients:
1 lb (450 g) mushrooms
3 cloves garlic
1 tbsp tamari
1 tsp dried thyme
¾ cup raw cashews, soaked in water overnight and drained

1 cup vegetable broth
2 handfuls spinach
10 oz (280 g) dried lasagna noodles
4 cups marinara sauce
Instructions:
Preheat the oven to 350 °F.
Heat some olive or coconut oil in a skillet over medium heat until shimmering. Add minced garlic and sauté until fragrant, about 1 minute. Add chopped mushrooms, tamari, and thyme and cook, often stirring, until the mushrooms release their juices, about 7 minutes.
In the meantime, place the soaked cashews and broth in a blender and process until homogenous. Pour the cashew sauce into the skillet with the mushrooms. Reduce the heat and simmer for a couple of minutes to let the sauce thicken, stirring frequently. Stir in the spinach and let cook for about a minute. Remove from the heat.

Prepare the lasagna noodles as directed on the package.
Spread a third of the marinara sauce on the bottom of a baking dish. Top with a layer of noodles. Cover the noodles with half of the mushroom sauce. Top with a second layer of noodles. Cover with another third of the marinara. Cover with the remaining mushroom sauce. Top with the last layer of noodles, then cover it with the remaining marinara sauce.

Cover with foil and bake for half an hour before uncovering and baking for 15 minutes more.
Christmas Dinner Side Dish Ideas
Smoky Creamed Kale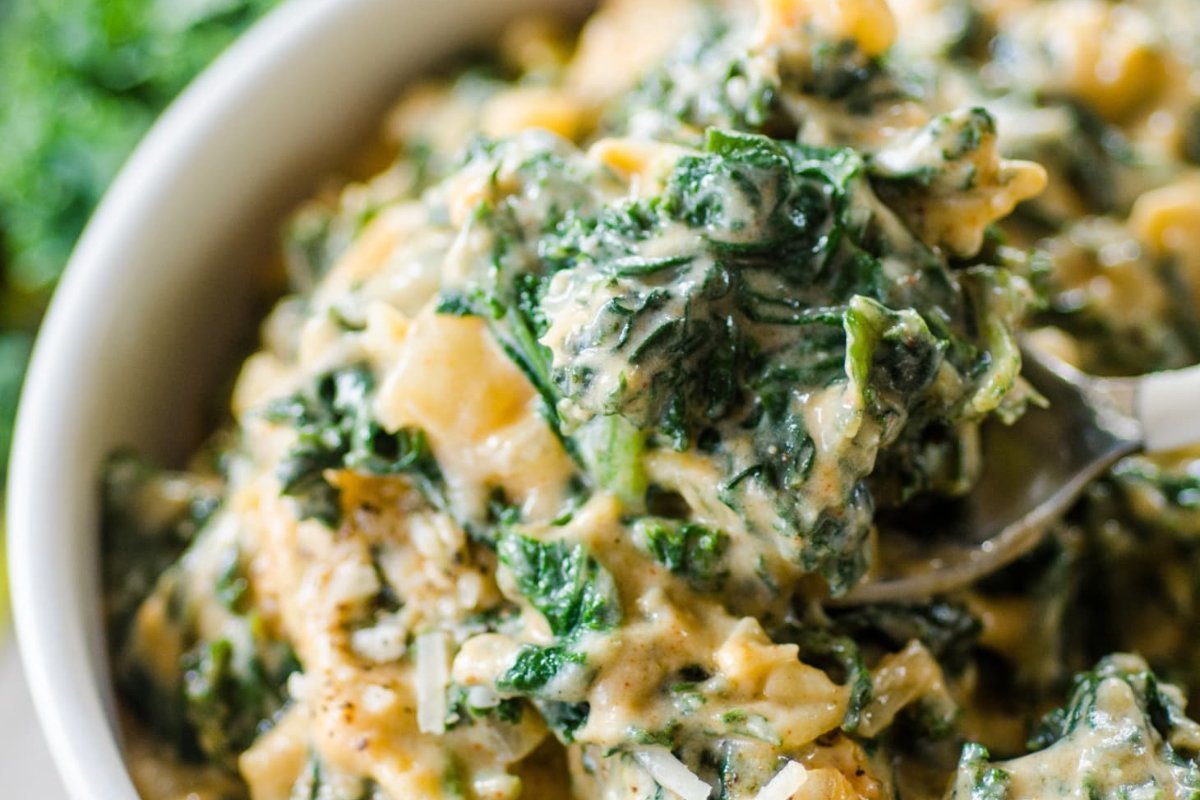 Ingredients:
1 ½ lb (680 g) kale
4 tbsp butter
½ white onion
6 cloves garlic
¼ cup flour
2 cups milk
⅓ cup finely grated Parmesan
½ tsp dry mustard
1 tsp smoked paprika
salt to taste
ground black pepper to taste
Instructions:
Remove kale stems and chop kale roughly.
Set a large bowl of ice-cold water in the sink. Bring a large pot of salted water to a boil. Add the chopped kale and let simmer for a minute. Next, immediately chill it in ice-cold water and then squeeze well to drain.
Melt butter in a saucepan before adding finely chopped onion and minced garlic. Cook, stirring steadily, for 1 minute.

Sprinkle with flour and continue to cook, stirring, for 3 minutes. Do not let the flour brown.
Whisk in the milk. Cook, stirring slowly until the sauce comes to a boil and thickens, about 5 minutes. Reduce the heat and continue cooking until the sauce acquires a consistency like that of soft pudding, about a couple more minutes.

Stir in the cheese, mustard, paprika, salt, and black pepper. Add the kale and mix thoroughly. Warm over low heat, then serve.
Broccoli Rabe and White Bean Gratin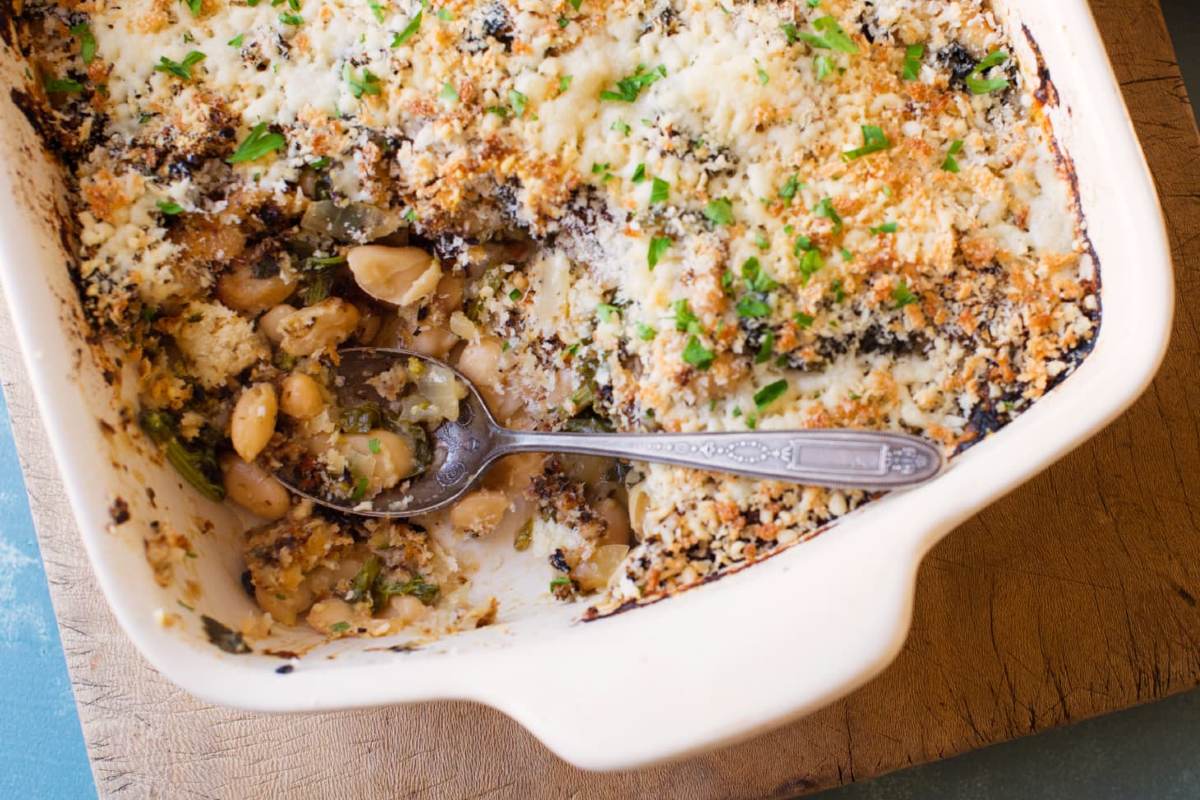 Ingredients:
3 tbsp olive oil
1 yellow onion
1 lb (450 g) broccoli rabe
4 cloves garlic
1 pinch red pepper flakes
½ cup low-sodium broth
kosher salt to taste
ground black pepper to taste
2 cans white beans
⅓ cup grated Parmesan
¼ cup milk
⅓ cup breadcrumbs
Instructions:
Preheat the oven to 350 °F. Grease a baking or casserole dish with a tablespoon of olive oil.

Heat the remaining olive oil in a large skillet until shimmering. Pop in diced onion and sauté until translucent, about 3 minutes. Add coarsely chopped broccoli rabe, minced garlic, and red pepper flakes, and cook for another minute. Add broth, cover with a lid, and cook over medium heat until the broccoli rabe is tender, about 5 minutes. Uncover and simmer until most of the liquid evaporates, 3 minutes more; season with salt and pepper.
Remove from the heat and stir in drained and rinsed white beans and half of the cheese. Spread the mixture in an even layer on the bottom of the baking dish and pour milk over it. Top with breadcrumbs and remaining cheese.

Cover with foil and bake for half an hour before uncovering and baking until the top browns, about 15 minutes more.
For more unique recipes to complement your main course, check out this roundup of Christmas ham side dishes that will transform your ham into an exceptional holiday feast.
Christmas Dinner Dessert Ideas
Chocolate Olive Oil Cake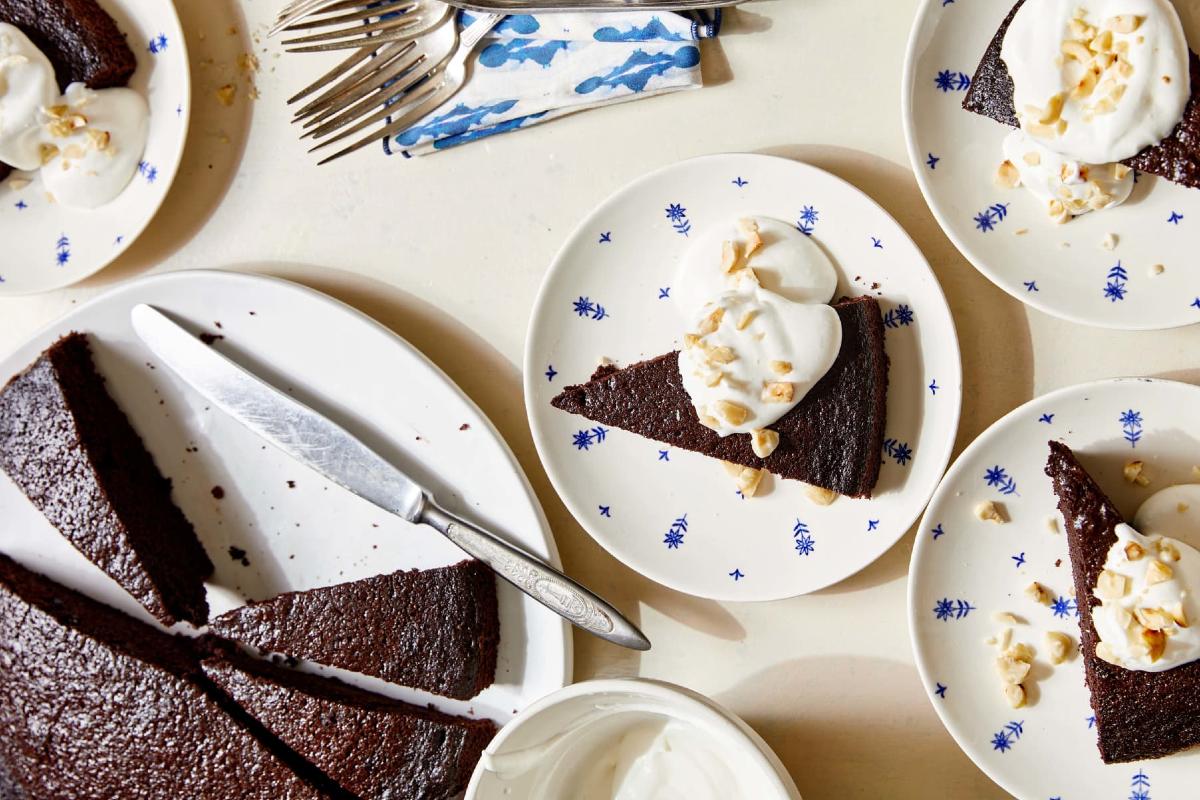 Ingredients:
¾ cup cocoa powder
1 cup sugar
½ tsp kosher salt
¼ tsp baking powder
¼ tsp baking soda
¾ cup extra-virgin olive oil
3 eggs
1 egg yolk
1 tsp vanilla extract
½ cup flour
½ cup boiling water
whipped cream to taste
toasted hazelnuts to taste
Instructions:
Preheat the oven to 325 °F.
Line a springform or round cake pan with parchment paper and coat it with olive oil.

Combine cocoa powder, sugar, salt, baking powder, and baking soda in a bowl and mix until combined.
Add olive oil, eggs, egg yolk, and vanilla; whisk to combine. Add flour and stir until just smooth. Stir in boiling water.

Transfer the batter into the prepared pan.
Bake for half an hour. Before serving, top with whipped cream and sprinkle with toasted hazelnuts.
Dark Chocolate Pots de Crème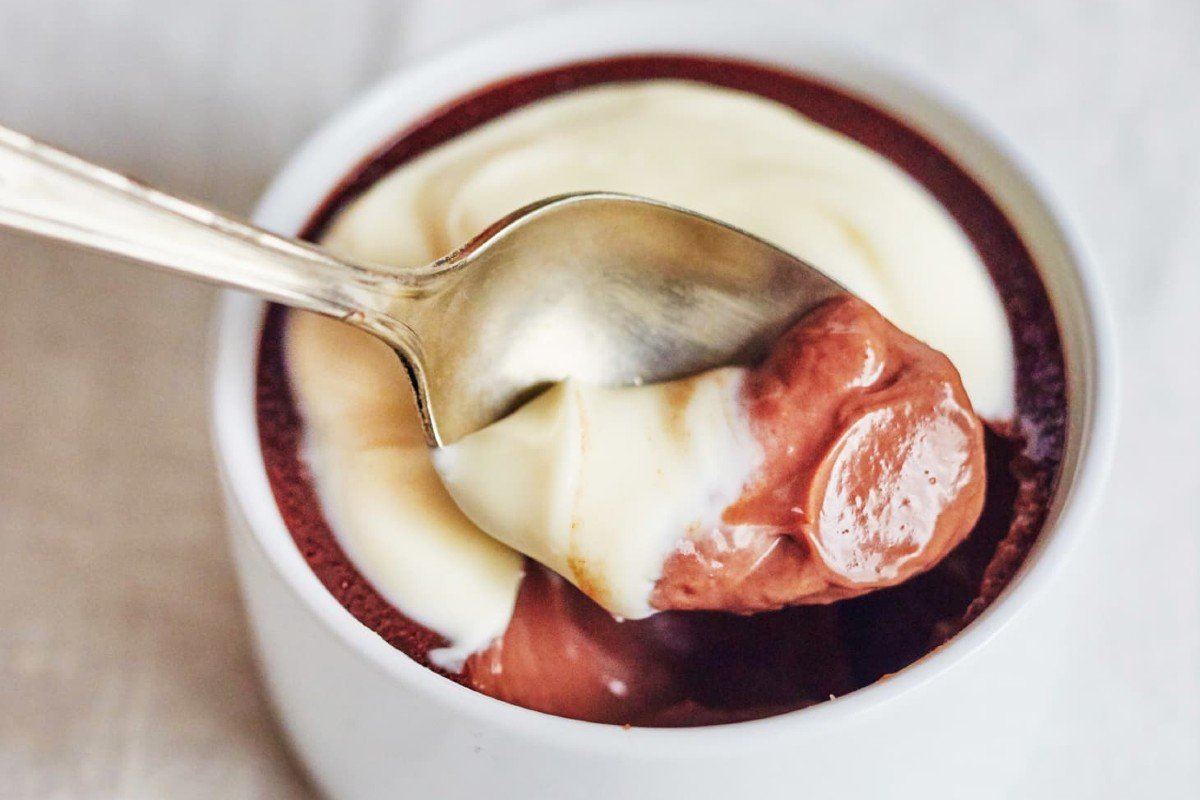 Ingredients:
1 ½ cup heavy cream
½ cup whole milk
5 oz (140 g) bittersweet chocolate
4 egg yolks
¼ cup sugar
½ tsp vanilla extract
⅛ tsp kosher salt
hot water
whipped cream to taste
Instructions:
Preheat the oven to 300 °F. Set a strainer over a bowl; set aside. Place 4 ramekins in a baking dish; set aside.

Heat cream and milk in a large saucepan, frequently stirring, until it just comes to a boil. Remove from the heat, add finely chopped chocolate, and whisk until homogenous.
Whisk egg yolks, sugar, vanilla, and salt together in a large, heatproof bowl. Continuing to whisk, gradually add the chocolate mixture.

Pour the mixture through the strainer. Divide the strained mixture among the ramekins.
Transfer the baking dish to the oven. Add enough hot water to reach halfway up the sides of the ramekins.

Cover with foil and bake until the edges are set, about half an hour.
Remove the pan from the oven and uncover. Transfer the ramekins to a wire rack and let cool for an hour. Serve with a dollop of whipped cream.
If you're more of a cookies person, Cook It has put together a collection of the most splendid festive pastries: from classics to next-level creations.
We hope you enjoyed these Christmas dinner ideas, and they'll make your life easier during the holidays. Which of these recipes are you most eager to cook? Please tell us in the comments section below, as we'd love to know. Have a very merry Christmas!