How to Make Perfect Potato Pies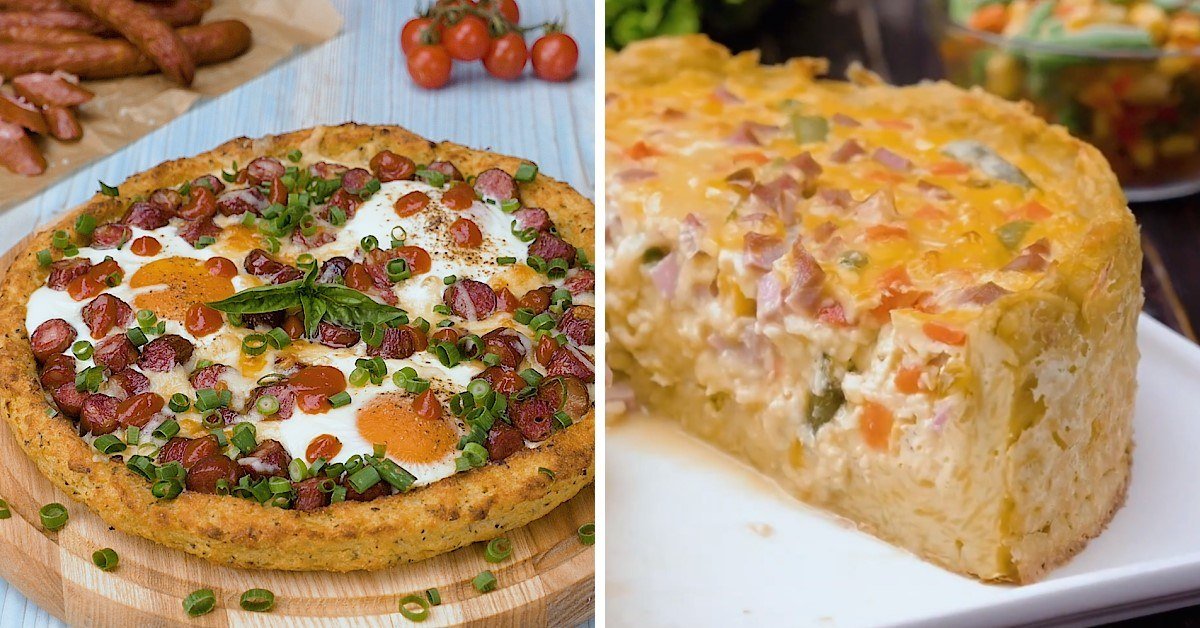 Potato pancakes are a staple in many households, but they can be greasy and heavy. As a compromise, why not make a different potato dish? On weekends, treat yourself and your family or guests to these potato pies with a soft egg filling and a low-fat potato base.
These dishes will become a new family favorite! When you master this recipe, you can begin to experiment with different ingredients, or make a tasty open pie with a creamy, hearty filling and call it pizza!
Recipes for Potato Pies
Here are two recipes for excellent savory pastries that will be perfect for your festive table or for satisfying your craving for something filling.
Potato Pancake Pie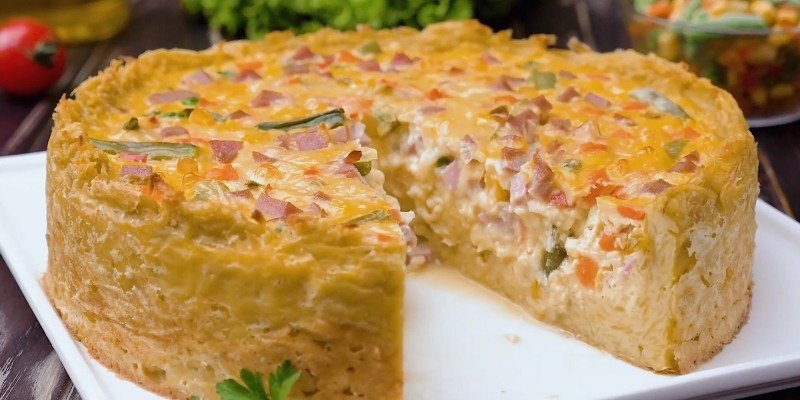 Ingredients:
2 lb (900 g) potatoes
5 fl oz (150 ml) milk
8 eggs
2 cloves garlic
3 ½ oz (100 g) hard cheese
5 ¼ oz (150 g) mixed vegetables
3 ½ oz (100 g) cooked sausage
Salt to taste
Instructions:
Peel the potatoes and grate them on the coarse side of a grater. Then wrap them in gauze and squeeze out the water. Add two eggs, salt, and chopped garlic to the potatoes. Mix everything thoroughly.

Line the casserole dish with parchment paper and evenly distribute the potato mixture on the bottom and sides. Preheat oven to 360°F and bake for 15 minutes.
Grate hard cheese on a coarse grater and cut the sausage into small cubes. In a deep bowl, beat six eggs with milk, add cheese, sausage, vegetable mixture, and mix thoroughly.

Remove the potato base from the oven, pour in the egg mixture, and bake at 360°F for 40–45 minutes. Let the pie cool before serving.
Potato Pizza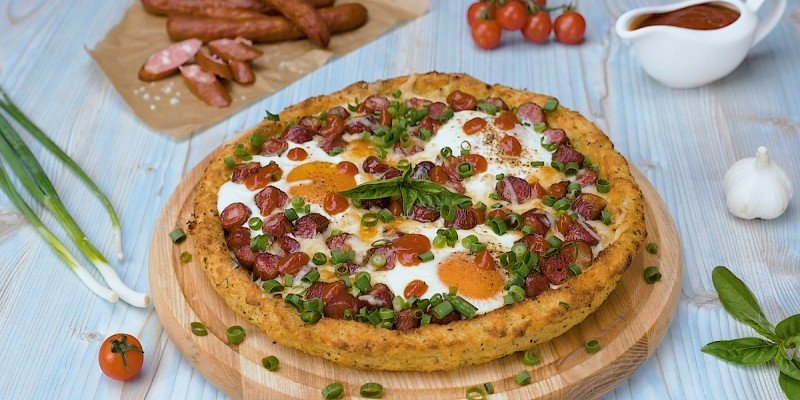 Ingredients:
1 ¼ lb (850 g) potatoes
2 ¾ oz (75 g) suluguni cheese
6 oz (170 g) hunter's sausages
5 eggs
2 tsp garlic powder
1 tsp oregano
2 tbsp olive oil
2 bunches scallions
Salt, pepper to taste
Ketchup to taste
Instructions:
Grate peeled potatoes on the coarse side of a grater and boil it in water for 20 minutes. Let it cool, and then squeeze out excess liquid through a towel.

Add finely grated onion to the potatoes along with two eggs and garlic powder, salt to taste, and mix thoroughly.
Line the baking pan with parchment. Form an even 12-inch pie shell and brush the surface with olive oil. Bake for 20–25 minutes in an oven preheated to 500°F.

Evenly distribute grated suluguni cheese, slices of hunter's sausage, and three eggs on the baked pie shell. Add salt and pepper, and pop it into an oven preheated to 320°F for 10-12 minutes.
Sprinkle the pizza with chopped green onions and add ketchup before serving.
Potato flavor and texture go well with mouth-watering filling and melted cheese. It can be fun to experiment with ingredients by incorporating products that are always at hand, for instance, fish, minced meat, mushrooms, greens, and vegetables. Pies turn out very appealing and delicious and work great both as a snack or a side for other dishes.