5 Casseroles With Cheese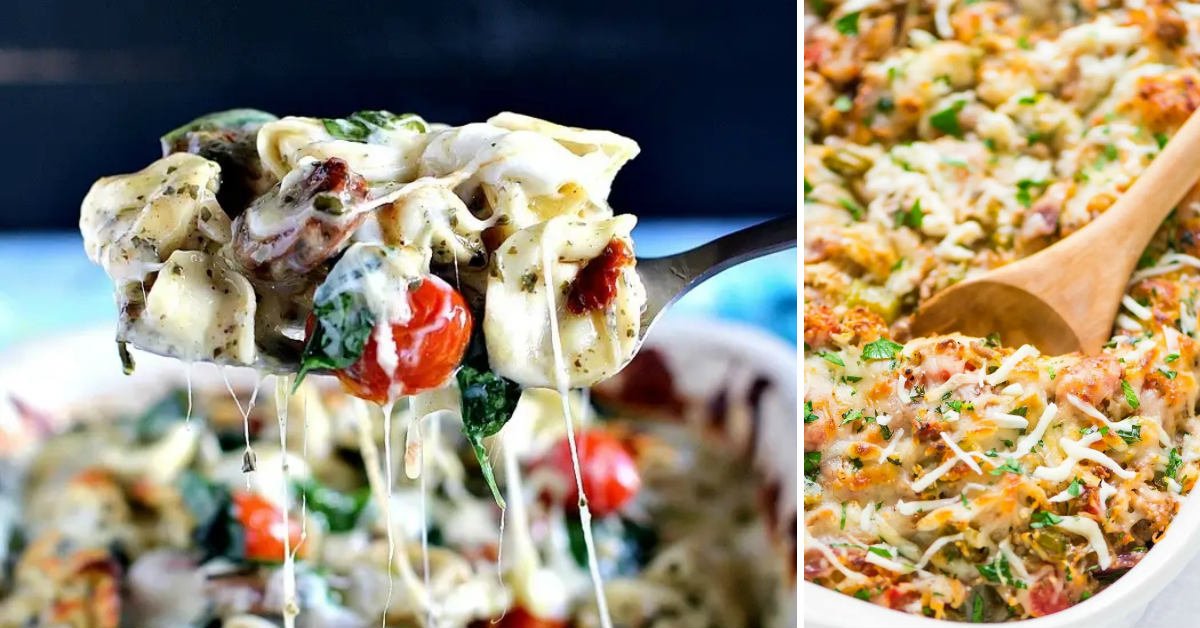 Who doesn't love cheese? There are so many types and flavors to choose from. Cheese is good in any form. But when baked, this great ingredient not only makes the meal heartier, but also more appetizing and fragrant. It's a perfect idea to make casseroles with cheese for weeknight diners: throw some veggies and meat in a casserole dish, sprinkle with delicious Parmesan and just rest, while your dinner is baking.
Whether you have a big family and want to make a hearty dinner or just love cheesy baked dishes for their taste and simplicity, today's article form Cook It will help you find something new to write down in your cookbook.
Chicken Parmesan Casserole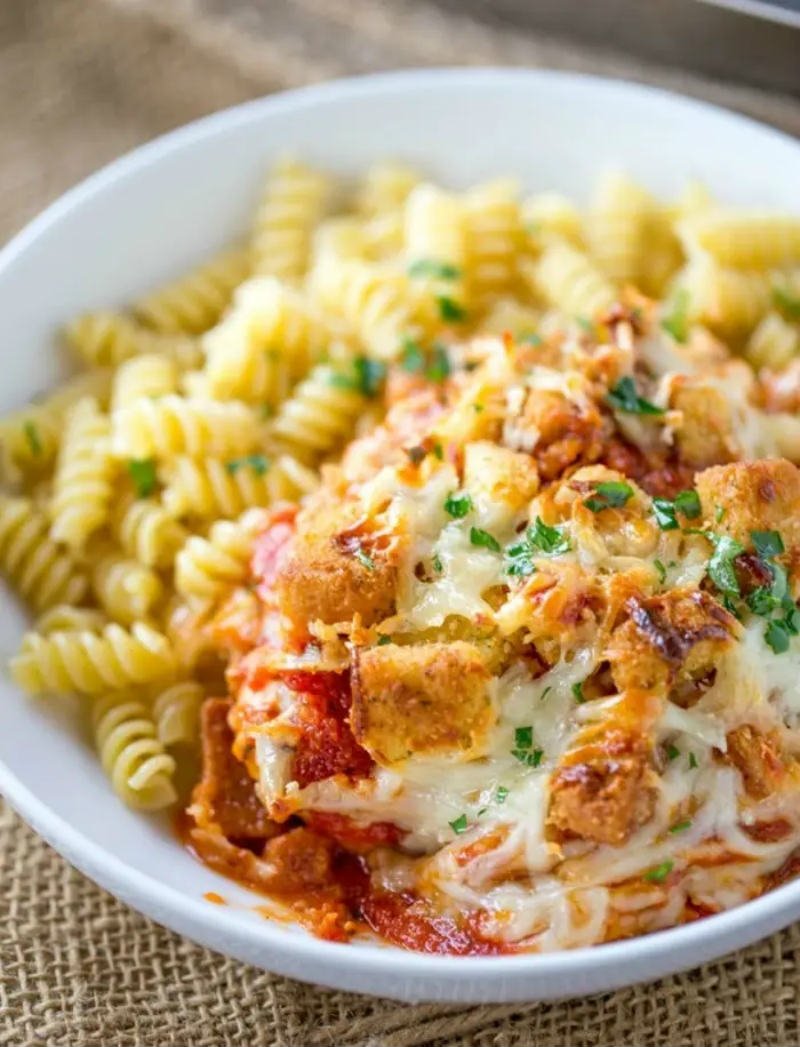 Ingredients:
1 tbsp olive oil
64 oz (1 ¾ kg) chicken breast
¼ tsp chili flakes
3 cups (750 g) marinara sauce
2 cups (225 g) mozzarella
2 cups (160 g) Parmesan
2 cups (60 g) croutons garlic and butter flavor
parsley (optional)
Preparation:
Heat olive oil over medium high heat in a frying pan. Brown a chicken breast.

Take a baking dish. Place the chicken in it and pour juices from the pan on top.
Sprinkle the chicken with chili and pour with marinara sauce.

Sprinkle half of your cheeses on the chicken. Sprinkle with croutons. Add another layer of cheeses.
Place the dish in a preheated oven to 350 °F (180 °C) for 30–40 minutes.

Garnish with parsley.
Sausage Pesto Tortellini Casserole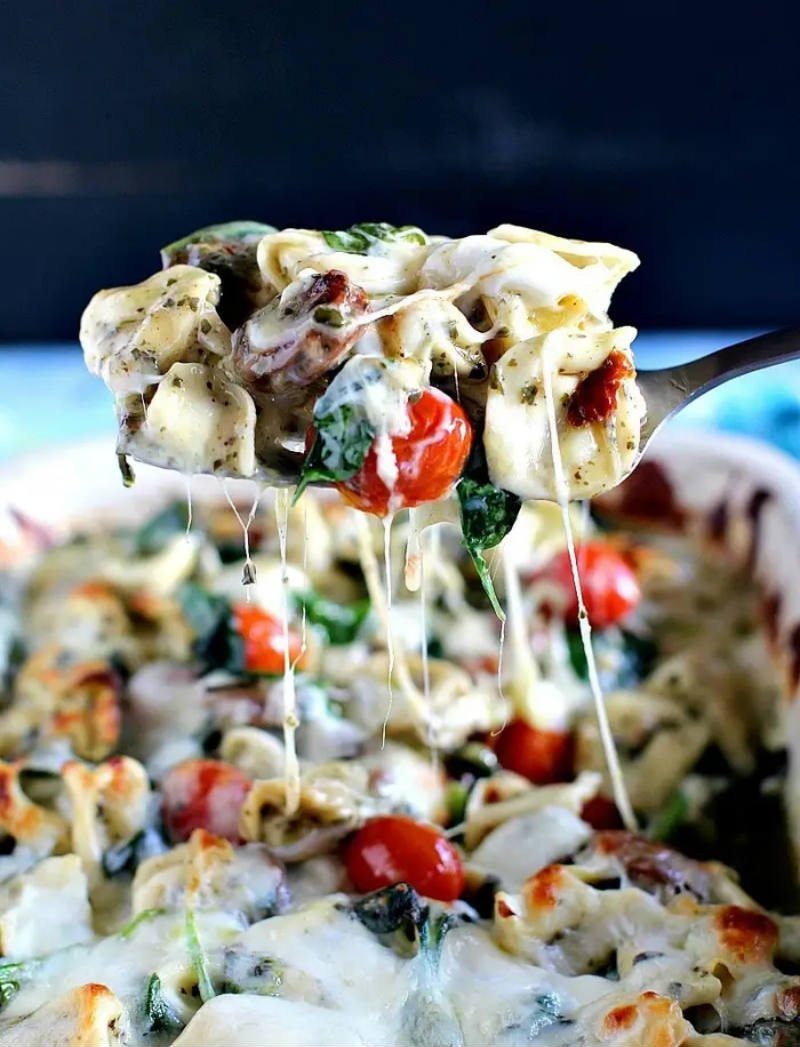 Ingredients:
1lb (500 g) three cheese tortellini
7 oz (200 g) pesto
3 sweet chicken sausages
3 cups (720 g) fresh spinach
1 cup (150 g) grape tomatoes
20 oz (560 g) mozzarella
3 tbsp olive oil
Preparation:
Cook tortellini until slightly al dente. Drain and put back to the pot. Add pesto and gently mix.
Heat 2 tablespoons of oil in a large pan over medium heat. Brown sliced sausages for a couple minutes, occasionally stirring. Set the pan aside.

Add the sausages, tomatoes, spinach and mozzarella to the pot. Mix gently. Save about 1 cup (100 g) of cheese to top the dish.
Add the rest of the oil to a baking dish. Pour the pasta mixture inside. Top with cheese. Cook until golden brown.
Mushroom Cheeseburger Casserole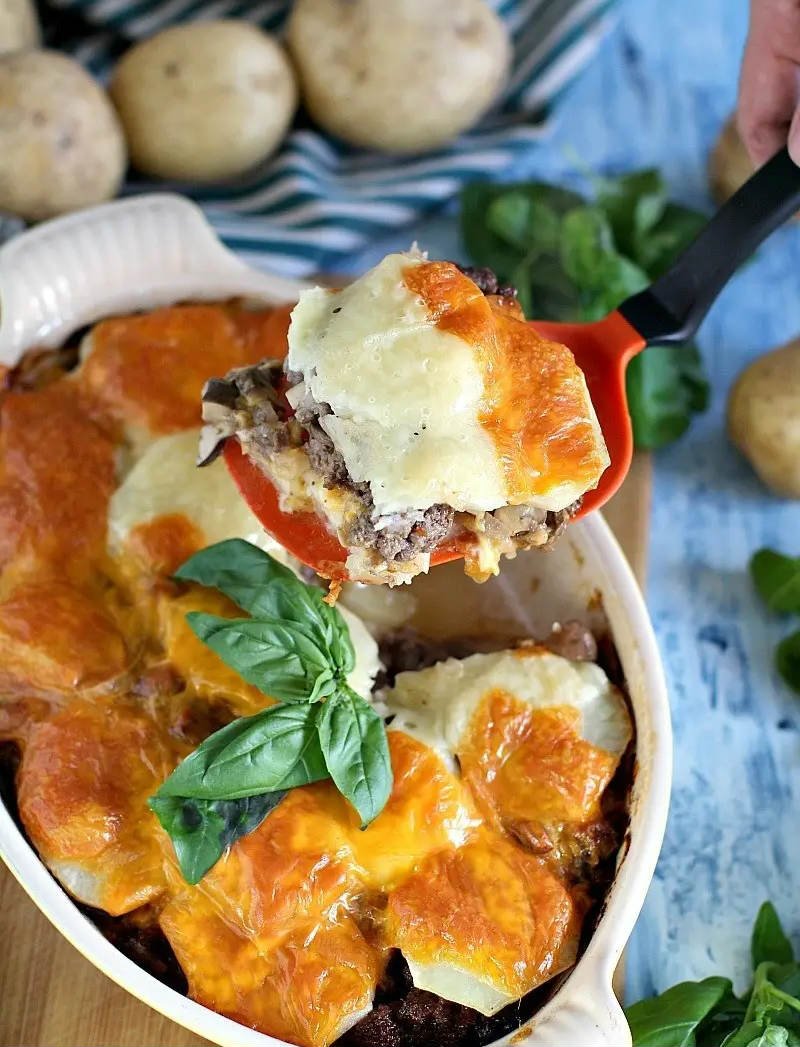 Ingredients:
8 oz (225 g) rotini pasta
2 lb (1 kg) ground beef
1 large onion
4 cloves garlic
1 green bell pepper
28 oz (800 g) diced tomatoes
1 tbsp worcestershire sauce
2 tbsp tomato paste
1 tsp dried parsley
1 tsp dried oregano
1 tsp mustard powder
1 tsp salt
½ tsp pepper
2 cups (520 g) cheddar
chopped pickles, fresh tomatoes, iceberg lettuce for toppings
Preparation:
Preheat the oven to 350 °F (180 °C).
Place pasta in a pot of salted boiling water. Cook until slightly tender.
Drain the water. Put back to the pot.
Fry the meat over medium heat occasionally breaking it up with a wooden spoon. When it's nicely browned, drain the excess fat.

Add onions, garlic, bell pepper to the pan, cook until tender.
Add tomato paste, diced tomatoes with juice, Worcestershire sauce, parsley, oregano, dried mustard, salt, and pepper.

Bring the ingredients to a boil. Reduce the heat to low. Simmer for about 15 minutes.
Pour the tomato sauce over the pasta and mix.

Grease a baking dish with butter.
Place the mixture into the dish. Sprinkle your casserole with grated cheddar.
Cook until the cheddar is melted.
Top off with chopped pickles, tomatoes, iceberg lettuce.
Spaghetti Squash Casserole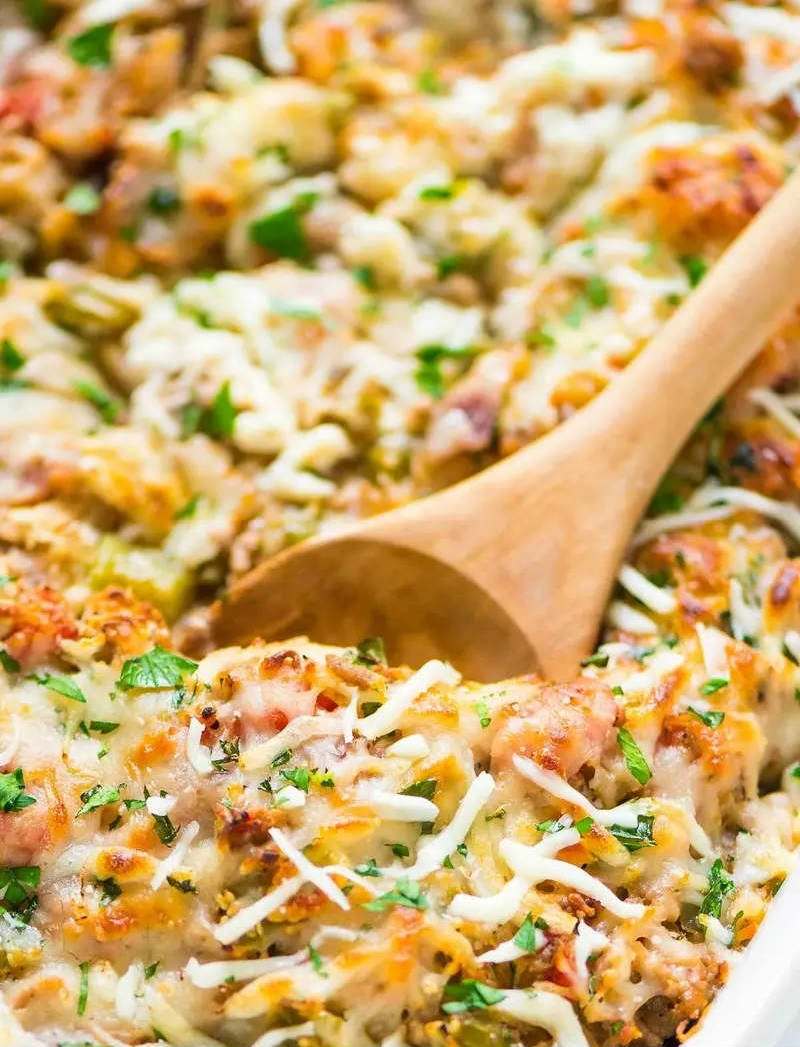 Ingredients:
2 lb (900 g) spaghetti squash
2 tsp extra-virgin olive oil\
1 lb (500 g) 93% lean ground turkey
1 small red onion
1 green bell pepper
1 tsp kosher salt
½ tsp black pepper
14 ½ oz (400 g) diced tomatoes with Italian spices

3 cloves garlic
1 tsp Italian seasoning
½ tsp red pepper flakes
1 cup (86 g) part-skim mozzarella or provolone
chopped fresh parsley or basil
Preparation:
Cut a squash lengthwise. Deseed using a spoon. Turn upside down and place in a baking dish. Pour ½ cup (120 g) water around the squash.
Bake in a preheated oven to 375 °F (190 °C) until the squash flesh is cooked through. Let it cool.

Pull out the squash strings from the centre with a fork. Put in a bowl.
Reduce the temperature to 350 °F (180 °C).
Heat olive oil over medium high heat. Add ground turkey, onions, bell pepper, salt, black pepper. Cook for 8 minutes, breaking the meat apart. Add tomatoes, garlic, seasoning, pepper flakes. Cook until slightly reduced and there's not much liquid. Add the rest of the squash. Cook for 2 more minutes.

Shred mozzarella. Stir half of it in the mixture.
Slightly drain the excess liquid if needed.
Grease a baking dish with butter. Transfer the squash mixture to the dish. Bake for 20 minutes. Take out the dish from the oven. Sprinkle with the rest of the mozzarella. Put back to the oven and cook until the cheese is melted. Sprinkle the finished casserole with parsley or basil.
Broccoli Cauliflower Casserole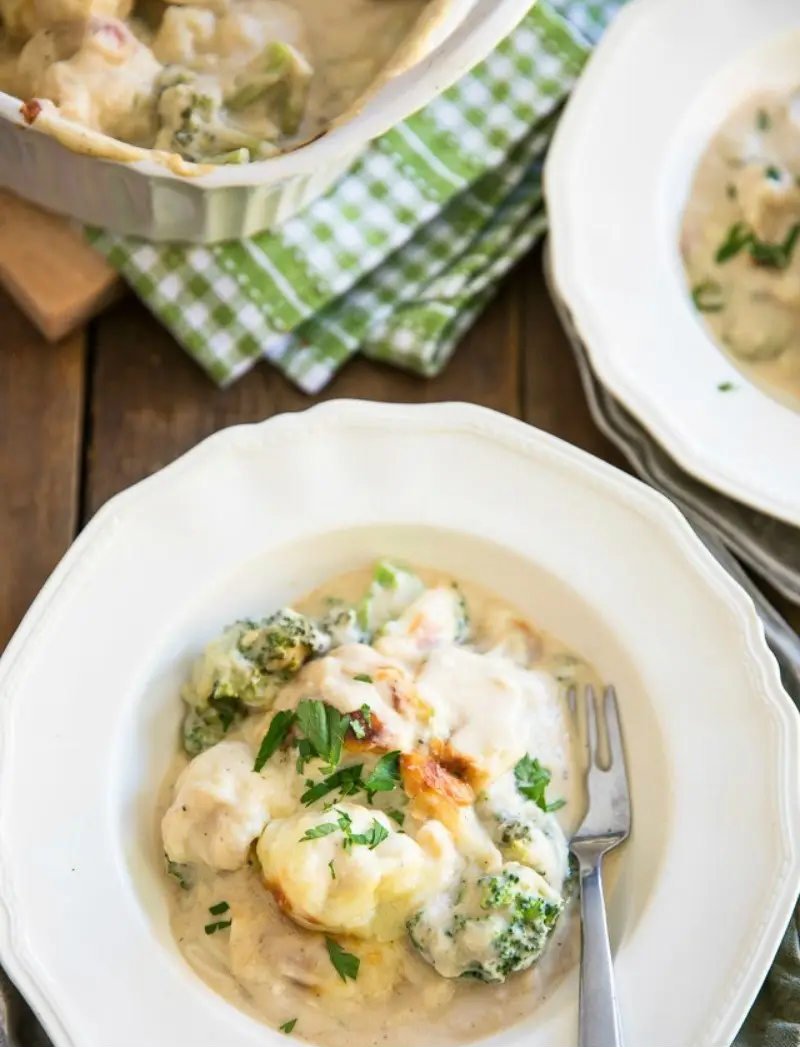 Ingredients:
4 cups (1 ¾ kg) broccoli
8 cups (850 g) cauliflower
1 tbsp cooking fat of choice
½ small onion
½ tsp salt
½ tsp ground black pepper
1 ½ cups (370 g) bone broth
1 cup (240 g) whole milk
1 tbsp Dijon mustard
1 cup (100 g) sharp cheddar
½ cup (40 g) Parmesan
½ cup (40 g) mozzarella
Preparation:
Roughly chop cauliflower florets. Add 4 cups (425 g) to a large pot of boiling water. Let it cook for 2 minutes with a lid on. Add broccoli and cook for another 2 minutes.
Drain. Rinse the veggies with cold water. Set aside.

Melt fat over medium heat. Add onions. Then season with salt, pepper and cook for a couple minutes until fragrant.
Add the rest of the cauliflower. Cook for a couple minutes. Pour in broth and bring to a boil. Reduce the heat. Simmer under the lid until very tender.

Pour the broth mixture into a blender, add milk, mustard, ½ cup (50 g) grated cheddar, parmesan and process until smooth.
Pour the sauce over your cauliflower. Mix, put in a baking dish. Sprinkle mozzarella and cheddar on top. Bake in a preheated oven to 350 °F (180 °C) until golden brown.
With this list of casseroles for any taste you can enjoy your favorite cheese every day with different flavor combinations. Bon appetit!