7 Savory and Sweet Puff Pastry Treats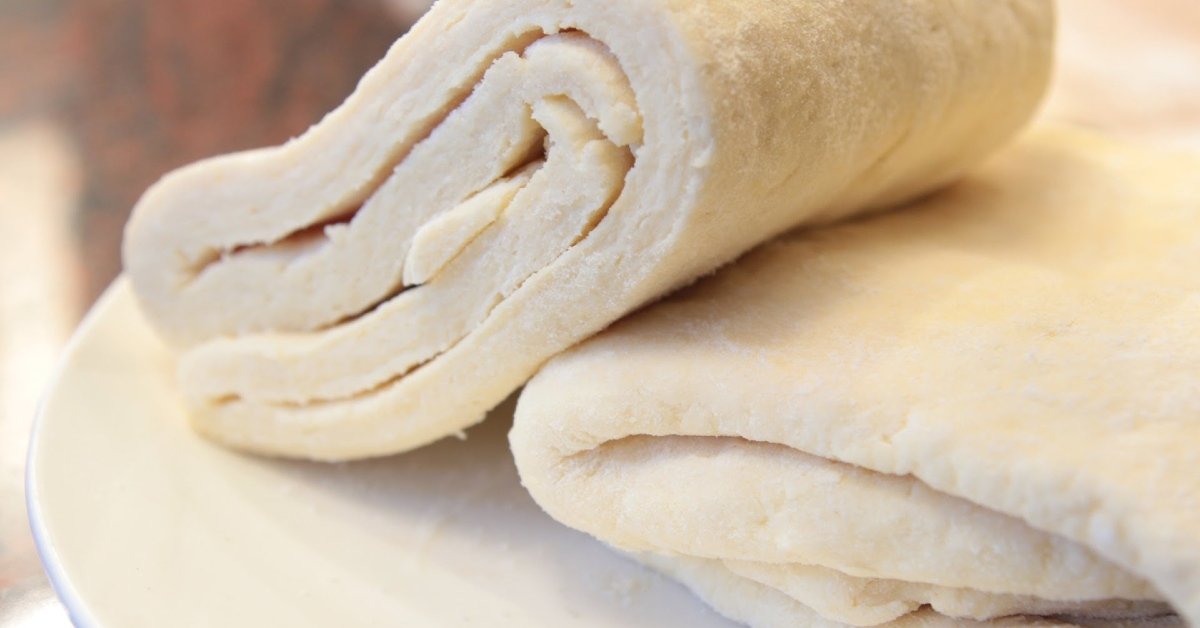 Picture this: you want a sweet pastry; then, bam, 20 minutes later it is done. Children ask for meat pasties? Half an hour and they are on the table. Friends say they will come over in 15 minutes? Crescent rolls are already nicely browned. It may sound like a fantasy, but it is enough to buy several packs of puff pastry or to knead it yourself for future use and then make it at the right time.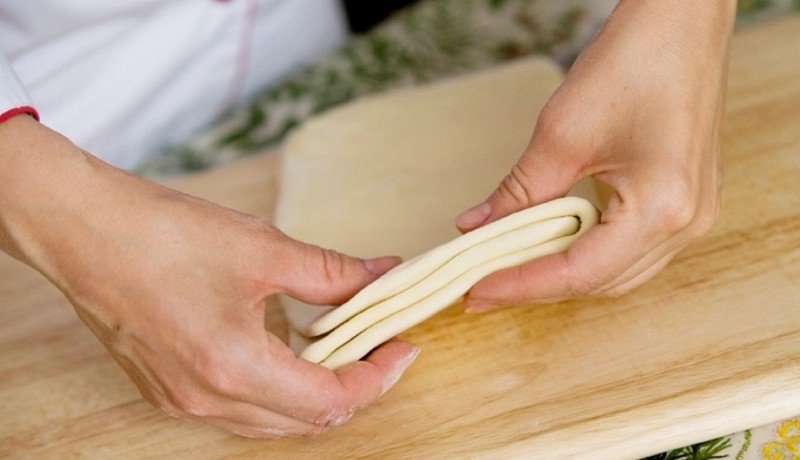 Indeed, puff pastry makes an excellent base for a variety of dishes. It is easy to work with, and you can buy it at any store. It contains most of the B group vitamins, which have a positive effect on the skeletal system. Puff pastry helps sustain energy balance and feel sated faster. But, moving aside from medical terms, we can say one thing for sure: puff pastry dishes are delicious, and we recommend enjoying them more often.
Open Pies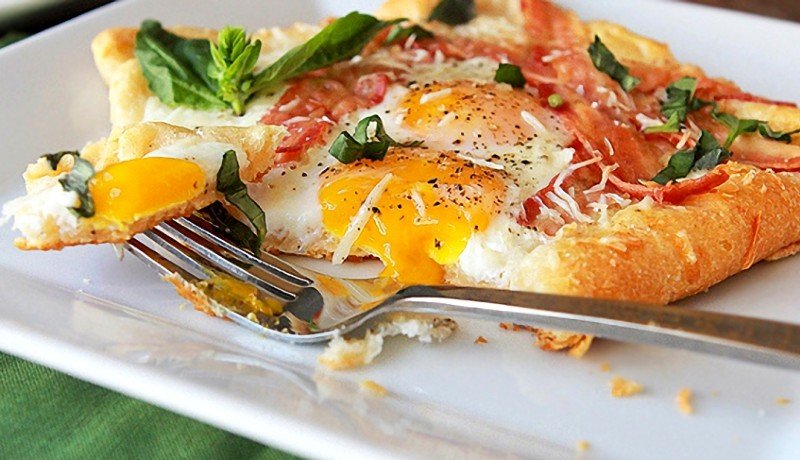 It is high time to stop having sandwiches for breakfast. Open pies may not be the healthiest choice, but they are delicious, savory, unique, and simple to make.
Ingredients:
10 ½ oz (300 g) puff pastry
3 eggs
6 slices of bacon
2 oz (60 g) hard cheese
Salt, pepper, herbs to taste
Instructions:
Roll out the puff pastry. Cut the finished sheet into 3- to 4-inch squares.

Line a baking sheet with parchment and lay the squares on the paper. Make half-inch edges on the sides of each square.
Beat one egg into each of the squares. Put two slices of bacon on top. Sprinkle the egg with grated cheese, season with salt and pepper. You can also top the pies with finely chopped greens.

Preheat the oven to 400 °F and bake the puffs for 15 minutes.
Cabbage Pie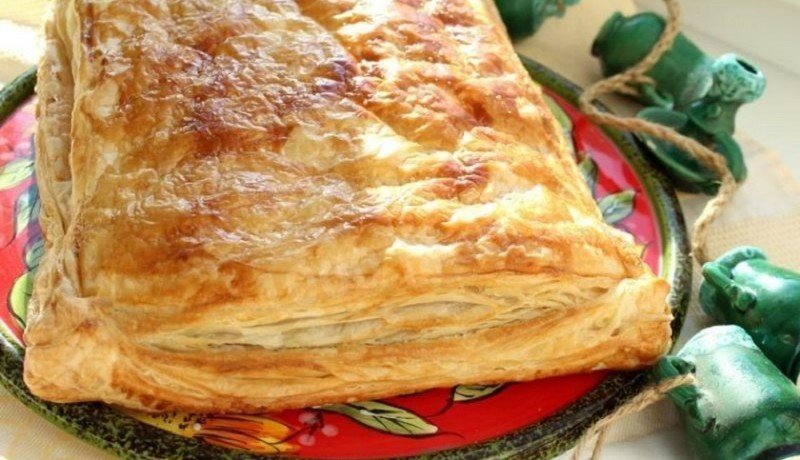 Any cookbook should have at least a few cabbage pie recipes. When you don't have much time, but you want to make something tasty, use puff pastry.
Ingredients:
1 lb (450 g) puff pastry
1 small cabbage head
3 tsp salt
4 ½ oz (130 g) butter
7 eggs
Instructions:
Shred cabbage, add salt and mix well. Set the bowl aside for 15 minutes. Then squeeze the juice from the cabbage.
Boil six eggs and cut them into small cubes. Mix eggs and shredded cabbage. Add melted butter to the ingredients.

Roll out the ready-made puff pastry into two sheets. Lay one on a baking sheet and put the filling on top. Cover everything with the second sheet. Be sure to pinch the edges.
Beat one egg and brush the dough with the mixture. Preheat the oven to 360 °F. Bake the pie for approximately 40 minutes.
Meat Pasties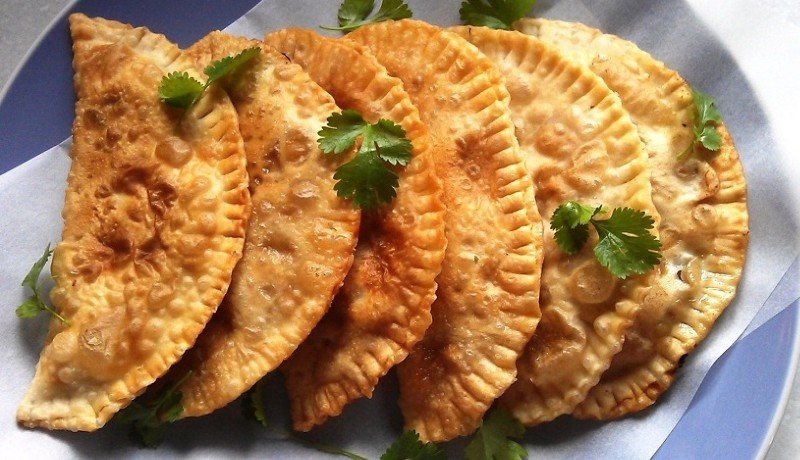 Homemade pasties based on vodka, kefir, and water are very popular today. Of course, even if you follow the recipe to the letter, the dough does not always turn out perfect. Good thing is, this recipe saves you from having to mix batter yourself.
Ingredients:
2 lb (900 kg) unleavened puff pastry
1 lb (450 g) minced meat
2 onions
1 ¾ (50 g) butter
5 cloves garlic
Vegetable oil
Salt, pepper to taste
Instructions:
Peel the onion and chop it in a blender, then mix it with minced meat. Season with salt and pepper and add finely chopped garlic.

Cut the dough into pieces, form balls and roll them. Put minced meat and a slice of butter on half of each piece. Cover the filling with the second half and pinch together the edges.
Heat vegetable oil in a pan and fry each pasty until golden brown. To get rid of excess oil, place the finished dish on paper towels.
Banana Puffs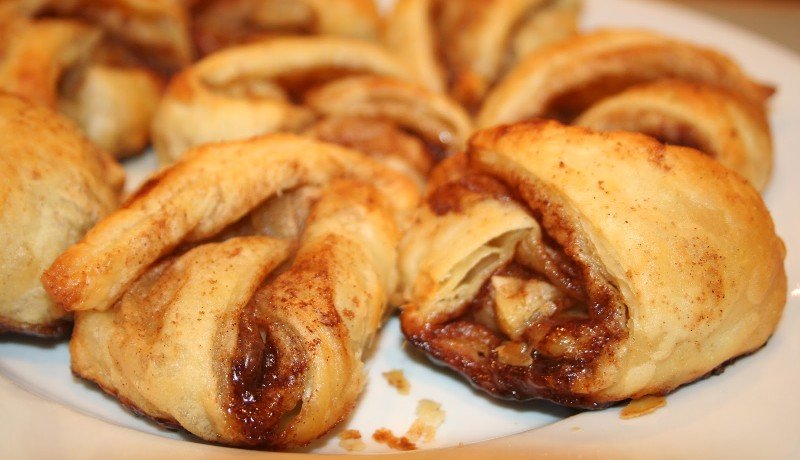 This option with a sweet filling is perfect for the morning meal. Take your puff pastry and try this recipe — you will not want to have anything else for breakfast ever again!
Ingredients:
7 oz (200 g) puff pastry
2 bananas
3 ½ oz (100 g) sugar
1 ¾ oz (50 g) cinnamon
4 tbsp Nutella or other chocolate hazelnut spread
Instructions:
Roll out the puff pastry and cut the sheet into triangles. Spread each triangle with Nutella.

Peel ripe fruits. Cut each into four pieces. Place one piece on each triangle.
Form each piece into a roll and pinch together the edges (you should not be able to see the filling). Combine cinnamon and sugar and roll each puff in the dry mixture.

Line the pan with parchment and lay the puffs on the paper. Preheat the oven to 370 °F. Bake the banana puffs for 15 minutes. Serve still warm.
Crescent Rolls With Cheese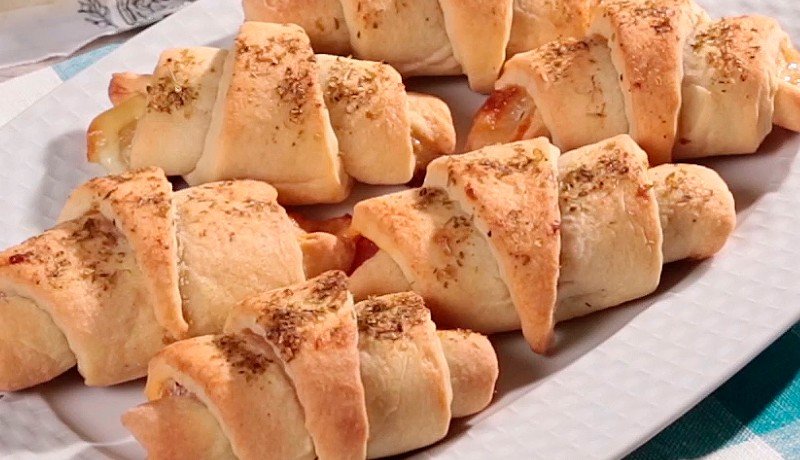 Traditionally, crescent rolls are pastries with a sweet filling. Should you change your views? Of course! Especially if the new variation is both tasty and easy to prepare.
Ingredients:
8 oz (225 g) puff pastry
3 ½ (100 g) mozzarella
2 tbsp butter
1 tsp chopped parsley
1 clove garlic
Instructions:
Cut the ready-made dough into triangles. Put one piece of cheese on the wide end of each triangle and form crescent rolls.
Put garlic through a meat grinder. Combine it with finely chopped parsley and butter.

Put the crescent rolls on a baking sheet lined with parchment. Brush the pastries with the garlic mixture and bake in an oven preheated to 370 °F for 10 minutes.
Fruit Galette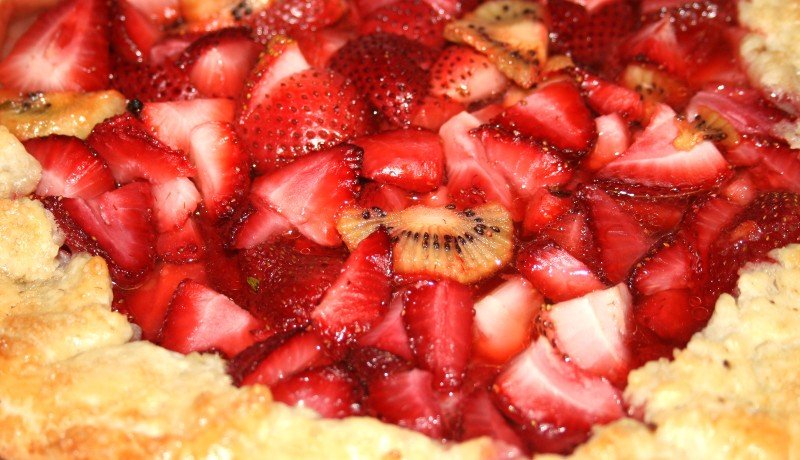 Sweet pastry lovers will appreciate this dessert. It disappears in no time, so we recommend to prepare a double or even a triple portion!
Ingredients:
9 oz (255 g) puff pastry
3 tbsp sour cream
4 tbsp strawberry jam
3 ½ (100 g) fresh strawberries
1 kiwi
2 bananas
1 apple
3 ½ oz (100 g) powdered sugar
Instructions:
Roll out the ready-made dough in a sheet one-fifth of an inch thick and form little edges.
Spread the dough with sour cream and then with strawberry jam.

Cut all the fruit into slices and lay them out on top.
Preheat the oven to 400 °F and bake the galette for 20 minutes. When the dessert is ready, sprinkle it with powdered sugar.
Pizza With Tomatoes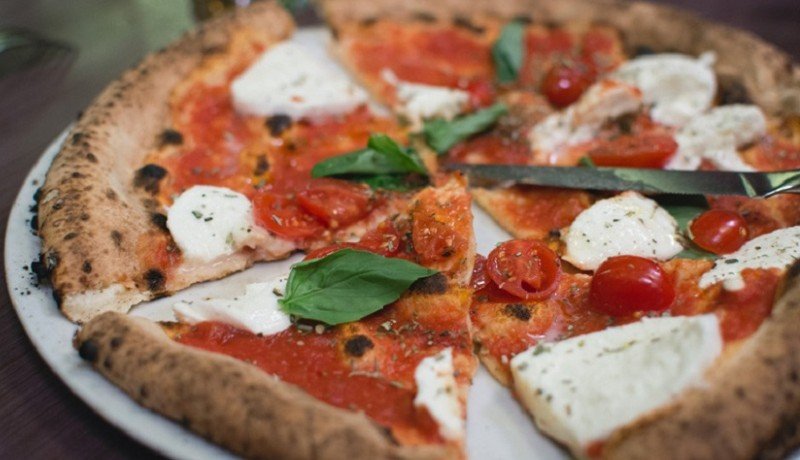 Make pizza like an Italian — without any extra ingredients. Puff pastry is your best helper when you need to cook it as quickly as possible.
Ingredients:
14 oz (400 g) puff pastry
7 oz (200 g) mozzarella
3 tomatoes
2 tbsp tomato sauce
2 tbsp olive oil
Salt, pepper to taste
Spices, herbs to taste
Instructions:
Roll out the ready-made dough and form little edges.

Spread the dough with olive oil and then with tomato sauce. Sprinkle it with spices.
Slice the mozzarella and tomatoes into thin slices. Distribute the filling all over the pizza base.

Sprinkle some fresh herbs on top. Place the baking sheet in the oven for 25 minutes. Bake at 400 °F. If you want a more satisfying filling, use olives, mushrooms, or bacon.
Buy extra puff pastry and store it wrapped in cling film in the refrigerator for up to 3 days or in the freezer for up to a year. Every time you want to promptly cook a delicious breakfast, lunch, or dinner, take out the package, roll out the dough, add your favorite ingredients, and bake. We hope that this recipe collection will inspire you to diversify your menu. Share it with your friends — they will also enjoy these dishes that do not require much time and effort.