Baked Potato With Toppings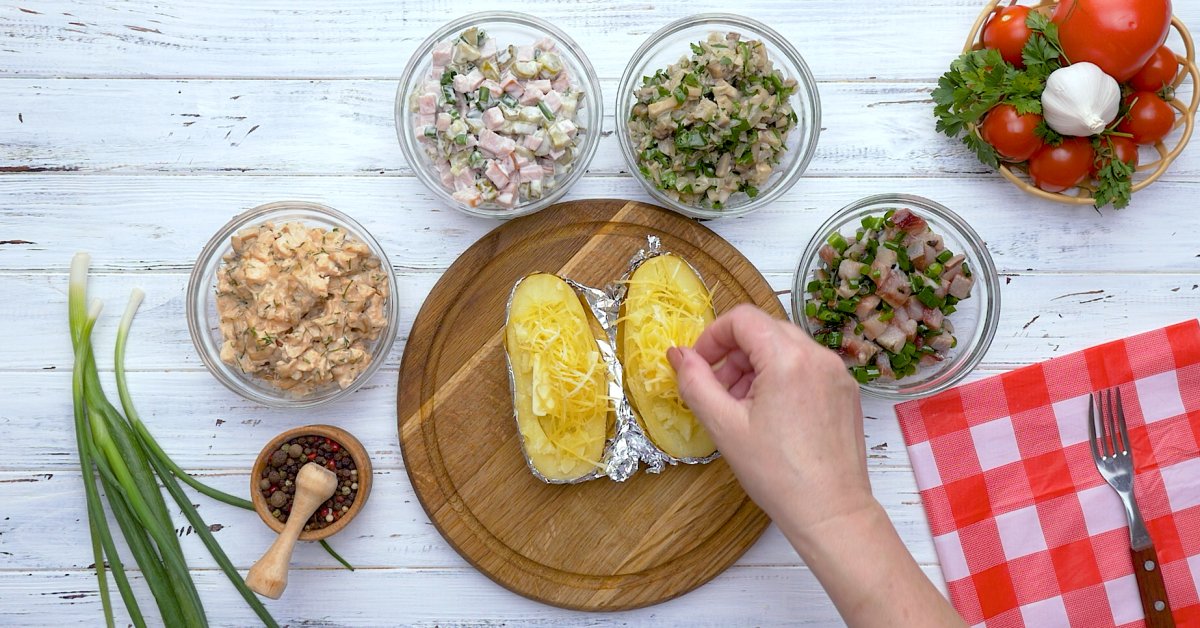 The baked potato according to the basic recipe — with butter and cheese — is already great. But if complemented by a spicy herring, fried button mushrooms or tender chicken breast with garlic — is just a delish. There is room for improvisation: today we've prepared 4 recipes for baked potato with toppings.
These are perfect to spice up your boring menu while using simple ingredients. Treat yourself and your loved ones with delicious potatoes. Shall we begin?
Stuffed Potato Recipe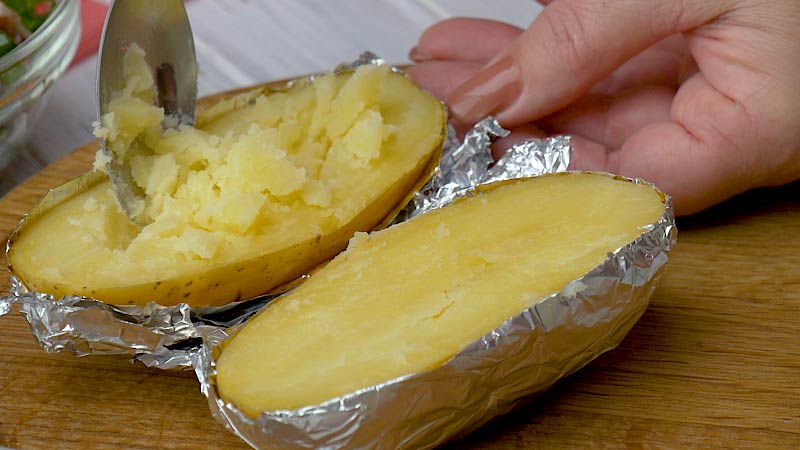 Ingredients for 1 potato:
large potatoes about 7 oz (200 g) each
¾ oz (20 g) soft butter
1 oz (20–40 g) grated hard cheese
salt to taste
Preparation:
Wash the unpeeled potatoes thoroughly with a brush, pat dry with a paper towel, and wrap in tin foil. Bake at 400 °F (200 °C) for one and a half hours. Check readiness with a toothpick: it should poke the tuber through easily.

Cut the potatoes in foil along. Salt the potato halves. Gently separate the pulp from the skin with a spoon and use a fork to mash it with butter and grated cheese.
Stuffings for Baked Potatoes
Stuffing №1
Cut 7 oz (200 g) cured herring fillets into small cubes, add chopped green onions to taste, season with vegetable oil. Mix.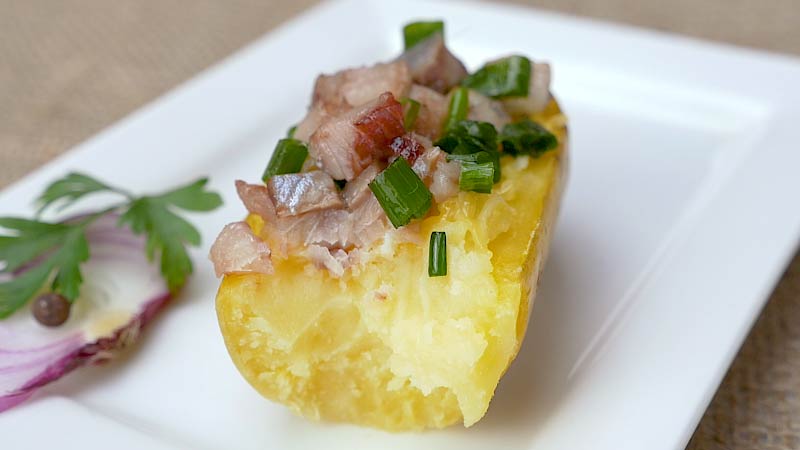 Stuffing № 2
Dice 3 ½ oz (100 g) of boiled chicken breast, add 3 tablespoons of fried with oil mushrooms, 1 clove of minced garlic, and a little chopped dill. Season with a mixture of ketchup and mayonnaise (1 tablespoon).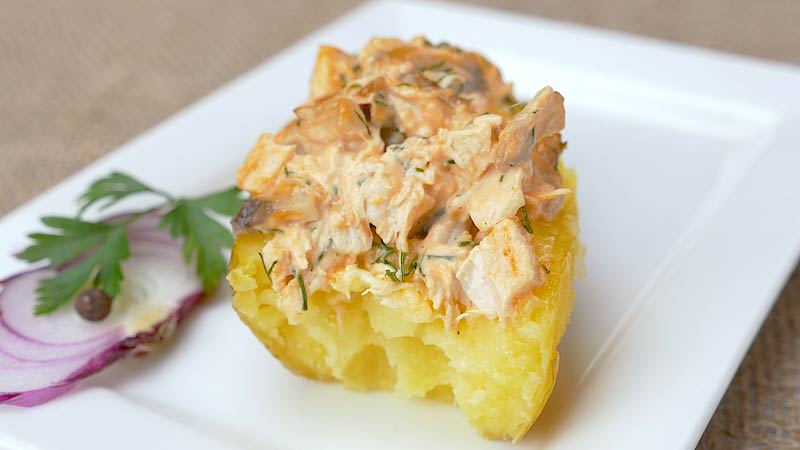 Stuffing № 3
Cut 3 ½ oz (100 g) of ham into small cubes, add chopped pickled cucumbers and green onions. Season with mayonnaise, mix.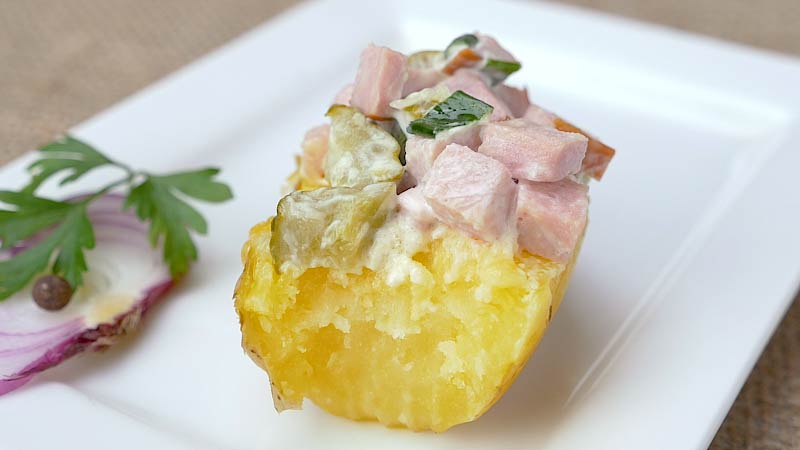 Stuffing № 4
Finely chop 7 oz (200 g) of mushrooms, fry with onion in vegetable oil. While frying, add chopped garlic clove, a pinch of salt and 2 tablespoons sour cream. Cool slightly, add chopped parsley, mix.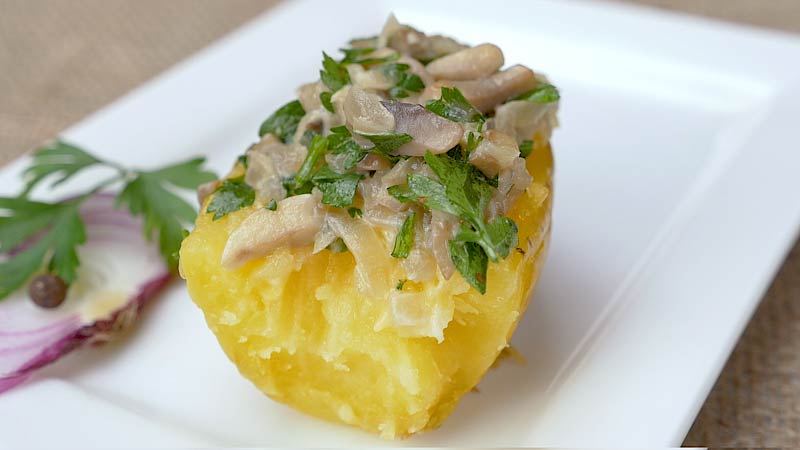 Making baked potato with toppings turned out so simple, but the dish looks impressive, don't you agree?