Napa Cabbage Salads: Proper Prep to Preserve All the Benefits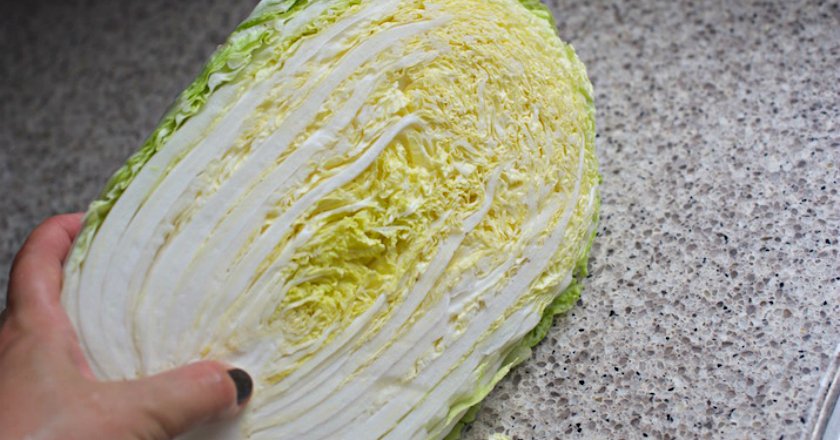 Chinese or napa cabbage is a low-calorie product that contains only 16 kcal per 3 ½ oz (100 g) — you can eat as much of it as you like and still lose weight. It has vitamins and coarse fibers that stimulate digestion, nourish intestinal microflora and cleanse the body of toxic substances. In view of the above, napa cabbage salads make excellent healthy meals.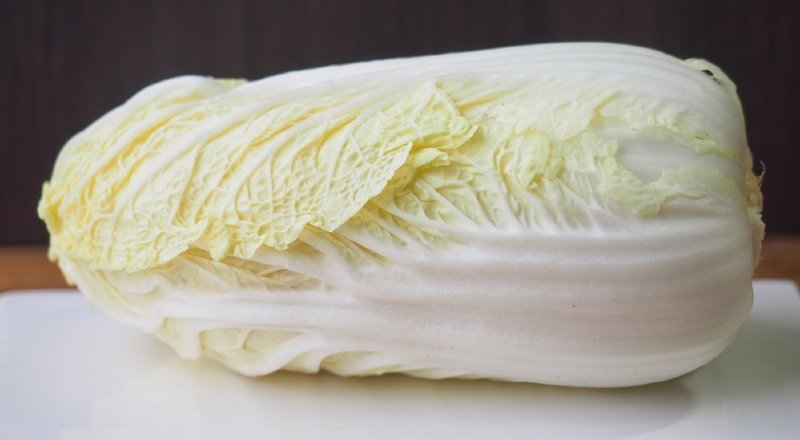 © DepositPhotos
Nevertheless, to preserve all the benefits, it is necessary to know how to properly prepare Chinese cabbage for cooking. We will talk about it in detail. Moreover, Cook It has selected five proven recipes for napa cabbage salads!
How to Prepare Napa Cabbage for Cooking
How to Wash Napa Cabbage
Unlike ordinary white cabbage, napa cabbage leaves do not snugly fit against each other. Particles of soil, dust, and even insects can get stuck between them. Therefore, simply tearing off the outer leaves is not enough.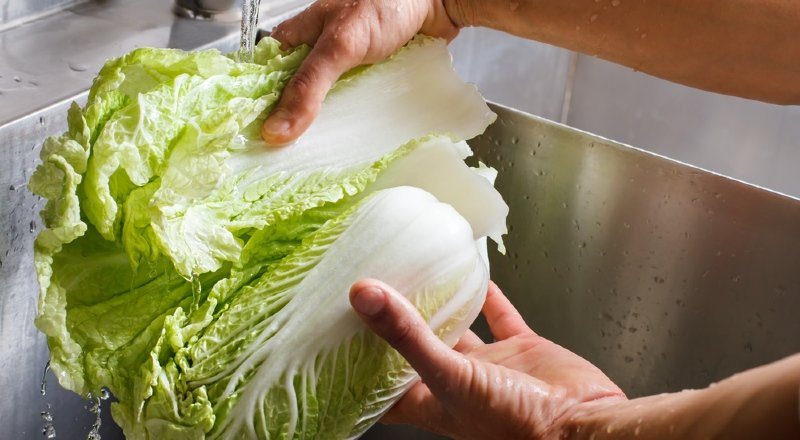 © DepositPhotos
If you plan to use the whole head, wash it in a basin or under running water. Rinse thoroughly between leaves and shake off excess moisture.

Do not wash the whole head if you are planning to put part of it back into the fridge, because the water left between the leaves will cause decay. We recommend to separate the necessary amount of leaves, rinse them thoroughly under running water, wrap the remaining dry head in plastic wrap, and store it in the fridge's vegetable box.
How to Cut Napa Cabbage
Many chefs cut away the white part of the stem. Do this only if you cook stuffed cabbage rolls, otherwise use the entire leaf.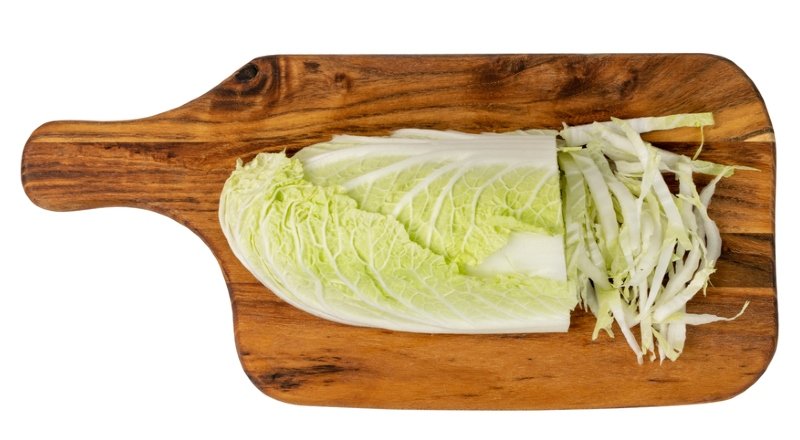 © DepositPhotos
A distinguishing character of napa cabbage is that its useful substances are distributed unevenly. The green part is rich with vitamin C, but the white part abounds in vitamins A and K and is much juicier.
Before cooking you should remove damaged leaves and the root.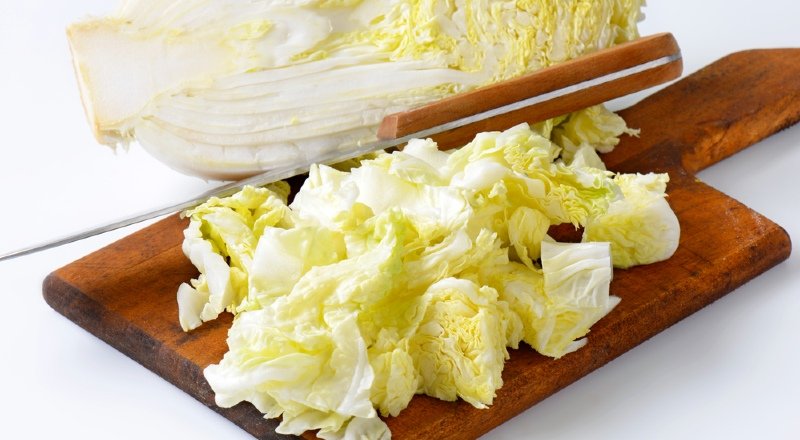 © DepositPhotos
Napa cabbage is a versatile vegetable that has qualities of both cabbage and leaf lettuce. Read more for new and fresh recipes.
Salads With Napa Cabbage
Mirabelle
Colorful, juicy, original. This ingredient combo will definitely impress your guests. Nutritious, satisfying, and low-calorie!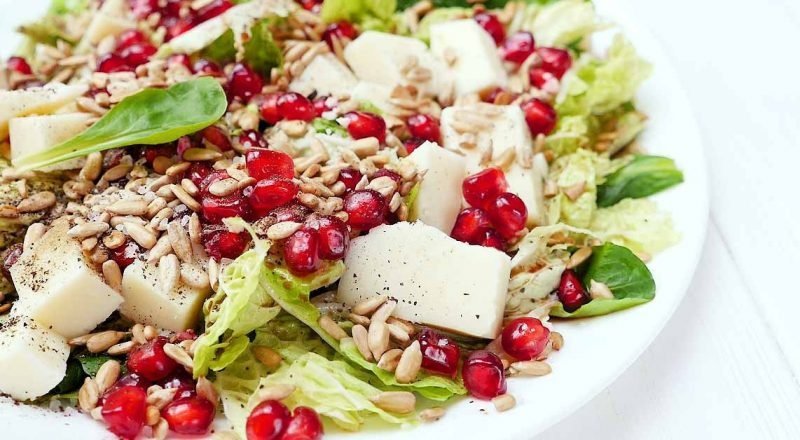 Ingredients:
10 ½ oz (300 g) goat cheese;
7 oz (200 g) pomegranate seeds;
2 oz (60 g) sunflower seeds;
1 ⅛ lb (500 g) napa cabbage;
1 bunch spinach;
olive oil to taste;
salt, ground black pepper to taste;
wine vinegar to taste;
1 clove garlic.
Instructions:
Cut the goat cheese into cubes of the same dimensions and pop them in the freezer.
Rub a salad serving bowl with garlic.
Thoroughly was spinach and napa cabbage, tear the leaves into small pieces, place them in the dish and sprinkle them with wine vinegar and olive oil.

Put the goat cheese on top of the leaves. Garnish with peeled sunflower seeds and pomegranate seeds. Season with salt and ground black pepper.
Napa Cabbage Roll
Festive, light, and unusual snack. Bryndza, bell pepper, olives… The fragrant smell of this dish is delightfully delicious!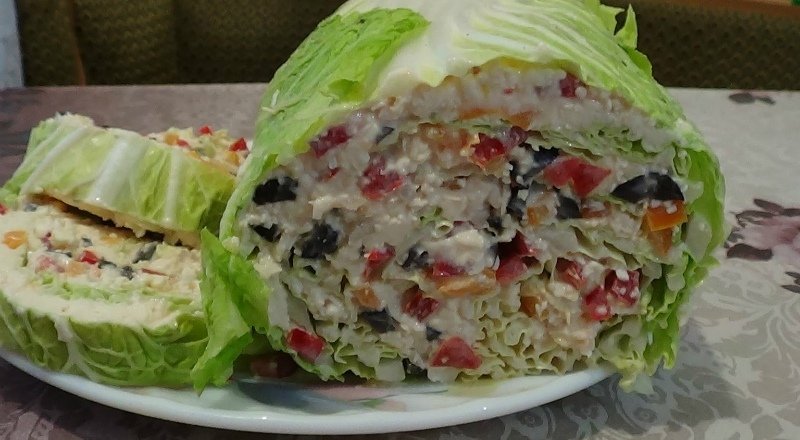 Ingredients:
1 napa cabbage;
7 oz (200 g) spreadable cheese;
7 oz (200 g) bryndza;
2 cloves garlic;
2 bell peppers;
7 oz (200 g) olives;
2 tbsp sour cream.
Instructions:
Grate the spreadable cheese and mash bryndza with a fork. Press garlic. Seed bell peppers and cut them into small cubes. Slice olives into thin rings. Combine the ingredients and add sour cream.
Cut napa cabbage in half — you will need only one half for the dish. Delicately peel off the outer sheet. Be sure not to detach it completely from the stump. Place a little filling on it. Then, peel off the next leaf and do the same. Do this with all the leaves.

Tightly wrap the stuffed cabbage roll with cling film and pop it in the refrigerator for 2 hours. Cut it into rings before serving.
Napa Cabbage Salad with Crab Sticks
If the guests are already on your doorstep, this impromptu dish is ready to impress!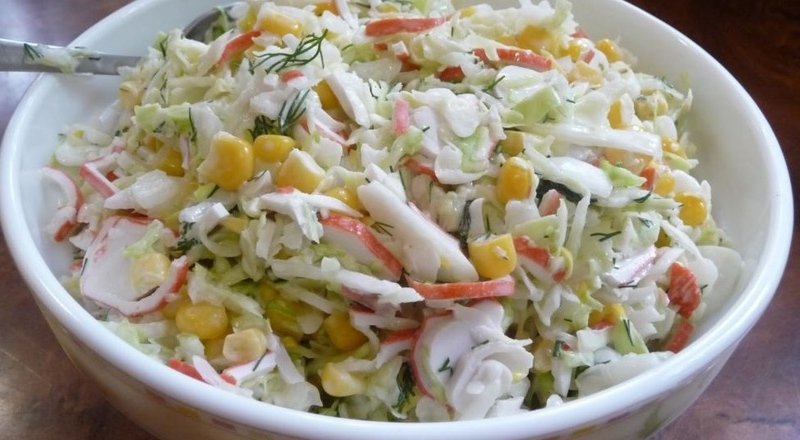 Ingredients:
7 oz (200 g) crab sticks;
7 oz (200 g) canned corn;
2 oz (60 g) croutons;
7 oz (200 g) napa cabbage;
7 oz (200 g) hard cheese;
3 tbsp mayonnaise;
2 cloves garlic;
salt, ground black pepper to taste.
Instructions:
Cut crab sticks into small pieces, hard cheese — into cubes.
Cut cabbage into large pieces. Peel and press garlic. Drain the liquid from canned corn.

In a deep salad bowl, combine all previously prepared ingredients, crackers, and corn, season with mayonnaise, add spices and mix thoroughly.
Napa Cabbage Salad with Green Peas and Boiled Sausage
The remastered recipe of the Dniester salad is even juicier and more tender, thanks to napa cabbage.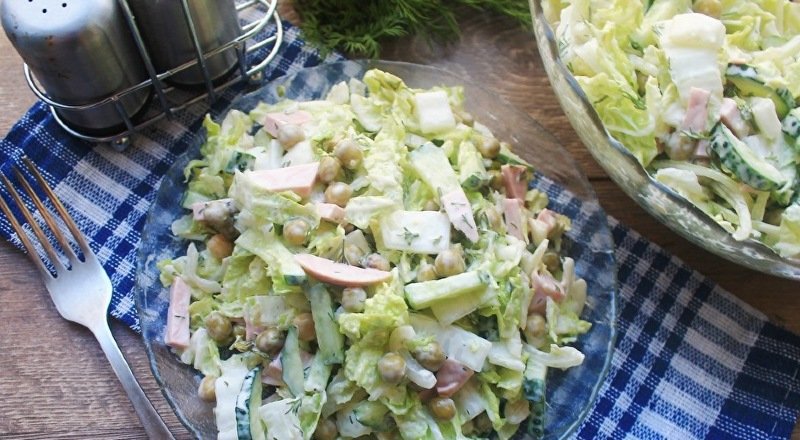 Ingredients:
½ napa cabbage;
7 oz (200 g) cooked sausage;
7 oz (200 g) canned peas;
2 cucumbers;
1 yellow onion;
3 tbsp mayonnaise;
salt to taste.
Instructions:
Coarsely shred napa cabbage. Clean and slice onion into thin half-rings. Cut cucumbers and sausage into small cubes or strips.
Transfer the cabbage into a bowl, season with salt. Scrunch the cabbage with your hands. Combine with the rest of the ingredients and serve.
Adam and Eve Salad
A mix of special ingredients together with an original egg yolk seasoning give the salad its flavorful taste, and you — the heavenly delight. A perfect combination!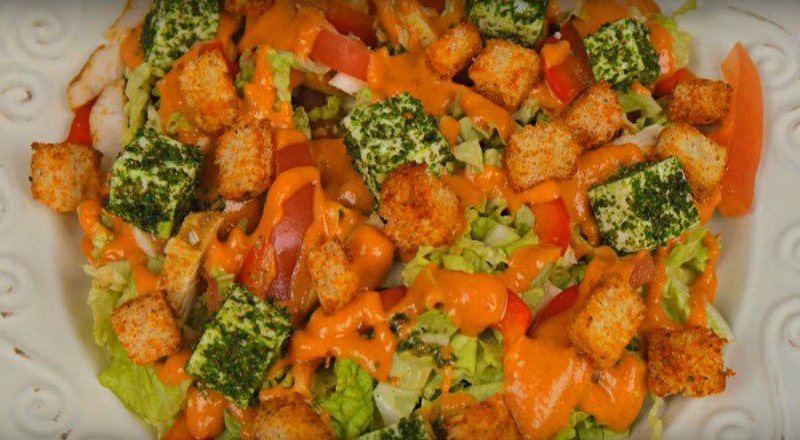 Ingredients:
4 ¼ oz (120 g) chicken fillet;
4 ¼ oz (120 g) napa cabbage;
1 tomato;
1 bell pepper;
3 ½ oz (100 g) bryndza;
3 egg yolks;
1 tbsp ketchup;
3 tbsp olive oil;
7 oz (200 g) bread;
1 ½ tsp paprika;
1 tsp garlic powder;
2 tbsp sunflower oil;
½ bunch dill;
salt, ground black pepper to taste.
Instructions:
Lightly season the chicken fillet with pepper and fry in a well-heated pan in a minimum amount of olive oil. Let cool.

Meanwhile, make the croutons. In a separate bowl, combine paprika, garlic powder, and a pinch of salt. Cut the crusts from the slices of bread and cut the soft part of bread into cubes. Place them in the bowl with the dry mixture. Toss, add sunflower oil, stir again. Put the cubes in a small oven-proof mold and pop in the oven at 320 °F for 10 minutes.
Finely shred napa cabbage. Cut bell pepper into thin strips, tomatoes into slices. Cut the chicken fillet into strips, bryndza — into cubes.

Chop dill and roll the cheese cubes in it.
Prepare a dressing. In a small bowl, rub cooked yolks with mustard and ketchup. Pour in a little olive oil and stir until the mass turns into a sauce.

In a deep salad bowl, combine the chopped vegetables and chicken fillet. Plate the mixture of vegetables and chicken in the bowl, add the sauce, top with the cheese cubes and croutons. Serve immediately.
Napa cabbage salads make delicious, healthy meals. Good thing you know how to prepare them properly now!