How to Make Baked Potatoes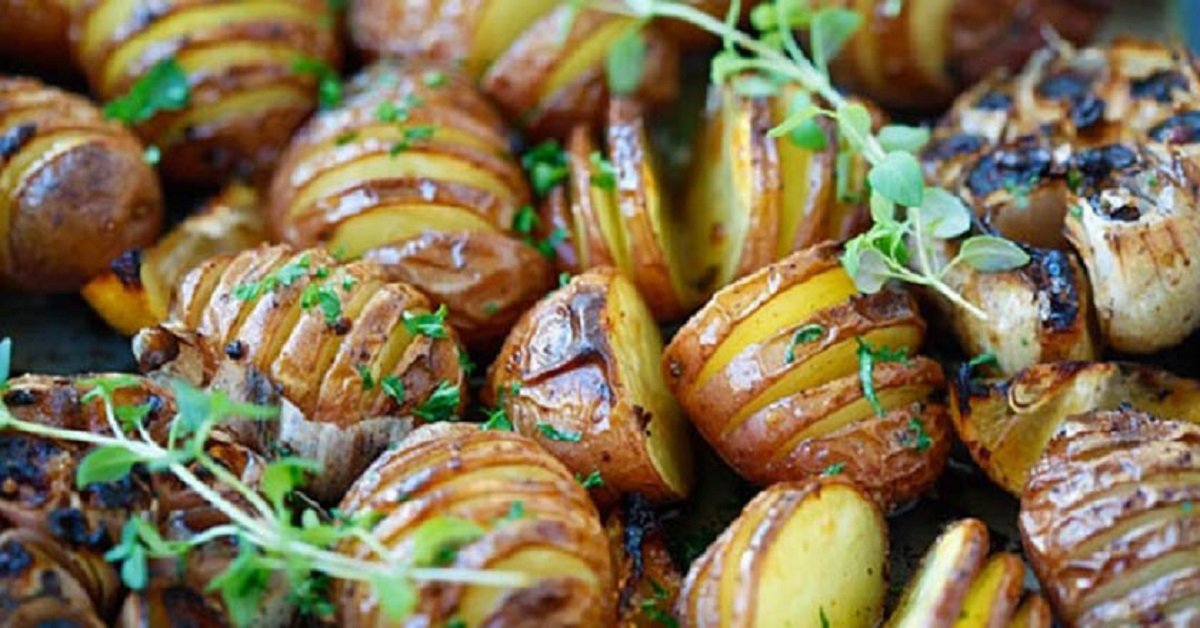 "Cook like a chef!" are not just words or a call to action but a reality that no longer requires attending cooking courses. A drop of talent, basic skills, and a burning desire to cultivate your abilities will make you a homegrown professional. Oh, and we almost forgot: you will need to follow the advice of the masters. Jamie Oliver is one of the best teachers.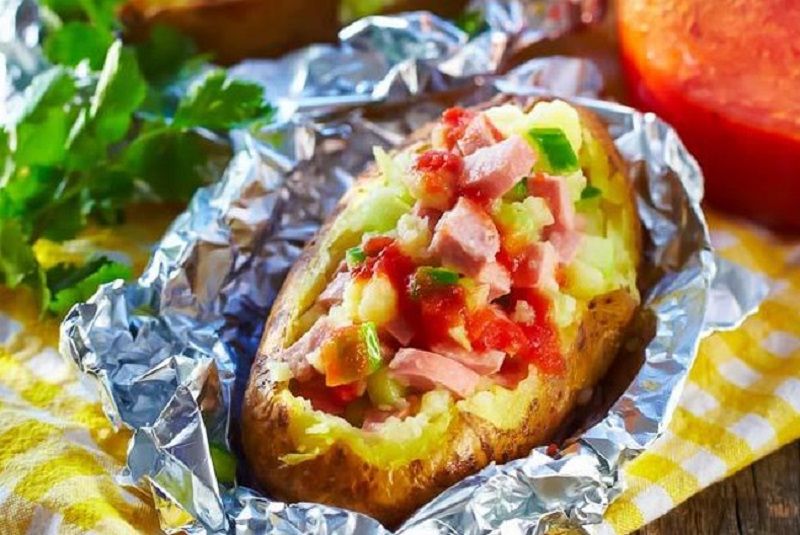 At the age of eight, Jamie fell in love with the process of cooking so much that he firmly decided: his further education, profession, and life will be tied to it. Today, he is not only a restaurateur and a famous English chef, but also the author of popular books, a well-known TV presenter of culinary shows, and one who inspires millions of people to create masterpieces from food. And here is a selection of his recipes for baked potatoes that will turn ordinary veggies into the food of the gods.
Jamie Oliver's Tip: How to Properly Make Baked Potatoes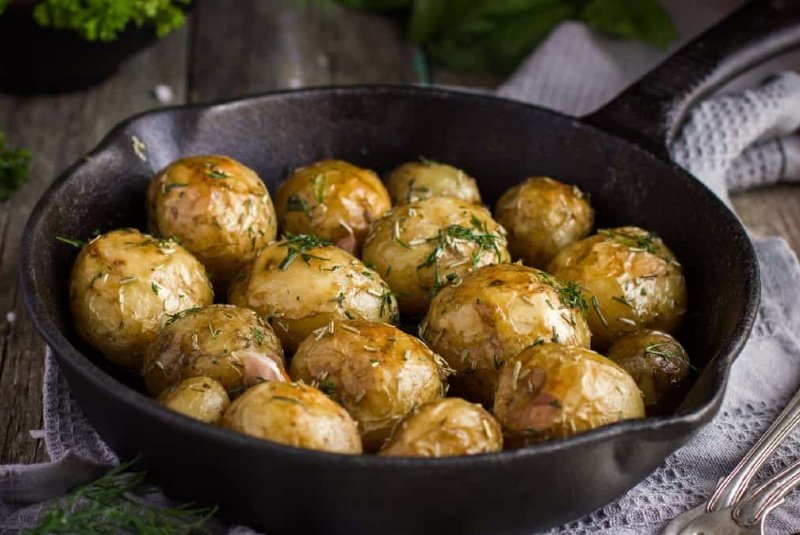 Before proceeding directly to cooking, you need to prepare the essential ingredient — potatoes. Although it may seem that baking potatoes is easy, not everyone knows how to do it properly. Jamie Oliver shares the secret so that your baked potatoes turn out perfectly soft and keep their shape.
Preparation:
Set the oven temperature to 390 °F.
Wash the potatoes and dry them thoroughly with paper towels.

Pierce each potato with a fork and grease with a small amount of olive oil. Put the potatoes in one bowl, add spices to taste and mix.
Take a regular baking sheet. Put all the potatoes on it. Pop in the oven for 60 minutes.
Such potatoes are always soft on the inside and wonderfully crispy on the outside. Before using them to prepare the following dishes, let them cool.
Potatoes Stuffed With Cheese and Tomato Sauce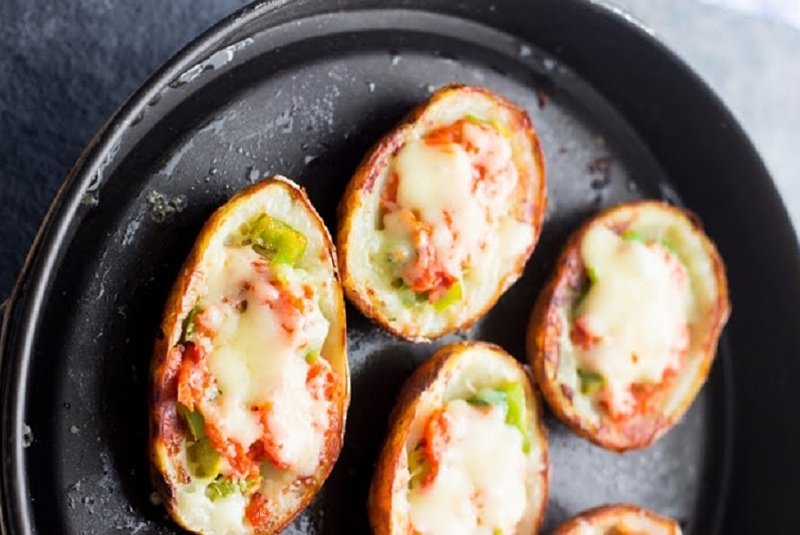 This is probably the easiest option. The chef recommends serving it as a main course for a family dinner. If you hold regular gatherings with friends, this dish will also be popular.
Ingredients:
3 potatoes;
14 oz (400 g) canned tomatoes;
3 ½ oz (100 g) hard cheese;
2 tbsp olive oil;
2 cloves garlic;
1 bunch basil;
salt, ground black pepper to taste.
Instructions:
Bake potatoes according to the recipe above.
Crush garlic cloves and sauté them in olive oil. Chop basil. Add the herbs and tomatoes to the pan with the garlic. Thoroughly mash tomatoes with a spatula. Add spices to taste.
Bring the mass in a pan to a boil and then remove it from the heat.

Strain the sauce through a sieve, and then bring it to a boil again. Sauté over low heat for another 5 minutes.
Cut the potatoes in half. Remove the middle from each half of the vegetable and fill them with the sauce. Grate cheese and sprinkle it on top.

Put the potato halves on a baking sheet. Pop into the oven preheated to 360 °F. The cheese should melt.
Garnish the dish with herbs. If you cook for a large group, double or triple the amounts of products in the recipe. Serve with flavorful meat and a light salad.
Potatoes Stuffed With Salmon and Peas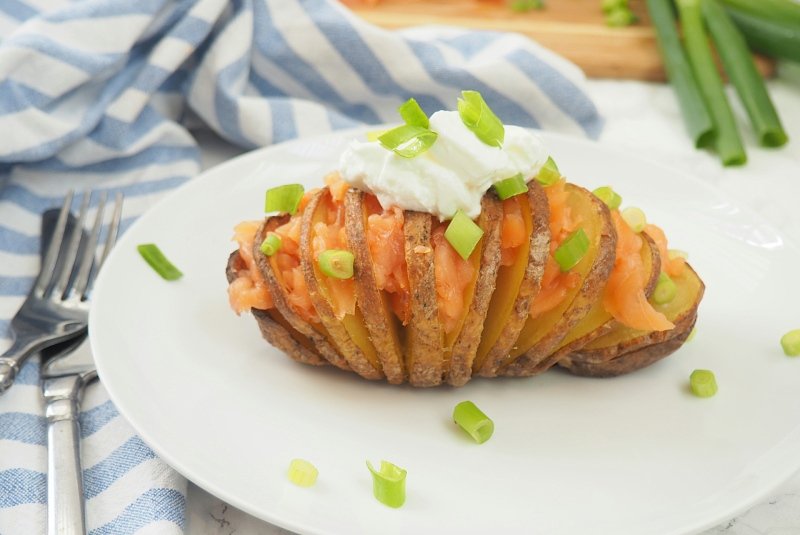 This dish can be reliably classified as gourmet. It requires less hassle than baking in an oven bag, and the taste is much better. The filling of green peas and smoked salmon is not only exquisite but also unique. Feel free to choose this recipe for a festive dinner.
Ingredients:
3 potatoes;
5 ¼ oz (150 g) green peas;
3 ½ oz (100 g) smoked salmon;
3 ½ oz (100 g) cheese;
1 clove garlic;
2 tbsp natural yogurt;
1 tbsp olive oil;
1 bunch scallions;
salt, ground black pepper to taste.
Instructions:
Bake potatoes according to the recipe above.
Mash green peas.
Chop garlic and sauté it in oil. Add the mashed peas to the pan and cook until the mass is soft. During the cooking process, add a little water, if necessary. Do not forget to add spices.

Put the whole mass in a blender and grind it thoroughly.
Grate the cheese and add it to the pea puree. Mix well.

Grind smoked salmon and combine it with the pea puree.
Make cuts in the potatoes and stuff them with the filling.

Chop scallions, sprinkle them on top of the potatoes, and serve.
As for yogurt, it is used instead of sauce. Pour it over the stuffed vegetables or serve it in a sauceboat. A tandem of nutritious and heavy potatoes with light yogurt is a win-win option. Why make the dish heavier with hot sauce?
Potatoes Stuffed With Garlic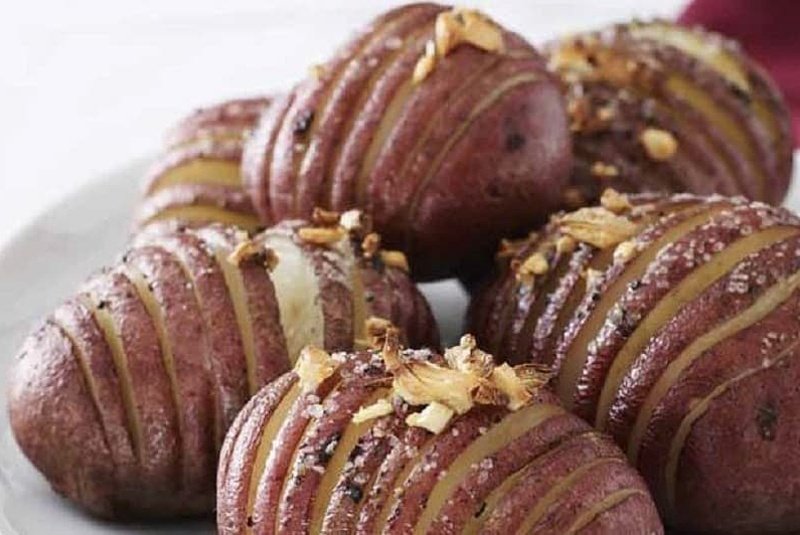 There was a period when garlic practically disappeared from recipes. All because of the smell, of course. And today the tendency to use it in cooking meat, potatoes, or sauce has reappeared. Even eminent chefs like Jamie Oliver cannot imagine a single dish without a clove of garlic.
Ingredients:
2 lb (1 kg) potatoes;
1 ⅔ fl oz (50 ml) olive oil;
6 cloves garlic;
salt, ground black pepper to taste.
Instructions:
Bake potatoes according to the recipe above.
Let the potatoes cool and make cuts in them.

Grind garlic cloves. Fill the cuts with the garlic mass.
Pour olive oil over the potatoes.
Add spices to taste.
Bake at 320 °F for 15 minutes.
Simultaneously simple and delicious — this is how you can characterize these baked potatoes. The recipe from the chef proves once again that a hearty dinner does not necessarily mean spending hours at the stove.
Delightful dishes made from ordinary products, no complicated technologies or hours spent in the kitchen, dinner in only half an hour — all this due to uncomplicated recipes from Jamie Oliver. Although potatoes are the main side dish for nearly every meal, nothing stops you from making it even more delicious. These ideas are worth sharing!