Button Mushroom Dishes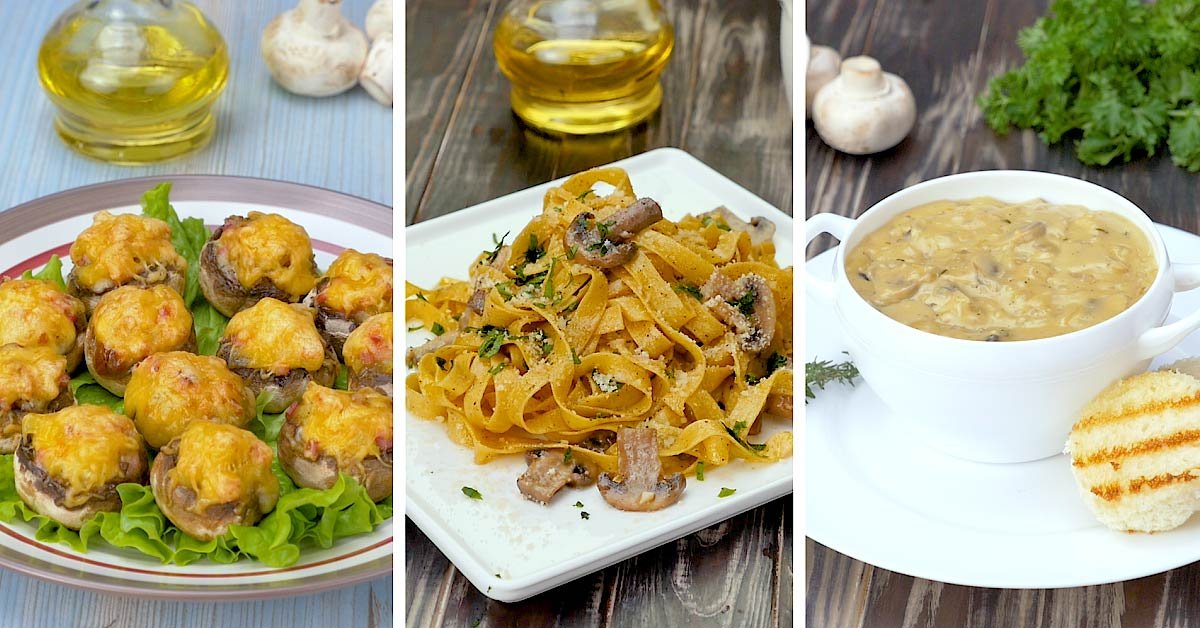 If you are looking for fresh ideas for an easy, but satisfying and vibrant dinner, Cook It will save the day with a new selection of recipes. Need something not too high in calories, but filling, preferably affordable and easy to prepare? Then we recommend paying attention to button mushroom dishes. You can find this ingredient in any store.
Today on our menu: pasta with mushroom sauce, button mushroom cream soup and, of course, stuffed mushrooms. For each recipe, it is better to choose mushrooms with a more distinct taste and aroma.
Button Mushroom Pasta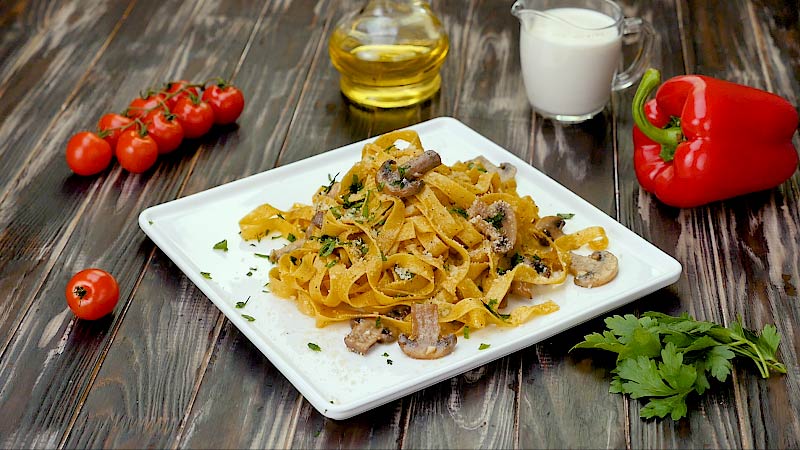 Ingredients:
5

⅔ oz (

160 g) pasta
1 oz (30 g) butter
10 ½ oz (300 g) button mushrooms
2 cloves garlic

½ cup

(125 ml) dry white wine
½ cup (125 ml) chicken stock
¾ cup (185 ml) cream
1 oz (30 g) parmesan
½ tsp salt
½ tsp black pepper
parsley to taste
Preparation:
Cook the pasta until tender, while making the sauce.

Melt the butter and fry the mushrooms on it. Season with salt and pepper, mix with finely chopped garlic.
Add the wine, cream and hot chicken stock. Bring the mixture to a boil.

Add the boiled pasta to the mushroom sauce, mix thoroughly and let it simmer for a couple more minutes. Serve the dish hot, sprinkled with parmesan and herbs.
Mushroom Cream Soup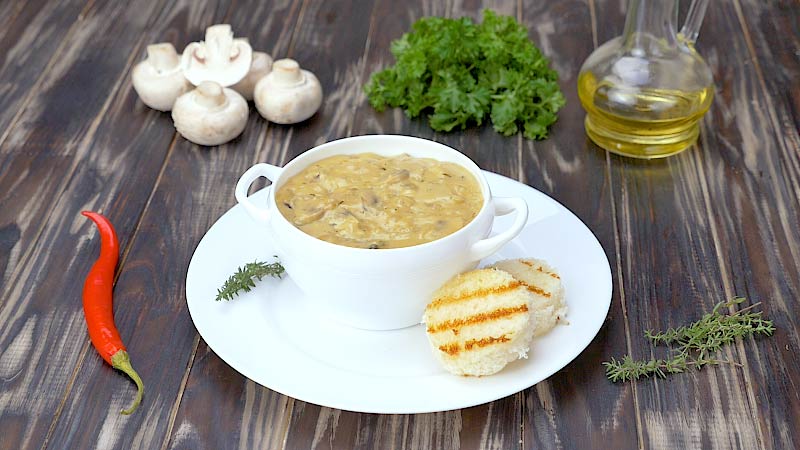 Ingredients:
4 tbsp butter
1 tbsp sunflower oil
2 onions
4 cloves garlic
1 ⅔ lb (750 g) button mushrooms
1 tsp dry thyme
½ cup (100 ml) dry wine
6 tbsp wheat flour
4 ¼ (1 l) broth
1 ½ tsp salt and black pepper
1 cup (200 ml) heavy cream
2 bouillon cubes
fresh parsley and thyme to taste
Preparation:
Melt the butter in a pan and fry the finely chopped onion with garlic in it until translucent.

Add finely chopped mushrooms, thyme, wine and simmer until soft.
Mix the flour with the mushroom mixture thoroughly, then pour in the hot broth and add the crumbled bouillon cubes.

Add salt, pepper, mix and keep the mixture on heat for several minutes under the lid until the texture of creamy sauce with mushrooms.
Add the cream, bring the mixture to a boil and chop fresh parsley and thyme. Stir and serve the hot cream soup.
Stuffed Button Mushrooms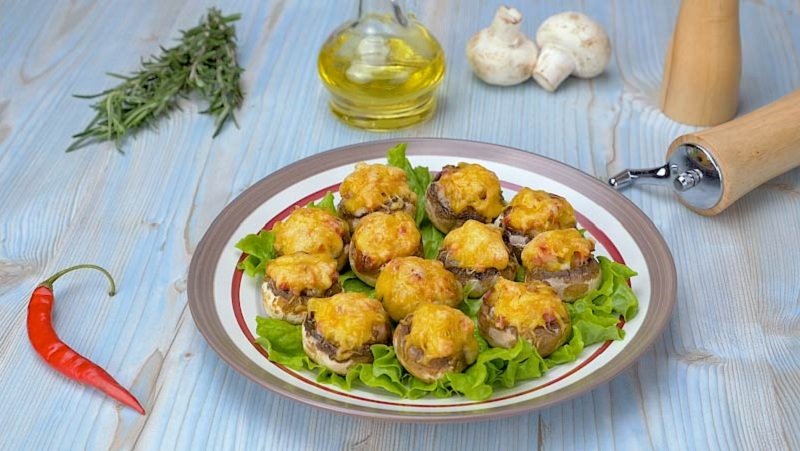 Ingredients:
18 oz (500 g) button mushrooms
2 potatoes
2 oz (50 g) hard cheese, mozzarella, and ham

6 tsp olive oil
salt and pepper to taste
Preparation:
Boil the potatoes in salted water. Let cool and peel.
Separate the mushroom legs from the hats and cut into small cubes. Also chop the potatoes, ham and mozzarella, mix all the chopped ingredients with salt, pepper and oil.

Stuff the mushroom hats with the mixture and sprinkle with grated fragrant cheese on top.
Bake in the oven for 30 minutes at 350 °F (180 °C).
Button mushroom dishes go well with a huge number of foods. We don't recommended to mix them with fresh milk though. Button mushrooms contain only 25 kcal per 4 oz (100 g), so even pasta with creamy sauce won't affect the waistline, because it has about 230 kcal per 4 oz (100 g). Stuffed hats are good with a variety of fillings, but it's better not to experiment with seasonings for cream soup : thyme and parsley are the best choice. We wish you to try all three recipes and get maximum gastronomic pleasure!