Delicious Chocolate Caramel Desserts To Satisfy Your Tastebuds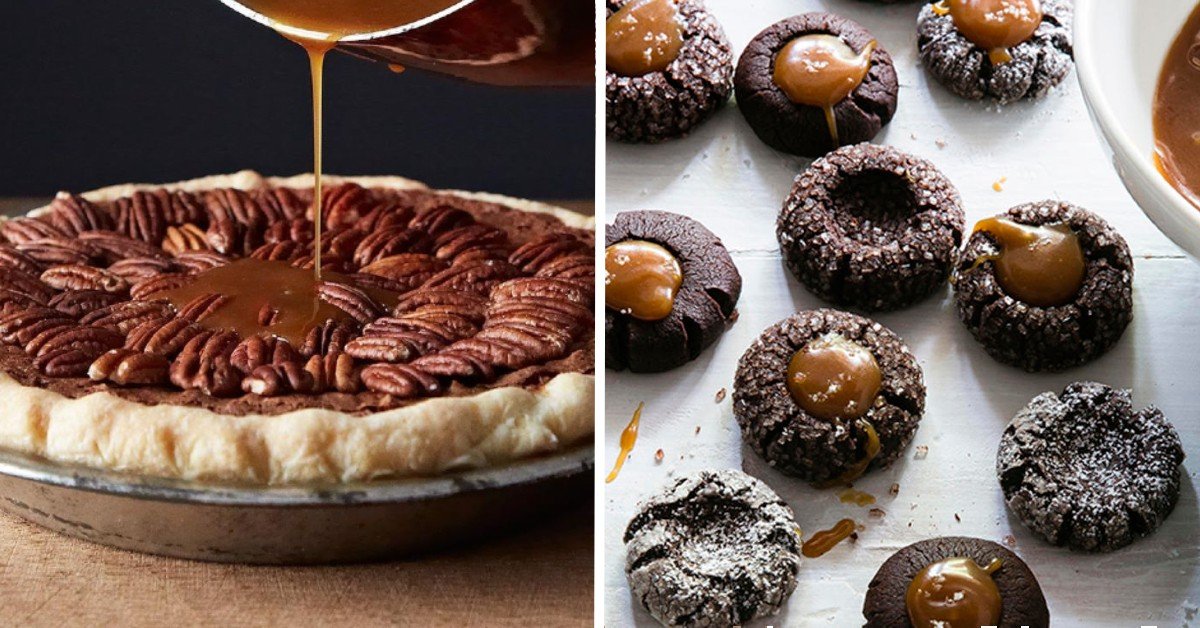 When it comes to sweets, people claim that the union of chocolate and caramel is the greatest creation of all time. By 'people,' we, of course, mean us because we love this classic duo and the crave-worthy chocolate caramel desserts they help create.
From a decadent cake with a bold name and thumbprint cookie recipe found in a collection at a yard sale to decadent no-bake toffee bars, you'll find a new favorite in this roundup of the best sweet and salty, and oh-so-gooey chocolate caramel desserts.
Chocolate Caramel Desserts
Salted Caramel-Chocolate Pecan Pie
A stunningly beautiful pie that looks professionally done.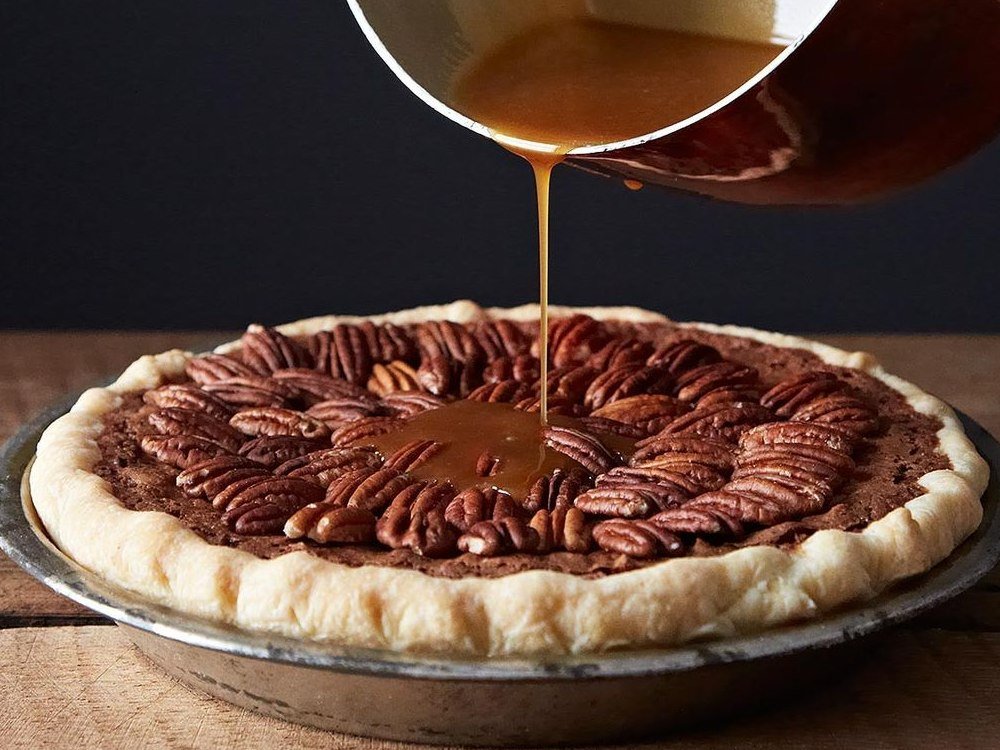 Ingredients:
For the Filling:
1 ½ cups sugar
¾ cup butter
⅓ cup flour
⅓ cup cocoa
1 tbsp light corn syrup
1 tsp vanilla extract
3 eggs
1 cup toasted chopped pecans
9-inch unbaked deep-dish piecrust shell
For the Topping:
¾ cup sugar
1 tbsp lemon juice
⅓ cup heavy cream
4 tbsp butter
¼ tsp table salt
2 cups toasted pecan halves
½ tsp sea salt
Instructions:
Preheat the oven to 350 °F.
To prepare the filling, combine sugar, butter, flour, cocoa, syrup, and vanilla extract in a large bowl and mix thoroughly.
Next, add eggs and stir until blended. Finally, add toasted chopped pecans and pour the filling into the pie shell.

Bake for 35 minutes before removing from the oven and transferring to a wire rack to cool.
Meanwhile, to prepare the topping, combine sugar, freshly-squeezed lemon juice, and quarter-cup water in a saucepan and bring to a boil.

Cook for 8 minutes, occasionally stirring.
Remove from heat, then add cream and butter. Stir until butter is incorporated (approximately a minute). Add table salt and mix.
Garnish with pecan halves and top with warm caramel. Let cool for 15 minutes before sprinkling with sea salt.
Better Than Sex Cake
Take chocolate cake to the next level by adding caramel and Heath candy. Yum!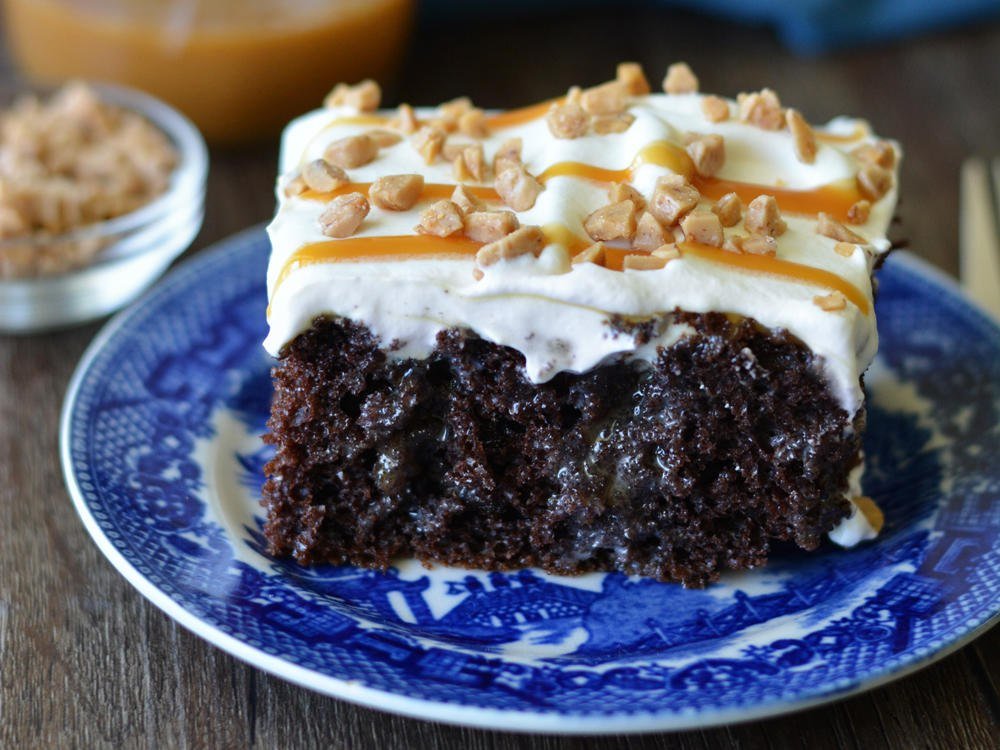 Ingredients:
1 chocolate cake mix
3 eggs
1 ¼ cup milk
½ cup oil
14 oz (400 g) condensed milk
11 ½ oz (325 g) salted caramel sauce
2 cups heavy whipping cream
2 tbsp powdered sugar
½ tsp vanilla extract
8 oz (225 g) Heath candy pieces
Instructions:
Preheat the oven to 350 °F. Spray a 9×13-inch baking dish with cooking spray.

Prepare cake mix according to the directions on the package, replacing water with milk. Pour the batter into the prepared dish and bake for the amount of time specified on the product label. Let cool.
Poke holes all over the cake using the end of a wooden spoon. Pour condensed milk over the cake and inside the holes.

Drizzle with half of the salted caramel sauce.
Whip cream, then add powdered sugar and vanilla extract and continue whipping until stiff peaks form.
Spread the cake with the whipped cream. Drizzle with remaining caramel sauce and sprinkle with candy.
Peanut Butter Pie Milk Shake
Ditch the boring vanilla milkshake and make this fabulous sweet beverage instead.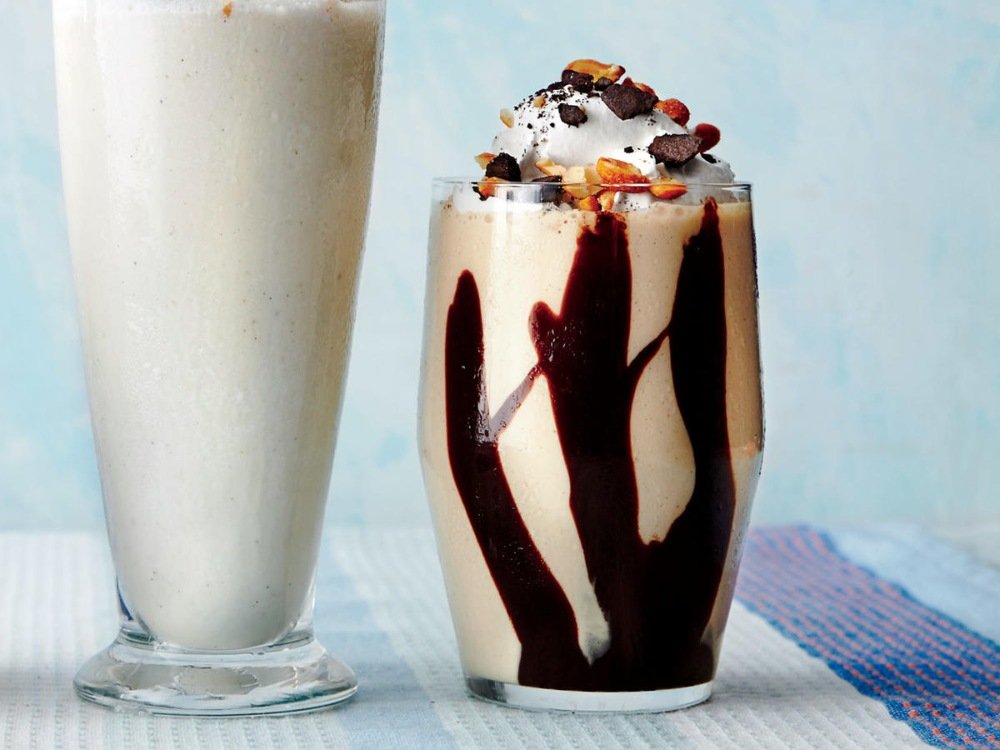 Ingredients:
4 tbsp chocolate syrup
1 lb (450 g) vanilla ice cream
1 cup creamy peanut butter
½ cup milk
2 tbsp jarred caramel topping
whipped cream to taste
1 cup crumbled chocolate wafer cookies
8 tbsp chopped honey-roasted peanuts
Instructions:
Drizzle a tablespoon of chocolate syrup inside a chilled glass. Repeat with 3 more glasses.

Process softened ice cream, peanut butter, milk, and caramel topping in a blender until thick (approximately 4 minutes).
Divide the milkshake evenly among the prepared glasses before topping each with whipped cream.

Sprinkle with cookies and peanuts. Serve immediately.
Chocolate Caramel Thumbprint Cookies
These will become the hit of any cookie exchange.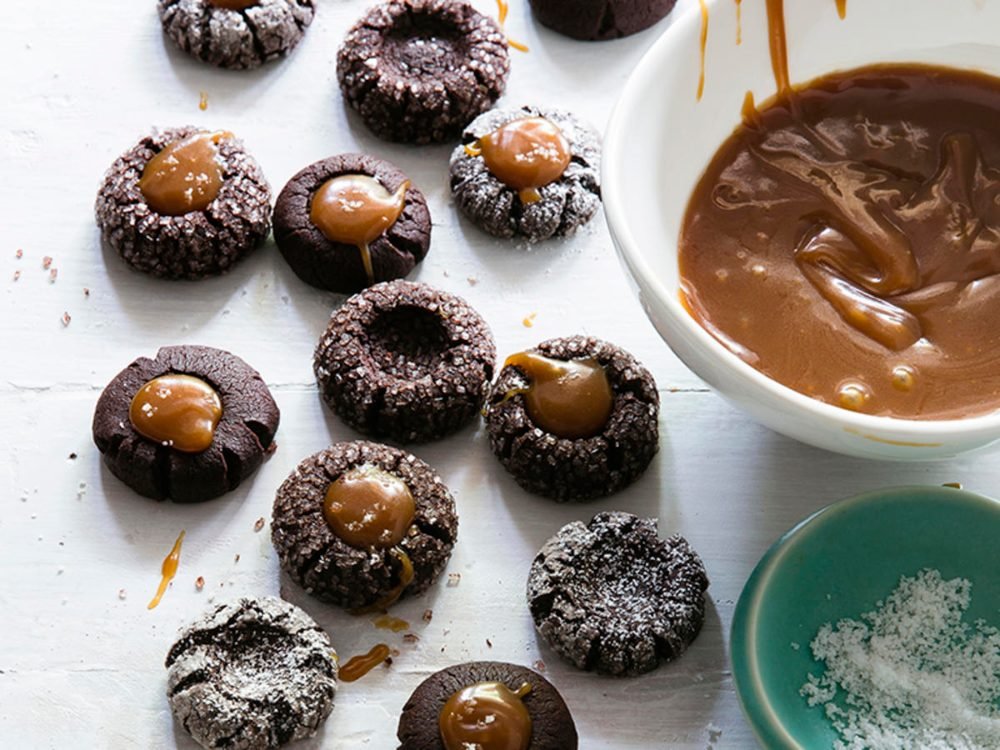 Ingredients:
For the Cookies:
1 cup flour
½ cup cocoa powder
¼ tsp salt
½ cup butter
⅔ cup sugar
1 egg yolk
1 tbsp heavy whipping cream
½ cup powdered sugar
1 tsp vanilla extract
For the Caramel:
1 cup sugar
6 tbsp unsalted butter
½ cup heavy cream
¼ tsp fine sea salt, plus ½ tsp for sprinkling
Instructions:
Preheat the oven to 350 °F. Line a baking sheet with parchment paper.
To make the cookies, sift flour, cocoa powder, and salt into a bowl.

In a separate bowl, beat room-temperature butter and sugar with a mixer until pale and fluffy. Reduce speed to low and add egg yolk, cream, and vanilla. Gradually add the flour mixture.
Roll the dough into little balls and roll them in powdered sugar.

Place them on the baking sheet, leaving a space of two inches between each.
Make an indentation in the middle of each cookie using the end of a wooden spoon.

Bake until just set (approximately 10 minutes).
Let cool on a cooling rack. Sift some more powdered sugar onto the thumbprint cookies.
To make the caramel, evenly spread the sugar in a large frying pan and heat over moderately high heat, constantly stirring for approximately 6 minutes. As soon as it's liquefied, reduce heat to low.

Add butter and stir until incorporated. Continually stirring, add the cream, and boil for one minute before removing from the heat and adding sea salt. Transfer the caramel into a bowl and let cool.
Spoon about quarter-teaspoon of caramel into each cookie, then sprinkle with a little sea salt.
No-Bake Toffee Bars
Your new go-to no-bake cookie to satisfy your chocolate caramel cravings.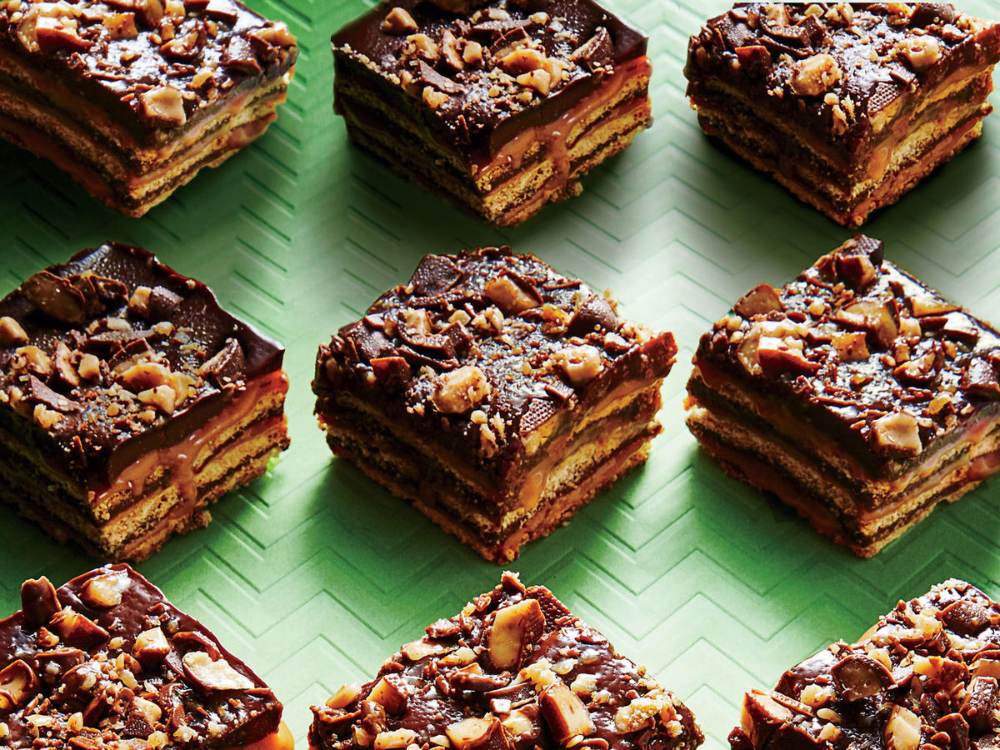 Ingredients:
1 ½ cup heavy cream
3 tbsp powdered sugar
12 oz (340 g) semisweet chocolate baking bars
1 tsp vanilla extract
1 ⅓ lb (620 g) caramels
⅓ cup evaporated milk
17 graham cracker sheets
6 oz (170 g) chocolate-covered toffee candy bars
Instructions:
Line a 9-inch square baking pan with parchment paper and grease it with salted butter.

Combine heavy cream and powdered sugar in a small saucepan and bring to a simmer.
Place chopped chocolate in a medium bowl and cover with the cream mixture. Let sit for a minute before stirring the mixture until chocolate melts. Add vanilla and mix.

Combine caramels and milk in a saucepan and cook over medium-low heat, stirring often, until caramels melt and the mixture is creamlike (approximately 10 minutes). Remove from heat and let sit for another 10 minutes.
Place one layer of graham cracker sheets in the bottom of the prepared pan. Pour one-third of the caramel mixture over the crackers and smooth it to the edges of the pan. Pour one-third chocolate mixture over caramel, smoothing it to the edges of the pan, as well. Repeat the layers.

Sprinkle with chopped toffee candy bars and let chill, uncovered, overnight.
Cut into pieces before serving.
Salted Caramel Brownies
Brownies that incorporate sweet and salty in a beautiful, crave-worthy way. These are one of the most delectable chocolate caramel desserts ever!
Ingredients:
For the Caramel Sauce:
¾ cup sugar
2 tbsp light corn syrup
2 tbsp water
¼ cup half-and-half
1 tsp sea salt
For the Batter:
½ cup sweet white sorghum flour
¼ cup white rice flour
½ cup cocoa
2 tbsp potato starch
2 tbsp tapioca flour
½ tsp xanthan gum
½ tsp sea salt
⅓ cup butter
2 oz (60 g) bittersweet chocolate
½ cup sugar
½ cup brown sugar
6 tbsp milk
1 tsp vanilla extract
2 eggs
Instructions:
To prepare the caramel sauce, combine sugar, corn syrup, and water in a saucepan and cook, frequently stirring, over moderately high heat until the mixture becomes amber-colored (approximately 8 minutes).
Remove the pan from heat, add half-and-half and stir with a whisk until incorporated before adding salt.

Preheat the oven to 350 °F.
To prepare the batter, combine the three types of flour, cocoa, potato starch, xanthan gum, and sea salt in a bowl and stir with a whisk.
Next, combine butter and chopped chocolate and microwave until melted, stirring every 30 seconds. Add sugars, milk, vanilla, and eggs, stirring until evenly combined. Gradually add the flour mixture, stirring until moist.

Spread half of the batter in an 8-inch square metal baking pan sprayed with cooking spray, then pour caramel sauce on top. Drop the remaining batter by tablespoonfuls onto the caramel sauce and swirl gently with the tip of a knife.
Bake at 350 °F for half an hour. Let cool on a wire rack.
Chocolate-Caramel Bark With Quinoa
Dark chocolate brings an intense flavor to this decadent treat.
Ingredients:
½ cup uncooked quinoa
⅓ cup turbinado sugar
7 oz (200 g) dark chocolate
¼ tsp sea salt
Instructions:
Heat a skillet before adding quinoa and cooking until lightly toasted (approximately 3 minutes). Add sugar and cook, continuously stirring, until it melts (roughly 6 minutes).

Evenly spread the mixture on a baking sheet lined with parchment paper and let cool before placing it in a zip-top plastic bag. Lightly tap with a rolling pin to break apart any clusters and reserve ⅓ cup of the mixture for later.
Melt the chocolate and stir in the quinoa mixture.

Spread the chocolate and quinoa mixture in a thin layer on a 13×9-inch baking dish lined with parchment paper. Sprinkle with the reserved quinoa and sea salt. Pop in the freezer for 10 minutes. Break into pieces before serving.
Save these seven brilliant recipes for delicious chocolate caramel desserts to bookmarks — they'll come in super handy, when you're craving a special kind of a treat to satisfy your tastebuds. We hope you try at least some of these! Be sure to share your feedback in the comments section, as we'd love to know.