Roasted Potatoes From Barefoot Contessa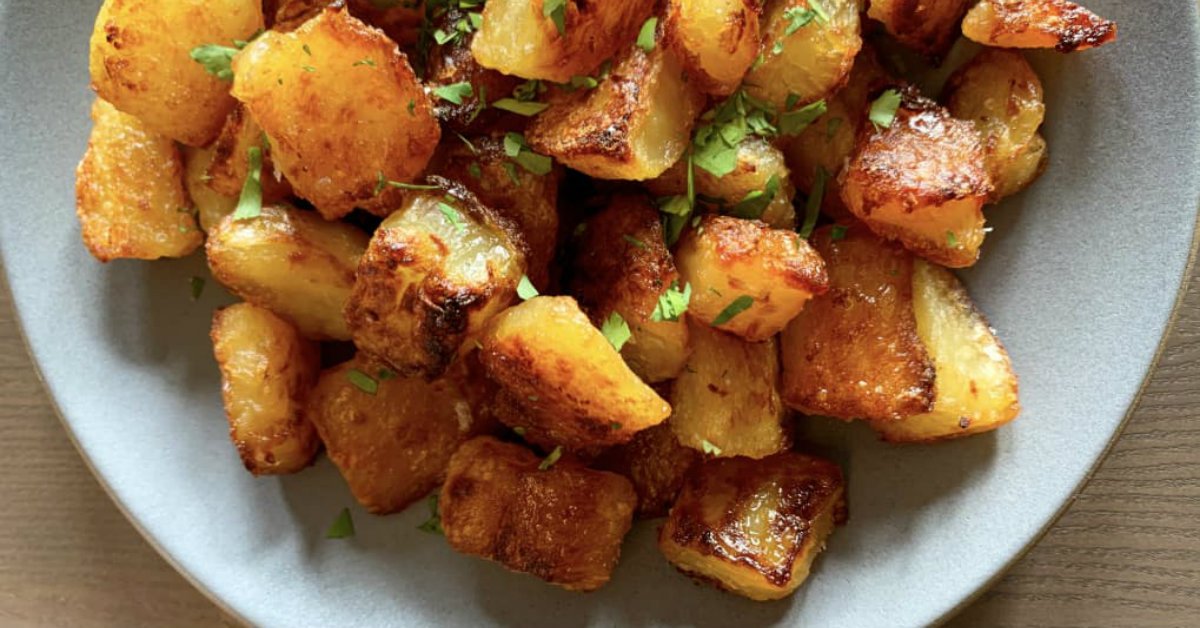 Recently Ina Garten shared Emily Blunt's family favorite recipe for English roasted potatoes, and it was so popular that it crashed her website. We love Ina's recipes and decided to make these roasted potatoes from Barefoot Contessa and share our experience with you!
In this article, you'll also find some tips that we learned while trying the recipe. They will help you make these roasted potatoes perfect.
Roasted Potatoes From Barefoot Contessa
The recipe calls for 5 simple ingredients, so it's easy to try it without going to the store.
Ingredients
3 lb (1 ⅓ kg) large Yukon Gold potatoes

½ cup (120 ml) oil
kosher salt
coarse sea salt
parsley
The recipe says that you should add 2 tbsp kosher salt to the water while boiling the potatoes, but it doesn't specify the amount of water. We used 2 qt (about 2 l) and liked the concentration of salt to water. The dish turned out flavorful.
Instructions
Boil the potatoes for 8 minutes and when they are tender, place the lid on the pot and shake it for several seconds to rough up the edges.

Then the potatoes should be transferred to a cooling rack and left to dry for at least 15 minutes.
Now you need to place the cooled potatoes onto a preheated at 425 °F (220 °C) baking sheet with oil. Place the sheet in the oven. Lower the temperature to 350 °F (180 °C) and cook the dish for an hour occasionally flipping the potatoes. The dish is ready when the potatoes are golden-brown and crispy on the outside and creamy on the inside.

Now it's time to garnish the hot potatoes with minced parsley, sprinkle with salt, and serve to the table. 
Here are several tips on making Emily's English roasted potatoes:
Flavorful fat or olive oil (instead of vegetable oil) will help you make the dish richer in taste. Try using ⅓ cup of oil instead of ½. The dish will turn out as delicious but less greasy.
It's convenient to use a metal bench scraper to place the potatoes into the hot oil.

Season the potatoes with coarse salt while still on the baking sheet to coat them evenly.
Due to the cooking method, the roasted potatoes turn out tender on the inside and crispy on the outside. We hope these tips were useful! Feel free to leave your comments below.