30 Ideas for Christmas Window Decorations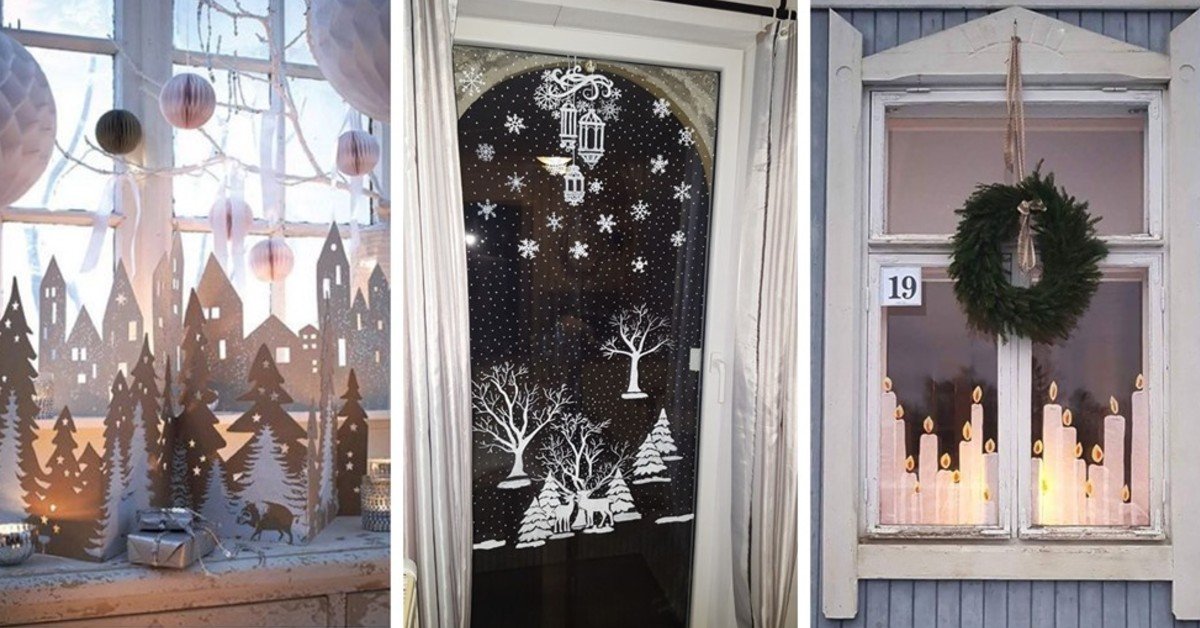 People generally wait to decorate for Christmas after Thanksgiving. However, being the year 2020 has been, no one would blame you for starting a little early. When it comes to Christmas decorations, there are a few essential areas to cover. Of course, you want to hang a wreath above the fireplace in your living room and add a touch of whimsy to your outdoor space with some fairy lights. There might be something you are overlooking when dreaming up ideas, though: Christmas window decorations. After all, windows are a great place to display your holiday spirit.
With that in mind, we have pulled together a roundup of ideas full of holiday cheer. Hopefully, they will inspire you to make your windows seasonally chic. Plus, neither of these decorations will be a pane to put up.
30 Ideas for Christmas Window Decorations
Stick these cute snowflakes to your window and watch the people who pass by smile when catching a sight of them.
Hang a bunch of little snowflakes in your window to greet guests with festive flair.

Pretty Winter Wonderland decoration to give you Christmas vibes.
Owl be honest, I love owls. Doesn't this wintery decor look adorable?

When it comes to Christmas window decorations, you can't go wrong with snowmen and Christmas baubles.
Come on, it's lovely weather for a sleigh ride together with you!

Is this Snow Queen's castle or Elsa's ice palace? Either way, it's very magical-looking.
It is that time of the year where reindeers and snowflakes take centre stage.

This classic arrangement never goes out of style.
In the deepest depths of winter, in a whimsical wintery forest.
If you can't commit to decorating your Christmas tree in one color palette, you can start with your windows.

Turn a few snippings from your backyard evergreens into a cheery display.
Candles and fairy lights for a romantic ambiance.
For a sleek, minimalist look, hang some baubles in your window frame.

Garlands and baubles to spruce up your space for the festive season.
Adorn your windows with handmade paper snowflakes and houses.

So simple yet so effective against the dark winter nights.
Such an easy and fun Christmas window decor idea!

Join the colorful snowmen in playing outside in the snow!
Super easy project to do with your little ones.

Why not use paper snowflakes to make a Christmas tree?
On a mysterious and magical night of white Christmas.

A bunch of paper snowflakes in the form of a bird.
Easy Christmas decor to display your holiday spirit.
Silent night, holy night, all is calm, all is bright.

Santa Claus sleigh and reindeer hurrying to the children with Christmas gifts.
We wish you a happy whatever and a merry everything!

Let it snow, let it snow, let it snow.
It's beginning to look a lot like Christmas!
Paper is all you need to make the cutest Christmas window decorations.
Think about how beautiful your home will look after adding one or more of these ideas and declaring that you've kick-started celebrations! No matter how you choose to decorate, we hope that you enjoy preparing for the most wonderful time of the year!
Which of these ideas calls out to you? Feel free to share in the comments section below.