Easy Homemade Pizza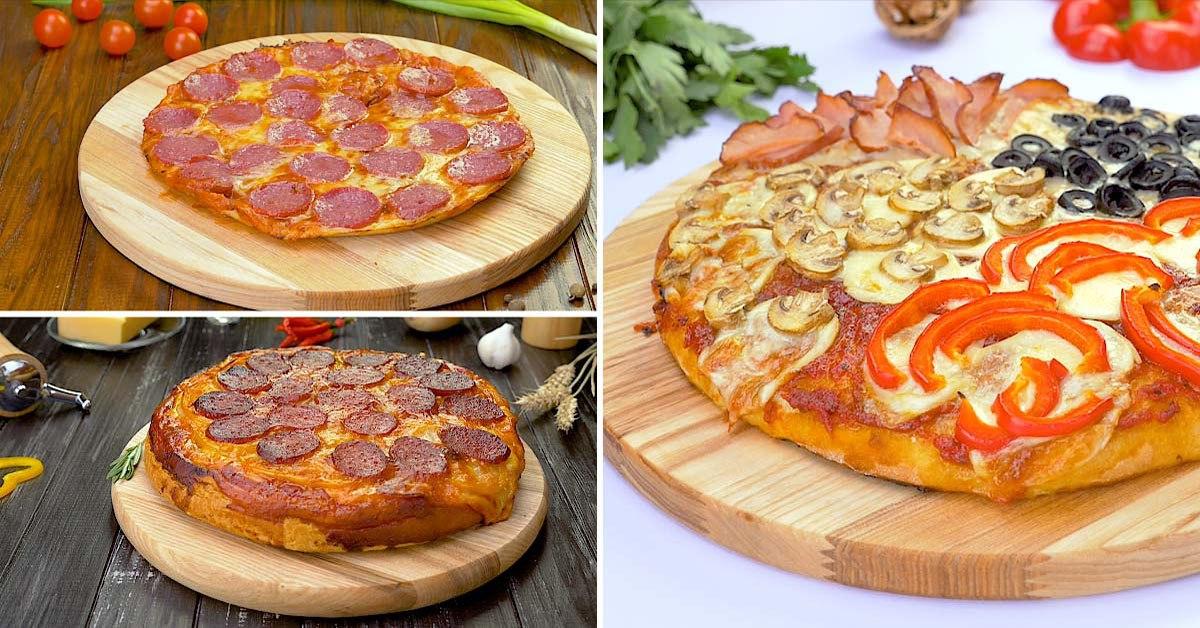 Pizza is a favorite meal for many people — it has many variations, and everyone can find an option to their liking. Besides, it is not always necessary to go to a cafe or restaurant to enjoy Italian cuisine. After all, you can make an easy homemade pizza yourself!
Today, Cook It would like to share with you three delicious and easy homemade pizza recipes for the entire family to enjoy.
Upside-Down Pizza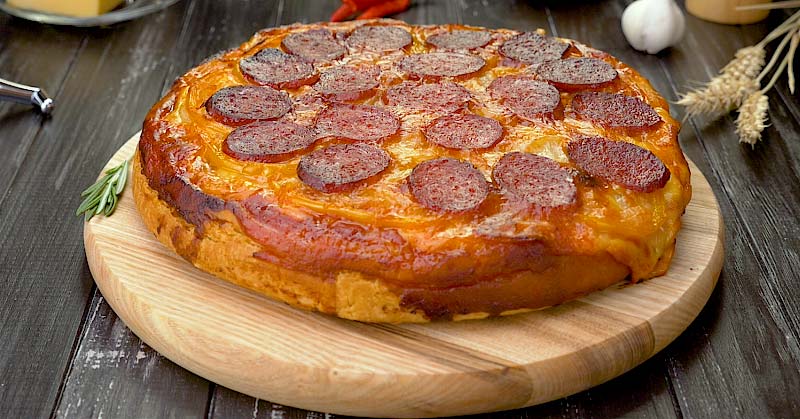 Ingredients:
For the Dough:
5 fl oz (150 ml) water;
2 tbsp vegetable oil;
10 ½ oz (300 g) flour;
2 tsp sugar;
1 tsp dry yeast;
1 tsp salt.
For the Filling:
3 tbsp olive oil;
1 onion;
1 bell pepper;
2 ⅔ oz (75 g) pepperoni sausages;
3 oz (85 g) Parmesan;
2 ½ oz (70 g) mozzarella;
3 ½ oz (100 g) hard cheese;
14 oz (400 g) tomato sauce.
Instructions:
Dissolve yeast and sugar in warm water, add 3–4 tablespoons of flour, mix thoroughly, and let sit for 15 minutes until the yeast dissolves.
Add salt, vegetable oil, and the remaining flour to the resulting mixture, knead a soft, elastic dough. Knead for 5 minutes, form a ball, cover the dough, and set it aside for 40–60 minutes to let it rise.

Pour 1 tablespoon of olive oil into a preheated pan and brown the thinly chopped onion. Set it aside.
Pour one more tablespoon of olive oil into the pan and lightly fry bell pepper sliced into rings until soft. Set it aside as well.

Add a little oil, grease the pan, and lay pepperoni slices out on the bottom. Place bell pepper rings on top, then onion, grated parmesan, mozzarella, slices of hard cheese, and cover the filling with tomato paste.
On a board sprinkled with flour, evenly roll out the dough into a layer equal to the diameter of the pan with the filling. Fold the edges of the dough inside, like in an upside-down cake. Brush the dough with oil.

Bake the dish at 390 °F for 25 minutes, then remove the dough from the oven and turn the pizza upside down with the help of a tray.
Four Seasons Pizza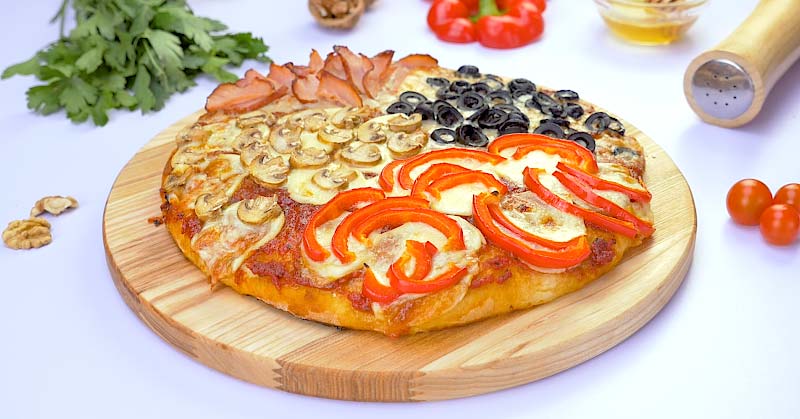 Ingredients:
14 oz (400 g) pizza dough;
5 tbsp olive oil;
6 cherry tomatoes;
5 ¼ oz (150 g) mozzarella;
honey to taste;
1 ¾ oz (50 g) Parmesan;
7 oz (200 g) tomatoes in their own juice;

3 ½ oz (100 g) mushrooms;
7 oz (200 g) olives;
3 ½ oz (100 g) ham;
1 bell pepper;
oregano to taste;
salt to taste;
½ bunch arugula;
3 sprigs basil.
Instructions:
For the sauce, puree the tomatoes in their own juice, then place them in a pan, add oregano and salt, and boil.
Cut mozzarella, parmesan, ham, and mushrooms into slices, olives into rings, bell pepper into strips, and cherry tomatoes into quarters.

Roll out the dough evenly on a surface sprinkled with flour and place the cake on a baking sheet lined with parchment paper. Generously brush the dough with the sauce.
Place half of mozzarella and mushrooms on the first quarter of the pizza, half of Parmesan and olives on the second, mozzarella, bell pepper sprinkled with honey on the third, and the remaining parmesan and ham on the fourth.

Bake pizza for 15 minutes at 430 °F.
Garnish the pizza before serving: sprinkle the part with mushrooms with grated Parmesan, the part with olives with arugula, put cherry tomato quarters on the part with bell pepper, and chopped basil on the part with ham.
Pan Pizza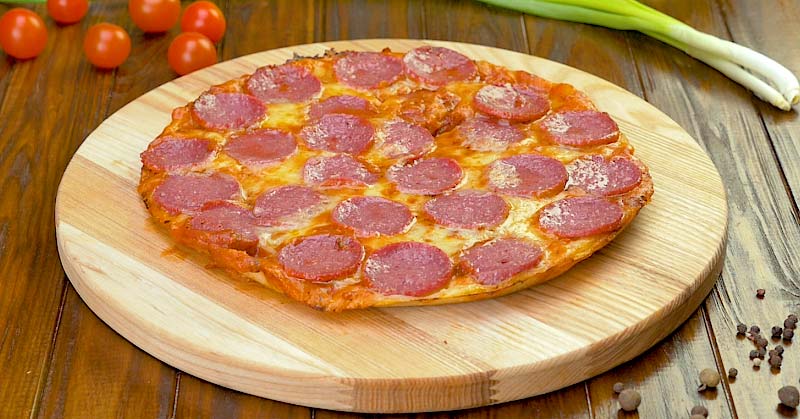 Ingredients:
For the Dough:
3 ⅓ fl oz (100 ml) water;
2 tbsp olive oil;
2 ¾ oz (80 g) flour;
1 ½ tsp sugar;
½ tsp dry yeast;
½ tsp salt.
For the Filling:
5 ¼ oz (150 g) tomato sauce;
3 ½ oz (100 g) mozzarella;
5 ¼ oz (150 g) pepperoni sausages.
Instructions:
Mix all the ingredients for the dough directly in a non-stick pan and then even it out on the surface.

Top with tomato sauce, grated mozzarella, and sliced pepperoni sausages.
Place the pan on the stove over medium heat under a tightly closed lid for 10 minutes. Remove the lid and continue to cook the pizza for another 5 minutes. Garnish with basil before serving.
Easy homemade pizza is ideal for movie nights with the family. The best part is that you do not need much time to make such an appetizer. Bon appétit!