29 Best Halloween Pies For The Perfect Spooky Dinner Party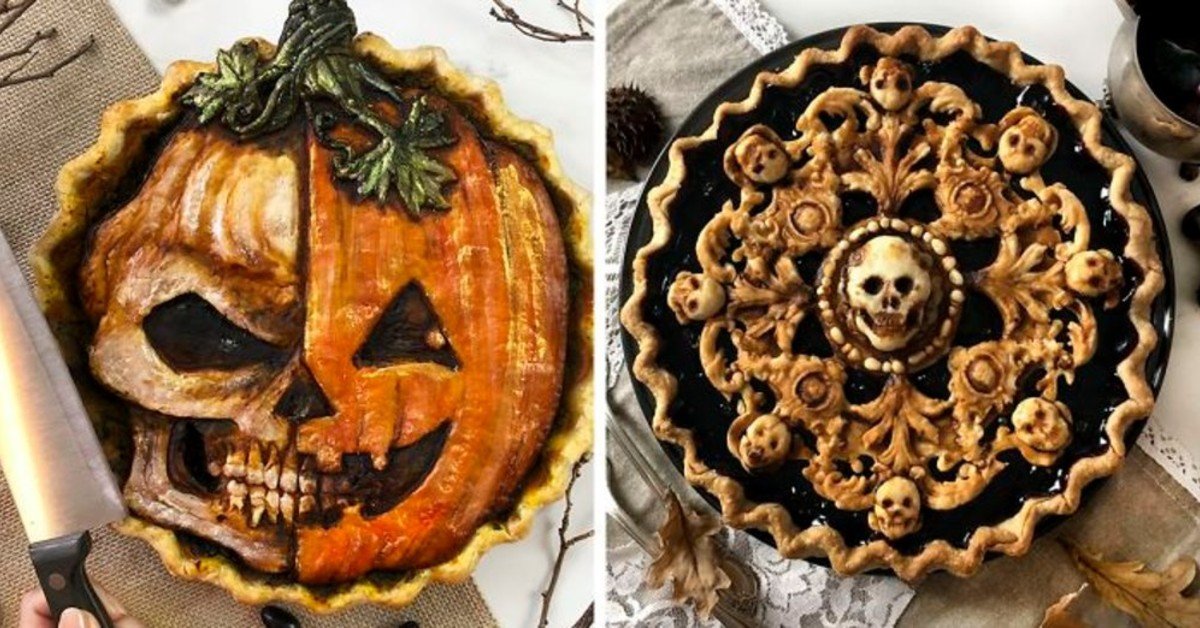 Halloween is just around the corner, and you know what that means — fun festivities, themed parties, frightening costumes, eerie pumpkin lanterns, and spooktacular treats. And if there's one treat we absolutely can't do without in the fall, it's pies. In the spirit of all things ghoulish, today, Cook It would like to share with you some ideas and inspiration for Halloween pies that will help take your spooky dinner party from fabulous to downright unforgettable.
Baking artist Jessica Clark-Bojin creates Halloween pies and posts pictures to her social media. Best of all, she shares in-depth how-to videos and tutorials and tends to respond to her followers' messages and pie-related questions. Therefore, if you do decide to bake any of these at home, you'll have plenty of advice to help you. Without further ado, let's look at Jessica's majestic creations and get this party startled!
Halloween Pies
This Day of the Dead pie is absolutely stunning, isn't it?
Wouldn't you just love to cut into this eerie-sistible treat? 

Linus and Sally in the pumpkin patch are so cute!
Why not live on the fright side this Halloween?

A sweet homage to The Dark Crystal movie.
This looks amazing! I wonder what the flavor is…
It's gonna be a great Halloween — I can feel it in my bones!

Love Maleficent and love a pie with her face on it!
Is there anything better than a Jack and Sally pie? Don't think so.

A masterpiece of a carousel with the Nightmare Before Christmas characters.
Isn't this one of the most intricate Halloween pies you've ever seen?

Oh my, is that… Pusheen the cat? Or Piesheen?
Where The Wild Things Are in a pie format!

Wirt and Greg lost in a strange and mysterious forest.
Dress-up doll game taken to a whole new level! How cute is Betty Boop?

This glow-in-the-dark Undertaker pie looks spooktacular!
Probably the only pie that looks way too cute to eat.
Would you dare to bite into these eerily realistic bugs?

The horror Michael Meyers wishes you a happy Halloween!
He's ancient, he's ugly, oh, he's the Oogie Boogie Man.

Oh no, the Other Mother has escaped! What do we do now?
Here's Johnny! He's got such a dazzling, not-creepy-at-all smile!

All work and no play makes Jack a dull boy.
That kraken is obviously up to no good.
The Predator is creepin' it real this Halloween.
Trick or treat! This pie does look a bit un-candy.

An absolutely stunning recreation of Aubrey Beardsley's illustration!
Monster High skull pops wishing you bone appetit!
More Monster High — a perfect pie for a kids' themed party.
We hope this roundup of spectacular Halloween pies has sparked your passion for baking. Remember that regardless of what your pie looks like in the end, you'll always emerge victorious because you'll get to eat it! Share this article with your friends who love Halloween — they'll appreciate the inspiration. Enjoy goblin up your Halloween pies — just don't let them go to waist!