How to Make Kebab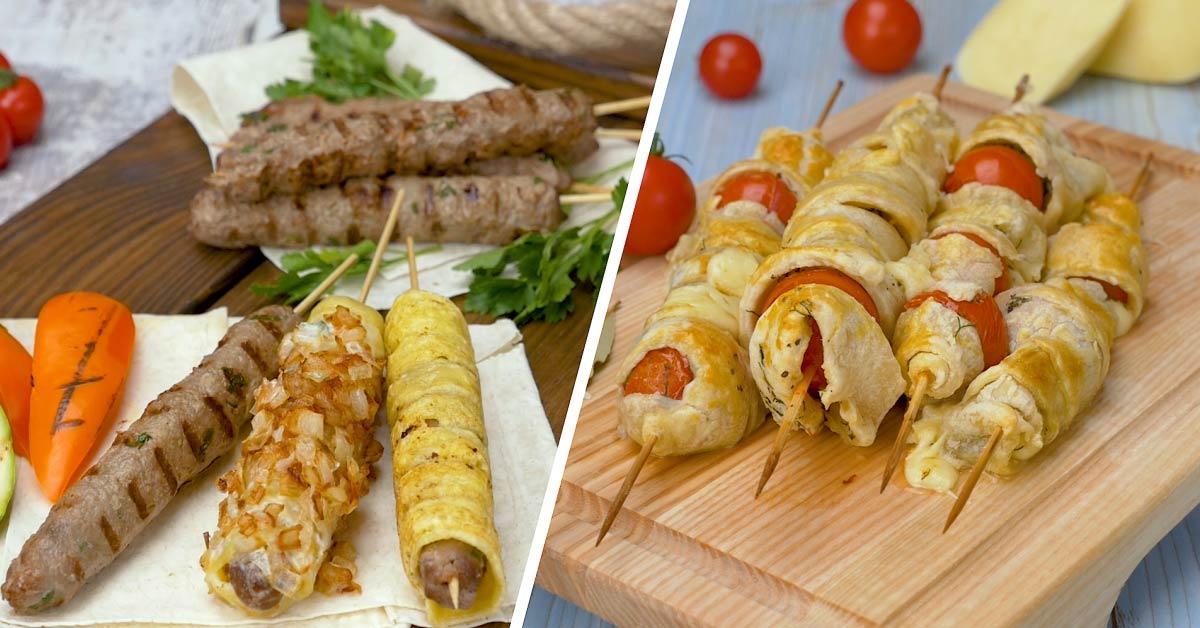 There are many delicious varieties of kebabs out there. Indeed, we have already talked about the different types of this dish. In the countries of the Middle East, Asia, and Transcaucasia, it has become so widespread that there exist a plethora of recipes for every taste. The task of our editors is to show you how to make kebab and how to effectively serve it.
Will you choose to make beef lula kebab topped with onion and wrapped in melted cheese or traditional vegetable kebab? Why not try both? For this, you will need a pound of beef, cheese, a few tomatoes, and a little bit of patience. Both of the options are very quick to prepare.
Beef Lula Kebab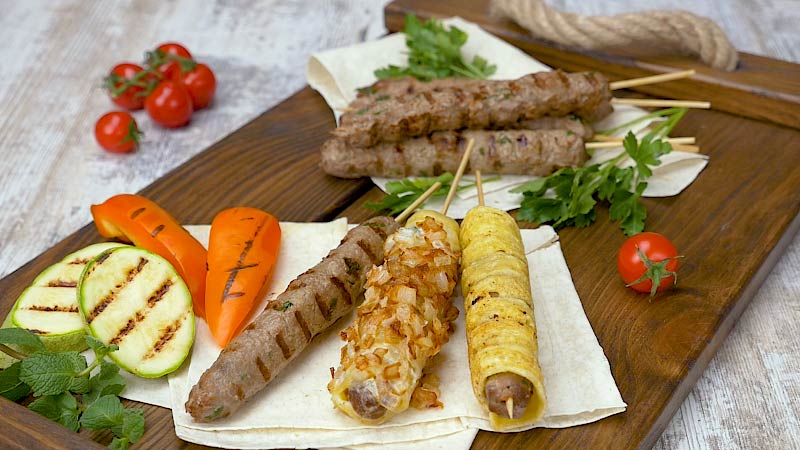 Ingredients:
1 ⅛ lb (

500 g) beef;

1 ½

onion;
25 fl oz (700 ml) yogurt;
1 egg;

1 ½

tsp salt;

¼

tsp ground black pepper;
1 tsp paprika;
2 tbsp peppermint;
sunflower oil to taste;
parsley, cheddar to taste.
Instructions:
To begin with, prepare the onion topping: finely chop the onion and fry it in a large amount of sunflower oil. Remove from the skillet with a slotted spoon and lay on a paper towel to remove excess fat.
Make minced meat. Grate an onion half and add it to the beef, along with one yolk, parsley (or cilantro), paprika, black pepper, and a teaspoon of salt. Thoroughly knead the minced meat.

Take a large plastic bottle and cut off its top. Form kebabs using a skewer and a funnel.
Fry the kebabs on skewers on all sides on a grill or ribbed skillet.
We offer three serving options:
Skewered kebabs.
Kebabs wrapped in melted cheese.
Kebabs topped with onion. For this, you will need to pour yogurt into a high container, for example, bottle with its top cut off, mix it with salt, mint, and pepper, then dip the fried meat first in yogurt and then in the onion topping.
Kusturica Kebab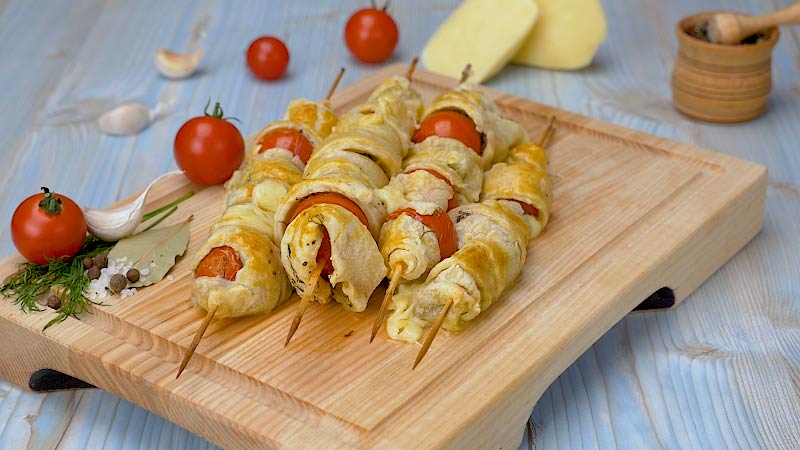 Ingredients:
14 oz (400 g) puff pastry;
14 oz (400 g) cherry tomatoes;

10 ½ oz (

300 g) suluguni;
3 garlic cloves;
1 tsp herbes de Provence;
1 egg;
2 tbsp sunflower oil;
herbs, salt to taste.
Instructions:
In a large bowl, combine cheese cut into large cubes and whole tomatoes with finely chopped dill, garlic, herbes de Provence, ground black pepper, salt, and sunflower oil.

Thread cherry tomatoes and cheese on skewers, alternating.
Roll the dough and cut it into strips large enough to wrap a skewer in. Pinch together the edges of the dough and place the skewers on a baking sheet.
Brush the dough with a whipped egg and bake the kebabs in the oven for 10 minutes at 430 °F.
As you can see, the classic kebab recipe became the basis for creativity and experimentation. Here's a little secret for the lovers of this meat dish: chill the minced meat in the refrigerator before making kebabs — it will be easier to form. Remember, any kebab will be tastier if you cook it over a fire.