The Most Delicious Dishes With Celery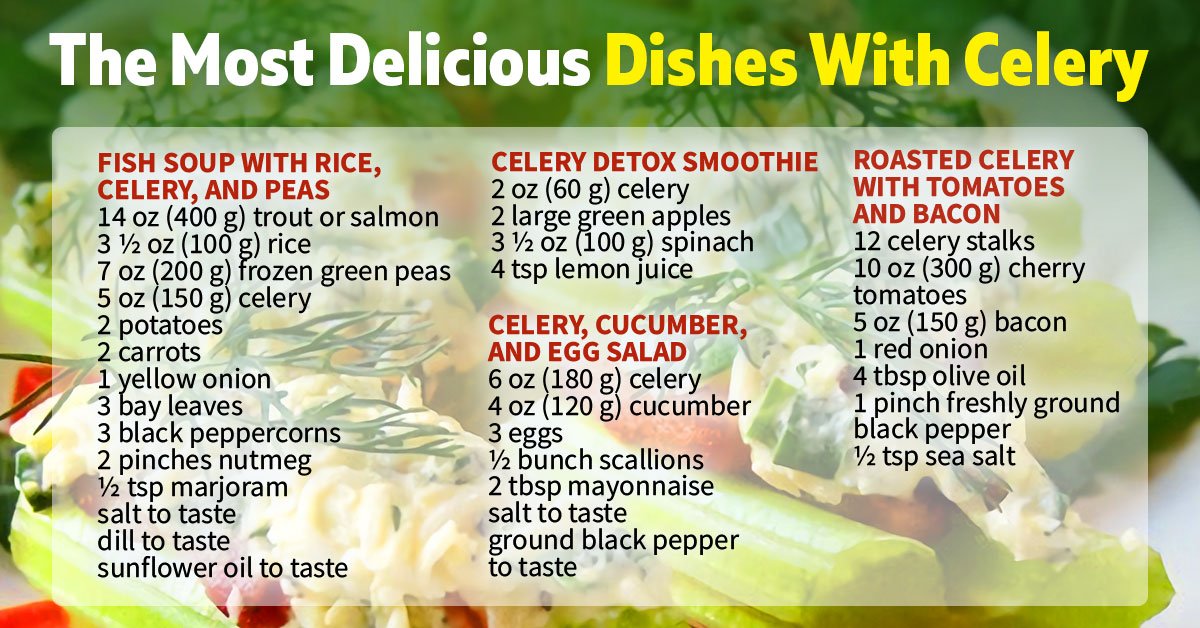 Celery is particularly beloved by nutritionists. Firstly, the vegetable has a lot of valuable vitamins: C, A, E, K, and B-group. Secondly, its low-calorie content allows its use in various diets. Hence, we could not help but show you how to prepare the most delicious dishes with celery.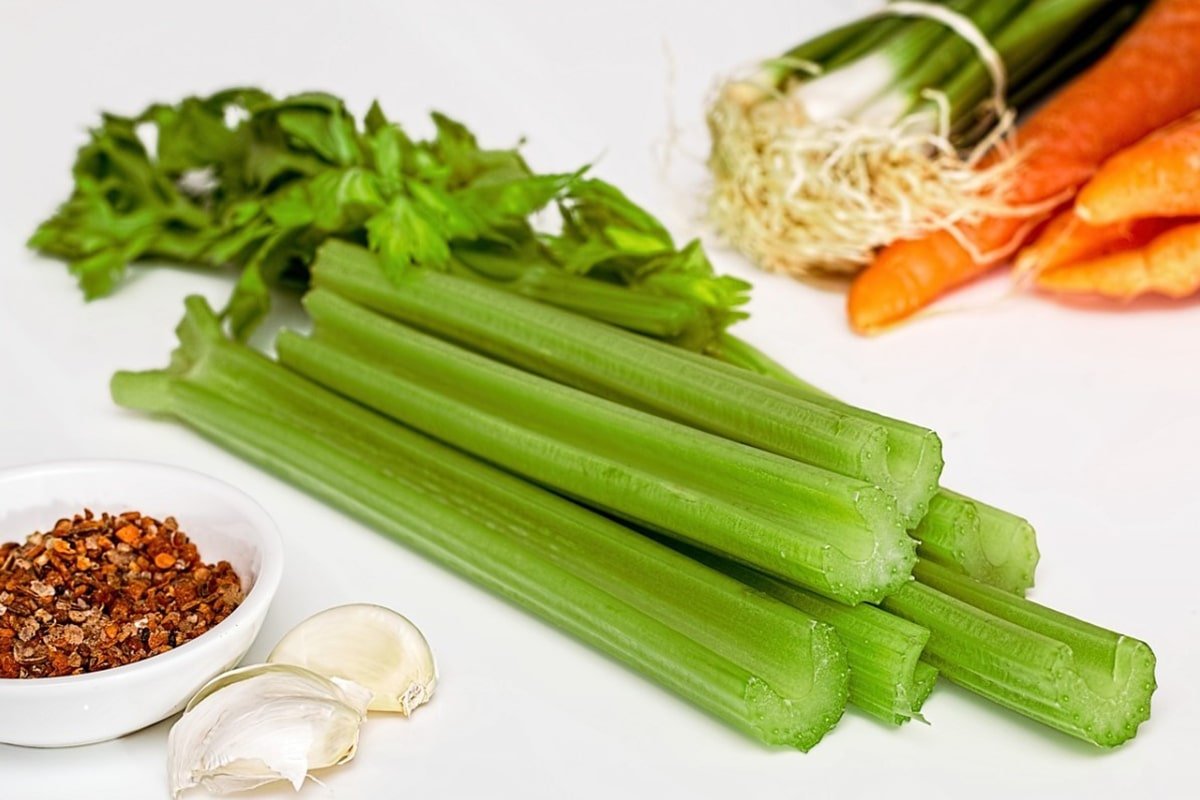 Celery is worth your attention for many reasons. It cleanses the body of toxins and speeds up metabolism. Besides, the plant has a restorative effect, making it an excellent addition to freshly squeezed juices and smoothies. It goes well with many a product, which is why dishes with celery are varied and unique.
Celery, Cucumber, and Egg Salad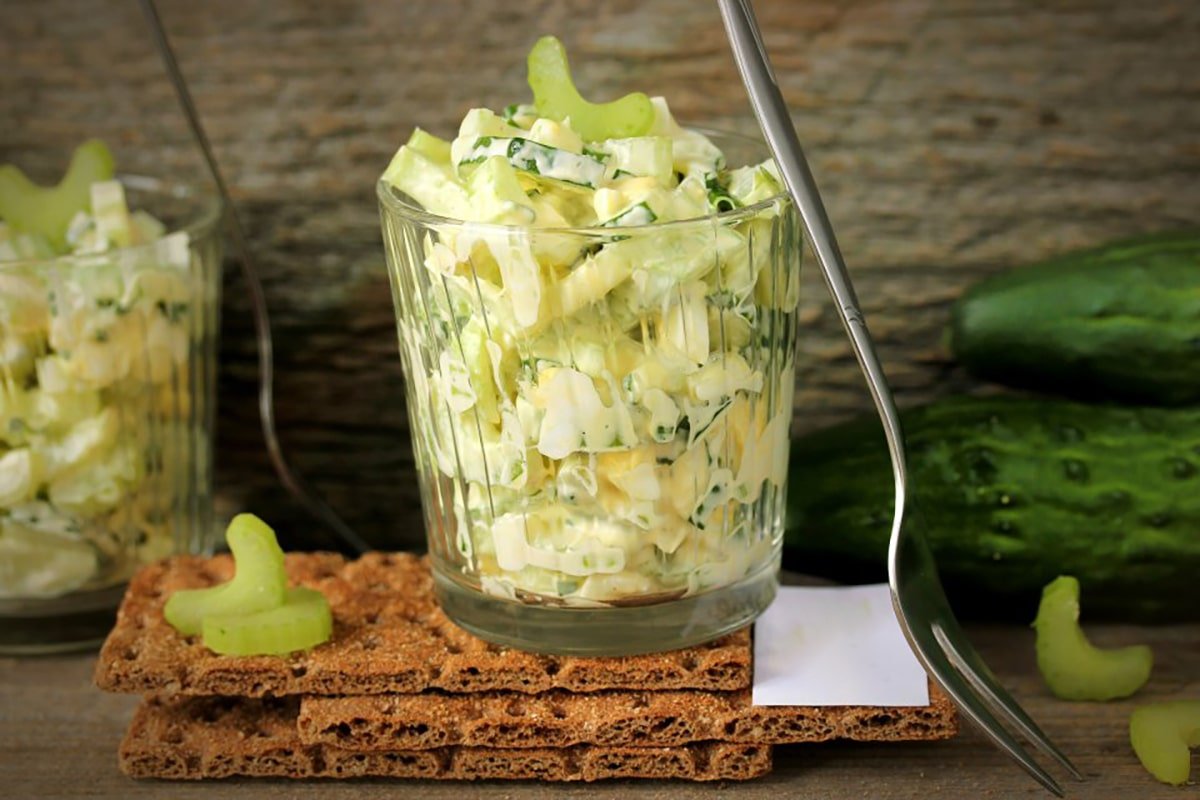 Ingredients:
6 oz (180 g) celery;
4 oz (120 g) cucumber;
3 eggs;
½ bunch scallions;
2 tbsp mayonnaise;
salt to taste;
ground black pepper to taste.
Instructions:
Hard-boil eggs, let them cool and shell them. Cut the eggs into cubes, cucumber into thin half-rings, and celery into thin slices.
Chop scallions and combine all the ingredients. Season the salad with mayonnaise and toss to coat. Add salt and pepper to taste. Done!
Celery Detox Smoothie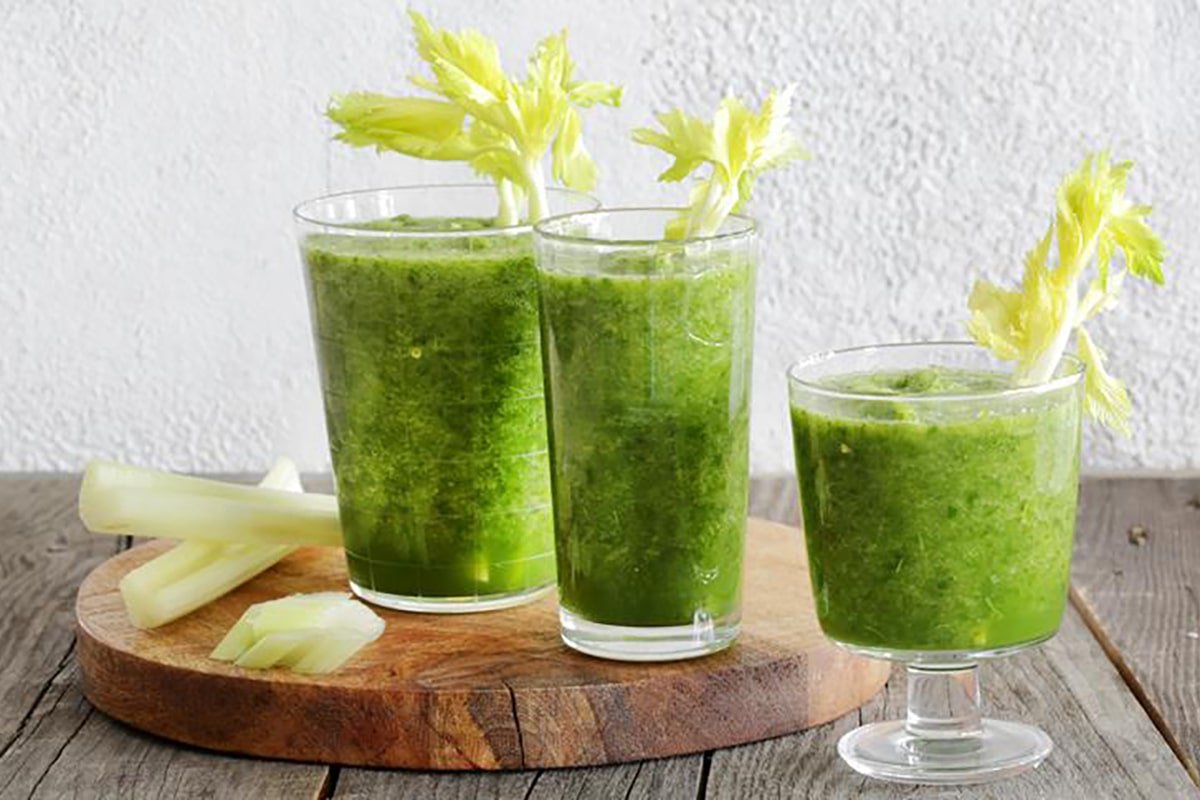 Ingredients:
2 oz (60 g) celery;
2 large green apples;
3 ½ oz (100 g) spinach;
4 tsp lemon juice.
Instructions:
Remove the core from the apples. Peel the tough, stringy fibers from the celery. Wash and dry the spinach.
Mix all the ingredients in a mixer bowl and blend. Add a little water to taste until you get the desired consistency.

Pour smoothies into glasses and serve.
Fish Soup With Rice, Celery, and Peas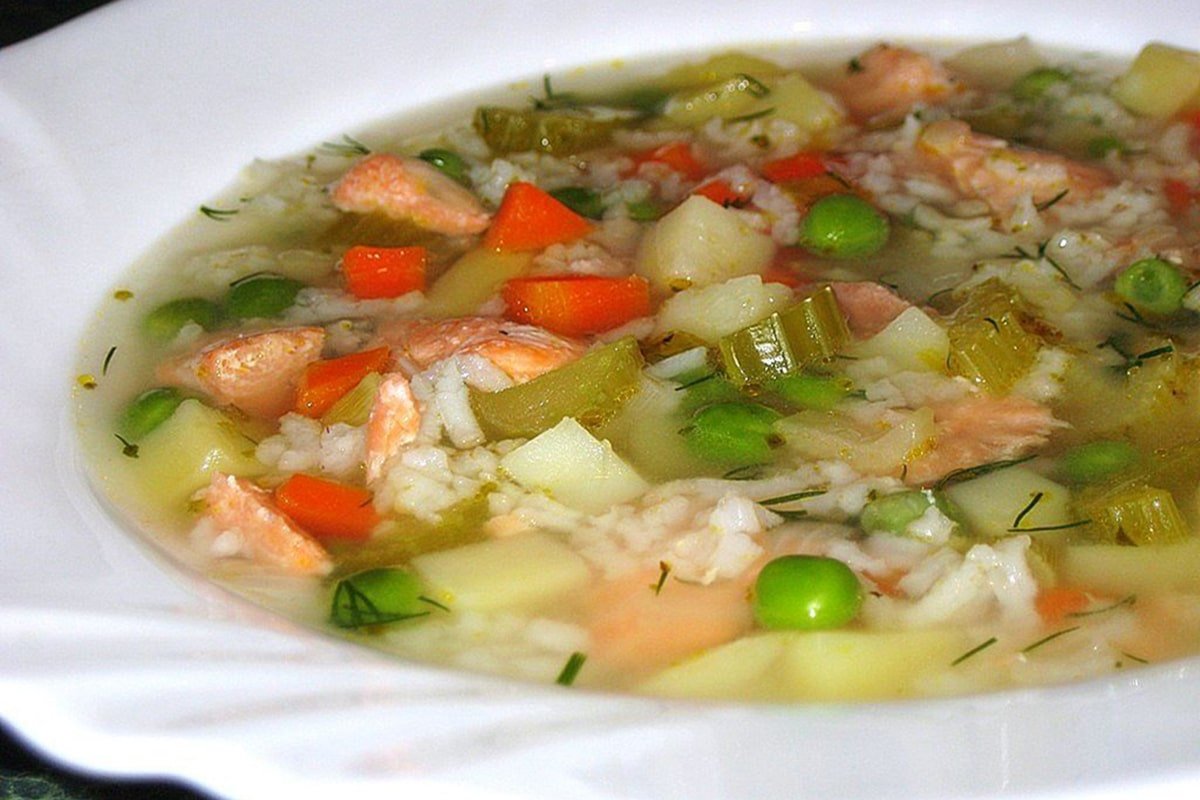 Ingredients:
14 oz (400 g) trout or salmon;

3 ½ oz (

100 g) rice;
7 oz (200 g) frozen green peas;
5 oz (150 g) celery;
2 potatoes;
2 carrots;
1 yellow onion;
3 bay leaves;
3 black peppercorns;
2 pinches nutmeg;

½

tsp marjoram;
salt to taste;
dill to taste;
sunflower oil to taste.
Instructions:
Rinse and pat dry the fish. Cover it with cold water and start heating. Bring to a boil. Remove the foam with a spoon, add salt, and reduce the heat. Cook for 15–20 minutes. Next, remove the fish from the pot and separate the fillet from the bones.
Wash and peel the potatoes and cut them into cubes. Rinse the rice. First, add potatoes to the fish broth. Then, add rice, bay leaf, peppercorns. Stir and bring everything to a boil. Reduce heat and cook for 10–12 minutes.

Wash and peel the carrots, cut them into cubes. Finely chop the onion and dill. Finely chop or grate the celery.
Heat the sunflower oil and fry the onion, carrot, and celery for 7–10 minutes. Add vegetables to the soup. Season with salt and nutmeg. Bring to a boil and cook for another 5 minutes.

Next, add green peas, marjoram, fish fillet. Bring the soup to a boil once more and cook for another 5 minutes. Remove the pot from the heat, add dill, and let the soup sit for a while.
Roasted Celery With Tomatoes and Bacon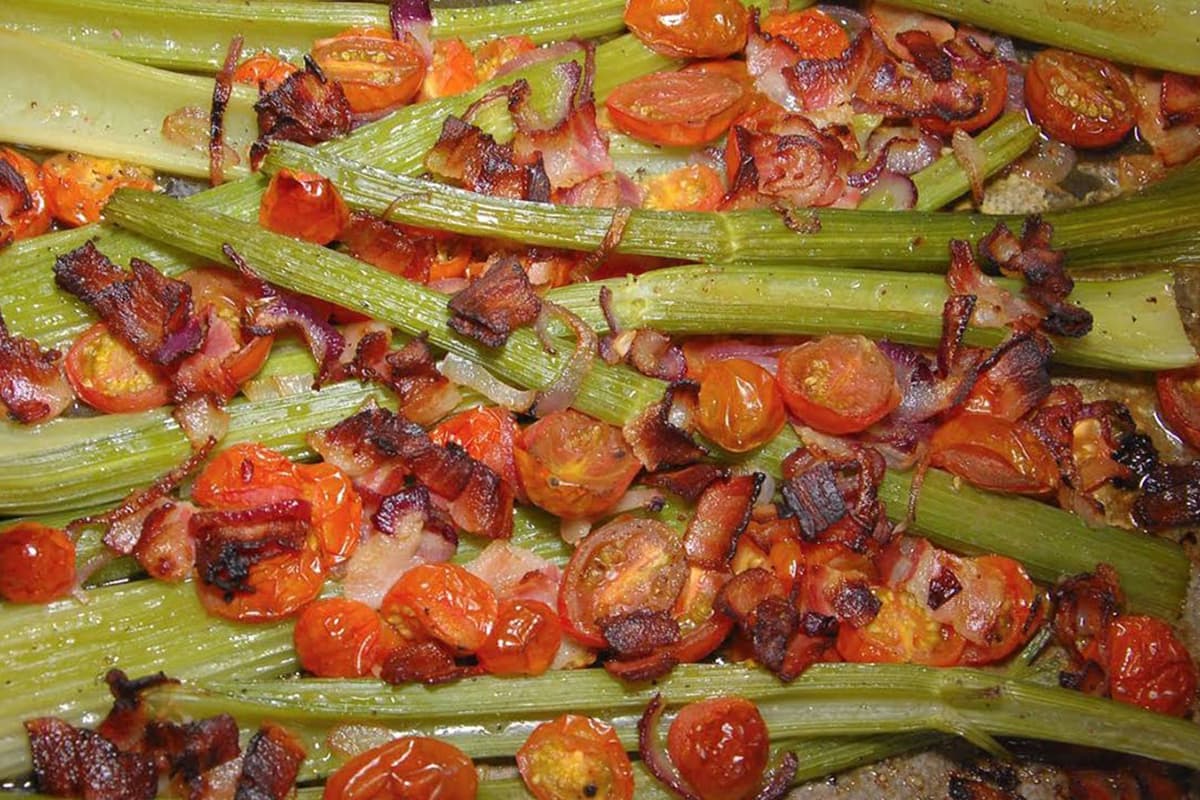 Ingredients:
12 celery stalks;
10 oz (300 g) cherry tomatoes;
5 oz (150 g) bacon;
1 red onion;
4 tbsp olive oil;
1 pinch freshly ground black pepper;
½ tsp sea salt.
Instructions:
Put celery stalks in boiling salted water to make them softer. Slice bacon and fry in 2 tablespoons of olive oil.

Cut onion into half rings and combine with bacon. Cut cherry tomatoes in half.
Line a baking sheet with parchment, sprinkling it with the remaining olive oil. Distribute celery stalks and tomatoes on it. Season with salt and pepper. Top with onion and bacon.

Bake the dish for 20–25 minutes at 390 °F. Let cool.
Celery and Chicken Salad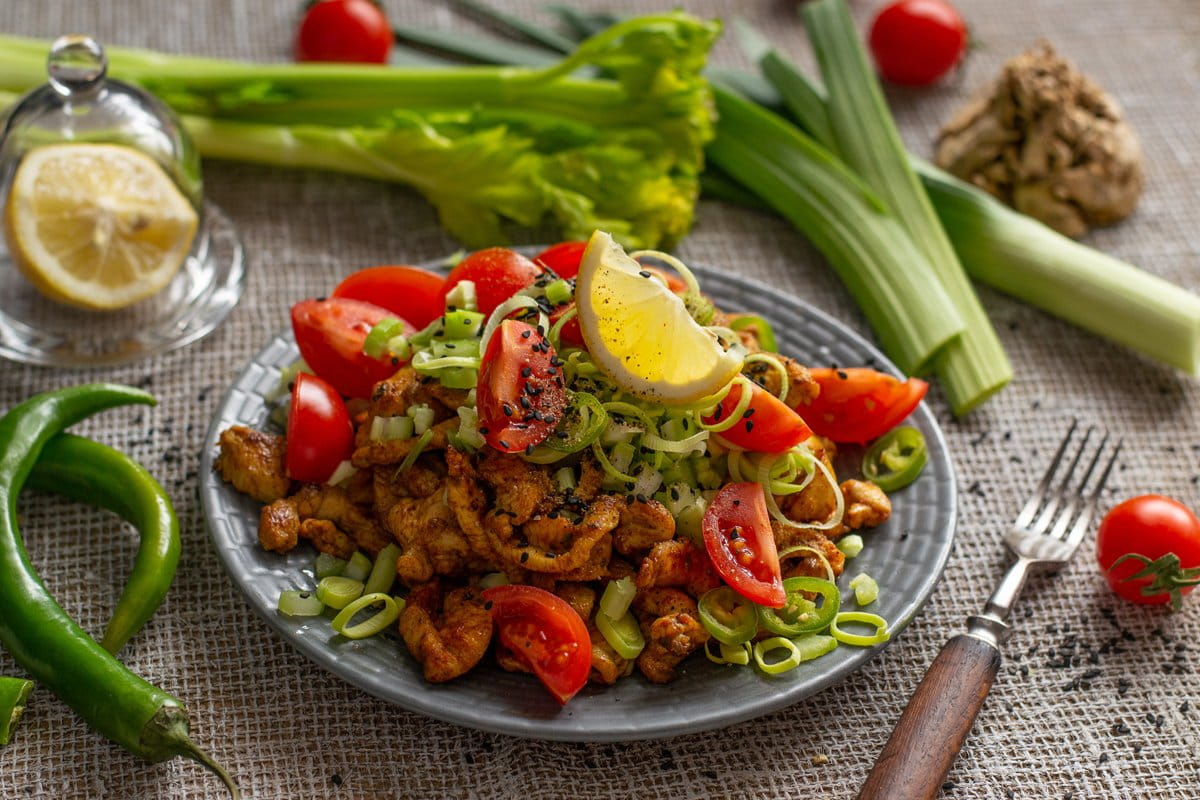 Ingredients:
10 oz (300 g) chicken breast fillet;
5 oz (150 g) ribbed celery;
3 ½ oz (100 g) leeks;
1 green chili pod;
8 cherry tomatoes;
2 tsp black sesame seeds;
1 tsp ground sweet paprika;

¾

tsp red pepper;
1 ginger root;
1 garlic clove;
salt to taste;
1 tsp Dijon mustard;
½ tsp ground turmeric;
1 pinch sea salt;
2 tbsp olive oil;
1 tbsp lemon juice.
Instructions:
Slice chicken fillet into narrow, long strips. Add salt, chili powder, red pepper, turmeric, and pressed garlic to the meat. Finely grate three-quarter-inch ginger root. Add it to the meat and mix thoroughly. Sprinkle the chicken with 1 tablespoon of olive oil and let it marinate for half an hour.

Fry the chicken until cooked. Remove the excess fat using paper towels.
Grind celery, leek, chili, and cherry tomatoes. Place the vegetables on top of the chicken.

For the dressing, combine mustard, lemon juice, sea salt, and 1 tablespoon of olive oil. Season the salad and sprinkle it with black sesame seeds. Done!
Celery Canapes
Ingredients:
1 tbsp mayonnaise;
3 celery stalks;
2 oz (60 g) ham;
1 egg;
2 tbsp herbs (dill, parsley, chives);
1 tomato;
salt to taste;
black pepper mignonette to taste.
Instructions:
Hard-boil eggs, let them cool and grate them on a fine grater. Cut bacon into thin strips and fry until golden.

Chop greens and mix them with the eggs. Add mayonnaise, salt, and pepper; stir.
Peel celery stalks and cut them into cubes. Place the bacon and the egg and herbs mixture on each cube.

Cut tomato into half rings. Place a celery cube with filling on each piece. Garnish the appetizer to taste and serve.
Dishes with celery can be very diverse and original. Because this green vegetable goes well with many products, it is a wonderful addition to salads, soups, and even drinks. Having tried any of these dishes once, you will want to include celery in your daily diet. Bon appétit!