Kate Middleton Wearing Her Most Festive Outfits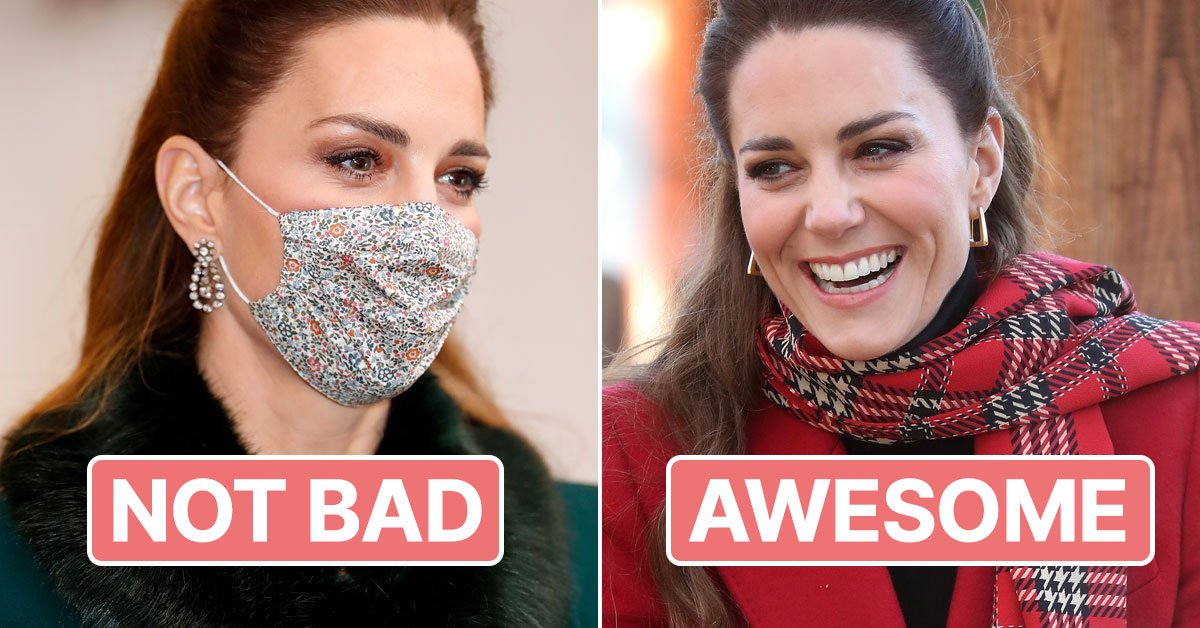 Although overseas trips are not yet likely for royal representatives, they can still travel around their native country. Hence, the Duke and Duchess of Cambridge decided to go on a three-day royal tour through parts of England, Scotland, and Wales. However, this venture was not a vacation but a tribute to citizens working on the front lines during the coronavirus pandemic.
Of course, in these troubled times, this is a noble cause. But the public's eyes were again focused mainly on the charming wife of Prince William. During her traditional Christmas tour, Kate Middleton wore many memorable outfits. Well, deciding on your favorite might not be as easy as it might seem!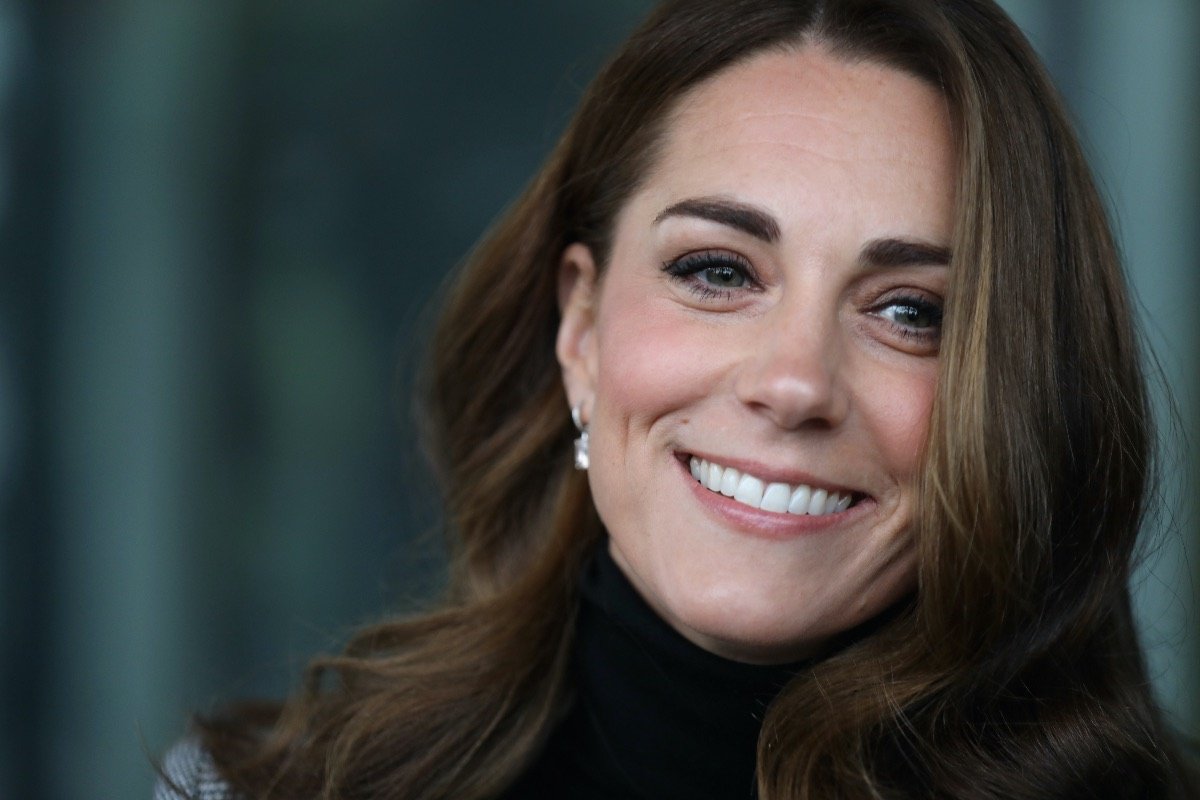 Kate Middleton Brought Out Her Most Festive Outfits For the Royal Train Tour
# 1: Olive Green Coat and Tartan Scarf
To kick off the long-awaited journey, Duchess Kate opted for a long olive green coat from Alexander McQueen. Her outfit was complemented by a cozy red-and-green tartan scarf and a miniature black handbag.
Before embarking on the royal tour, the couple had a nice chat with the train staff, thanking them for their hard work. The couple set off from Euston Station, London.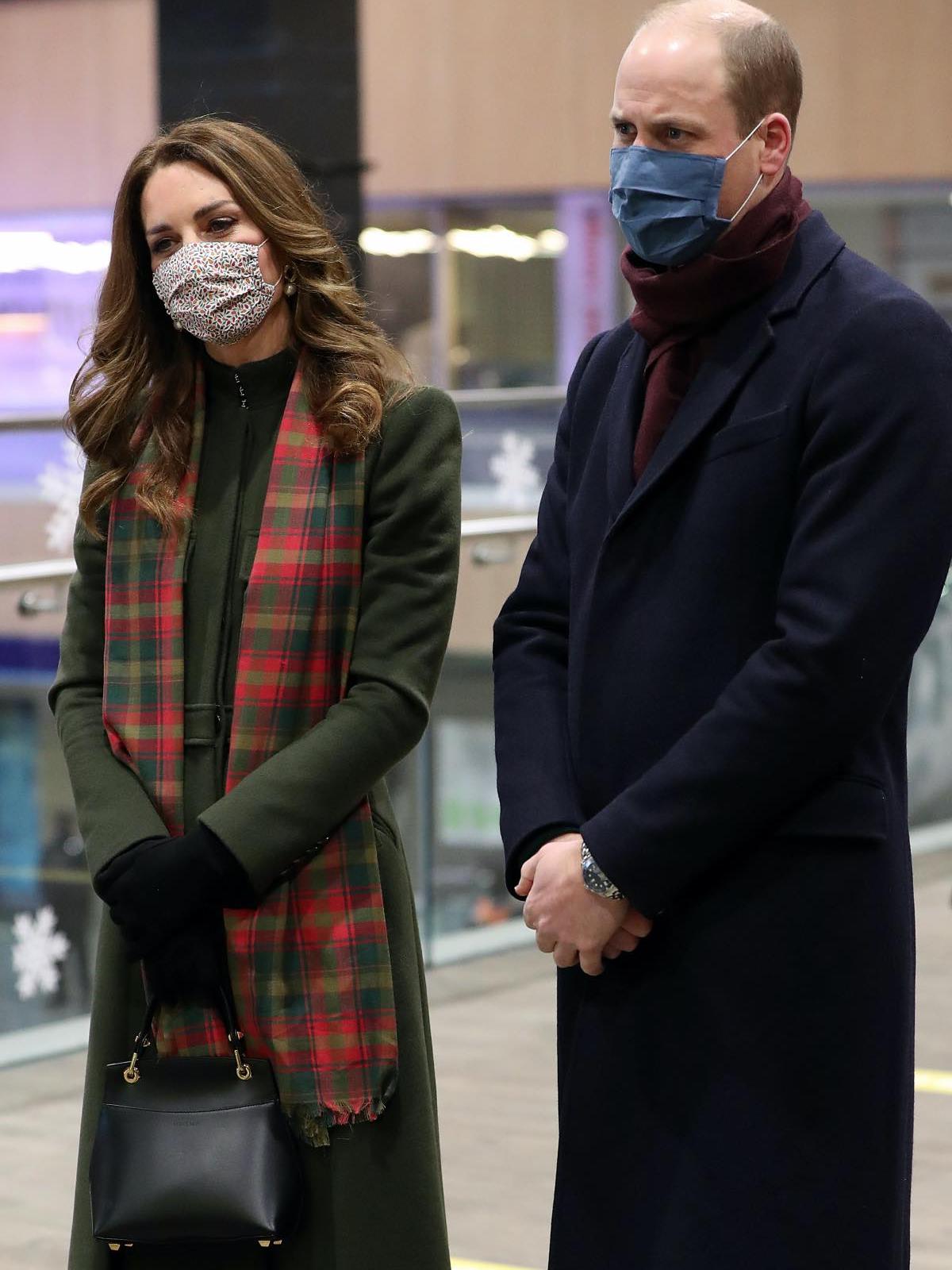 # 2: Blue Flared Hem Coat
The first stop of the train tour was Edinburgh, the capital of Scotland. The Duchess got off the train in the familiar Catherine Walker coat, in which she has appeared in public more than once.
By the way, Middleton is famous for re-wearing her favorite fashion finds. Apparently, the Duchess does not intend to mindlessly waste her funds.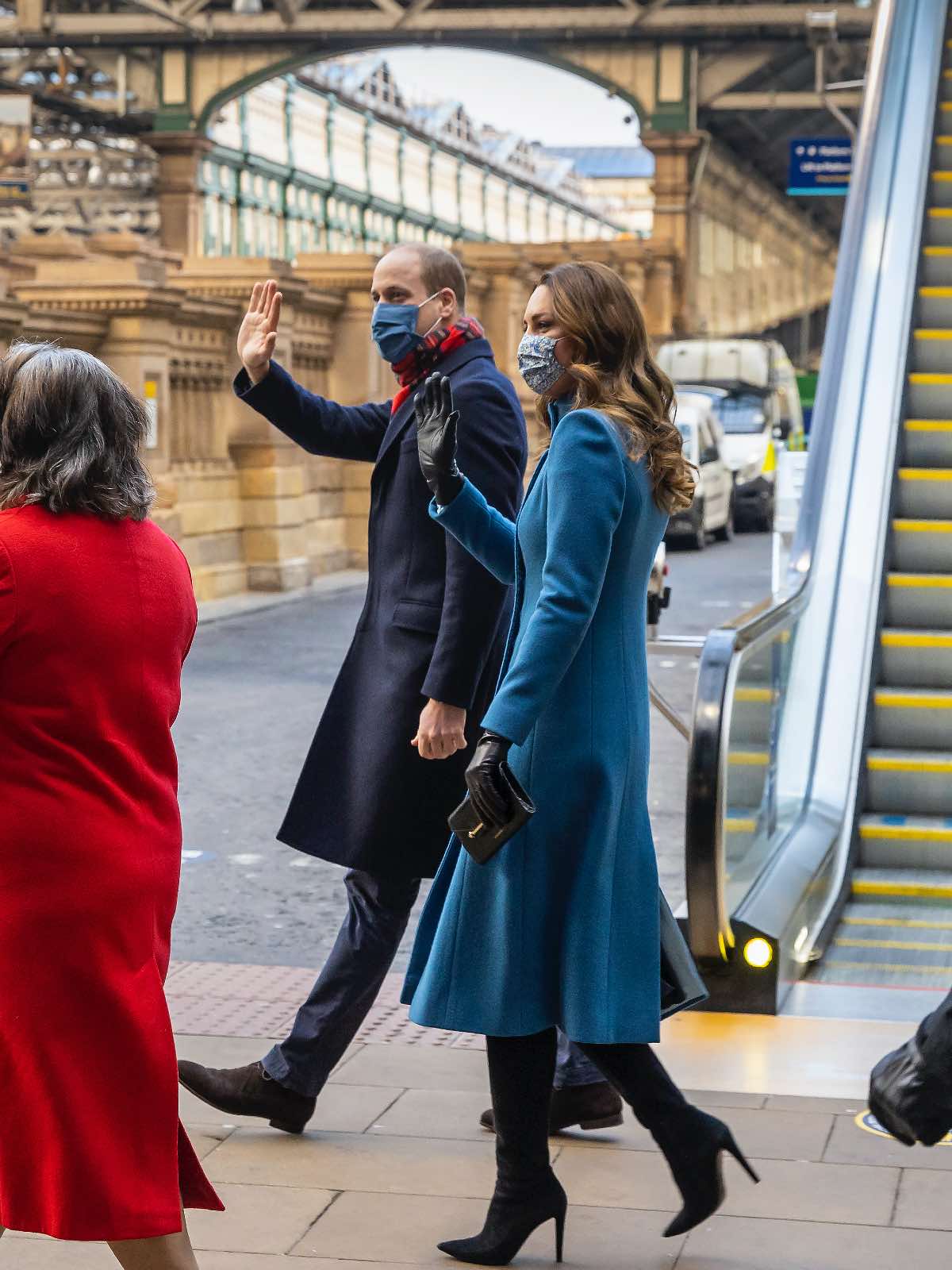 # 3: Chic Navy Blue Ensemble
Next, the royal couple headed for Batley, a provincial town in West Yorkshire, famous for its historic market. Here, the Duke and Duchess of Cambridge talked to local volunteers and listened to the performance of Brighouse & Rastrick Brass Band.
Duchess Kate wore a loose-fitting coat from Hobbs London, a snow-white pullover from Co, flared trousers from Jigsaw, and low-heeled shoes from Emmy London. Gold earrings with pearls, a mustard clutch, and elegant gloves complemented her chic look.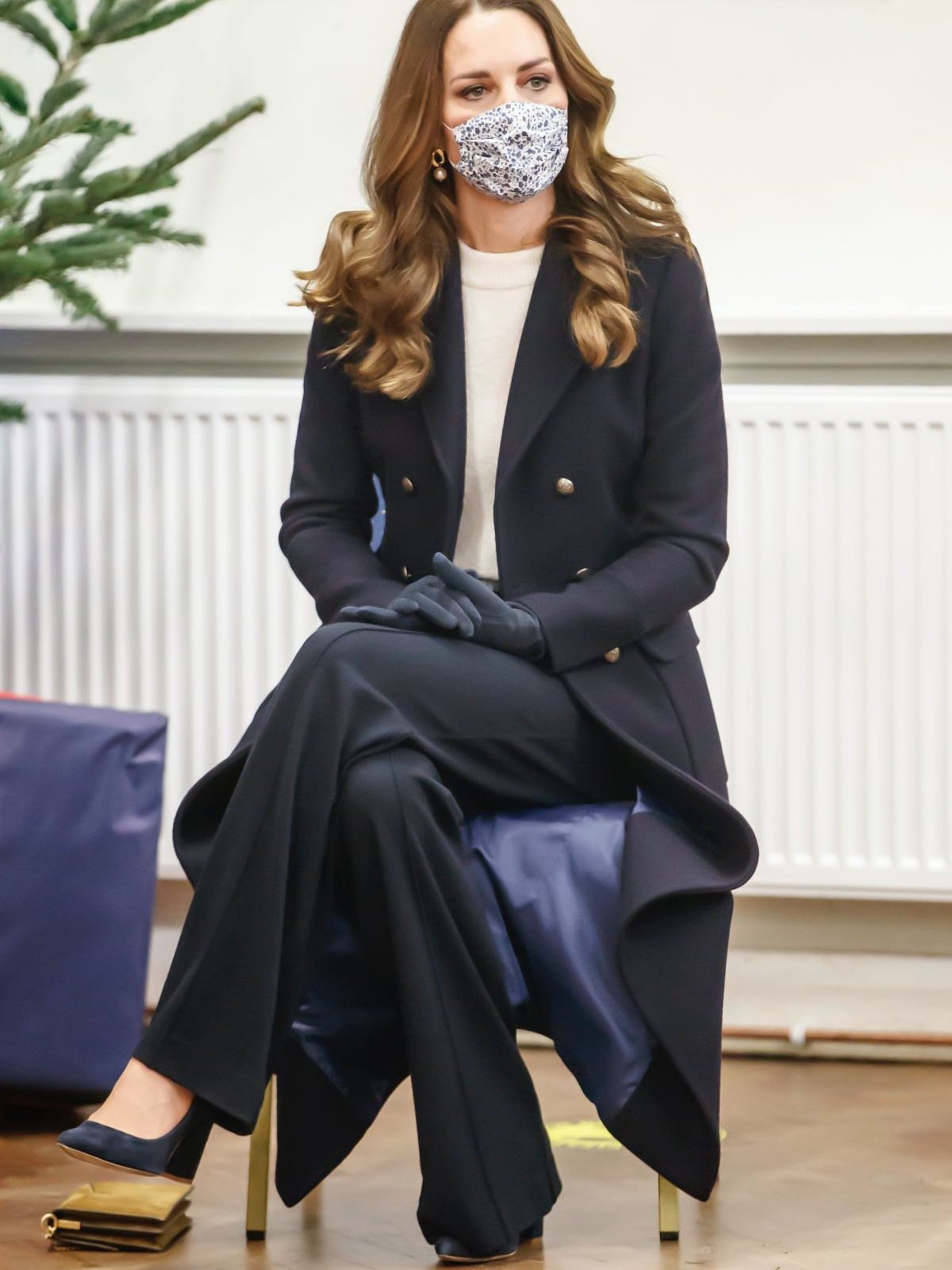 # 4: Bold Red Accents
In Cardiff, Wales, Kate chose to re-wear her full-length red Alexander McQueen coat with a coordinating tartan scarf and a black handbag from Grace Han. She decided not to do Hollywood curls but to delicately pin the front strands at the back of her head.
This is, by far, our favorite outfit. Before, the Duchess opted for darker outfits, so the bright red was a pleasant surprise.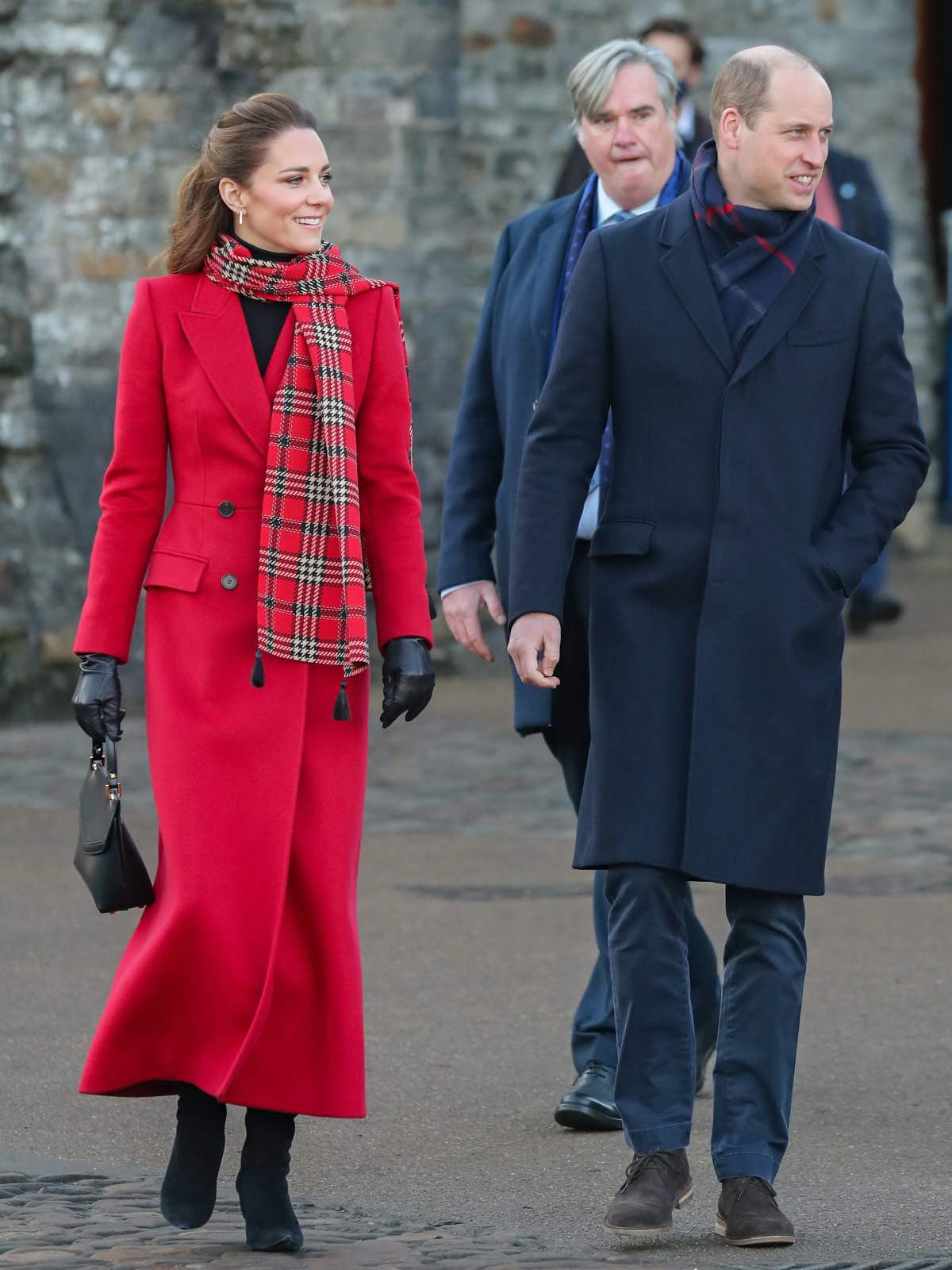 # 5: Emerald Coat With Faux Fur Collar
The final destination of the royal tour was Windsor, where the royal family reunited for a photo together.
There, Kate Middleton opted for an emerald green Catherine Walker coat with a faux fur collar. The finishing touches are diamond earrings from the royal collection and a compact clutch.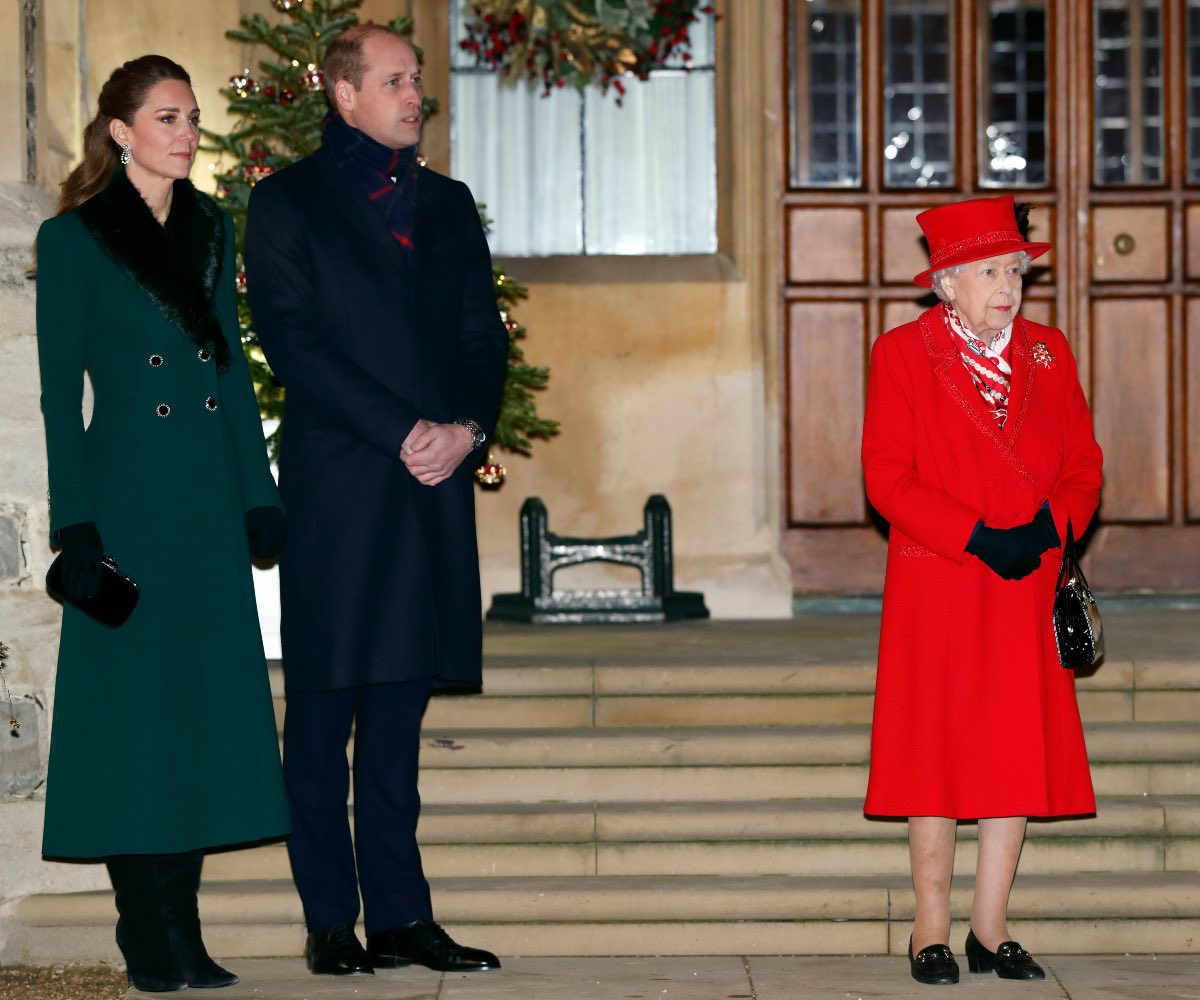 Which of the festive outfits Kate Middleton brought out for the royal train tour did you like the most? Be sure to share your thoughts in the comments!