Pastry With Filling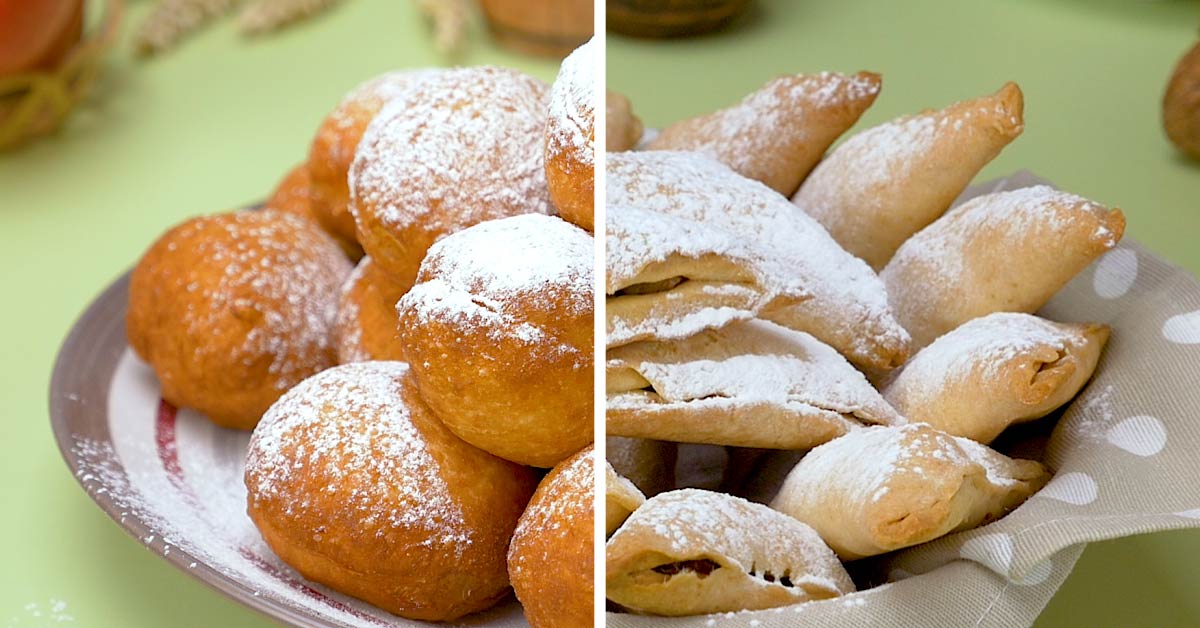 Most of us adore homemade cakes, because their aroma fills the house with real coziness and creates a comfortable, emotional atmosphere. Do you think homemade recipes with dough are long and difficult? We are going to prove the opposite! In this article you will find two quick and delicious recipes for pastry with filling.
Just follow the steps below, and the result will surely please you. These simple baking recipes are suitable even for those who don't have enough time to cook.
Donuts With Apples
Although donuts are always tasty, they are twice as good when filled with something. The sweet and sour taste of apples perfectly complements the fluffy dough. When you sprinkle donuts with sugar, add a little cinnamon, cardamom or vanilla. This way the donuts shall become even tastier and more fragrant!
Ingredients:
1 cup (200 ml) milk
½ cup (100 g) butter
1 egg
2 ¼ lb (1 kg) wheat flour
1 cup (200 ml) water
4 tbsp vegetable oil
1 rounded tablespoon yeast
5–6 apples
1 tsp salt
sugar to taste
powdered sugar to taste
berry jam to taste
Preparation:
Sift flour, mix with yeast. Combine warm water, egg, salt and sugar if desired, slightly beat. Pour the mixture into the flour.

Add warmed milk and slightly cooled melted butter. Knead the dough, gradually adding vegetable oil.
Roll the dough into a ball, let it rise a little. Punch down and leave until the dough grows twice as big.

Rinse the apples, peel and core, cut into small cubes, put in an air-tight container.
Divide the dough into pieces, roll into flatbreads. Put a few apples in the center of half of them, sprinkle with sugar and cover with the other half. Cut donuts with a glass.

In a deep frying pan, heat-resistant pan or pot, heat the refined oil and lay out the pastry. Cover and fry over medium heat until golden brown, then flip and fry once more.
Take out with a slotted spoon and lay it on paper towels. Sprinkle with powdered sugar and pour over with your favorite jam.
Pastry With Walnut and Raisins Filling
Small, cute and appetizing triangles, crispy on the outside and with mouthwatering filling inside.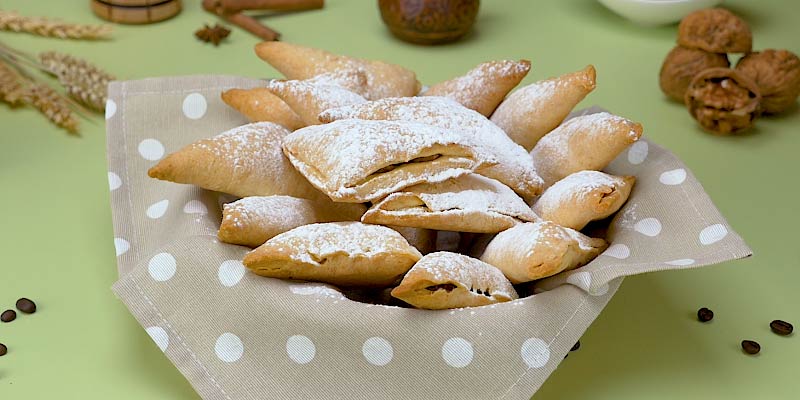 Ingredients:
3 ⅓ cup (480 g) flour
1 cup (150 g) raisins
1 ¼ cup (150 g) chopped walnuts
¾ cup (180 g) butter
1 tsp baking powder
¾ cup (200 ml) sour cream
Preparation:
Sift the flour with baking powder into a bowl, add chopped butter, and rub the ingredients with your hands. Add sour cream and knead the dough. Cover with plastic wrap and refrigerate for 40 minutes.

Rinse the raisins and pour with hot water for 1 hour, then dry with a paper towel. Mix walnuts with raisins.
Remove the dough from the refrigerator, divide in half, roll out each part into a thin layer. Cut the layer into squares, put the filling in the center of each square and make triangles, sealing the edges.

Put the triangles on a baking sheet lined with parchment paper and bake in an oven preheated to 350 °F (180 °C) for 30 minutes. Before serving, sprinkle the cooled pastry with powdered sugar.
Quick pastry with filling will always come in handy — for the unexpected arrival of guests, as a sweet dinner, or as a road trip snack. Treat your loved ones with the taste of homemade sweets that everyone will like!