Pavlova Desserts
In the 1930s, the chef of one of Wellington's hotels created a light dessert for the famous ballerina Anna Pavlova. This happened during her world tour. Since then the dish has become a part of New Zealand and Australian cuisines. At the moment, there are more than 600 recipes, and today we would like to share with you recipes for two delicious Pavlova desserts.
A beautiful dessert deserves a beautiful story. We are convinced that the recipe is perfect to treat your significant other to. A great idea for a romantic dinner, isn't it? Light as a feather, Pavlova desserts with creamy airy cap and a berry sauce are ideal for creating a festive atmosphere.
Pavlova Dessert With Berries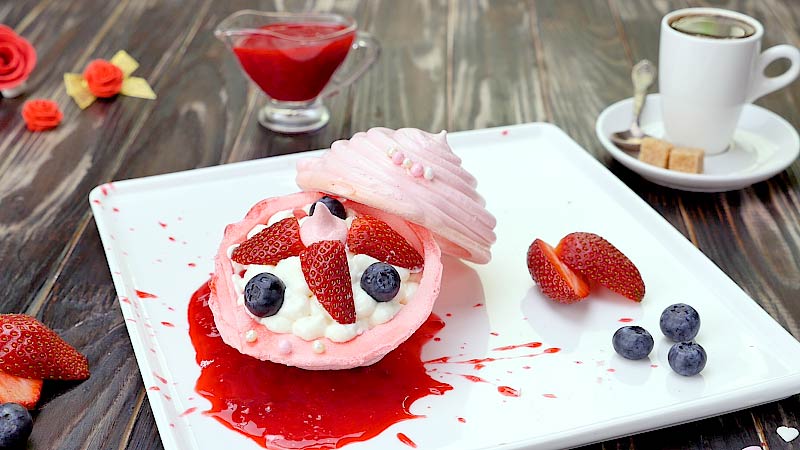 Ingredients:
4 eggs
2

¼ cups (

270 g) powdered sugar
5 tbsp corn starch
2 drops of pink food coloring
9 oz (250 g) raspberries
5 tbsp sugar
14 oz (400 g) cream cheese
1 cup (240 ml) heavy cream
Preparation:
Beat 4 egg whites with powdered sugar 1

½ cups

(190 g) mixed with starch (

½

teaspoon) until stable peaks. Add the food coloring and beat again.
Transfer the meringue mixture to a pastry bag (or just a plastic bag).

Turn a cupcake pan upside down and pour the cream on it, so that you get baskets in the end. Bake them for one hour at 280 °F (140 °C).
Prepare the raspberry sauce: put raspberries, sugar and starch (1 tablespoon) into a saucepan and keep on heat, stirring until the berries are soft and the syrup is boiling. It is better if the sauce is smooth.

Whip the cream cheese with heavy cream and powdered sugar

⅔ cup

(80 g).
Now we need to put the dessert together: pour a spoonful of raspberry sauce on a serving plate, put a little cream in the center and put meringue on it (you can scrub the bottom with a knife, the basket will be more stable). Put little peaks of cream in the basket, a little raspberry sauce on the cream, then again several cream peaks on top of it. Alternate the sauce and cream till the top of the basket. Decorate the Pavlova with strawberry slices or other berries. Serve the dessert covering it with the second half of empty meringue.
Chocolate Pavlova Dessert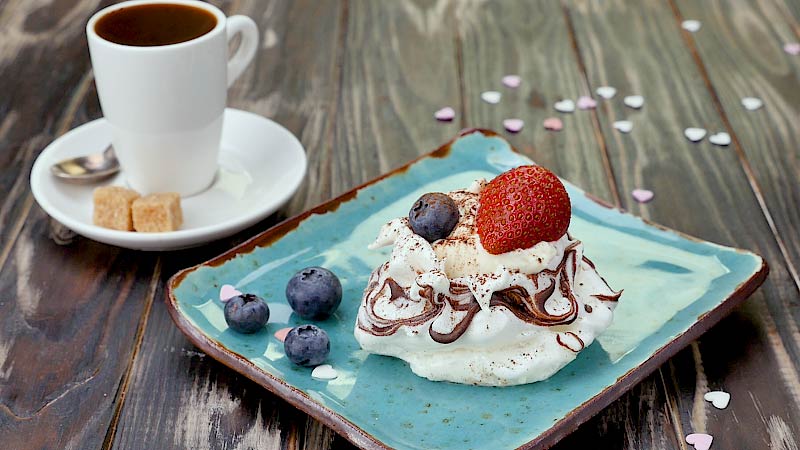 Ingredients:
3 eggs
1 tsp lemon juice

1 ⅓

cups (160 g) powdered sugar
2

⅔ oz (

75 g) dark chocolate (70% cocoa)
5

¼ oz (

150 g) heavy cream
berries and cocoa powder to taste
Preparation:
Beat 3 egg whites in a foam with salt and lemon juice. Add 1

¼ cups

(150 g) of powdered sugar and beat until stable peaks.

Melt the chocolate in a double boiler, add it to the meringue cream and mix.
Put dollops of meringue on the lined baking sheet, make a small indentation in each one and bake them for an hour at 250 °F (120 °C).

Beat the cream with the rest of the powdered sugar, fill the meringues. Decorate the top of the dessert with berries and sprinkle with cocoa powder.
What is the difference between the Pavlova desserts and ordinary meringues? The secret is in starch: thanks to this simple ingredient, the egg white foam gets a crust, but remains soft inside. This light dessert is impossible to imagine without berries. It can be raspberries, strawberries, cherries, blueberries, the more varied — the better. By the way, Pavlova's desserts can be not only small baskets, but also large cakes! We hope you will fall in love with this treat as much as we do.