Recipes With Jackfruit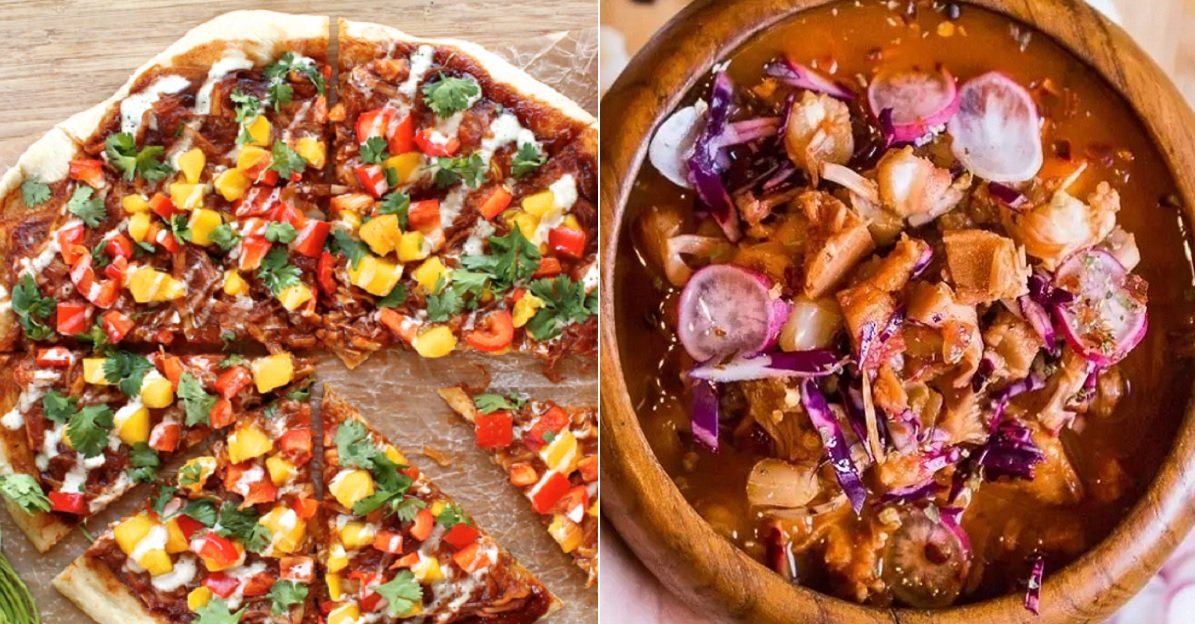 Jackfruit is a large and thorny Asian fruit that has become a staple in a vegan diet. Recipes with jackfruit are a wonderful alternative to meat — when cooked, the fruit has a taste similar to pulled pork. Jackfruit is somewhat sweet, dense, and fibrous, but it readily takes on the flavor of whatever ingredients you happen to fix it with. Moreover, it is a storehouse of protein, potassium, calcium, and iron.
With this in mind, Cook It has prepared a list of fabulous recipes with jackfruit. Incorporate this versatile and plentiful fruit into your diet by trying out these delectable, mouth-watering dishes.
Jackfruit Tacos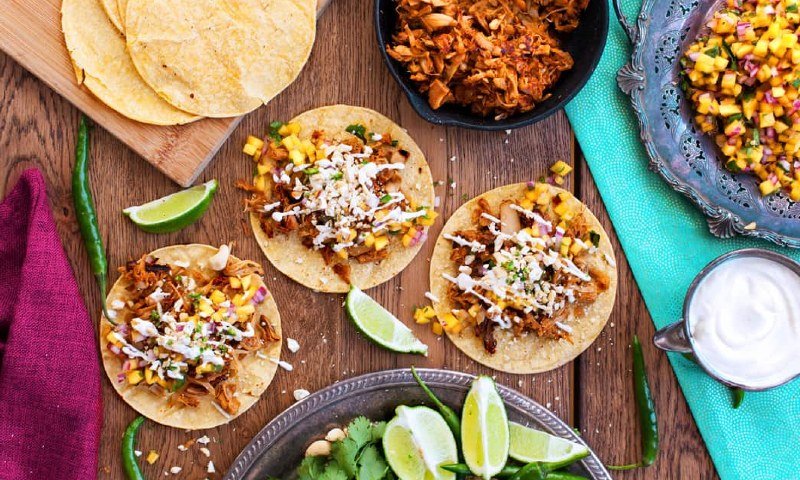 Ingredients:
For the Spicy Mango Salsa:
1 mango;
an onion;
1 jalapeno;
cilantro to taste;
lime juice to taste;
a pinch salt.
For the Lime Crema Sauce:
½ cup raw cashews;
3 tbsp water;
¼ tsp salt;
1 tsp apple cider vinegar;
lime juice to taste.
For the Corn Tortillas:
1 tsp paprika;
1 tsp chili;
½ oz coconut oil
1 tbsp tamari;
2 tsp maple syrup;
1 can jackfruit in water;
1 onion;
2 cloves garlic;
1 tsp vegetable base;
a cup of water;
1 chipotle pepper in adobo sauce.
Instructions:
To begin with, combine coconut oil, paprika, chili, tamari, and maple syrup in a freezer bag and mix well. Add jackfruit and let marinate for at least 2 hours.
When the jackfruit has marinated, place a pan on medium heat and warm up coconut oil. When it is hot, add finely sliced onion and minced garlic to the pan. Cook while stirring until the onions turn translucent.

Add bouillon and finely chopped chipotle pepper and toss to coat (for approximately 2 minutes).
Add thoroughly rinsed and drained jackfruit, mix well, and bring to a simmer for about 20 minutes, covering with a lid halfway through lest the meat should dry out.

After 20 minutes, break up the jackfruit using a fork and reduce heat.
Cover with a lid and continue to cook on low heat for another 15–20 minutes, stirring often to break up large pieces of jackfruit.

Cook until all liquid has evaporated.
Make the Spicy Mango Salsa. Combine diced mango, chopped onion, and finely chopped cilantro in a bowl and mix thoroughly. Add seeded and finely chopped jalapeno and lime juice to taste, season with a sprinkle of salt. Stir well.
Make the Lime Crema Sauce. Rinse the pre-soaked cashews thoroughly. Place all the ingredients in a blender and blend until smooth. Slowly add more lime juice to taste and water until desired consistency is reached.

Finally, build the tacos and garnish them with lime wedges.
Pizza With Mango Salsa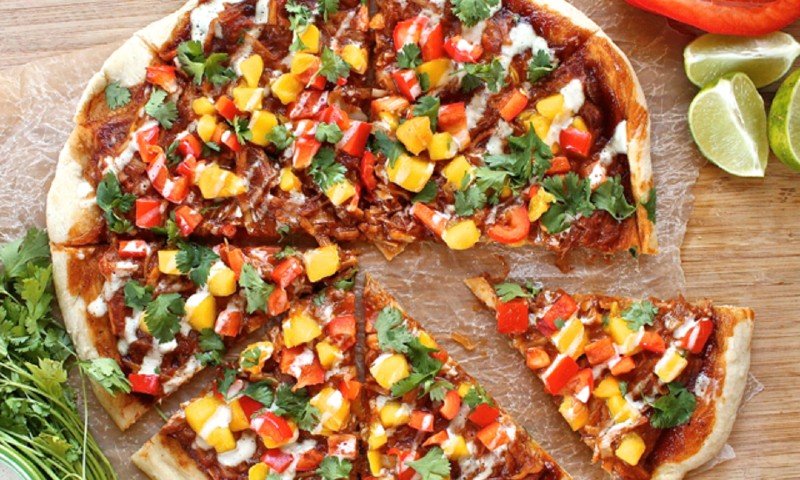 Ingredients:
For the Barbecue "Pulled Pork":
1 can Heart of Palm;
¾ cup barbecue sauce;
½ yellow onion;
1 tbsp canola oil.
For the Mango Salsa:
1 mango;
½ bell pepper;
½ jalapeno;
1 tsp lime juice;
1 pinch salt.
For the Cilantro Cashew Cream:
½ cup cashews, soaked for 30 minutes;
½ cup warm water;
2 tbsp fresh lemon juice;
1 tsp apple cider vinegar;
½ tsp salt;
2 tbsp cilantro.
Instructions:
Make the Barbecue "Pulled Pork". Shred the hearts of palm, making the pieces as thin as possible. Place them in a bowl and add ½ cup barbecue sauce. Let marinate for at least 1 hour.

When ready, heat the oil over medium heat in a cast-iron skillet. Add thinly sliced onion and caramelize (10–12 minutes). As soon as the onions are done, combine them with the shredded heart of palm. Set aside.
Make the Mango Salsa. Combine diced mango, diced bell pepper, minced jalapeño, lime juice, and salt in a bowl and refrigerate for 30 minutes.

Make the Cilantro Cashew Cream. Rinse pre-soaked cashew thoroughly. Place them in a blender with the remaining ingredients and process until smooth and pop the cream in the refrigerator.
Preheat the oven to 425 °F. Bake raw pizza crust for 8–10 minutes, then remove it from the oven and spread the remaining barbecue sauce on the crust. Sprinkle with the barbecue "pulled pork" and mango salsa and pop in the oven for another 5 minutes, until the crust is golden brown. Remove from the oven, drizzle with cashew cream and garnish with fresh cilantro leaves.
Jackfruit Nachos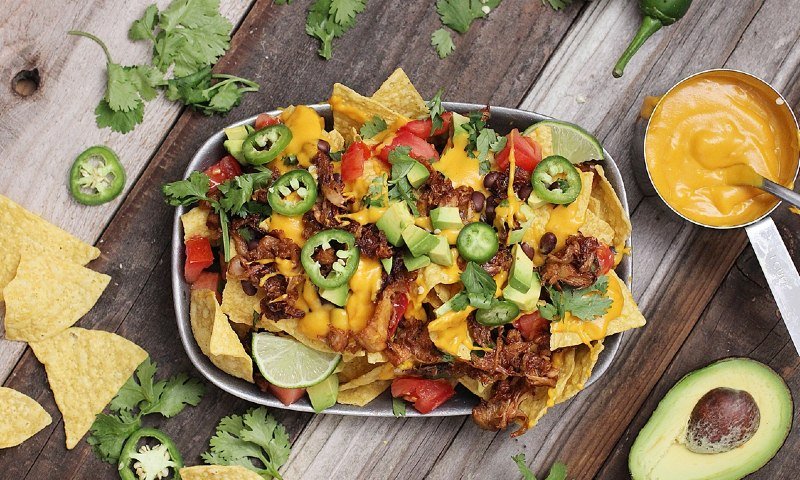 One of our favorite recipes with jackfruit.
Ingredients:
1 bag tortilla chips;
1 cup nacho sauce;
2 cans jackfruit in water;
1 cup barbecue sauce;
1 cup water;
black beans, jalapeno, avocado, red onion, cilantro, salsa, lime for topping.
Instructions:
Rinse jackfruit thoroughly and remove seed pods, then chop.

Combine jackfruit, barbecue sauce, and 1 cup of water in a pan and simmer over low heat for 25–35 minutes until most of the liquid has evaporated.
Heat the oven to 425 °F and bake the jackfruit for 15 minutes.

Finally, place tortilla chips on a platter and top with nacho sauce. Sprinkle with barbecue jackfruit and other toppings.
Instant Pot Vegan Pozole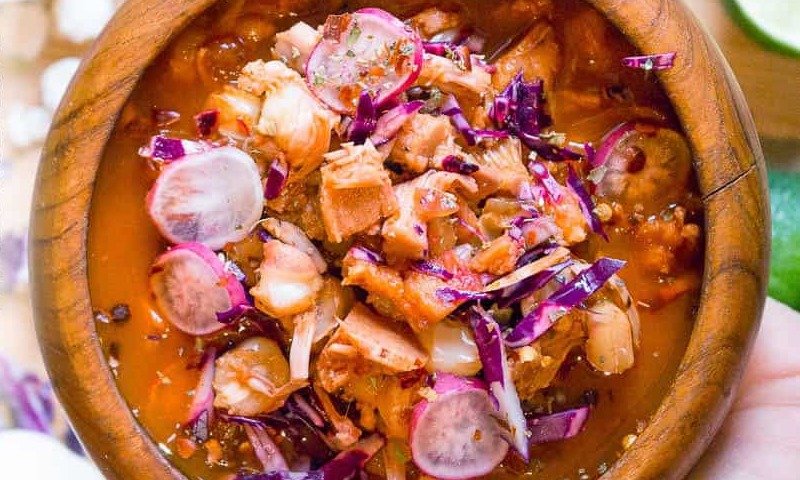 Ingredients:
14 oz (400 g) red chile puree
3 lb (1 ½ kg) canned hominy
1 onion
8 cloves garlic
1 tbsp oil
2 cans jackfruit
6 cups vegetable broth
Instructions:
Set Instant Pot to the "Sauté" function. Add oil, onion, and garlic and cook for 5 minutes.

Add the red chile puree and continue to cook for another minute.
Then add jackfruit and cook for 2 more minutes.

Break up the jackfruit with a fork and add 6 cups of broth.
Set Instant Pot to the "Manual" function and cook for another 10 minutes.

Allow for natural pressure release. Remove the lid, add hominy, and cook on manual for 1 minute.
Allow for natural pressure release, then season with salt to taste.

Finally, garnish with lime juice, oregano, red pepper flakes, cilantro, shredded cabbage, or radishes.
Salad With Jackfruit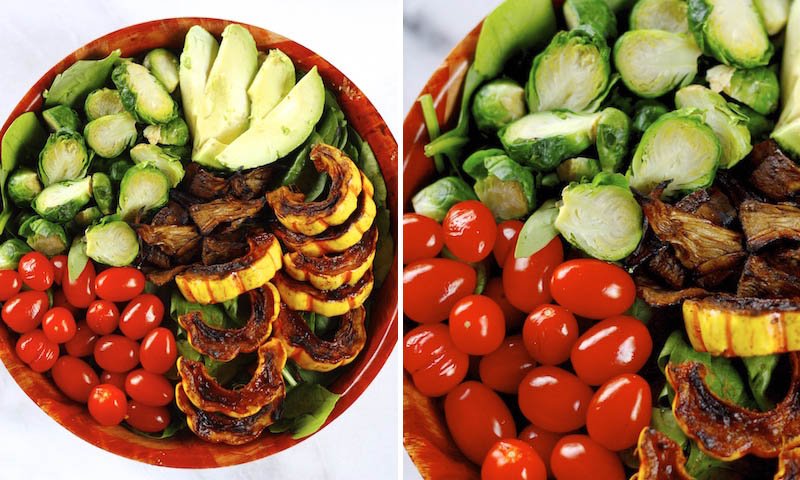 Ingredients:
1 delicata squash;
organic maple syrup;
organic cinnamon;
½ avocado;
10 brussels sprouts;
3 cups fresh spinach;
1 cup cherry tomatoes;
¼ lemon;
½ cup jackfruit "bacon" (recipe below).
Instructions:
To begin with, preheat the oven to 350 °F.

Wash, cut in half and deseed delicata squash, then slice it into half-inch pieces. Place the pieces on a baking sheet lined with parchment, lightly drizzle with maple syrup and sprinkle with cinnamon. Bake for 20–30 minutes until caramelized.
Meanwhile, place brussels sprouts in a vegetable steamer and steam until soft. Remove and slice in half. Season to taste.

Put the spinach into a bowl and drizzle with lemon juice. Top with halved tomatoes, sliced avocado, brussels sprouts, squash, and jackfruit "bacon".
Jackfruit "Bacon"
Ingredients:
2 cans jackfruit;
2 tbsp coconut aminos;
4 tbsp liquid smoke;
2 tbsp organic maple syrup;
2 tsp balsamic vinegar;
½ tsp ground black pepper;
2 tbsp extra virgin olive oil;
2 tsp unsulphured molasses;
¼ tsp himalayan pink salt.
Instructions:
Preheat the oven to 425 °F. Line three baking sheets with parchment paper.

Open, drain, thoroughly rinse, dry, and thinly slice jackfruit. Set aside.
Combine all remaining ingredients and whisk until uniform. Add the jackfruit and toss to coat. Cover the bowl and pop it in the refrigerator for 30 minutes.

Remove from the refrigerator and evenly distribute the jackfruit pieces on the baking sheets. Pop in the oven for 20–25 minutes, flipping halfway through.
Finally, remove from the oven and let cool. Store in a sealed container in the refrigerator for up to a week.
With these five recipes with jackfruit in your culinary repertoire, you can easily omit meat meals if you feel like pursuing vegetarianism. For more inspiration, check out our recipes for vegan eggplant-stuffed peppers and grilled veggies.
Whenever you feel inspired to try something new, prepare one of these creative recipes with jackfruit: you will be pleasantly surprised by the result! Share this article with your friends; why not make a day of tasting dishes with exotic fruit?