5 Healthy Whole-Grain Desserts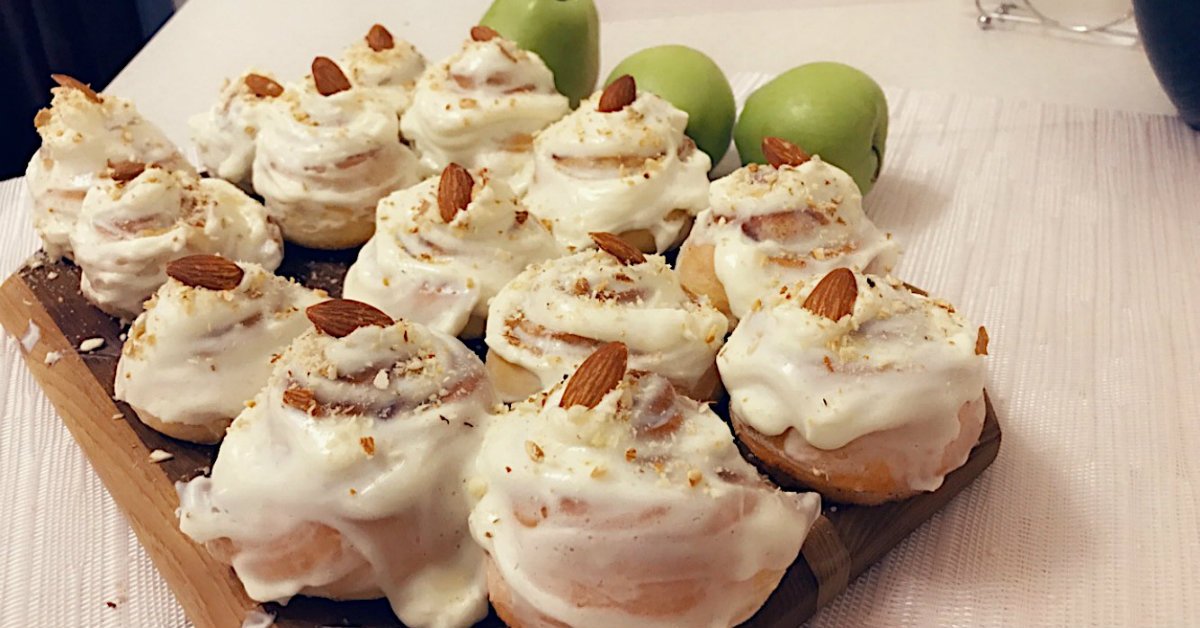 Have you ever wondered about the benefits of whole-grain wheat? It is a nutritious alternative to regular wheat that contains many healthy components, such as fibers, vitamins, minerals, protein, antioxidants, and plant compounds that help reduce the risk of heart disease, cancer, diabetes, obesity, and improve digestion. A magical grain, isn't it? Choosing whole-grain bread, whole-grain pasta, and even whole-grain desserts is a wiser choice than eating foods made with refined-grain.
Not only is it healthier to use whole grain, but it has a distinctive taste that enhances the flavor of baked treats, making it slightly nuttier. As an illustration, Cook It would like to share with you five unique recipes for delicious whole-grain desserts. Surely you can't have tried anything tastier!
Vegan Whole Wheat Chocolate Cinnamon Rolls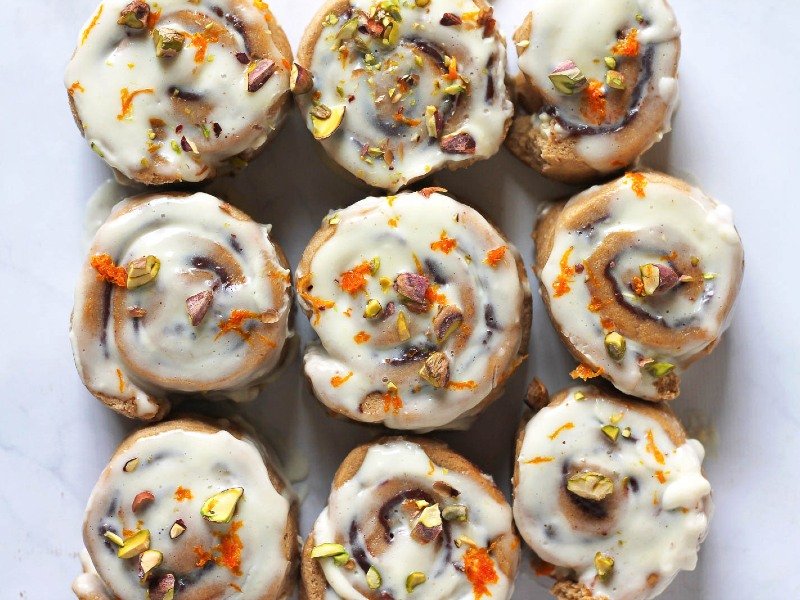 Ingredients:
1 cup canned lite coconut milk;
3 tbsp coconut oil;
3 tbsp coconut sugar;
1 packet active dry yeast (about 2 ¼ tsp);
3 cups whole wheat pastry flour;
¼ tsp salt;
½ cup chocolate hazelnut butter;
2 tsp cinnamon;
½ cup shelled pistachios;
zest of 1 orange.
For the Orange Icing:
½ cup vegan powdered sugar;
2 tbsp freshly squeezed orange juice;
¼ tsp orange zest.
Instructions:
Pour milk and coconut oil into a saucepan and bring to a simmer over medium-low heat. When the temperature reaches 110 °F, remove it from heat and transfer to a bowl. Stir in coconut sugar and yeast and let sit for 10 minutes to activate the yeast. The milk will get slightly foamy and form a paste.

Add ½ of the flour mixture and stir with a wooden spoon until just combined. Add in the rest of the flour and stir again until just combined.
Knead the dough for 10 minutes.
Once the dough is kneaded, place it in a large bowl brushed with oil. Cover with plastic wrap and a towel, then place in a warm place to rise until doubled in size.

As soon as the dough has risen, place it onto a surface sprinkled with flour. Roll it into a 15 by 9-inch rectangle.
Spread the dough with chocolate hazelnut butter, leaving a half-inch border on the edges. Sprinkle with cinnamon, pistachios, and orange zest.

Beginning at the long side, roll up tightly and pinch edges together. Then cut into 9 rolls using a serrated knife.
Grease the bottom of a 9- by 9-inch pan with coconut oil. Distribute the cinnamon roll slices in it and cover them with a towel. Preheat the oven to 350 °F and place the covered pan on the stovetop for 1 hour — the heat from the oven will help the rolls to rise.

Bake for 20–25 minutes, then let cool.
Meanwhile, make the frosting by combining the powdered sugar, orange juice, and orange zest. Drizzle over the rolls and top with pistachios.
Ricotta Cake With Blood Oranges and Cornmeal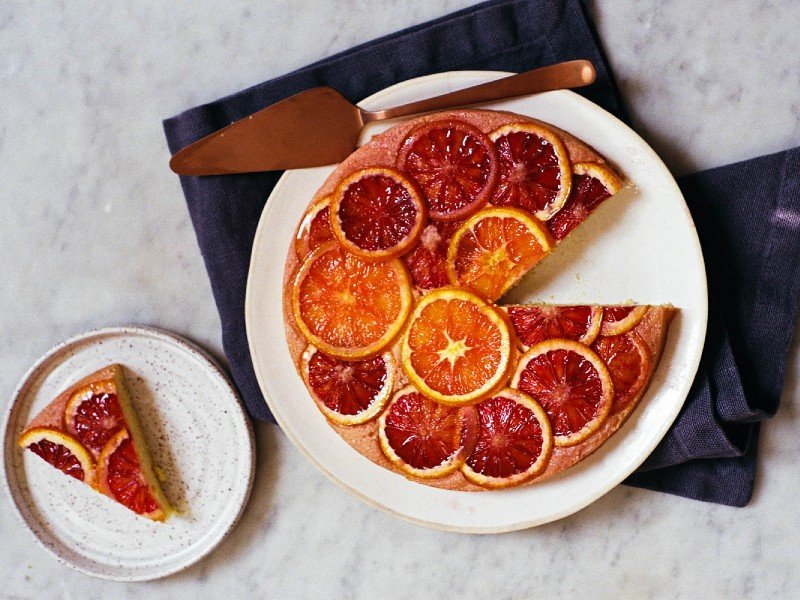 Ingredients:
For the Cake:
3 ½ oz (100g) unsalted butter;
5 ¼ oz (150g) granulated sugar;
3 large eggs;
6 oz (170g) ricotta;
zest and juice of 2 lemons;
4 ¾ oz (135g) almond flour;
1 ½ oz (45g) cornmeal;
½ tsp salt.
For the Topping:
2 blood oranges;
3 ½ oz (100g) sugar;
2 tbsp water.
Instructions:
To begin with, preheat the oven to 300 ºF. Grease a 9-inch baking pan with butter, line it with parchment paper, and grease it as well. Sprinkle with flour.

Combine water and sugar and spread it on the bottom of the pan. Cut oranges into thin slices and arrange them in a single layer on the bottom of the pan.
Mix softened butter and sugar with the lemon zest until light and fluffy. Add eggs, one at a time, mixing for 30 seconds in between each. Beat the mixture for 5 more minutes. Add ricotta and lemon juice and beat some more.

Finally, stir in almond flour, cornmeal, and salt. Spread the thick batter over the orange slices and bake the cake for 40–50 minutes. Let it cool for about 20 minutes before flipping it onto a platter.
Halva Brownies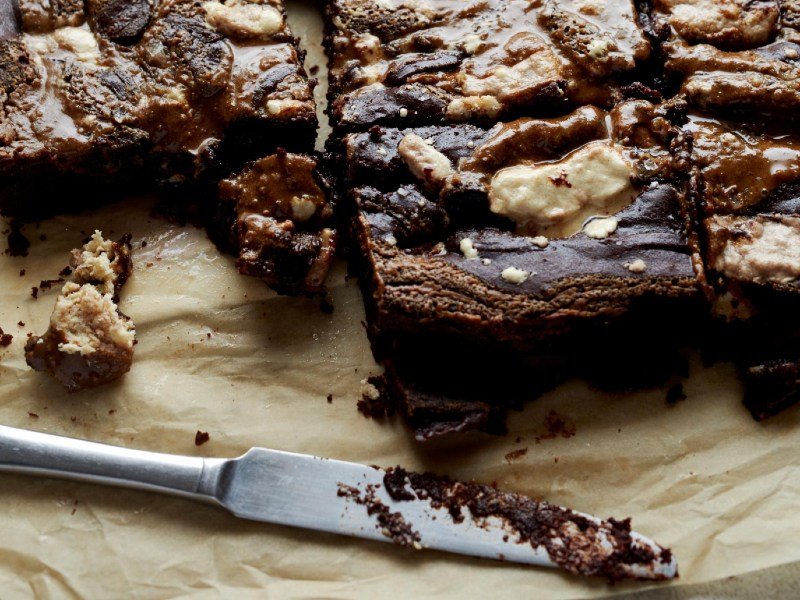 A fun spin on a classic brownie and one of the best whole-grain desserts you've ever had!
Ingredients:
8 ¾ oz (250 g) unsalted butter;
8 ¾ oz (250 g) dark chocolate;
4 eggs;
8 ¾ oz (250 g) golden caster sugar;
2 tsp vanilla extract;
5 oz (140 g) fine spelt flour;
1 ¾ oz (50 g) cocoa powder;
zest of 1 orange;
5 ⅓ oz (150 g) tahini paste;
8 oz (225 g) chocolate halva;
¾ tsp sea salt flakes.
Instructions:
Preheat the oven to 350 °F. Butter and line an 8 by 12-inch baking dish with parchment. Melt butter and chocolate over a pan of simmering water. Set aside.
Whisk eggs and sugar until combined.
Stir the eggs into the chocolate mixture, add vanilla extract, then sift in the flour and cocoa powder. Transfer the mixture into the baking dish.

Combine orange zest and tahini and drizzle this over the brownie mixture. Dot with halva pieces, then gently run a knife across the surface to marble it. Sprinkle with sea salt, then bake for 25 minutes until set but wobbly.
Peanut Butter Cookies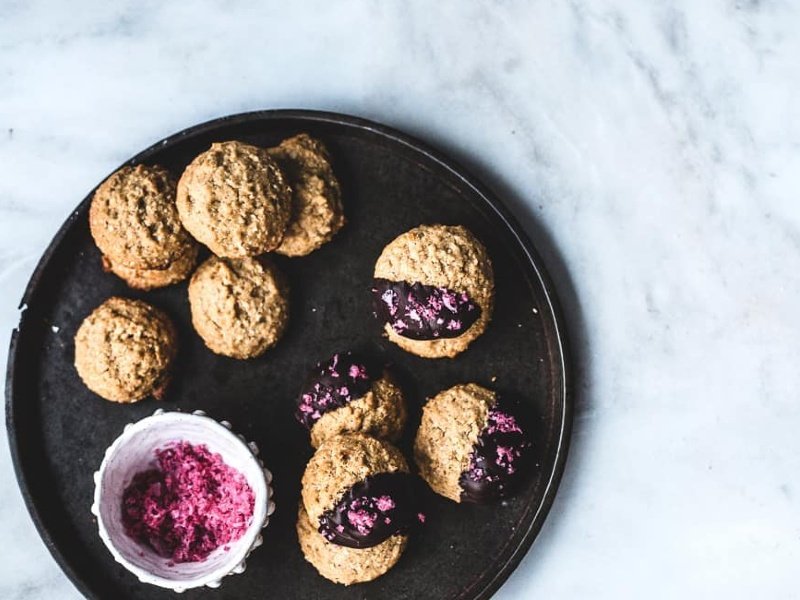 Ingredients:
½ cup smooth peanut butter;
¼ cup unsalted butter;
⅓ cup cane sugar;
1 egg;
¼ tsp baking powder;
1 tsp vanilla extract;
¾ cup oat flour;
½ roughly chopped bittersweet chocolate;
sea salt flakes to taste.
Instructions:
Preheat the oven to 350 °F. Line a baking sheet with parchment.

Mix peanut butter, unsalted butter, cane sugar, egg, baking powder, and vanilla extract until smooth, then add oat flour. After that, scoop tablespoons of dough onto the lined baking sheet, placing them approximately 2 inches apart. Bake for 8–10 minutes until golden. Transfer to a wire rack to cool.
Meanwhile, melt chocolate over a pan of simmering water. Dip one half of each cookie into the chocolate and place onto a piece of parchment paper. Sprinkle with sea salt flakes and let set.
Plum Crisp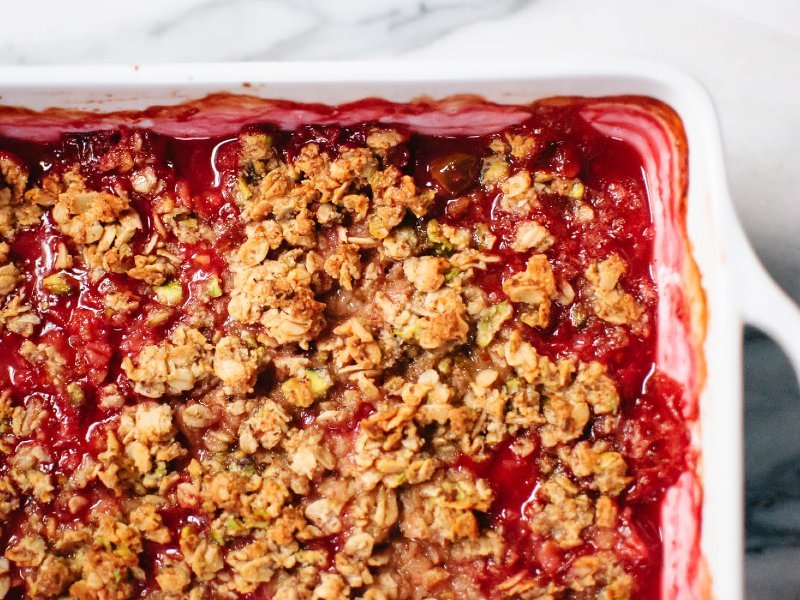 Ingredients:
For the Filling:
2 ⅕ lb (1 kg) plums;
⅓ cup honey;
3 tbsp cornstarch;
½ tsp cinnamon.
For the Topping:
1 cup oats;
½ cup almond flour;
⅓ cup chopped pistachios;
⅓ cup brown sugar;
1 tsp ground ginger;
¼ tsp fine grain sea salt;
4 tbsp butter;
3 tbsp yogurt.
Instructions:
To begin with, preheat the oven to 350 °F. In a 9 by 9-inch baking dish, mix together halved, pitted and sliced plums, honey, cornstarch, and cinnamon.
In a medium bowl, combine oats, almond flour, pistachios, brown sugar, ginger, and salt. Add melted butter and yogurt. Stir until moistened throughout.

Finally, place spoonfuls of the oat mixture onto the filling and evenly distribute it using your fingers. Bake for 55 minutes. Let sit for 5–10 minutes before serving. Serve with vanilla ice cream or plain yogurt.
Thanks to these five recipes for whole-grain desserts, you no longer need to feel guilty about eating cake, brownies, and cookies! For more healthy treat inspiration, check out our recipes for gluten-free cookies with green buckwheat and homemade gumdrops.
When you're inspired to bake, try one of these healthy whole-grain desserts: you will be impressed! Share this article with your friends; why not pursue a healthier lifestyle together?