Rice Meatballs With Sauce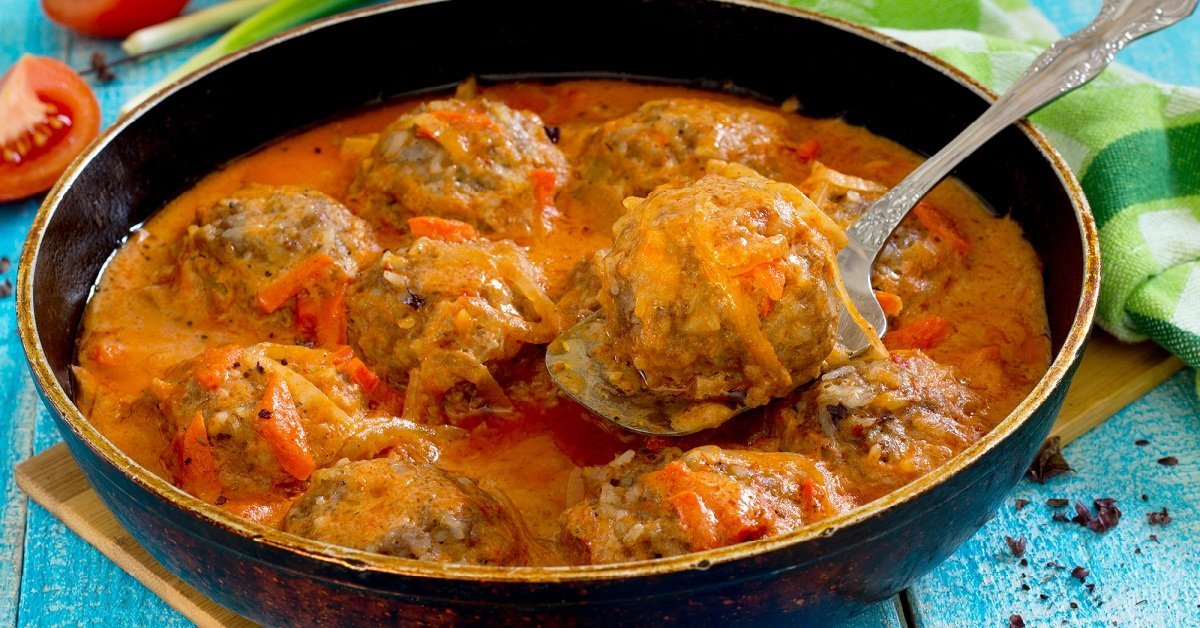 Fragrant meatballs in sauce are a delicious dish, the love of which we get in childhood. But you can't always eat meat. There's always a diet or fasting, or some of your loved ones turns out to be vegetarian. Fortunately, modern cooking offers recipes for every taste and budget, for example these tasty rice meatballs.
Today we are going to tell you how to cook tender and fluffy, but at the same time super-satisfying main course using rice and chickpeas. By the way, this food combination is a great protein serving. Also, the recipe is good for those who don't know what to cook from chickpeas besides hummus.
Rice Meatballs With Sauce
Ingredients:
1 ⅓ cups (230 g) dry chickpeas
½ cup (110 g) short-grain rice
1 carrot
2 onions
1 cup (200 ml) cream
3 tbsp tomato paste
vegetable oil
salt, spices
water
Preparation:
Soak chickpeas in water overnight in a 1:3 ratio. Then add onions (optional) and grind in a blender, gradually adding ¼ cup (50 ml) of water. It is needed so that the chickpeas don't turn out dry.

Cook rice. Add the chopped chickpeas, salt and spices to the rice. Mix everything thoroughly. Do not forget to add water during the mixing, so that the mixture turns out to be flexible, a little thicker than sour cream. You will need about half a glass of water, but a lot depends on chickpeas and rice.
Heat vegetable oil in a skillet or pan. Form meatballs from the mixture and fry in oil. You need to fry over medium heat. Finished meatballs should get a similar golden crust. Take them out of the pan and place on a plate covered with paper towels so that they absorb the excess oil.

In the meantime, make the sauce. Pour into a pan 1 tablespoon of vegetable oil and fry chopped onions and carrots. As soon as the oil evaporates, add ¼ cup (50 ml) of water and continue to simmer the vegetables until the onions are transparent and the carrots are soft.
Add tomato paste and fry the ingredients together for another minute, stirring constantly. Then add about 1 glass of water, mix, add salt and sugar to taste. Wait 2 minutes and add the cream, mix thoroughly.

Put meatballs in the sauce, let them boil for 2 minutes. Then turn off the heat, cover the pan and leave the dish for 10–15 minutes, so that the meatballs are soaked in sauce.
Soft and tender meatballs are ready. Bon Appetit!
Meatballs are very aromatic and melt in your mouth. At the same time, the dish is quite nourishing. Therefore, it is better to eat them for lunch. Instead of chickpeas, you can use lentils, but this way the meatballs won't be so tender. Try to cook these delicious vegetarian meatballs and share your experience in the comments!