Roasted Fish Recipes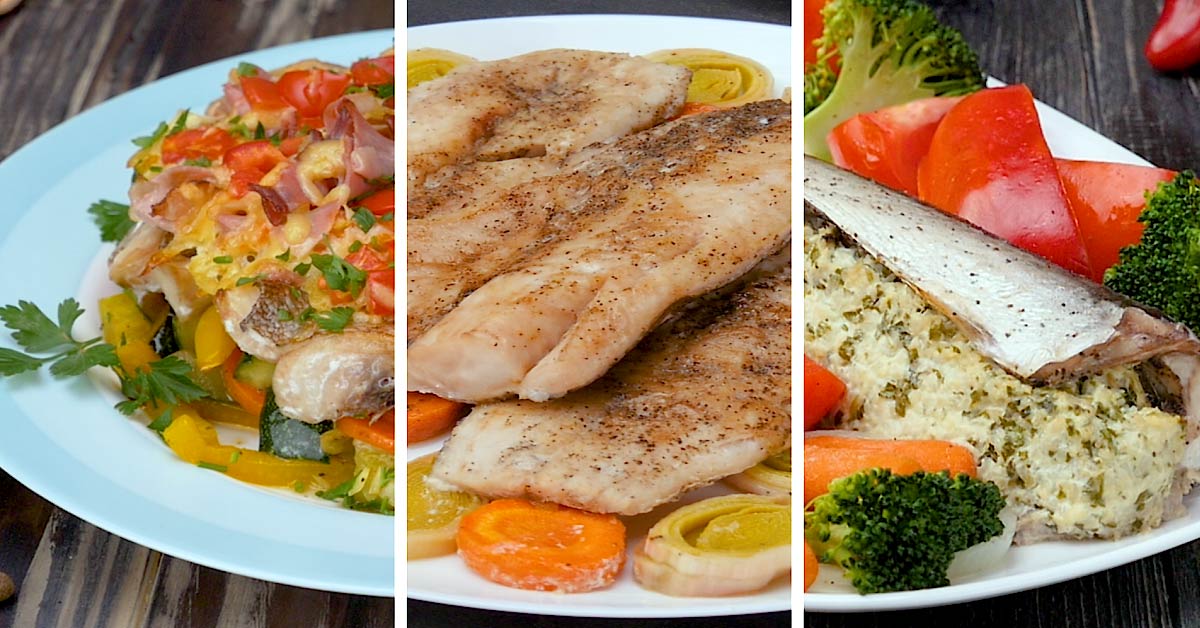 Norway's Ministry of Health and Care Services recommends eating fish 2–3 times a week. And we fully support such an opinion! People who include fish in their diet statistically have a lower risk of abnormal heart rhythms, lower blood pressure, and fewer fatal heart attacks than those who neglect seafood. Today we would like to share with you 3 roasted fish recipes.
In this article you will find impressive dish ideas with fish to get the most out of this wonderful food! Shall we begin?
Fish Dishes in the Oven
Chilean Sea Bass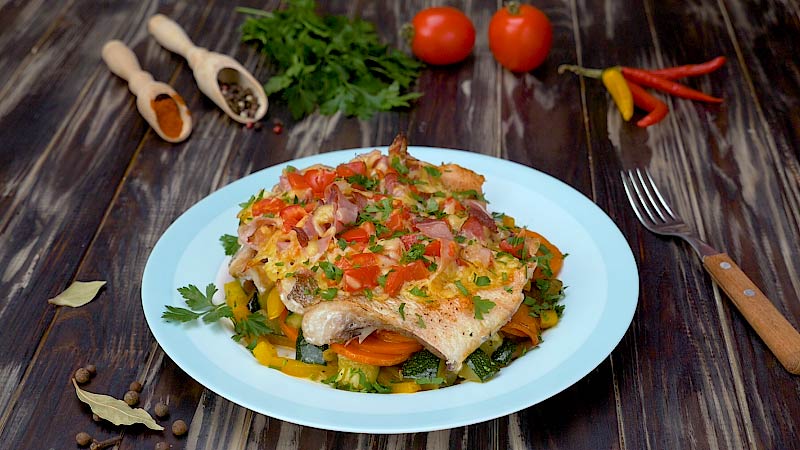 Ingredients:
10

½ oz

(300 g) sea bass
2 oz (50 g) hard cheese
10 tomatoes
2 oz (50 g) bacon
½ bell pepper
½ zucchini
1 carrot
1 tbsp butter
½ bunch parsley
black pepper to taste
salt to taste
Preparation:
Clean, gut and fillet a fish, season to taste. Bake the fillet at 400 °F (200 °C) for 10 minutes.
Saute sliced ​​carrots in butter. After 5 minutes of cooking, add the cubes of zucchini and strips of bell pepper to the pan. Season the vegetables with salt and pepper, remove from heat.

Separately, mix diced tomatoes, bacon and grated cheese in an oven proof glassware. Bake at 400 °F (200 °C) for 10 minutes.
Put a part of fried vegetables on a serving plate, place the fish on them, cover with the cheese and tomato layer. Sprinkle the dish with chopped parsley.
Roasted Mackerel With Greens and Vegetables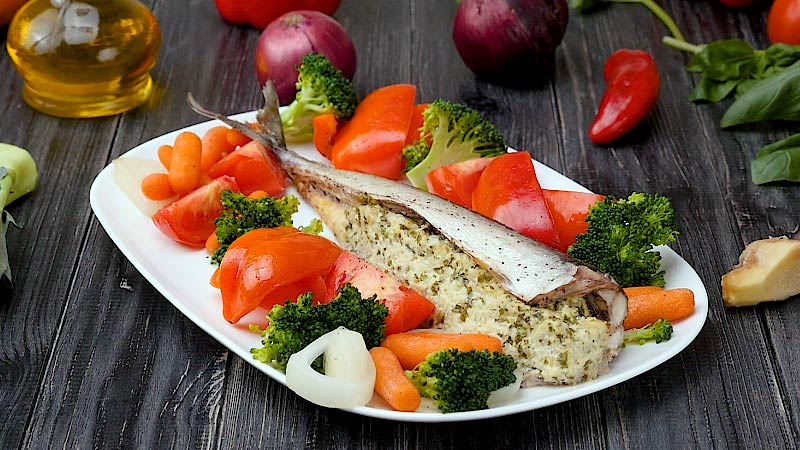 Ingredients:
1 mackerel
1 bundle of parsley
2 onions
2–3 cloves garlic
1 tbsp sour cream with a fat content of 15%
2 tbsp olive oil
7 oz (200 g) broccoli
2 tomatoes
1 carrot
1 bell pepper
salt to taste
black pepper to taste
Preparation:
Chop onions with garlic and parsley. Mix this paste with sour cream and olive oil. Thaw mackerel, dry a bit, season to taste.

Put the fish on a baking sheet lined with parchment paper, fill it with the prepared filling, grease with oil. Bake fish at 350 °F (180 °C) for half an hour.
For the side dish parboil broccoli and carrots in salted water, put them in a pan with the sauteed onions. Add coarsely chopped tomatoes and bell peppers. Season with salt, pepper, stew adding 1–2 tablespoons of water for 5 minutes.
Roasted Fish With Leek and Rosemary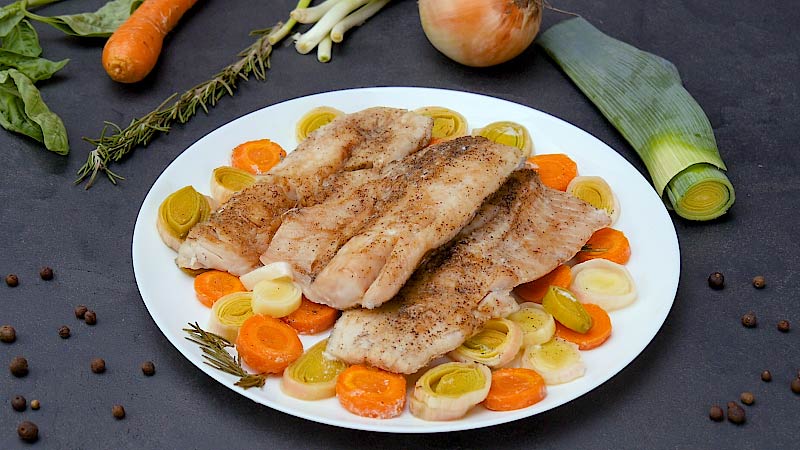 Ingredients:
1 ⅓ lb (600 g) tilapia fillet
a stalk of leek
1 carrot
1 lemon
2 tbsp olive oil
rosemary to taste
salt to taste
black pepper to taste
Preparation:
Wash and peel carrots and leek, cut them into thin circles and place in a deep bowl. Squeeze lemon juice into a container, pour in olive oil and add salt to taste. Mix everything.
Salt a fillet a little and season with pepper. Line a baking sheet with parchment paper.

Put carrots with onions on the baking sheet, place the fish fillet on a vegetable pillow and add sprigs of rosemary. Place the dish in an oven preheated to 350 °F (180 °C) for 20 minutes.
We hope these healthy roasted fish recipes will come in handy. Bon Appetit!