Scary Halloween Decoration Ideas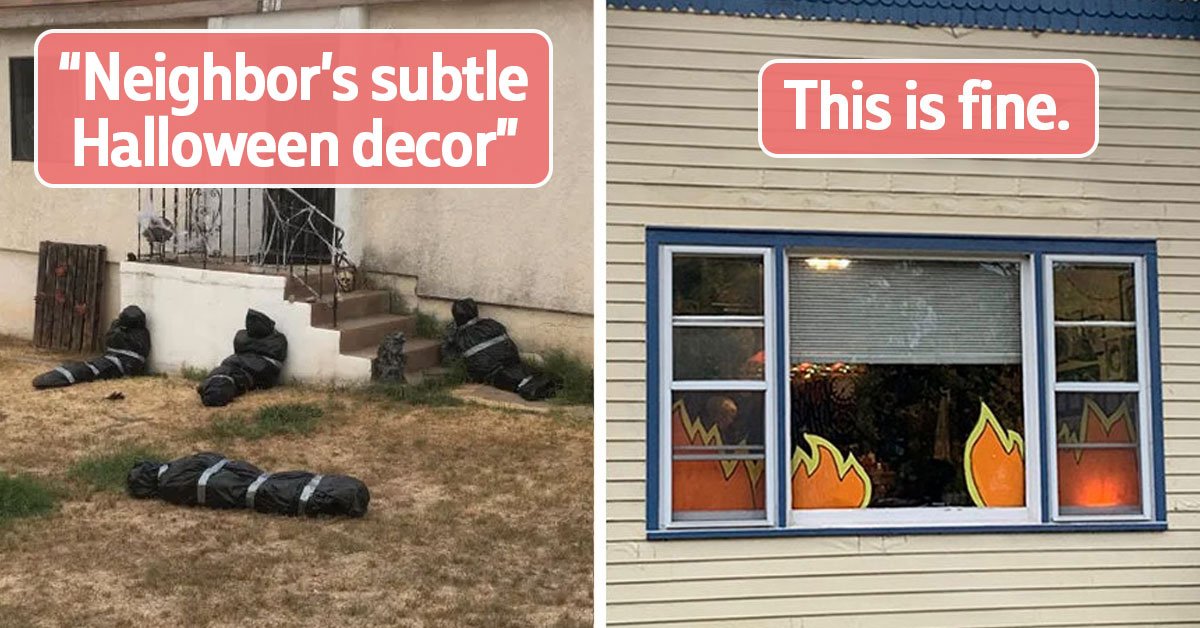 It's the end of October, and Halloween is fast approaching. With it comes the rush to find the perfect scary, spooky costume, the best pumpkin for a jack-o'-lantern, and just the right decorations to celebrate the holiday. However, before you go raiding your attic for your go-to Halloween paraphernalia, let us tell you something: the world has changed. Things got a whole lot darker this year. And from what we've seen occurring in 2020 so far, carved pumpkin just ain't gonna cut it.
Below, you will find scary Halloween decoration ideas to help you get into the spirit of All Hallows' Eve. Fair warning: these people are taking Halloween to an entirely new level of eerie.
40 Scary Decoration Ideas to Up Your Halloween Game
These creepy dolls carrying away corpses would freak anyone out.
Now, this is a truly scary Halloween setup. Too soon?

How awesome is this T. rex skeleton made entirely out of metal?
UnBOOlievably amazing pirate ship to live out your childhood fantasies on.

When your house looks like this, what else are you supposed to do other than decorate it like a spooky manor?
"2020. It was the scariest thing I could think of…"

Zombie flamingoes aren't something you tend to see in movies.
Well, this one was bone to be wild, apparently.

This Halloween decor at an OB/GYN office is hilarious.
This is fine. And absolutely genius, as well.
Stranger things have happened. One hell of a Halloween decoration.

Are you sure it's just decoration? Makes you wonder how many times the police were called…
"My friend spent about 3 months building custom-made characters from "The Nightmare Before Christmas" to decorate his house for Halloween."

Vote like your life depends on it. Because it does!
And the prize for the best Halloween decor goes to…

Even skeletons are on the ubiquitous Zoom calls these days.
You're taking it a step too far, folks, a step too far.

Is there such a thing as skeleton apocalypse?
May our social lives (and sanity) rest in peace.
Beware, the creepy attic guy is watching you.
Skeletons vs. ghosts is the new vampires vs. werewolves.

Let's get this party startled, it's time to have some skele-fun.
This will probably terrify some kids… and some adults.

Monster House is as festive as some people get.
Who wouldn't want a giant 6-feet-tall raven in their backyard on Halloween?

"My bro sent me this photo of his neighbor's Halloween decoration."
This would look pretty scary come nightfall, huh?
Shoutout to this truly terrifying Halloween decoration! Subtle yet very effective.

Aragog, is that you? Ron won't be too pleased.
VW spider sculpture with the web and skeletons out for Halloween.

Wicked awesome. At least they are wearing masks.
This is what happens when you take Halloween very, very seriously.
When your yard looks spookier than some horror film sets.

Beware the Death Rider! He doesn't need guts to be scary.
They are definitely doing Halloween right at this house.

One of our favorite scary Halloween decoration ideas so far.
This spooky Victorian porch is all ready for All Hallows' Eve.

This archway made of pumpkins looks super impressive, don't you think?
We are a go, but this launch might take a while.

Pandemic Halloween. Even houses wear masks in 2020.
As you can see, this year, many people use current events as their scary Halloween decoration inspiration, adding their commentary on difficult situations. After all, humor is the best strategy for coping with stress. Share this article with your friends who love All Hallows' Eve — perhaps they will become inspired to create some decor of their own. Witching you a Happy Halloween!