Unusual Cake Recipes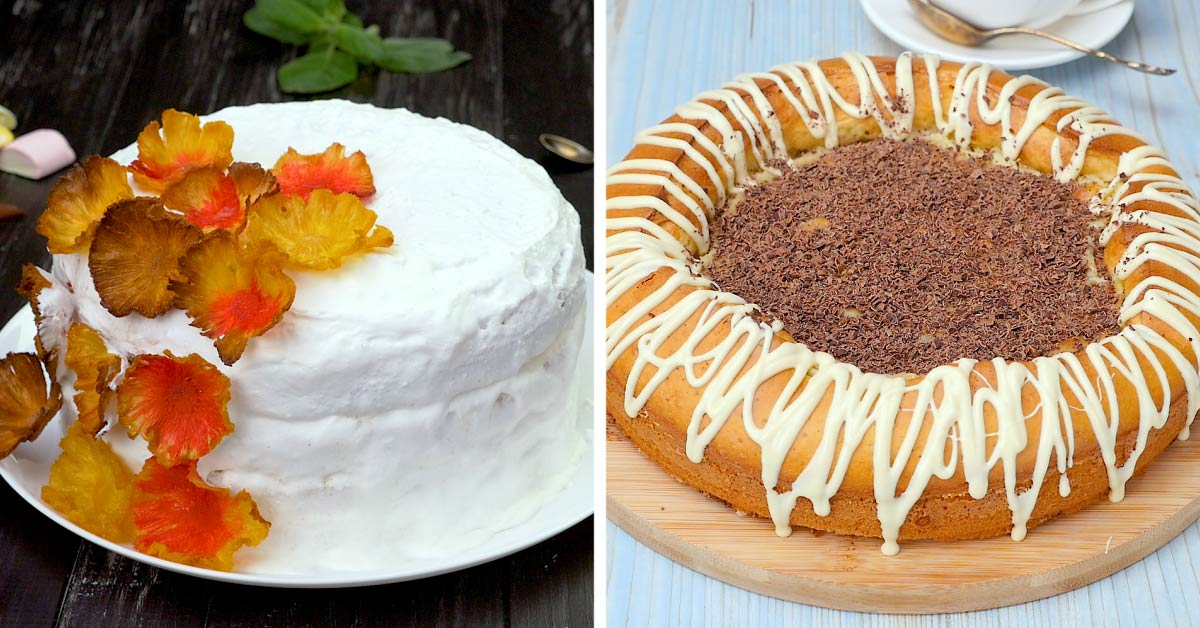 Sometimes you want to surprise your family and friends with something truly excellent. Why not make a homemade dessert? To simplify the task, we've picked for you 2 unusual cake recipes. These are so tasty, you'll get hungry just by looking at them.
The volcano cake is made very quickly. You just need to prepare the dough and cream, and then combine the two mixtures. Dessert is called so because of the way it looks, but we are ready for such a volcano eruption! Juicy pineapple cake looks enchanting and it is just as easy to prepare. The treat perfectly combines 2 creams and a special sourness of pineapple.
Homemade Pineapple Cake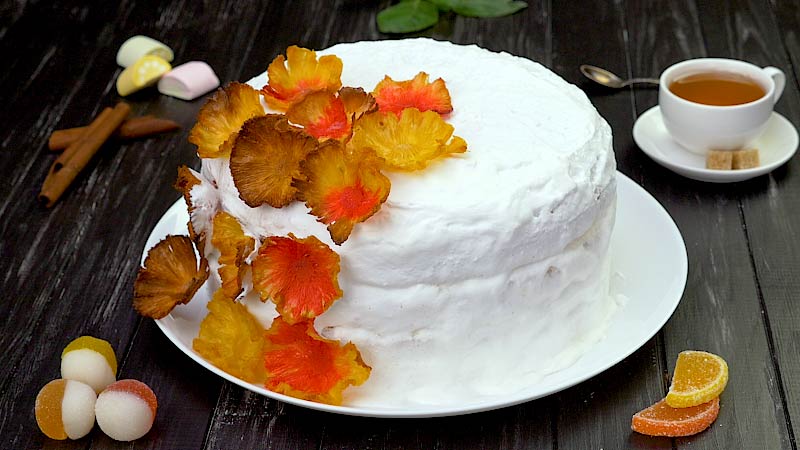 For the sponge cake you will need:
8 eggs
2 cups (400 g) sugar
3 ¾ cups (480 g) flour
1 tsp baking powder
vanilla sugar to taste
For the cream you will need:
1 ⅓ lb (600 g) sour cream

2 egg whites
2 cups (400 g) sugar
1 pinch citric acid
1 pineapple
For decoration you will need:
8 fresh pineapple slices
2 tsp red food coloring or blood orange juice
Preparation:
For the sponge cake beat the eggs with sugar: 1 egg and 1 cup (200 g) of sugar are needed for a sponge cake. Sift half of the flour into each mixture and add vanilla sugar. Thoroughly mix. Then add baking powder.
Bake sponge cake one at a time at 350 °F (180 °C) for half an hour. Check with a toothpick if cooked through.

Peel the pineapple and cut it into thin slices. Place 8 slices on a baking sheet lined with parchment paper. Drizzle the food coloring in the center of the slices.
Preheat the oven to 300 °F (150 °C), put pineapples in it, reduce the temperature to 225 °F (100 °C) and bake for 1 hour. This will be the future cake decoration.

While the second sponge cake is being baked, make the cream. To do this, beat sour cream with 1 cup (200 g) of sugar. Cut the remaining pineapple into cubes and add to the cream.
Cut each sponge cake into 2 parts, grease each one with generous amount of sour cream and cover with the next sponge cake.

For the cream, make a Swiss meringue out of beaten egg whites and citric acid. Add sugar and beat again. Place the mixture over a double boiler and simmer for another 15 minutes, constantly beating.
Spread the meringue throughout the cake. Form flowers from the baked pineapple slices and decorate the dessert with them.
The Volcano Cake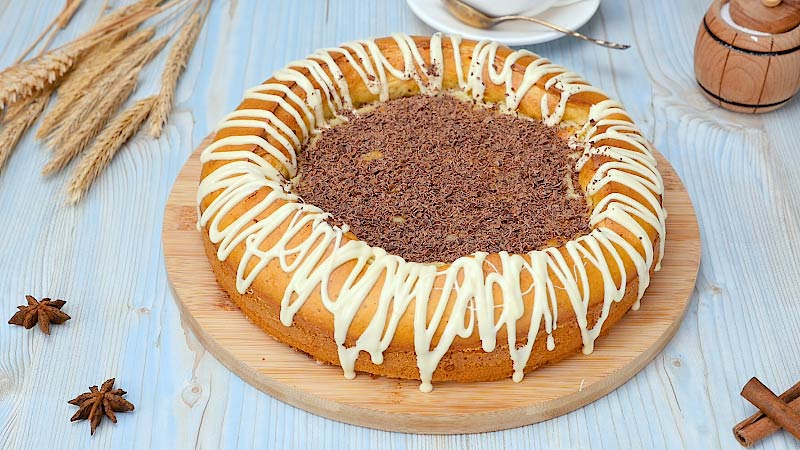 For the crust you will need:
4 eggs
⅔ cup (150 ml) milk
⅓ cup (75 ml) sunflower oil
1 ⅔ tsp vanilla sugar
2 ½ cups (300 g) wheat flour
⅔ cup (120 g) sugar
2 tsp baking powder
1 pinch salt
For the filling you will need:
1 egg
2 ½ cups (600 ml) milk
½ cup (100 g) sugar
1 ⅔ tsp vanilla sugar
7 tbsp corn starch
¼ cup (50 g) butter
For decoration you will need:
melted white chocolate to taste

grated milk chocolate to taste
Preparation:
Filling: in a saucepan, mix 1 egg, ½ cup (100 g) of sugar and 1 ⅔ tsp of vanilla sugar (1 sachet). Mix. Pour 2 ½ cups (600 ml) of warm milk into the mixture.
Add the corn starch and thoroughly mix.
Put the saucepan on the hot stove, stir constantly, until thick. As soon as the custard begins to bubble, turn off the heat.

Immediately add butter and mix.
Cover the pan with plastic wrap, place it directly on the custard. Set aside.
Crust: mix 4 eggs, ⅔ cup (120 g) of sugar, 1 ⅔ tsp of vanilla sugar and a pinch of salt. Add room temperature milk and sunflower oil.

Pour the baking powder into the mixture and sift the flour. Mix the batter. You may need a little more flour, it depends on the size of the eggs.
Line the bottom of a springform pan with parchment paper. Pour in the batter, pour the custard in the center using a spoon. You do not need to spread it.

Bake the cake at 350 °F (180 °C) for 45 minutes. Let it cool completely.
Use a pastry bag to decorate the cake with melted white chocolate. Sprinkle the center of the cake with grated milk chocolate.
These unusual cake recipes definitely deserve your attention. Think twice before choosing another store-bought dessert for your holiday. You can make such a wonderful treat at home. Good luck!