10 Design Ideas for Small Kitchens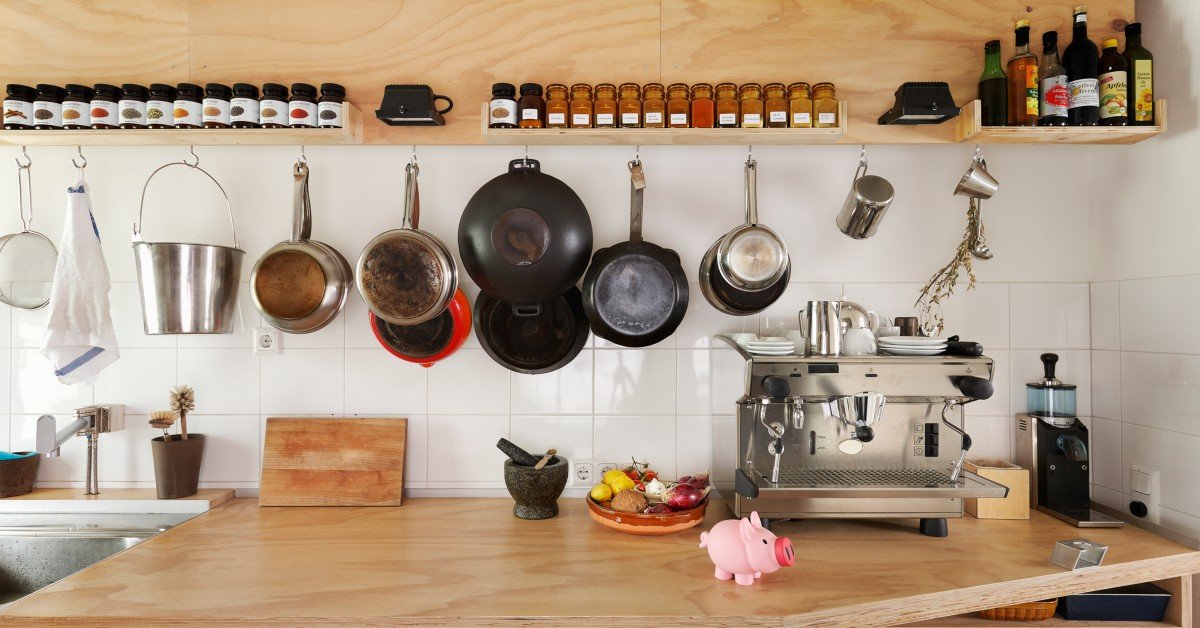 Small kitchens have their advantages: everything's at hand, and they take less time to clean. There's one clear drawback, though — there's not enough space for equipment. You'd have to fit a refrigerator, stove, countertop, and cabinets, and be able to move around all the stuff afterward. Cook It has collected 10 design ideas for small kitchens from leading designers across the globe.
What color walls will make the kitchen seem spacious? How to reduce the stove space, install all the necessary equipment, making it invisible to the eyes, and what kind of curtains will visually enlarge the room? Find answers to these and other popular questions in this article.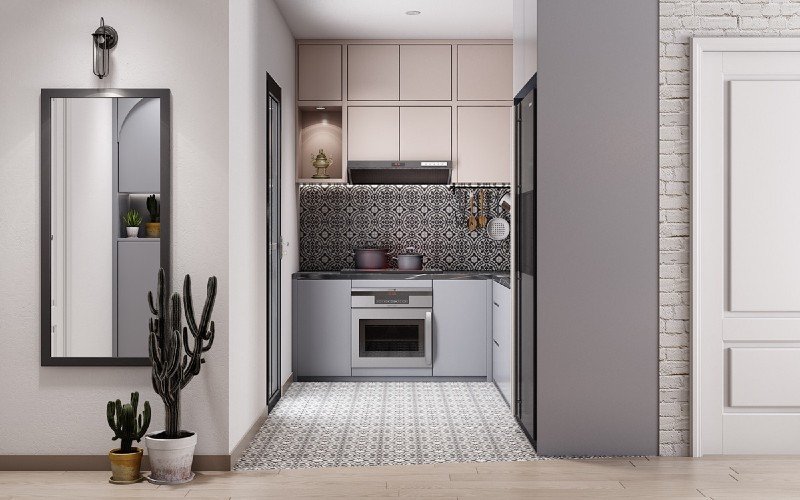 The following ten design ideas for small kitchens are handy not only for the visual component of the kitchen interior but also for literally reducing the used space. Abiding by these rules will allow you to fit a table for a cozy family breakfast in a tiny kitchen.
More Light
Lighting is key to making a small space seem larger. A window in the kitchen is always a plus, but it is recommended to install ceiling lights, built-in lamps, and pendant lamps (preferably more than one). If space allows, add spotlights to cabinets and under the ceiling — it will visually expand the area.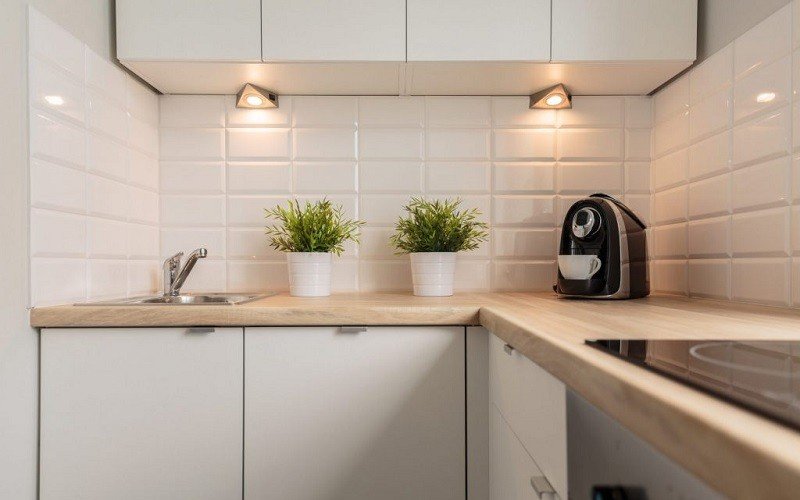 Rails and Shelves
Cupboards and chests of drawers are too bulky for the interior of a small kitchen. Nearly everything you need can fit on shelves. Railings are an interesting solution for hanging the essential tools, oven mitts, cloths, cutting boards, knives, and other items.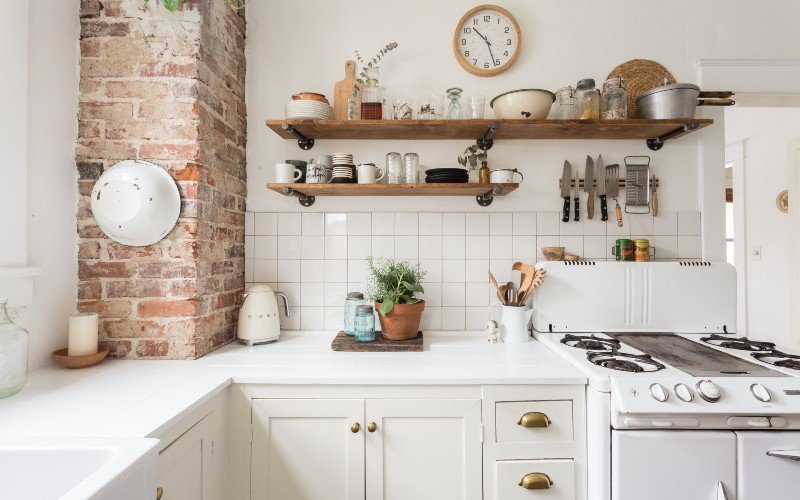 Built-In Appliances
It's not that easy to install a built-in stove; however, a dishwasher or a refrigerator is a different story. It will not save space, but it will make your kitchen look nice and neat. Even a microwave will look better in a niche than sitting on a countertop, a small table, or a windowsill.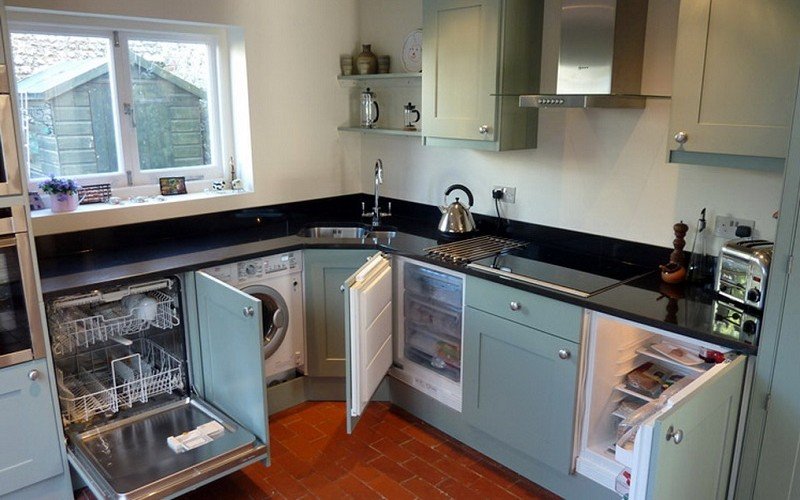 No Doors
The relevance of the kitchen door is a matter of argument, but it is easy to agree: if it opens inwards, it takes up space. Besides, a closed door will not save you from smells that are not absorbed by the air extraction system. The scent of baked chicken, for example, will be all over the place in any case. That's why you should not spend money on doors: it is better to revamp the passage to the kitchen and make a beautiful arch entryway.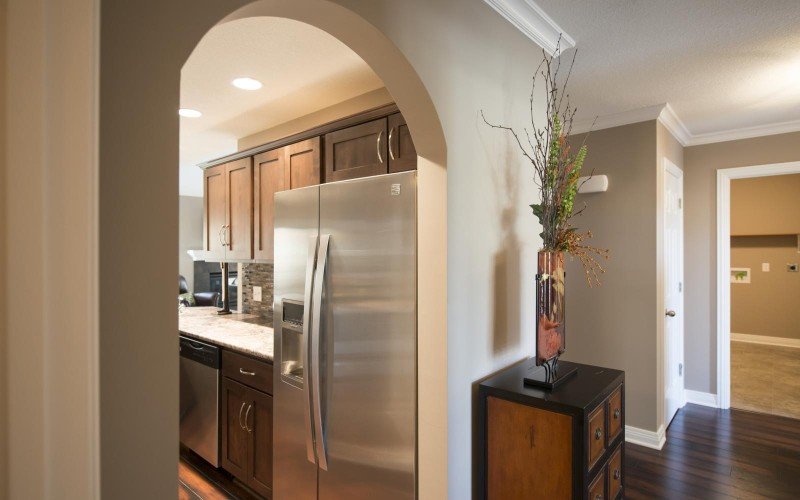 Subdued Colors
It's not so much about color, but about the monochromatic palette. Patterns will make a large kitchen look cozy, but they will make smaller space suffocating. Light color palette is ideal for visually enlarging the apartment. When it comes to designing small rooms, designers recommend to adhere to minimalism and skip large furniture handles.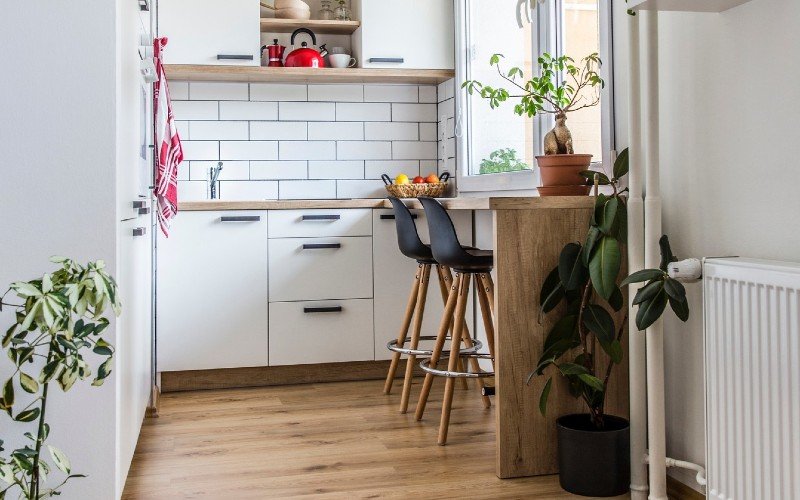 Wall Cabinets
Professionals and feng shui devotees tirelessly repeat over and over again: wall cabinets darken the atmosphere as if they are just another thing hanging over your head. But this rule can be ignored when it comes to a small kitchen space! If there isn't enough space to place a cabinet, you can hang it on the wall without sacrificing the cooking space.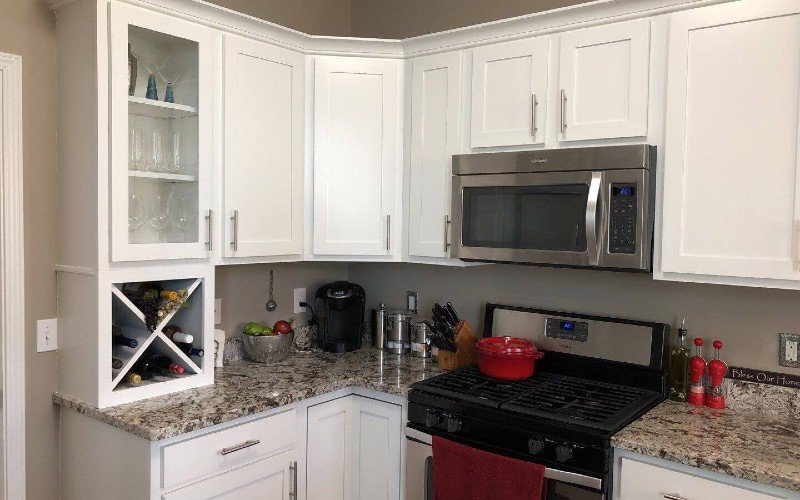 Pullout Drawers
If shelves and rails aren't enough and you still need drawers, make sure they are withdrawable, as they will be easier to organize. Besides, looking through the drawers from above is faster and less energy-consuming than rummaging in a small floor cabinet.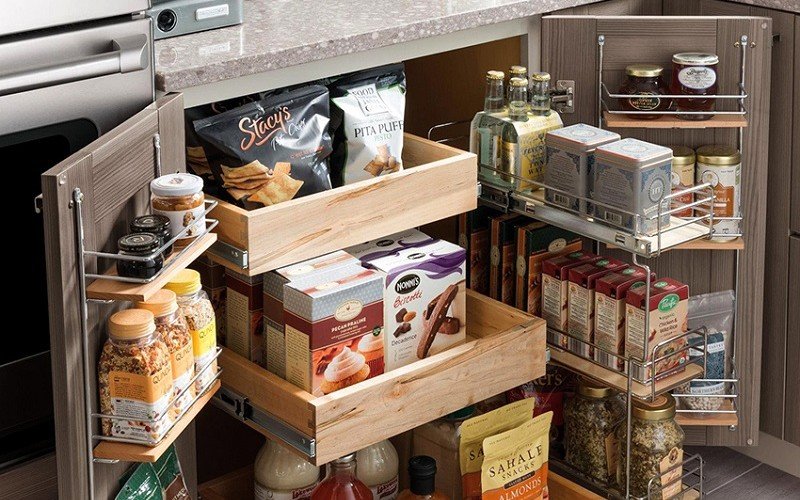 Two Burners
How often do you use all four burners simultaneously? It is pretty rare, even for a large family. A two-burner stove will suit most of us (especially if you have an electric kettle). Another advantage: it is easier to clean, and it takes up exactly half the space.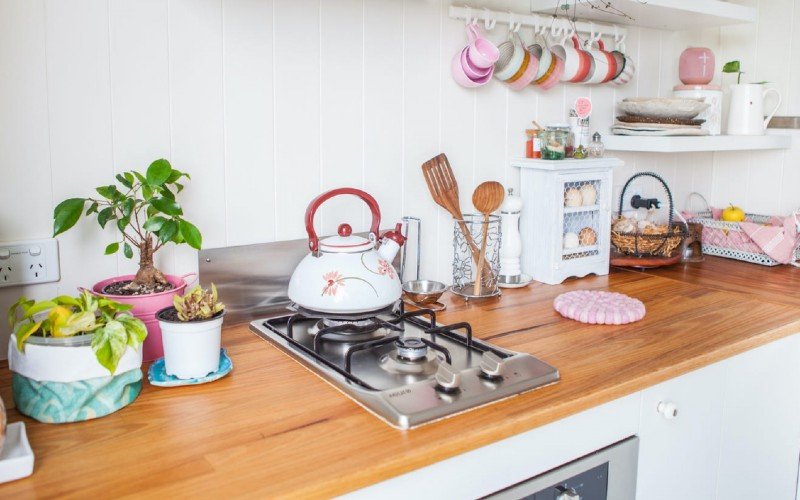 Accents and Decor
Even if there's not much space for creativity, you should try to incorporate bright elements into your kitchen: a laconic vase, chalkboard wallpaper (very convenient for saving recipes and making a shopping list), or extravagant dishware (painted serving plates, carved cutting boards, or an unusual decanter left sitting on open shelves).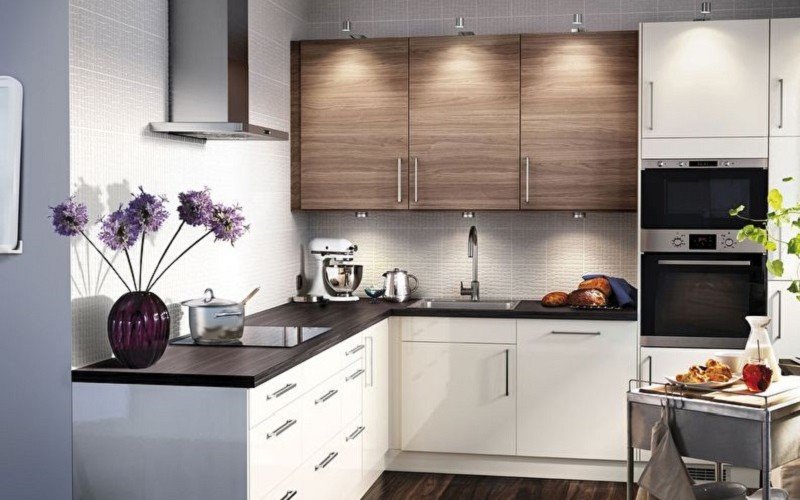 An ideal solution (especially for a kitchen in light gray tones) would be a windowsill or a shelf full of spicy greens. Hanging pots would look amazing as well.
Roman Blinds Instead of Curtains
An indisputable fact: curtains take up a lot of space, become dirty very quickly, and soak up smells. Roman blinds are much more convenient, especially if they are made from smooth material, which can be easily cleaned and closed. Besides, they will not billow near the stove, table, or refrigerator. You could also use blinds, but they can be difficult to appropriate in terms of design.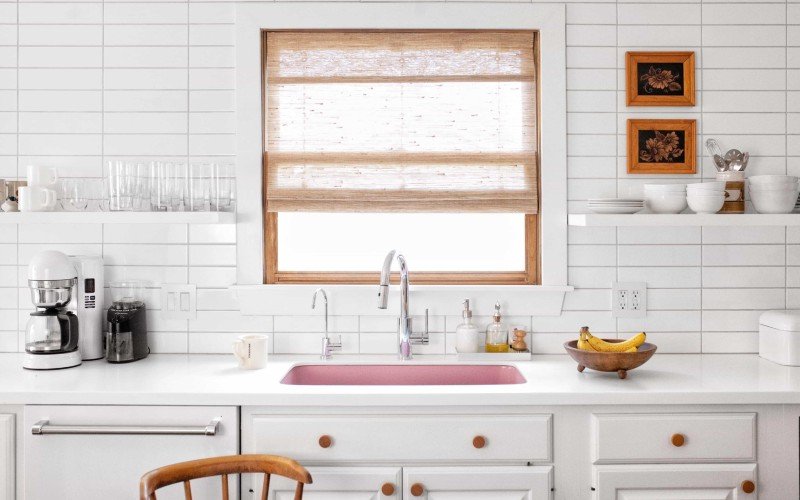 Furnishing the kitchen is a delicate and tricky task — it is essential to equip the interior of the room so that things do not get in the way or steal space. However, not all problems require the intervention of an expensive specialist; sometimes, it is enough to know simple design ideas for small kitchens. If you are on an organization spree, check out our article on home organizing tips. Do you like our ideas? Share them with others!