Bruschetta Recipes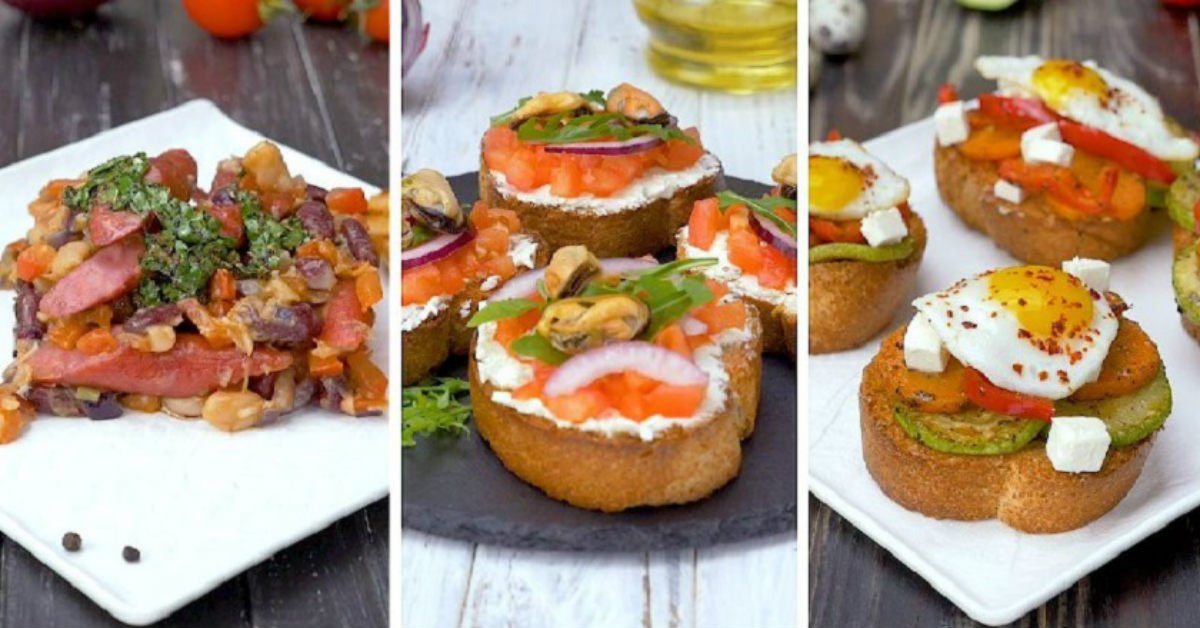 What do we make when we want to have a quick bite? Often a sandwich. But in Italy, it is common not to spoil but stimulate your appetite with a sandwich. Antipasto does it really great. Such snacks are served before the main course. Among them may be fried or fresh cheese, as well as a fragrant bruschetta, the recipes of which we will introduce to you today.
We have to admit that the bruschetta is not an ordinary sandwich! This is a crispy crouton, complemented with garlic, hidden under a generous layer of tomato filling, cheese, herbs and other ingredients. It seems that after such a royal set of foods you wouldn't want to eat anything else. But practice shows the opposite: a small delicacy with a piquant taste seems to prepare the taste buds for the start of a big meal.
Bruschetta Recipes
Bruschetta With Mussels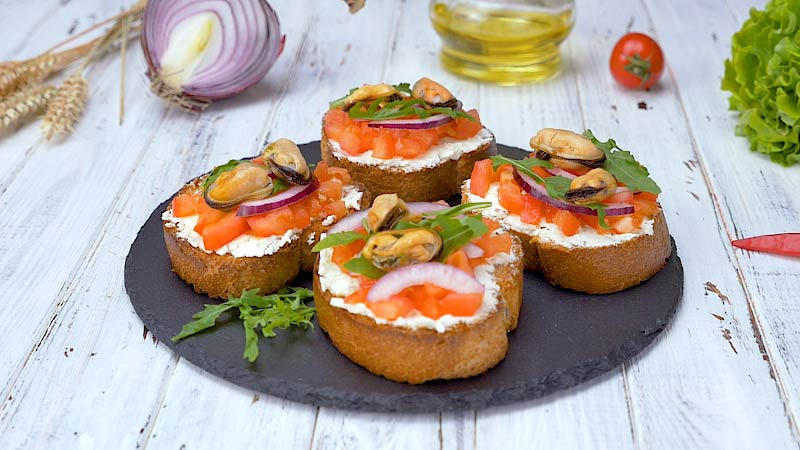 Ingredients:
1 baguette
1 large tomato
¼ cup (70 g) feta
¾ oz (20 g) arugula
1 red onion
3 ½ oz (100 g) canned mussels
2 cloves garlic
2 tbsp olive oil
Preparation:
Cut the baguette into slices, fry on both sides with olive oil. Rub with garlic.
Make a cross-shaped incision on the tomato, pour boiling water over it, remove the skin. Cut the tomato into small cubes.

Spread feta cheese on a slice of baguette, top with tomatoes, a few half rings of red onion, arugula and mussels. Done!
Sausage and Beans Bruschetta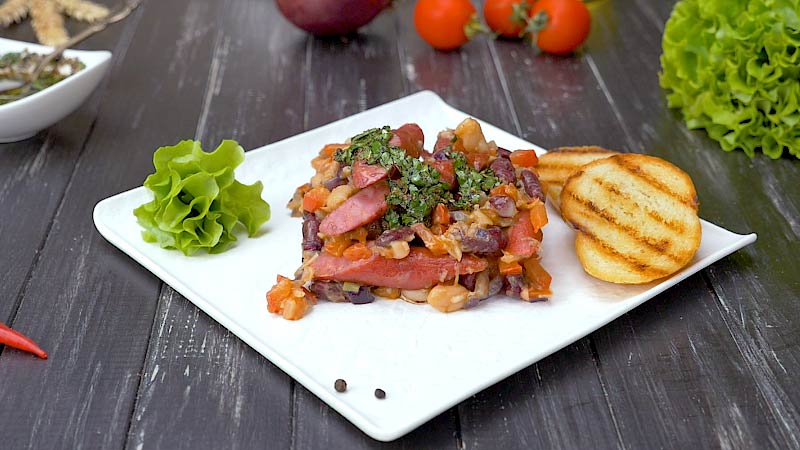 Ingredients:
1 baguette
7 oz (200 g) salami sausages
1 onion
2 tomatoes
3 cloves garlic
9 oz (250 g) canned beans
5 tbsp olive oil
2 tbsp balsamic vinegar
¾ oz (20 g) cilantro
Preparation:
Fry the chopped sausages in a preheated pan. When they become golden brown, transfer them to a plate, and put the onion, chopped into small cubes, into the pan.

After half a minute, place the peeled, diced tomatoes into the pan. Then add the minced garlic and beans. Season the dish with salt to taste.
Return the sausages to the pan and heat a little.

Prepare the sauce: mix olive oil, balsamic vinegar and finely chopped cilantro.
Cut the baguette into slices, fry on both sides until golden brown. Put sausages with beans on croutons, pour with the sauce.
Vegetable Bruschetta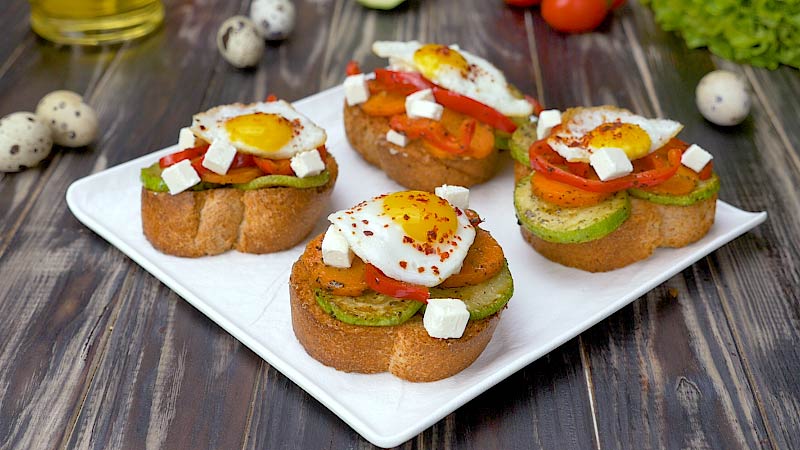 Ingredients:
1 baguette
1 carrot
2 zucchini
2 marrow squash
1 ½ oz (40 g) feta
6 quail eggs
3 cloves garlic
2 bell peppers
3 tbsp olive oil
Preparation:
Cut the carrots, zucchini, and marrow squash into slices, cut the bell peppers into strips.
Heat 2 tablespoons olive oil in a pan and fry the carrots for three minutes. Then add the zucchini, marrow squash, and peppers. Saute the vegetables until tender.

Cut the baguette into slices, brown each on both sides, then remove from heat, rub with garlic and drizzle with the remaining olive oil.
Put the vegetables, a few slices of feta and a fried quail egg on each piece of bread. Yummy!
A tip: Croutons are best prepared from a porous white baguette. And they should be cut diagonally to get a large area for spreading the filling.