Eggplant Roll-Ups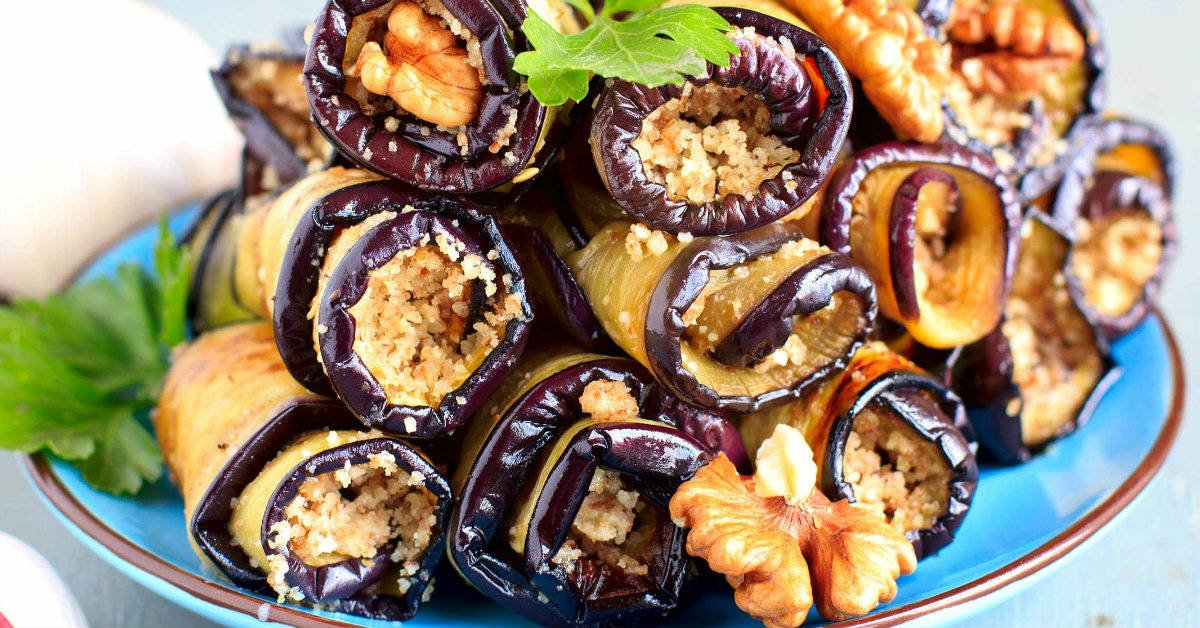 Today we would like to share with you recipes that can help those who don't like eggplants. Even the pickiest eaters ask for seconds when it comes to these delicious eggplant roll-ups. It is difficult to find a better base for an appetizer!
Usually, just a soft cheese and tomato filling is enough. But we suggest adding a variety of flavors to your appetizers. Who knows, maybe one of these combinations will become your go-to?
How to Make Eggplant Roll-Ups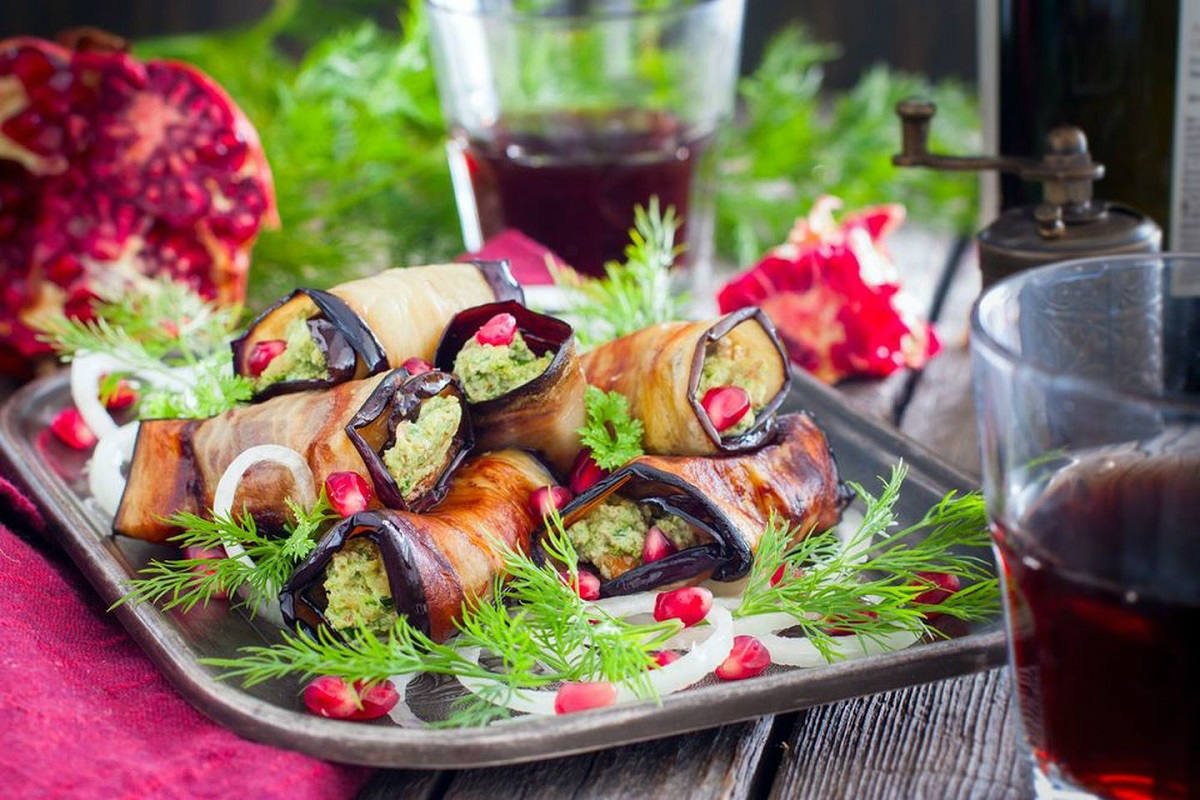 For each of the recipes, cook the eggplants in the same way: wash, cut into strips and soak in salted water for 15 minutes. One eggplant makes from 8 to 10 slices. Select as smooth and long vegetables as possible, so that the slices are convenient to roll up.
Eggplants Stuffed With Herbs and Pomegranate
You will need:
2 eggplants
a bunch of coriander
1 clove of garlic
½ pomegranate
1 chili pepper
1 lemon
7 oz (200 g) walnuts
salt and pepper to taste
4 tbsp vegetable oil
Fry the cooked eggplants in a pan greased with vegetable oil. Prepare the filling: finely chop the fried (optional) nuts, mix with pomegranate kernels, lemon juice, finely chopped pepper and garlic, salt, and a couple of tablespoons of oil. Place the filling on the strips, roll up, and serve cooled.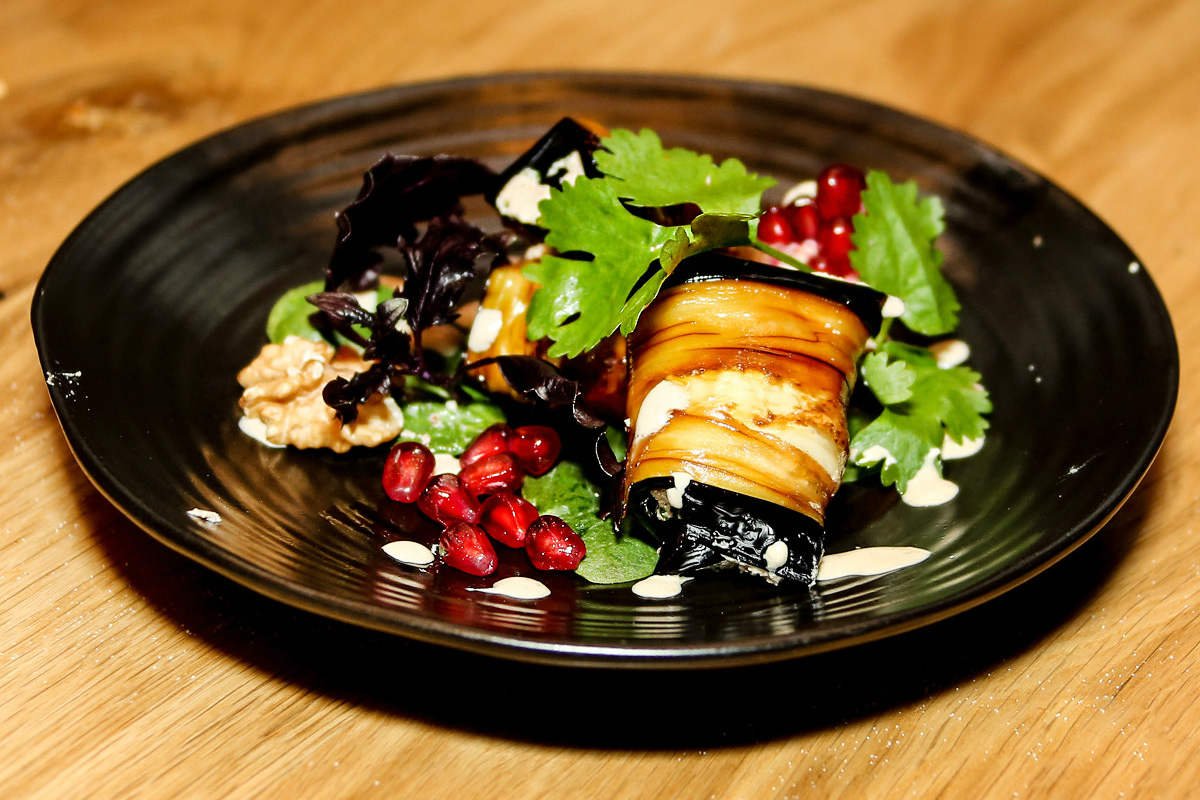 Eggplant Roll-Ups With Mozzarella and Tomatoes
You will need:
1 eggplant
4 ¼ oz (120 g) mozzarella
1 tomato
1 sprig of basil
2 tbsp vegetable oil
salt and pepper to taste
Fry the eggplant strips in a greased skillet and wrap the mozzarella and tomato slices in them (cherry tomatoes work great). Put a basil leaf in each. You can serve them both cold and hot, warming up already rolled up appetizers in a pan for a couple of minutes. The mozzarella will melt a little, and the dish will become even more impressive.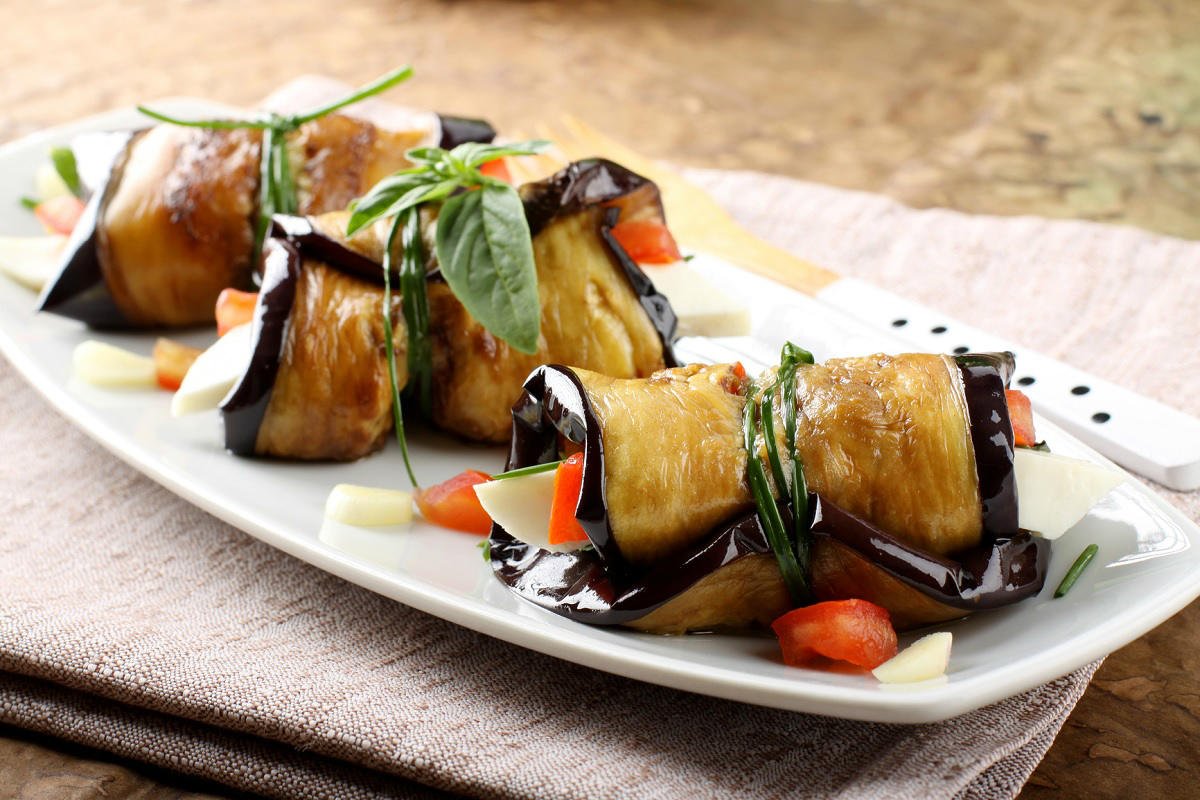 Eggplant Roll-Ups With Mozzarella and Pesto
You will need:
2 eggplants
salt to taste
2 tbsp oil for frying
5 ⅓ oz (150 g) mozzarella
pesto sauce to taste
Pesto is a real godsend for such recipes. Brush fried eggplant strips with pesto, place the mozzarella on the wide edge and roll everything up. Done!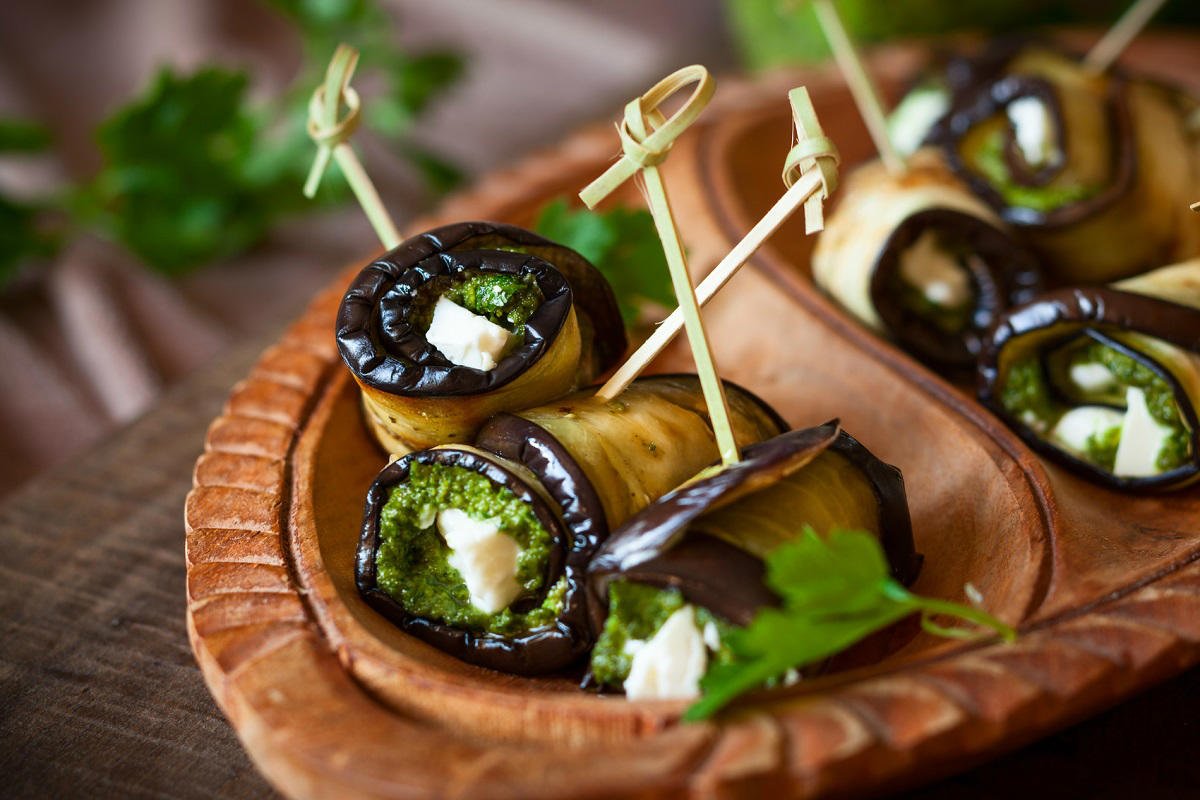 Eggplants With Mayonnaise and Cheese
You will need:
1 sprig of dill and parsley
1 clove of garlic
⅓ cup (90 g) mayonnaise
2 sprigs of cilantro
½ tsp black pepper
2 eggplants
8 oz (230 g) gouda cheese
4 oz (115 g) walnuts
1 tsp curry powder
It's not just mozzarella and soft cheeses that go well with this dish. Finely grate Gouda cheese, mix with finely chopped nuts and herbs, crushed garlic, curry powder, mayonnaise, and pepper. Add the filling to the sauteed eggplant strips and bake in the oven for another several minutes at 350 °F (180 °C) to melt the cheese a little. Serve while still hot.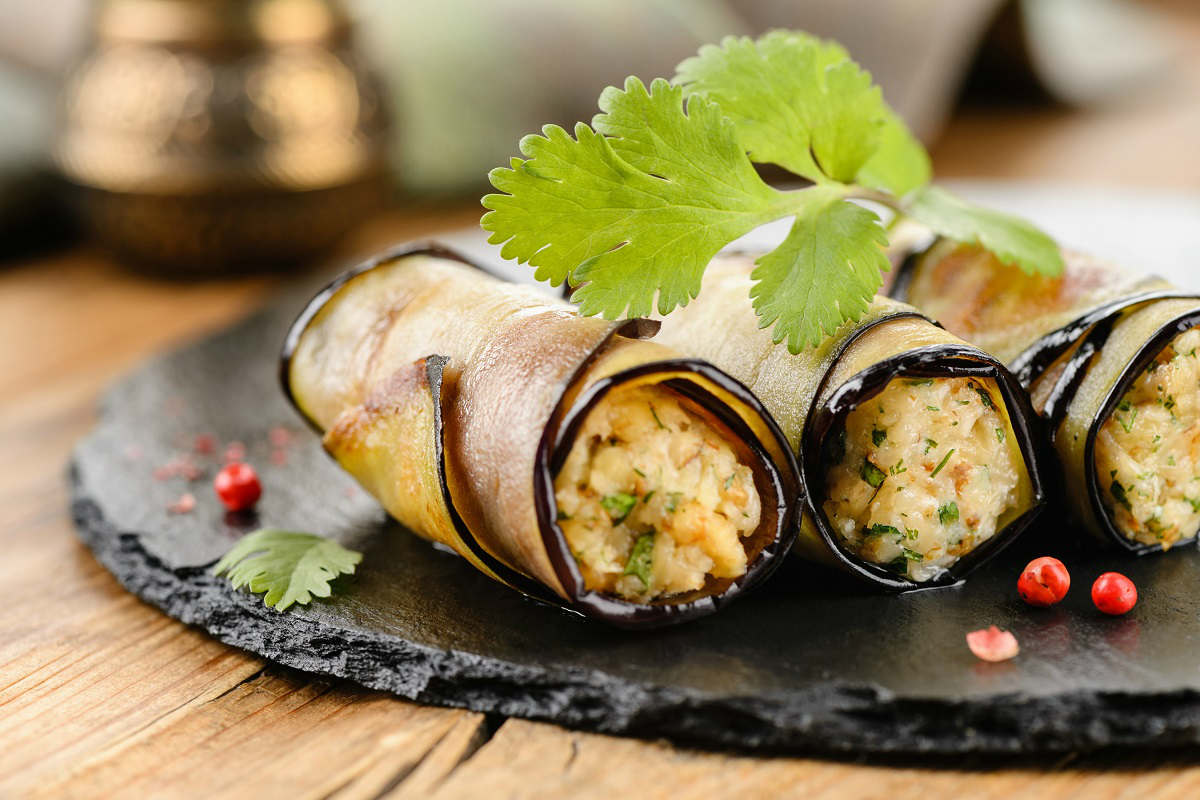 Eggplant Rolls With Bell Pepper Sauce
You will need:
an eggplant
1 tomato
a large mozzarella ball
1 ¾ oz (50 g) ham or prosciutto
1 scallion
salt and black pepper to taste
olive oil to taste
2 yellow bell peppers
1 tbsp balsamic vinegar
Bake the peppers in the oven, put in a bag, and peel off easily 10 minutes after. Process in a blender with balsamic vinegar, salt, pepper, and a spoonful of olive oil. The sauce is ready! Top the fried eggplants with a mixture of mozzarella cubes, tomatoes, herbs, and ham. Salt the filling, roll up the appetizers, and serve with the sauce.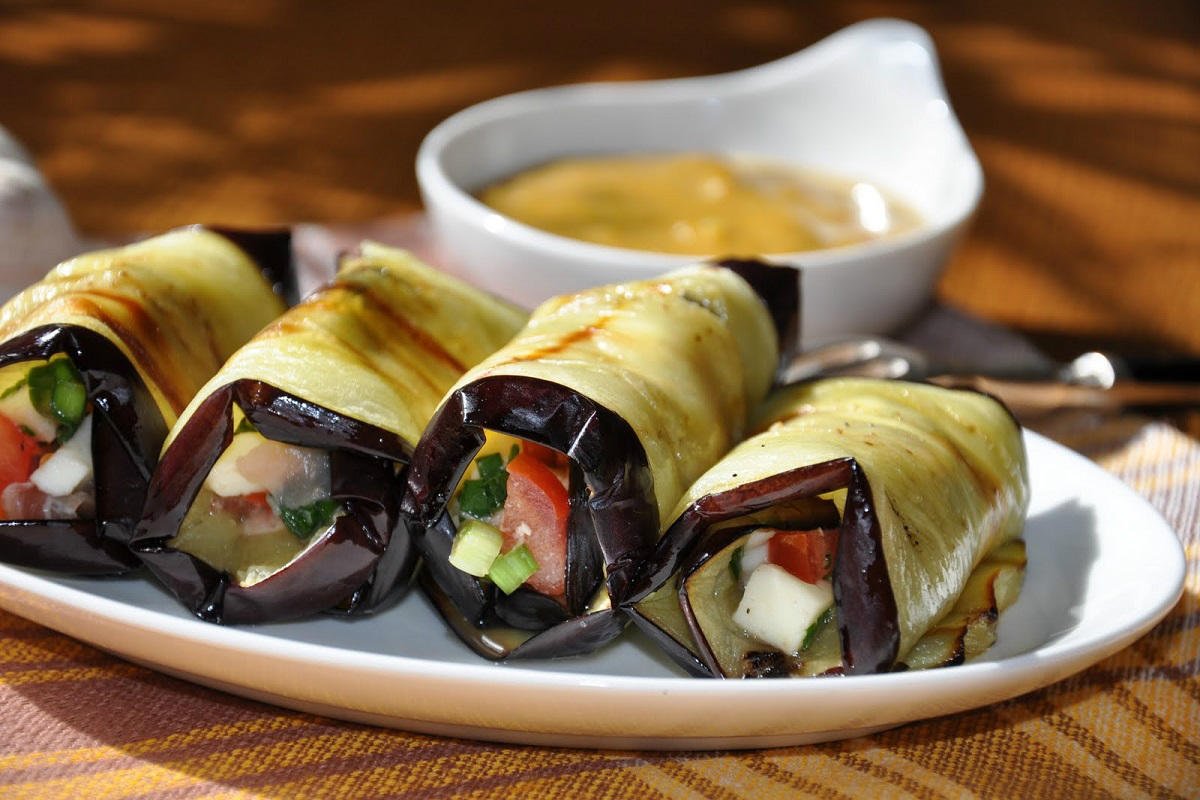 Eggplant With Sun-Dried Tomatoes
You will need:
2 eggplants
⅔ cup (150 g) cream cheese
1 tsp garlic powder
3 sprigs of thyme
12 sun-dried tomato pieces
1 sprig of rosemary
salt to taste
3 ⅓ tbsp vegetable oil
Sun-dried tomatoes, like fresh ones, go well with eggplants. This time try cooking the veggies in a new way: put the strips of eggplant on a well-oiled baking sheet, oil them additionally, sprinkle with thyme, rosemary, salt, and bake in an oven preheated to 400 °F (200 °C) for 3 minutes on each side. Place a spoonful of cream cheese and one sun-dried tomato on each eggplant strip and roll everything up.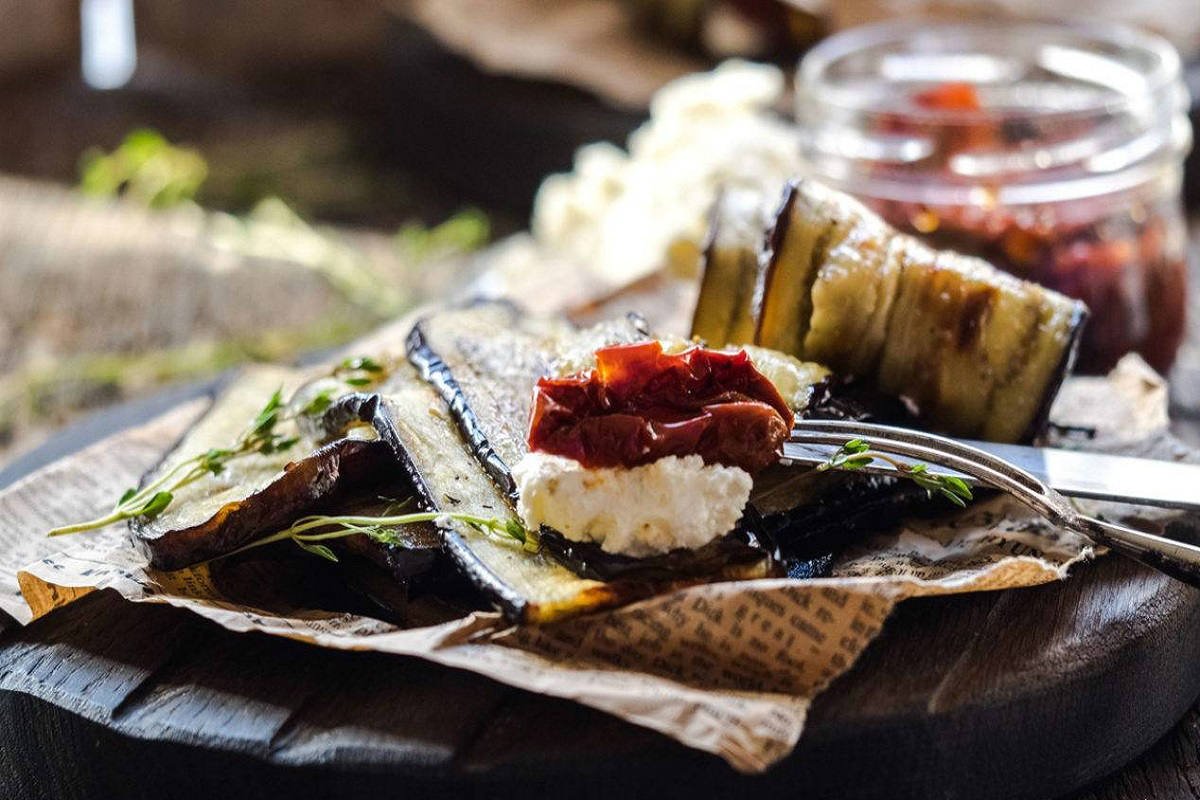 Italian Eggplant Roll-Ups With Cheese
You will need:
1 eggplant
1 cup (100 g) hard cheese
vegetable oil to taste
tomato sauce
cream to taste
1 cup (250 g) ricotta
juice and zest of half a lemon
1 tsp thyme
salt to taste
bread crumbs
For these eggplant involtini fry the strips in a skillet and place the filling on them: a mix of ricotta and bread crumbs, juice and zest of half a lemon, thyme, and salt to taste. Place the roll-ups on a baking sheet greased with tomato sauce, put a spoonful of cream on each roll-up, and bake for 25 minutes at 350 °F (180 °C). Then sprinkle with cheese and bake for another 5 minutes.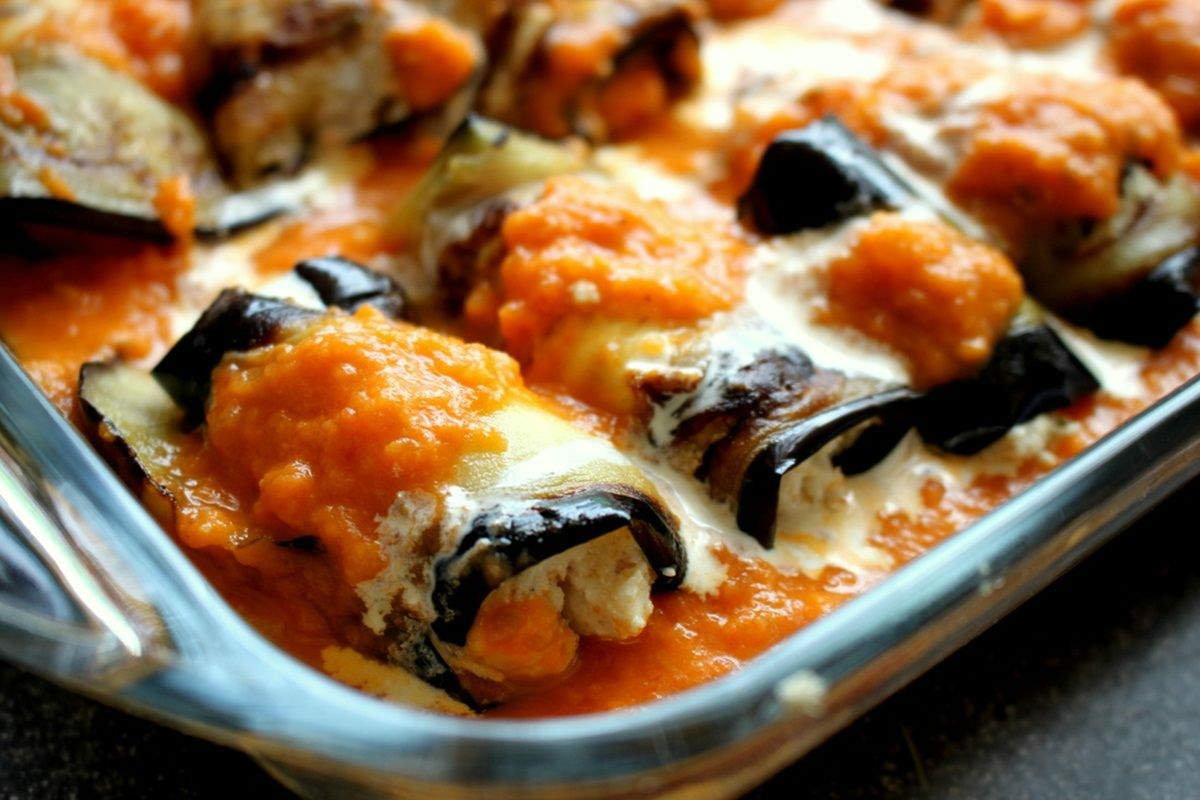 Eggplant Rolls With Korean-Style Carrots
You will need:
a large eggplant
3 tbsp vegetable oil
salt and pepper to taste
3 tbsp mayonnaise
3 ½ oz (100 g) Korean-style carrots
1 tomato
Brush fried eggplants with mayonnaise. Place the Korean-style carrots and a tomato slice on each strip, roll the appetizers up. A classic and at the same time simple combination!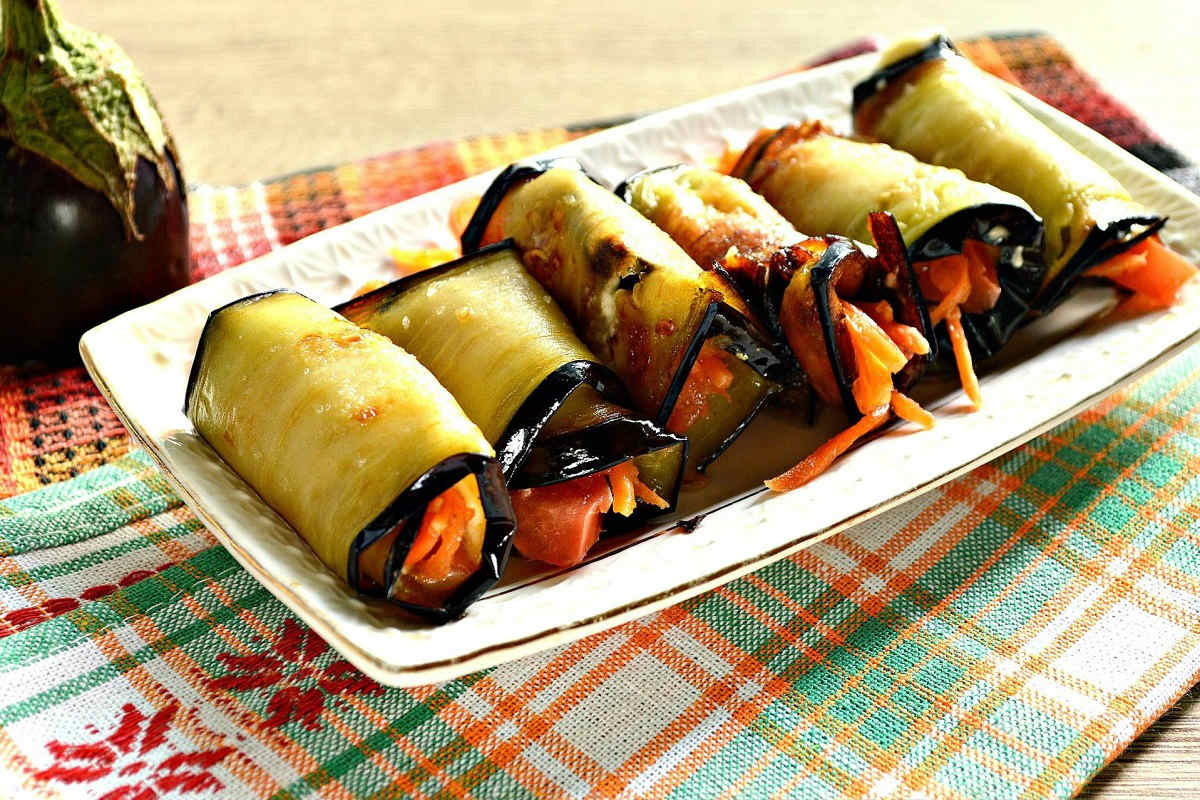 You can combine eggplants with garlic sauce, different types of nuts, herbs, and, of course, meat. Eggplant roll-ups are an excellent buffet dish or a hearty snack for a glass of wine. Which recipe did you like the most? Feel free to leave your comments below!