8 Best Fall Recipes to Try This September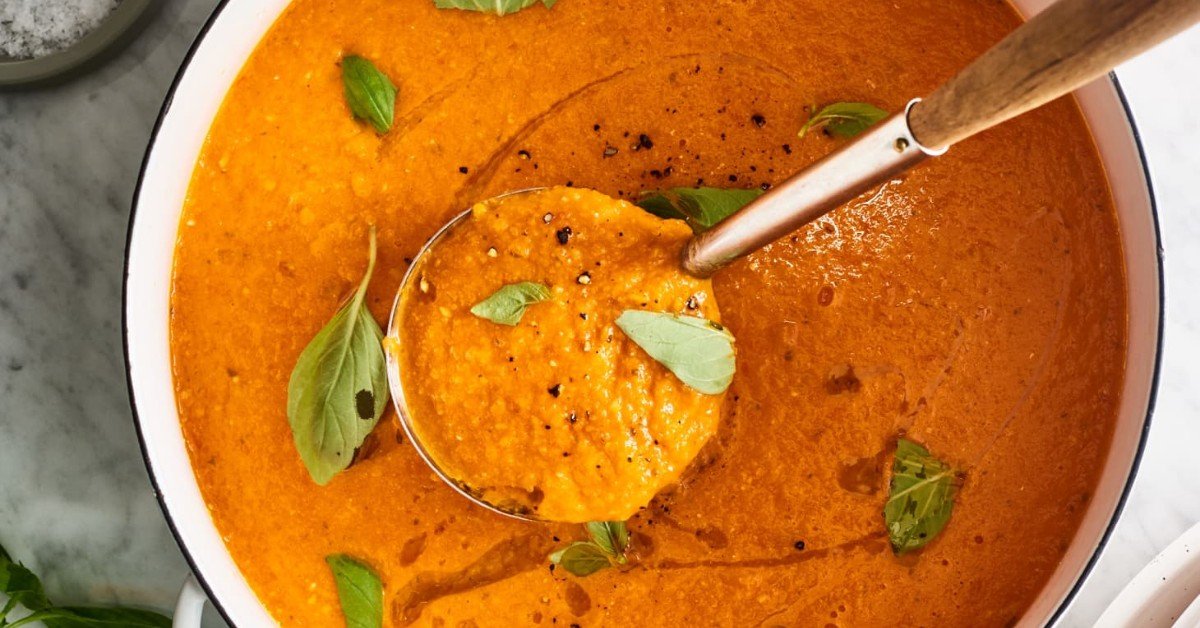 September is here, and with it comes the beloved season of warm days and chilly nights, sweater weather, colorful leaves, pumpkins, and pumpkin-flavored everything, autumn fun, and festivities, and, for a lot of us, a much busier schedule. Having more things on your agenda means having less time for cooking, and particularly scouring the Internet for special fall recipes to capture those autumn vibes.
Let's kick off the back-to-school season with easy and practical fall recipes for busy weeknight dinners, snacks, and all our favorite autumn-ish freshly-baked goods. Plus, given that many of us are still working from home for the foreseeable future, why not add some freezer-friendly, make-ahead lunches to our cooking repertoires?
From creamy pumpkin pasta and slow-cooker pot roast to apple crisp and pumpkin bread, here are eight fall recipes to inspire your cooking all month long.
8 Fall Recipes to Try Today
Vegetarian One-Pot Pumpkin Pasta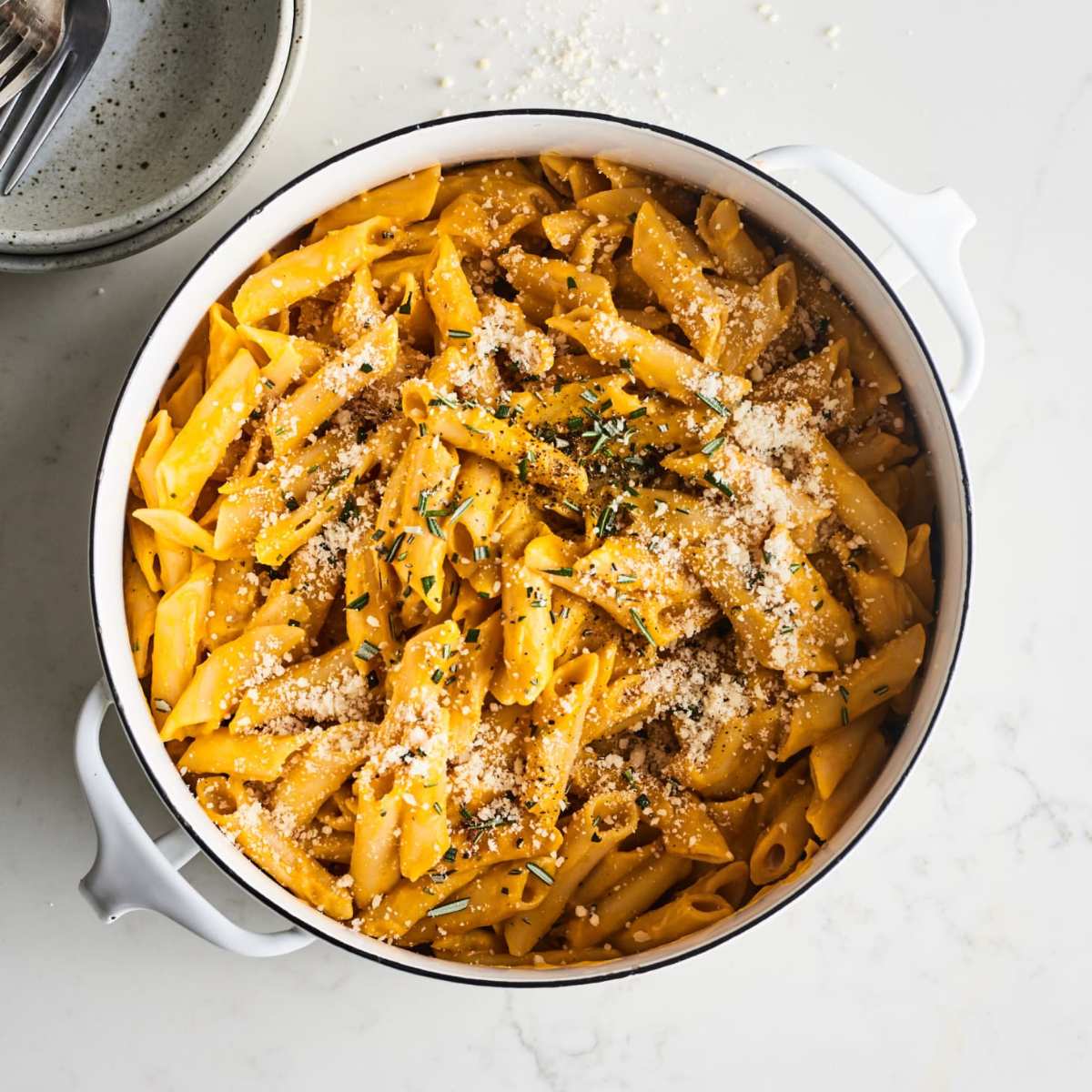 This comforting, creamy vegetarian one-pot pasta features mostly pantry staples and is ready in a mere quarter-hour.
Ingredients:
2 tsp finely chopped fresh rosemary leaves
12 oz (340 g) dried penne pasta
4 cups vegetable broth
1 cup canned pumpkin puree
1 cup water
¼ cup mascarpone cheese
¼ tsp freshly ground black pepper
Parmesan to taste
Instructions:
Combine pasta, vegetable broth, pumpkin puree, and water in a large pot and bring it to boil. Cook, periodically stirring, until the liquid almost completely evaporates (approximately 10 minutes).
Add rosemary and mascarpone and season with black pepper.

Cook until the pasta is soft and coated with the sauce (approximately 2 minutes).
Sprinkle with grated Parmesan before serving.
Ham and Cheddar Muffins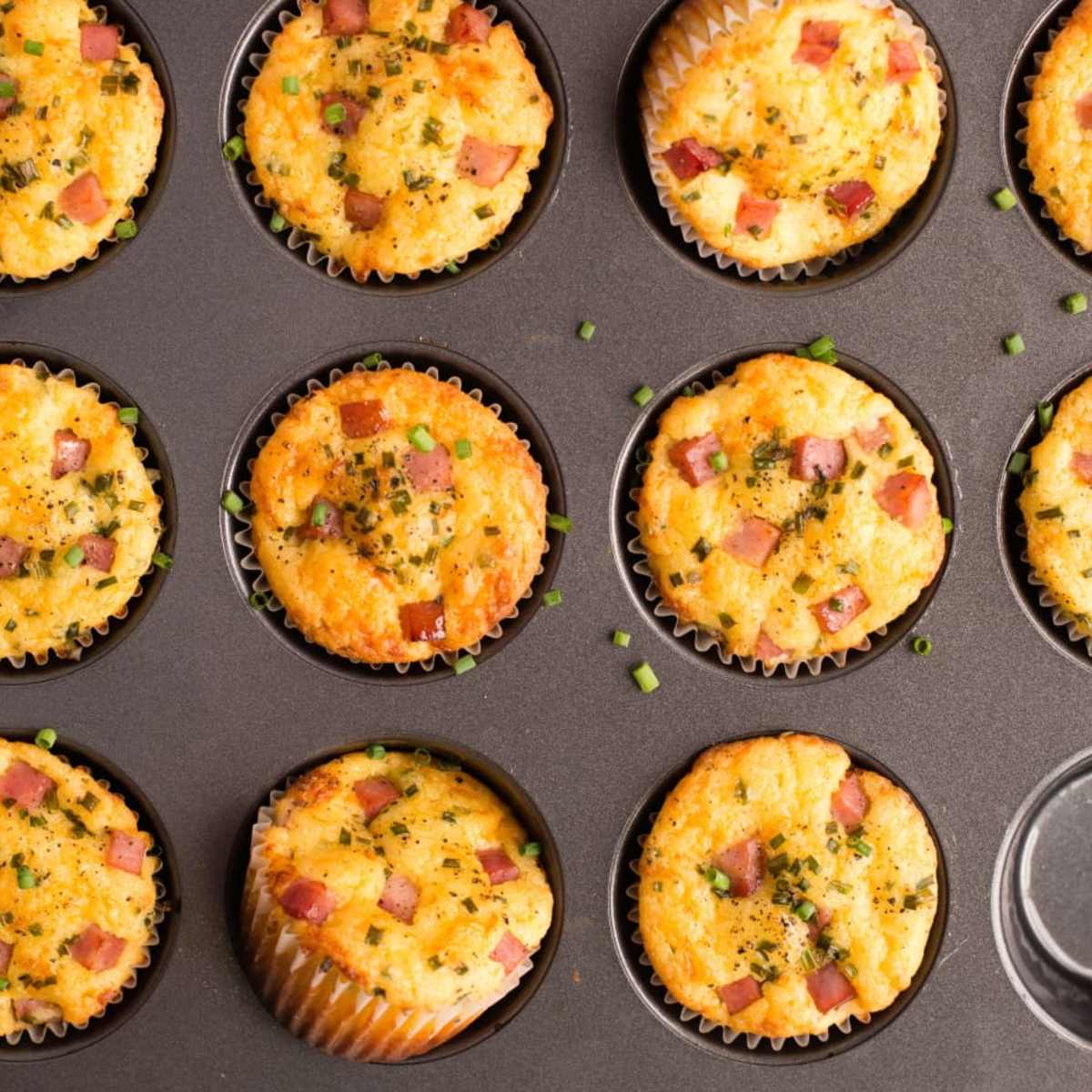 Grab the key ingredients of your favorite sandwich, chick them into a savory muffin, and you've got a week's worth of lunch eagerly awaiting you in the fridge.
Ingredients:
1 ½ cup flour
½ cup cornmeal
2 tsp baking powder
1 tsp garlic powder
½ tsp baking soda
½ tsp salt
1 ¼ cup buttermilk
2 eggs
7 tbsp butter
1 cup shredded cheddar cheese
8 oz (225 g) ham
3 tbsp finely chopped chives
ground black pepper to taste
Instructions:
Preheat the oven to 375 °F. Line a 12-cup muffin tin with liners or spray it with cooking spray.
Combine flour, cornmeal, baking powder, garlic powder, baking soda, and salt in a large bowl.

Mix buttermilk, eggs, and 5 tablespoons of butter in a medium bowl and stir until blended.
Pour the wet ingredients into the dry and mix until just combined.

Add cheese, all but ½ cup of ham, and 2 tablespoons of chives.
Scoop the batter into the muffin cups to ¾ full. Top them with the leftover ham and chives, and sprinkle with ground black pepper. Top each muffin with ½ teaspoon of the remaining melted butter.

Bake until the tops are just brown, and the toothpick test indicates they are baked through (20–25 minutes).
Let cool in the tin for a few minutes, then transfer the muffins to a wire rack to cool completely.
5-Ingredient Slow-Cooker Pot Roast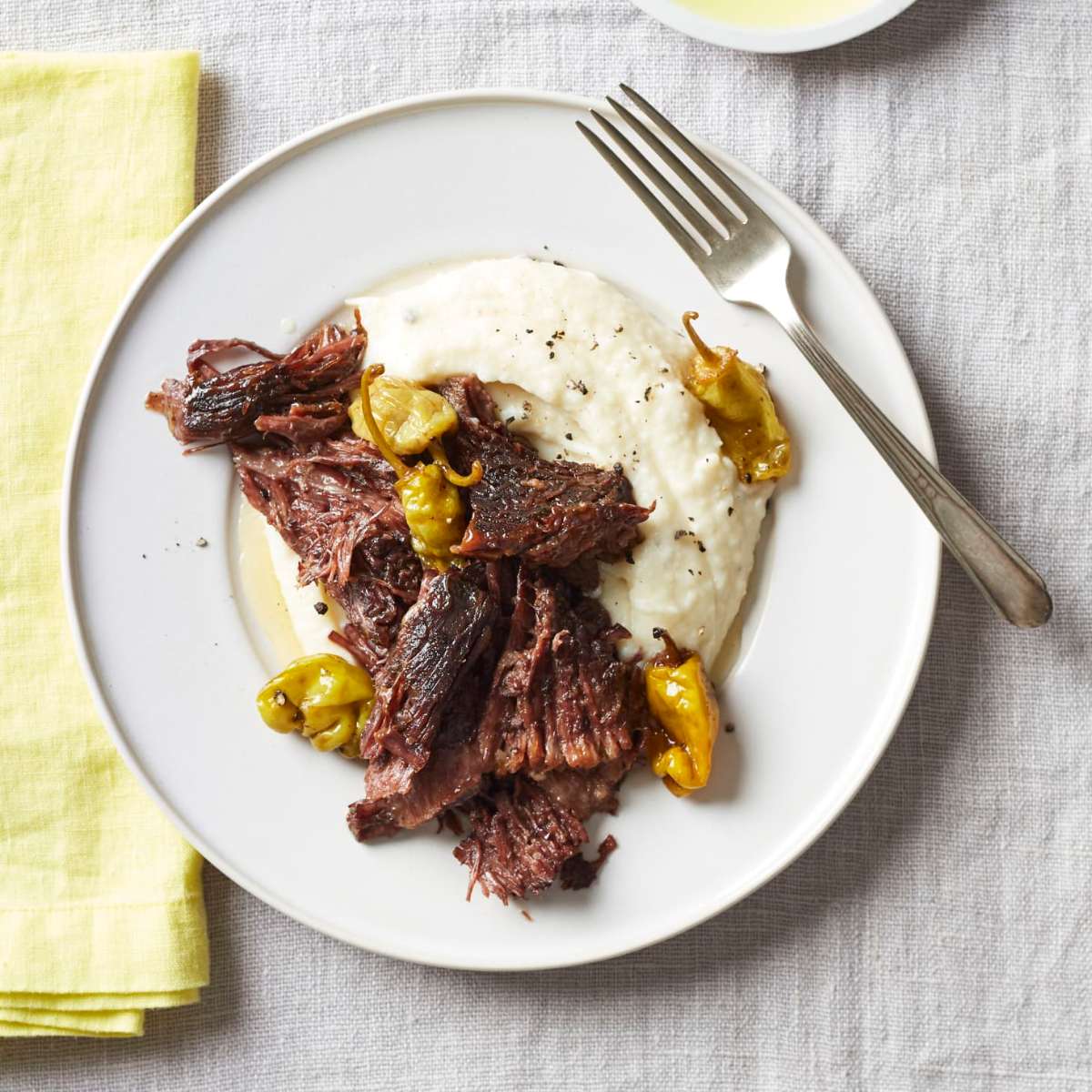 Although this 5-ingredient pot roast tastes nothing like the classic, it will become your go-to all the same.
Ingredients:
4 oz (2 kg) boneless beef chuck roast
1 oz (30 g) ranch salad dressing & seasoning mix

1 oz (30 g) au jus gravy mix
8 tbsp butter
12 oz (340 g) pepperoncini peppers
Instructions:
Place boneless beef chuck roast in the slow cooker and add the seasonings.
Cut butter into cubes and place on top of the roast. Add 10 pepperoncini peppers together with ½ cup of the brine.

Cover and cook on LOW for 8 hours or on HIGH for 6 hours.
Shred the roast into bite-sized pieces with tongs. Serve over mashed potatoes or with the side of your choice.
Tomato Basil Soup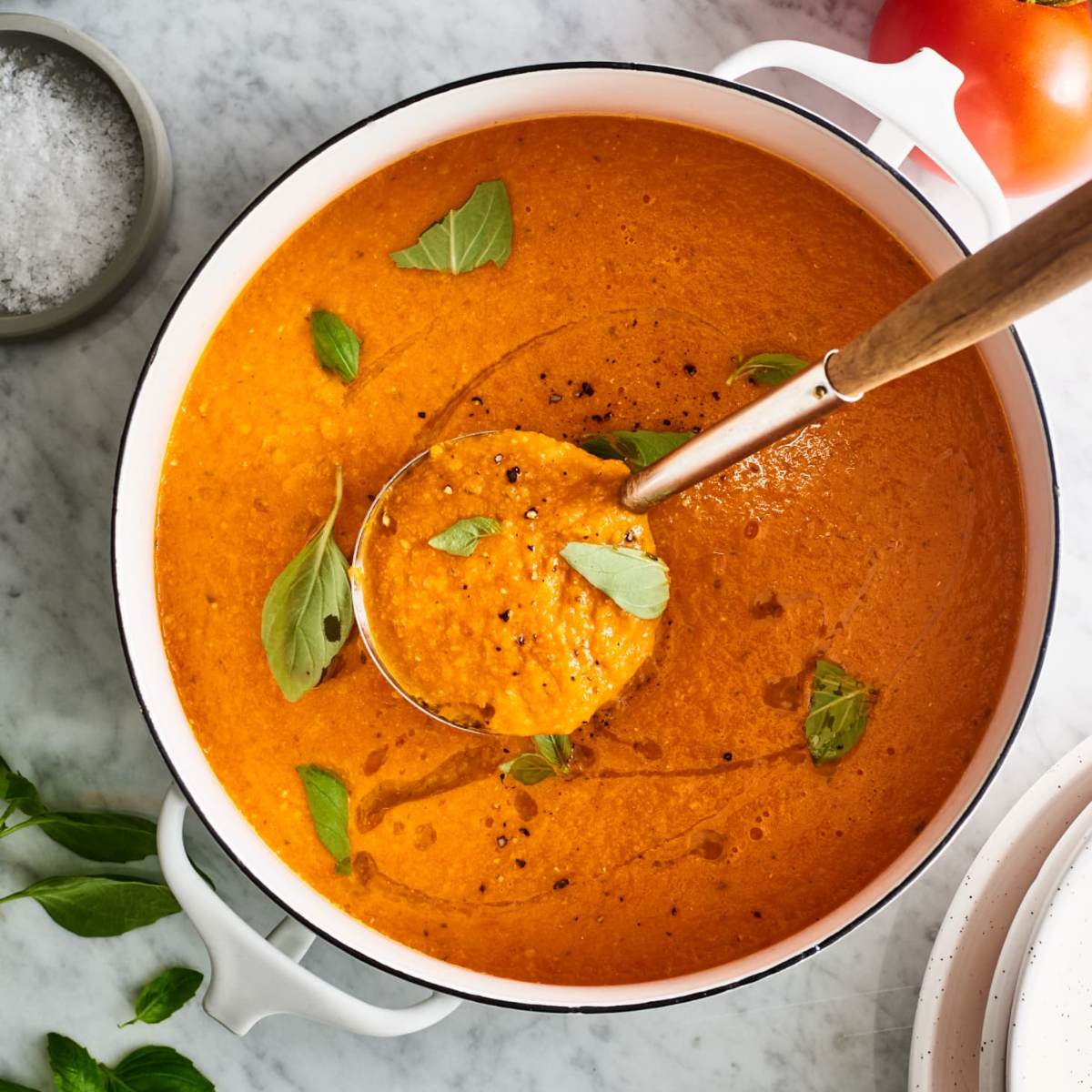 This lush, lip-smacking soup with fresh tomatoes makes the perfect September lunch or dinner. The best part is that you can make it ahead and refrigerate, or even freeze it for up to 3 months to keep that summer flavor alive for a little while longer.
Ingredients:
1 yellow onion
3 cloves garlic
¼ cup + 2 tbsp olive oil
2 ½ lb (1 kg) tomatoes
1 tsp kosher salt
Ground black pepper to taste
Fresh basil leaves to taste
Instructions:
Dice onion and mince garlic.
Heat ¼ cup of extra virgin olive oil in a medium pot over moderate heat until simmering. Add the onion and garlic and cook until soft (up to 10 minutes).

Meanwhile, cut tomatoes into quarters and then in half again.
Add the tomatoes to the pot, increase the heat, and cook, periodically stirring, until the tomatoes have softened and broken apart (approximately quarter-hour).

Remove from the heat, season with kosher salt and ground black pepper, and stir in some basil leaves. Let sit for 5 minutes.
Puree the soup in a blender, gradually adding a couple of tablespoons of olive oil, until smooth.
No-Bake Protein Balls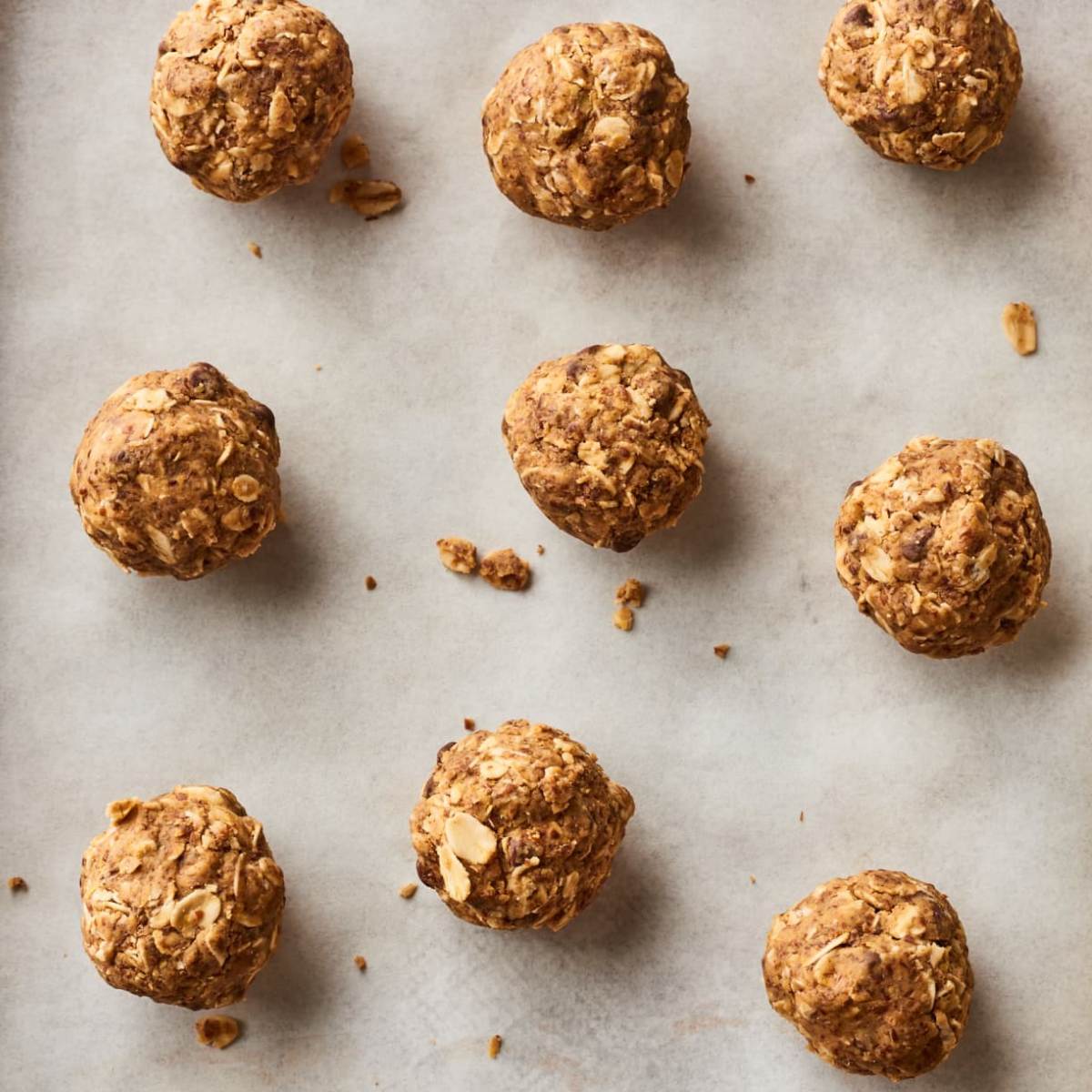 These make-ahead protein balls are easy to whip up and make a perfectly filling on-the-go snack that will give you enough energy to take you through the rest of the afternoon.
Ingredients:
1 cup old-fashioned rolled oats
⅔ cup peanut butter
½ cup flaxseed meal
¼ cup mini chocolate chips
2 tbsp honey
Instructions:
Combine oats, peanut butter, flaxseed meal, chocolate chips, and honey in a bowl and stir well. Pop the mixture in the fridge for 15 minutes.

Take a spoonful of the mix and shape it into a ball. Place it on a baking sheet and repeat with the remaining mixture. Refrigerate for 10 minutes.
Apple Crisp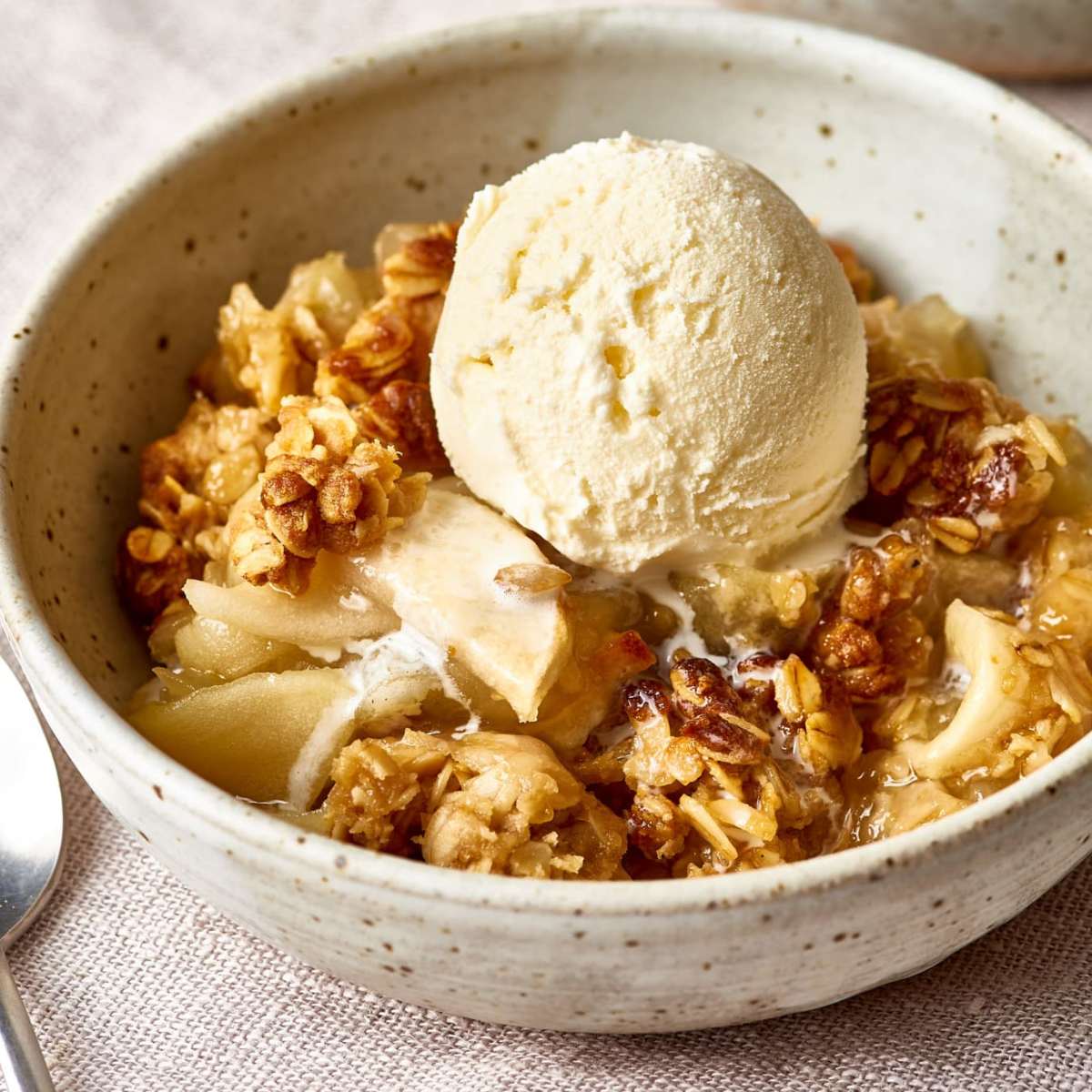 Who doesn't love an apple crisp? All the flavor of an apple pie in half the time.
Ingredients:
For the Filling:
½ cup granulated sugar
2 tbsp cornstarch
1 tsp ground cinnamon
2 lb (900 g) apples
1 tbsp lemon juice
For the Topping:
1 ½ cup old-fashioned rolled oats
1 cup flour
½ cup brown sugar
½ tsp kosher salt
12 tbsp butter
1 tsp vanilla extract
Instructions:
Preheat the oven to 350 °F. Coat a 9-inch square glass baking dish with butter, and set aside.
Thoroughly wash, peel, core, and slice apples into quarter-inch thick slices.

Combine sugar and cornstarch in a large bowl. Add the apples and freshly-squeezed lemon juice and toss to coat. Transfer to the baking dish and distribute evenly.
Combine oats, flour, brown sugar, and salt in a bowl and stir until incorporated. Add butter and vanilla and mix.

Spread the topping evenly over the fruit mixture.
Bake for 60 minutes, then let cool on a wire rack.
Pumpkin Bread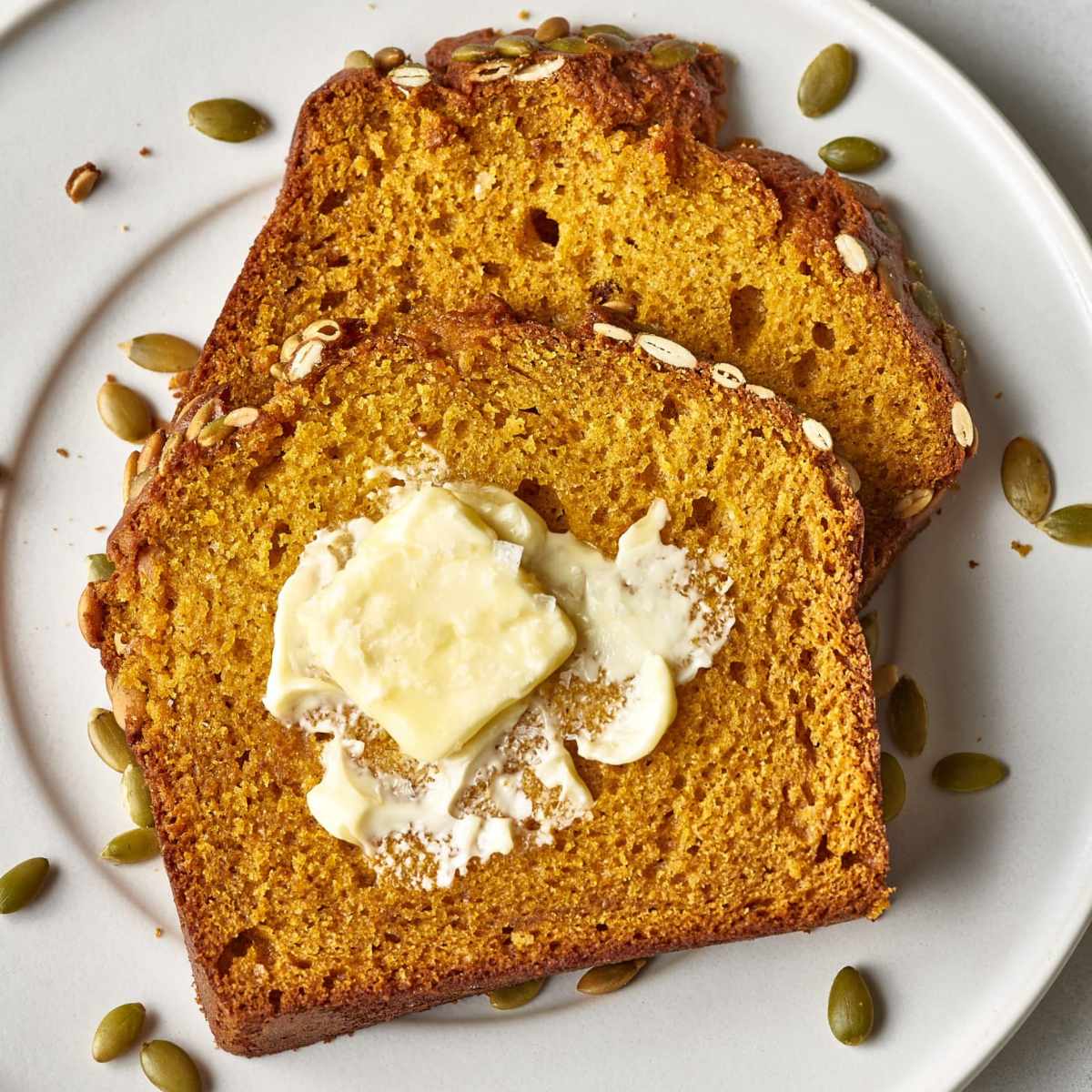 Moist and tender pumpkin bread will make a lovely addition to your tea-drinking weekend afternoons with your fam.
Ingredients:
2 cups granulated sugar
2 cups pumpkin puree
½ cup vegetable oil
3 eggs
1 tbsp pumpkin pie spice
1 ½ tsp baking powder
¾ tsp baking soda
½ tsp salt
2 ¼ cup flour
¼ cup pumpkin seeds
Instructions:
Preheat the oven to 350 °F. Coat a 9×5-inch loaf pan with cooking spray and set it aside.
Combine sugar, pumpkin puree, oil, and eggs in a bowl and whisk until homogenous. Next, stir in pumpkin pie spice, baking powder, baking soda, and salt. Add flour and fold it in with a spatula until just combined.

Pour the batter into the loaf pan. Sprinkle with pumpkin seeds.
Bake until ready (approximately an hour). Let cool for 10 minutes in the pan, then transfer to a wire rack and let cool completely.
Broccolini, Chicken Sausage, and Orzo Skillet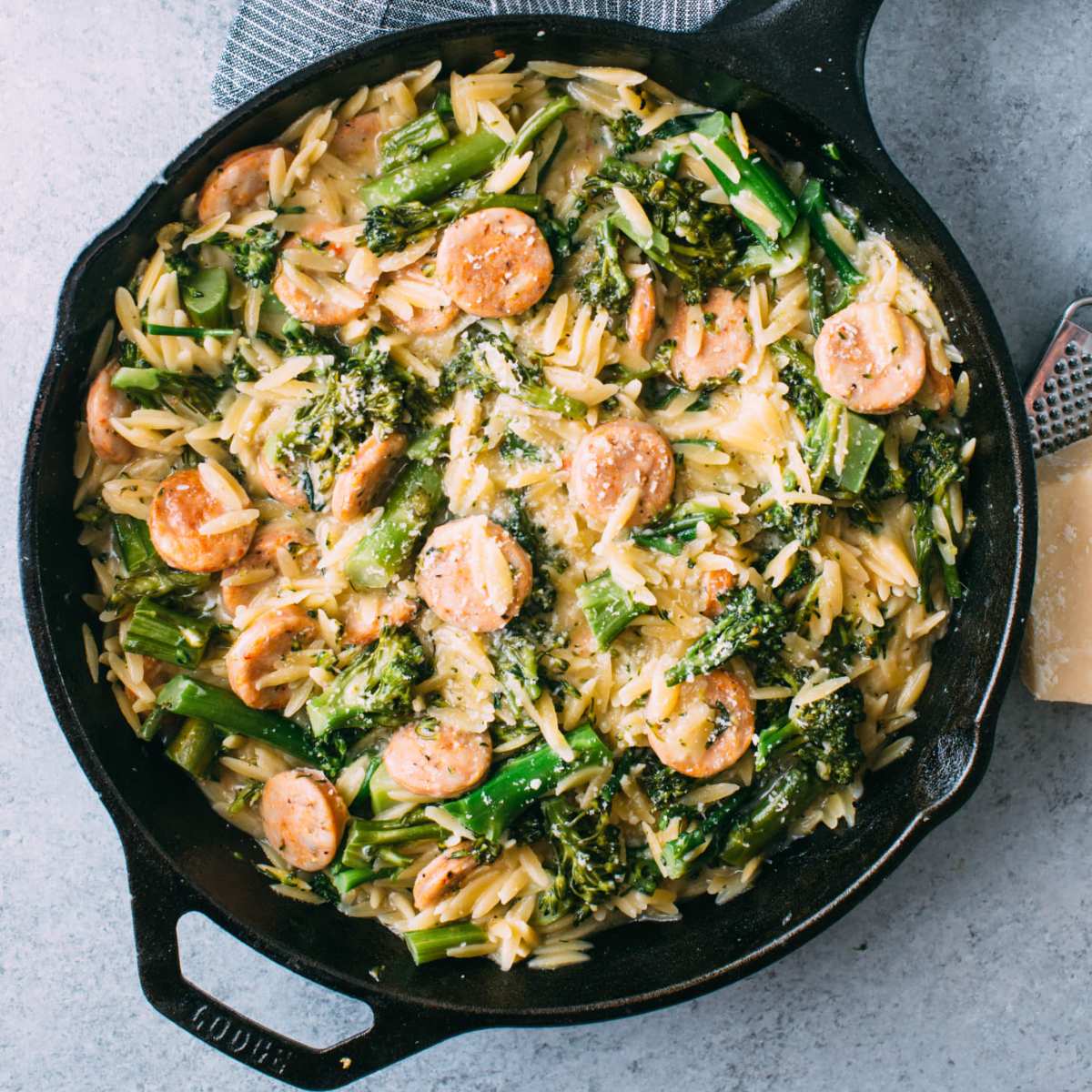 This delicious, satisfying all-in-one dinner is destined to become one of your go-to fall recipes for busy weeknight dinners.
Ingredients:
2 tbsp olive oil
8 oz (225 g) cooked chicken sausage
1 lb (450 g) broccolini
kosher salt to taste
ground black pepper to taste
2 garlic cloves
1 cup orzo pasta
2 ½ cups chicken broth
½ cup grated Parmesan
Instructions:
Heat oil in a skillet over moderate heat.
Brown the sausage for approximately 4 minutes. Add coarsely-chopped broccolini, season with salt and pepper, and saute for 5 minutes. Next, add minced garlic and orzo and saute for another minute.

Finally, add chicken broth and bring the mixture to a boil. Cover, reduce to a simmer, and cook until the pasta is al dente and the liquid is absorbed. Stir in Parmesan.
Don't all of these fall recipes look and sound glorious? Which are you most excited to try first? Tell us in the comments, we'd love to know.