French Bread Appetizers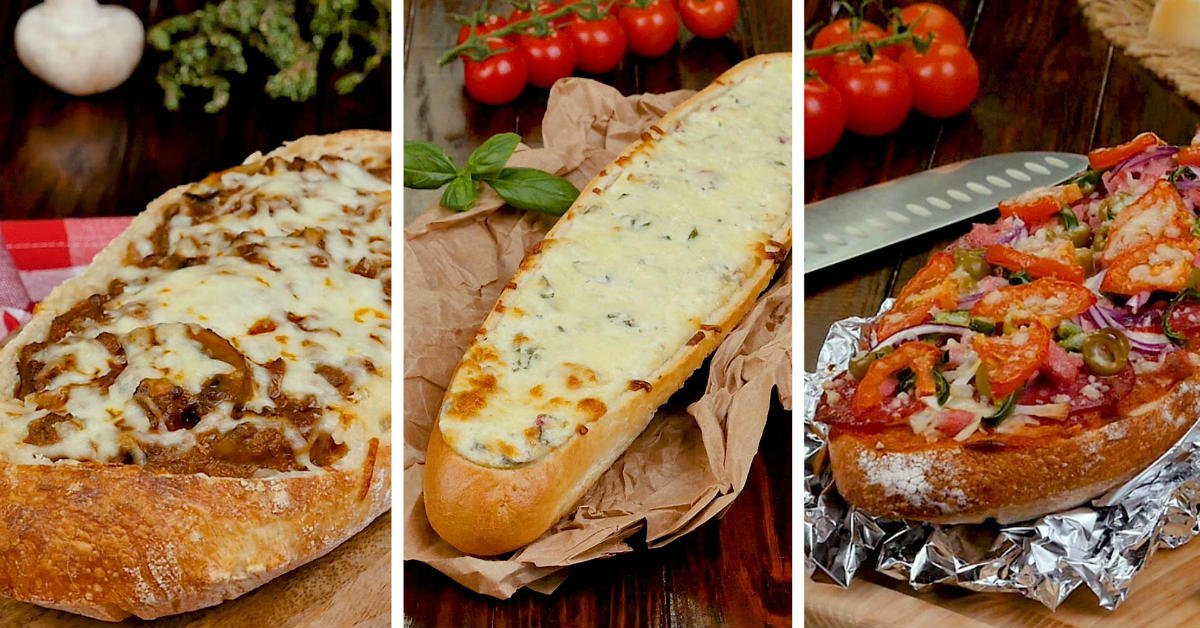 Thin crisp bread with jam or sausage and a cup of coffee make our morning a little better. And in the evening we want to relax, but suddenly friends decided to visit you. Now you need to quickly figure out what to treat the guests to. There is a simple solution to this — French bread appetizers baked in the oven.
Stuffed bread will be an irreplaceable snack for any occasion. Take a fragrant French baguette stuffed with cheese, mushrooms and meat with you for a picnic or work as a snack. This is definitely better than any pizza. Try our tested recipes, and create your own masterpieces.
French Bread Appetizers
Spinach and Cheese Baguette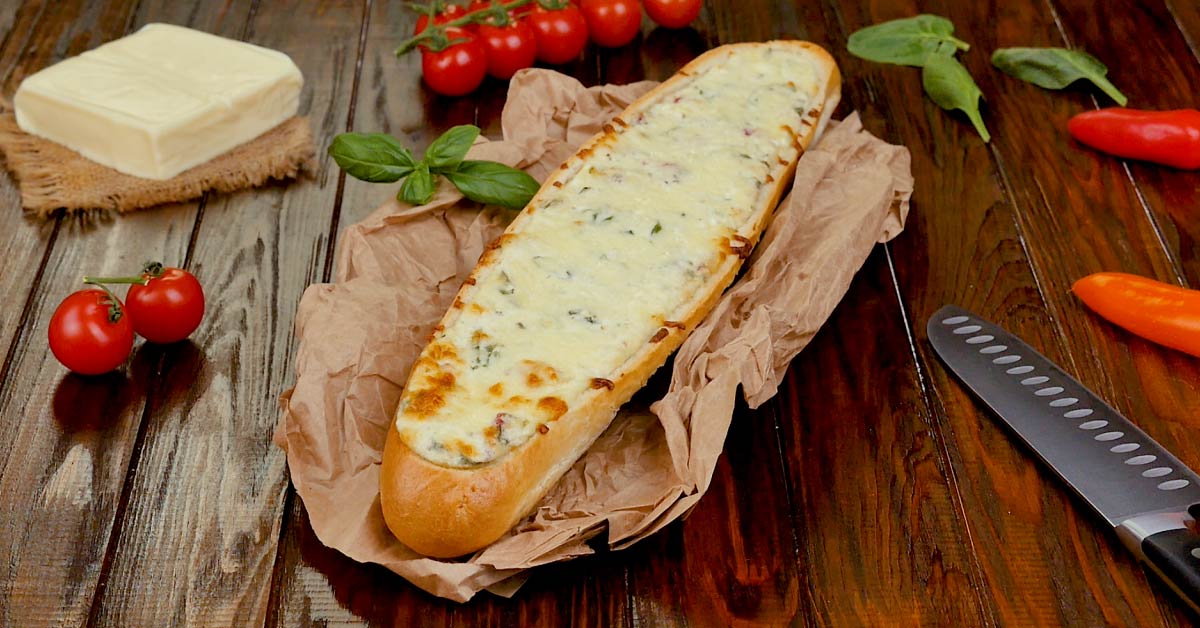 Ingredients:
1 large or 2 medium baguettes
½ cup (120 ml) mayonnaise
8 oz (230 g) cream cheese

½ cup (

120 ml) sour cream
1 tsp onion powder

½

tsp ground black pepper
6

⅓ oz (

180 g) mozzarella cheese
3 oz (90 g) feta cheese
7 oz (200 g) frozen or fresh chopped spinach
5

⅓ oz (

150 g) salami
Preparation:
Defrost the spinach and drain the excess water. Put the spinach in a bowl and set aside. If fresh, chop finely.

In a bowl, put the cream cheese, mayonnaise, sour cream, onion powder and black pepper. Mix and add feta cheese and half the grated mozzarella . Mix a little. Then add the spinach and diced salami. Mix again.
Cut along the top of a loaf of bread, remove the soft part, making a boat out of the crust. Put the stuffing in the bread and sprinkle the rest of the mozzarella on top.

Bake the stuffed baguette for 20 minutes at 350 °F (180 °C), until the top becomes golden brown. Let it cool slightly before slicing.
Baguette Pizza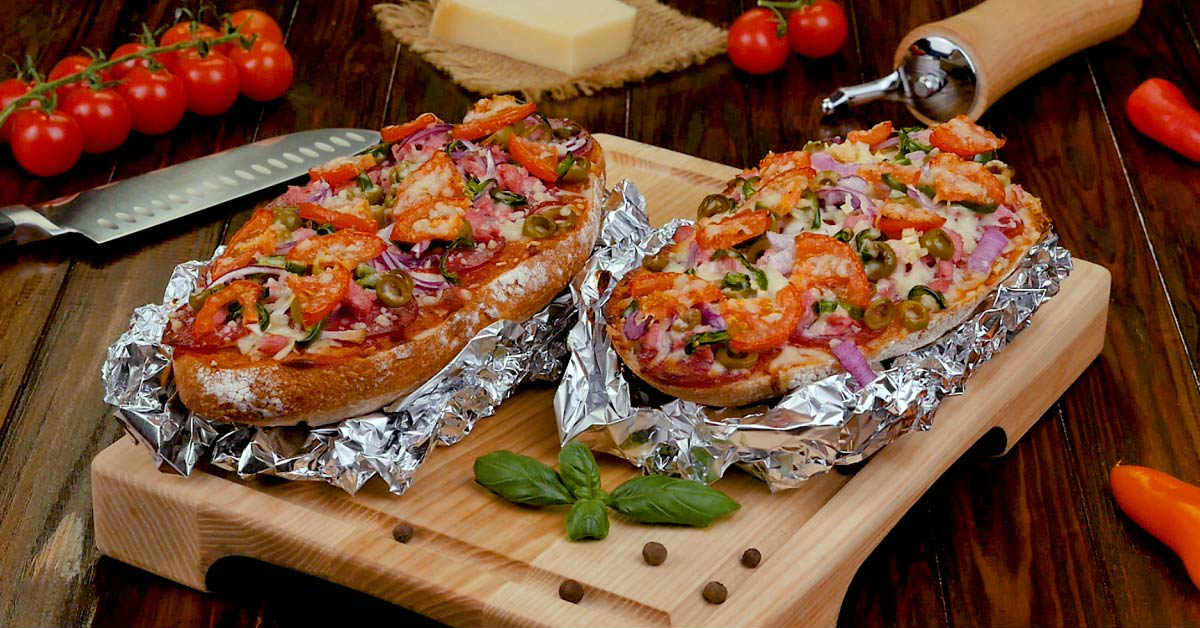 Ingredients:
1 loaf of soft French bread
1

¾ cups (

450 ml) pizza sauce (tomato sauce)

3 cloves of garlic
5 ⅓ oz (150 g) mozzarella cheese
8 oz (230 g) pepperoni
6 ⅓ oz (180 g) boiled Italian sausage

½ cup

(60 g) olives
2 jalapeno peppers
2 tomatoes
1 red onion
fresh basil to taste
Parmesan to taste
Preparation:
Cut the French bread in half lengthwise, evenly distribute the sauce throughout two pieces. Sprinkle with chopped garlic and grated mozzarella.
Add pepperoni slices, chopped cooked sausage, olives, jalapenos and half circles of onions, and sliced tomatoes. Sprinkle with grated Parmesan.

Lay each half of French bread on a large piece of foil and fold it a little around the edges.
Bake at 400 °F (200 °C) for 15 minutes until the cheese melts. Garnish with fresh basil.
Mushroom Beef Stroganoff Baguette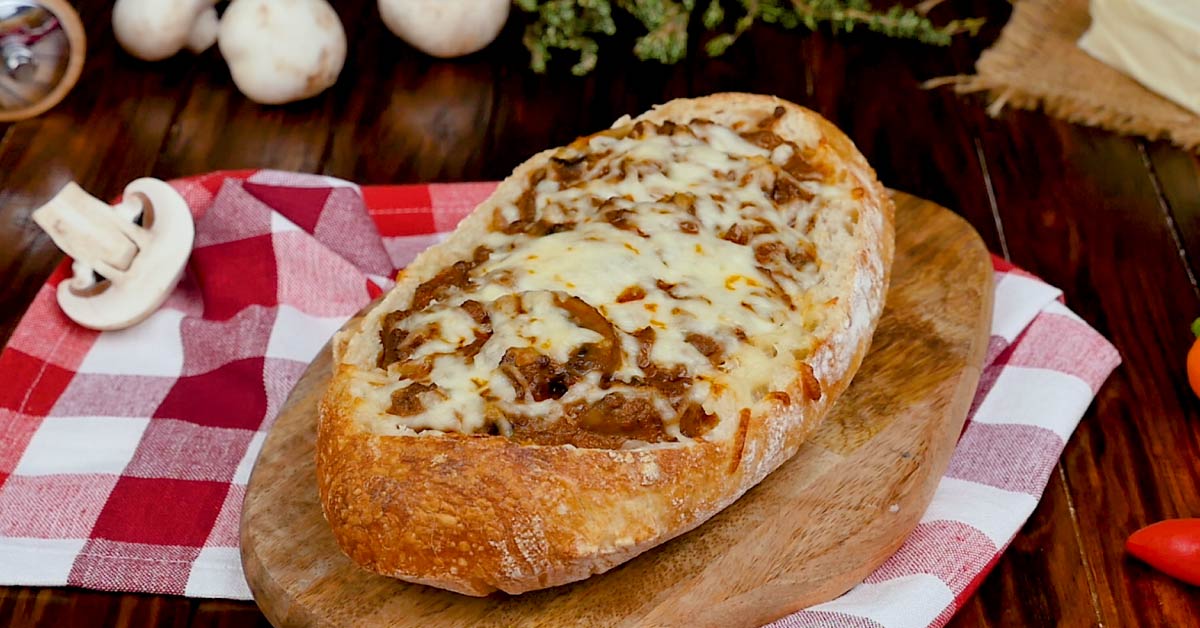 Ingredients:
4 tbsp olive oil
9 oz (250 g) button mushrooms

½

tsp ground black pepper
2 tbsp thyme
1 tsp salt
2 tbsp butter
1 large onion
2 cloves of garlic
1 lb (450 g) ground beef
3 tbsp flour
2 tsp paprika
1

½

cups (360 ml) beef broth

½

cup (120 g) sour cream
1 tsp Dijon mustard
5 ⅓ oz (150 g) mozzarella
1 loaf of french bread
3 tbsp chopped parsley
Preparation:
In a large frying pan, heat the olive oil over medium heat. Cut the mushrooms into slices and saute with salt, pepper and thyme. Cook the mushrooms until golden brown, about 4 minutes.
Add the butter, onions, diced and chopped garlic into the pan and fry for 2 minutes. Add the ground beef and cook over medium heat until brown, about 4 minutes.

Pour in the flour and paprika, mix to coat everything evenly. Add the beef broth, sour cream and mustard. Thoroughly mix.
Cut off the top of the bread and remove the soft part. Fill the baguette with beef stroganoff and sprinkle grated mozzarella on top.

Preheat the oven to 350 °F (180 °C) and line the baking sheet with parchment paper. Put the baguette on the sheet and bake for 5 minutes until the cheese melts. Sprinkle with chopped parsley, cut into slices and serve right away.
Oven-baked french bread appetizers are both simple and impressive. This is a great breakfast or weekend recipe. You can stuff buns in the same way. It will turn out great, you'll see.