11 Quick and Healthy Breakfast Ideas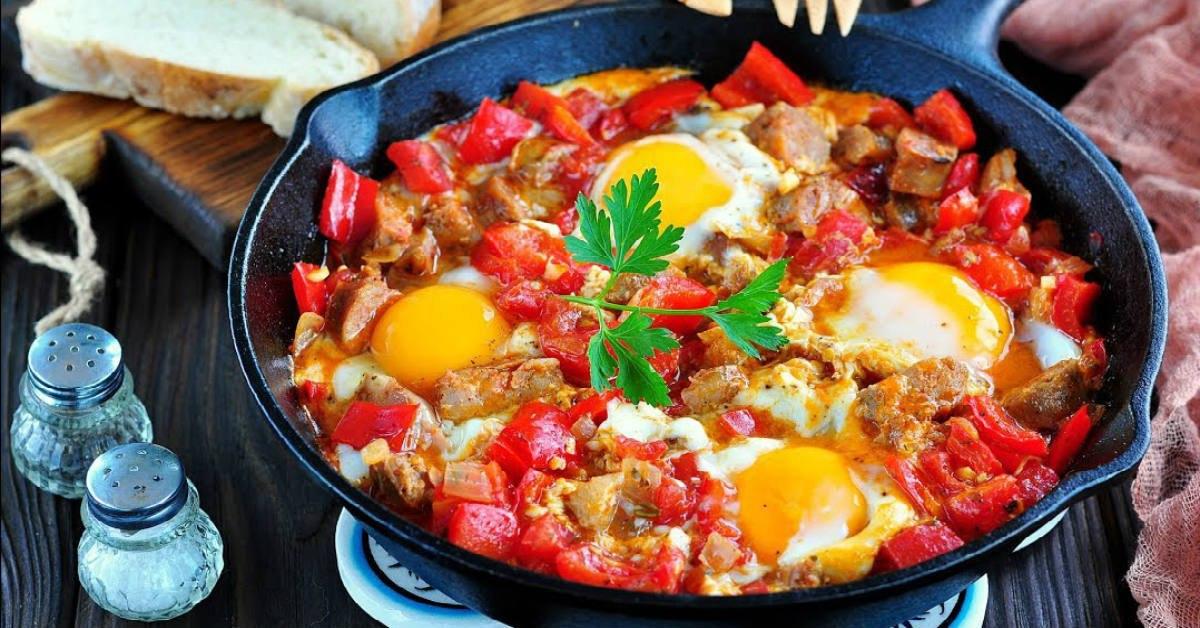 Breakfast is the most important meal of the day. Often we skip it due to a lack of time or healthy breakfast ideas. More often than not, we limit ourselves to a cup of coffee, believing that this way, we will boost our energy level yet consume fewer calories. This is the wrong approach because the way we spend our day depends on how we start it.
Today, we will share with you a list of protein-rich, healthy breakfast ideas to add to your morning meal repertoire. From now on, your morning meal will be made in no time and help keep hunger at bay for hours.
1. Sweet Potato Casserole With Chorizo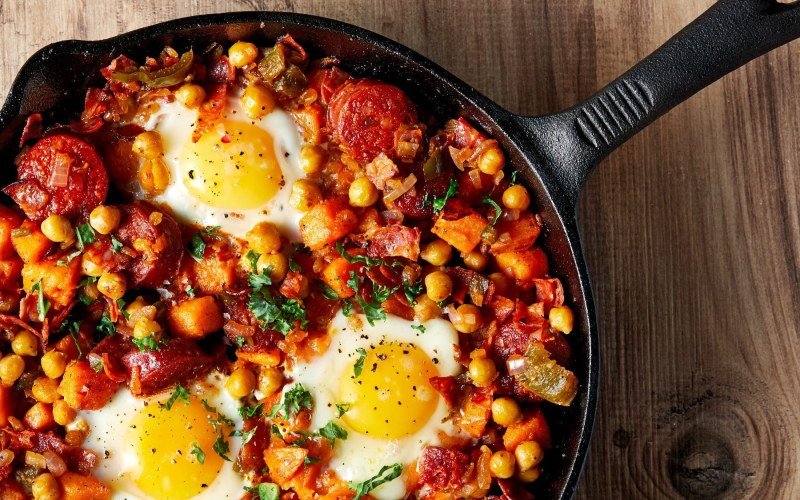 Ingredients:
1 lb (450 g) sweet potatoes;
1 tbsp coconut oil;
½ red onion;
7 oz (200 g) canned chickpeas;
5 ¼ oz (150 g) chorizo;
½ tsp sea salt;
½ tsp black pepper;
4 eggs;
jalapenos to taste.
Instructions:
Peel sweet potatoes and cut them into large cubes. Place them in a saucepan filled with water and bring it to a boil. When the water starts to bubble, drain it, and set the pan aside for a few minutes.
Meanwhile, put a pan with coconut oil on medium heat. Once the oil has melted, add chopped onion, chorizo, and fry for 3–4 minutes, stirring occasionally.

Reduce heat to medium and add sweet potatoes, chickpeas, jalapenos, sea salt, and black pepper. Lightly press them down and fry for 8–10 minutes without stirring until a crispy crust forms.
Make four small holes in the crust and break an egg into each. Cover the pan with a lid and cook for 2–3 minutes (the egg whites should be thoroughly cooked, the yolks — liquid).
Garnish with jalapenos and serve!
2. Quinoa With Chocolate and Blueberries
One of our most unique healthy breakfast ideas: replace oatmeal with quinoa.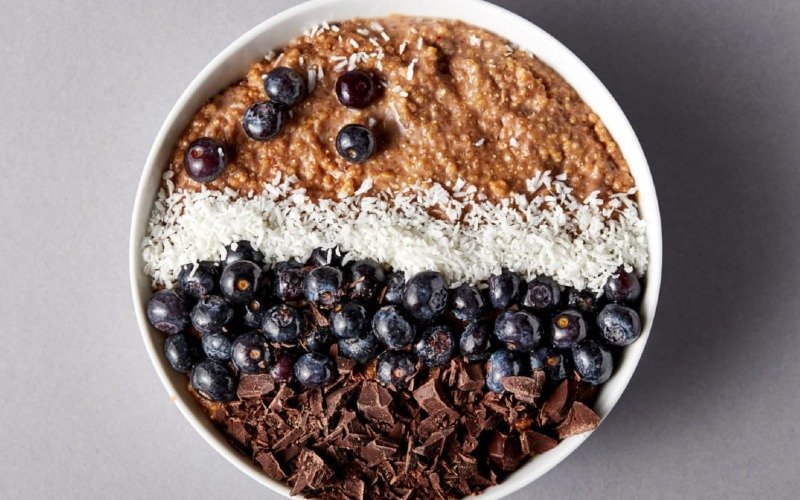 Ingredients:
For the Porridge:
1 ¾ oz (50 g) raw white quinoa;
2 ½ oz (75 ml) milk;
2 ½ oz (75 ml) skimmed coconut milk;
1 scoop protein mix;
1 tsp cocoa powder.
For the Topping:
4 squares dark chocolate;
blueberries;
1 tsp maple syrup.
Instructions:
Pop quinoa into a mesh strainer and give it a good rinse. Put it in a small saucepan over medium heat and fry for 1–2 minutes, occasionally stirring to prevent it from burning.

As soon as quinoa becomes golden brown, pour both regular and coconut milk into the saucepan and bring to a boil. Reduce heat to low and simmer for approximately 20 minutes, occasionally stirring, until the mixture thickens and becomes soft. If necessary, leave the quinoa to cook longer over low heat until it reaches the desired consistency, or add more milk if you want the porridge to be less thick.
Once everything is ready, quickly mix cocoa powder and protein mixture into the mass, and then pour everything into a bowl. Top off with squares of dark chocolate, blueberries, and maple syrup.
3. Fruit Smoothie Bowl With Cocoa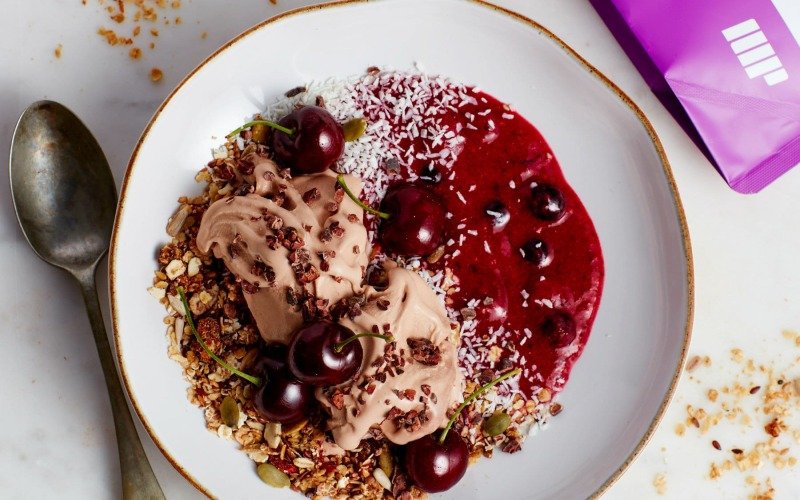 Ingredients:
For the Cream:
3 ⅓ fl oz (100 ml) coconut cream;
2 tbsp maple syrup;
1 tsp cocoa powder;
a handful of crushed cocoa beans.
For the Smoothie:
1 scoop superfood mix;
2 frozen bananas;
a handful of frozen berries.
Instructions:
Making the cream. Put cream (pre-frozen for 2 hours), maple syrup, cocoa powder, and cocoa beans in a blender and beat until smooth. Pour the cream into a bowl and pop it in the freezer.
Making the smoothie. Place all the ingredients for the smoothie in a blender and beat until smooth. Pour into a bowl and add cream. Sprinkle crushed cocoa beans on top. Enjoy!
4. Homemade Spinach Smoothie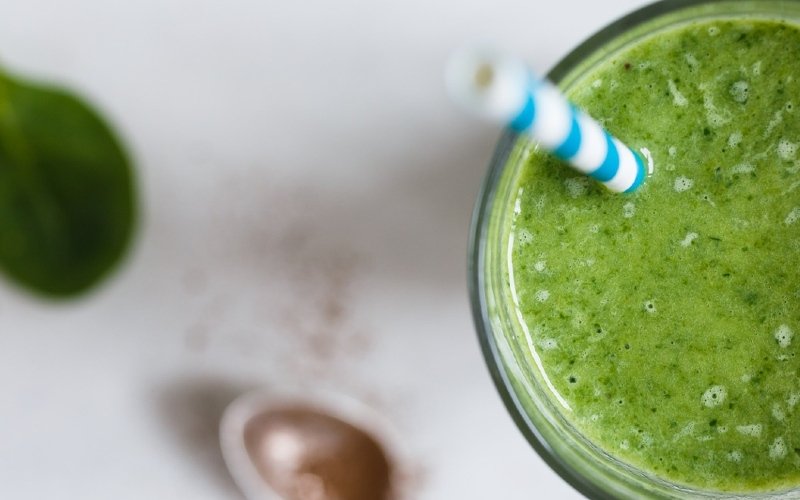 Ingredients:
5 ¼ oz (150 g) spinach;
1 apple;
lemon juice to taste;
⅔ oz (20 g) whey protein with vanilla flavor;
5 fl oz (150 ml) water.
Instructions:
Cut an apple into fourths and remove the seeds.

Combine spinach, water, and lemon juice in a blender and beat until smooth.
Add apples and whey protein and beat some more. Add water if the mixture is too thick. Your cleansing spinach smoothie is done!
5. No-Bake Fruit and Nut Bar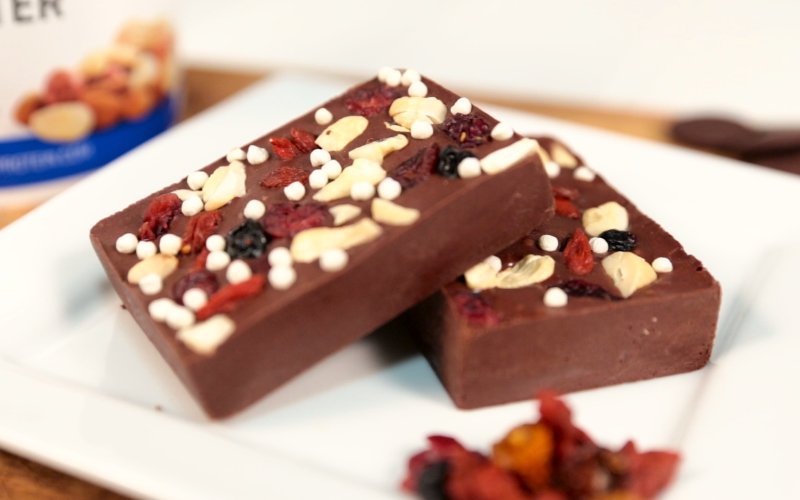 Ingredients:
1 ¾ oz (50 g) cacao liquor buttons;
⅔ oz (25 g) protein hot chocolate;
½ oz (15 g) dried fruit mix;
⅓ oz (10 g) protein crispies;
8 cashews;
1 tbsp triple nut butter.
Instructions:
Grease a mold with coconut oil.
Melt cacao liquor buttons in the microwave. Add one scoop of protein hot chocolate and stir in a tablespoon of triple nut butter; mix thoroughly.
Pour the mass into the mold.
Cut cashews and press them into the mass. Sprinkle with dried fruits and protein crispies.

Pop in the refrigerator to set.
Separate from the mold and enjoy!
6. Honey Protein Shake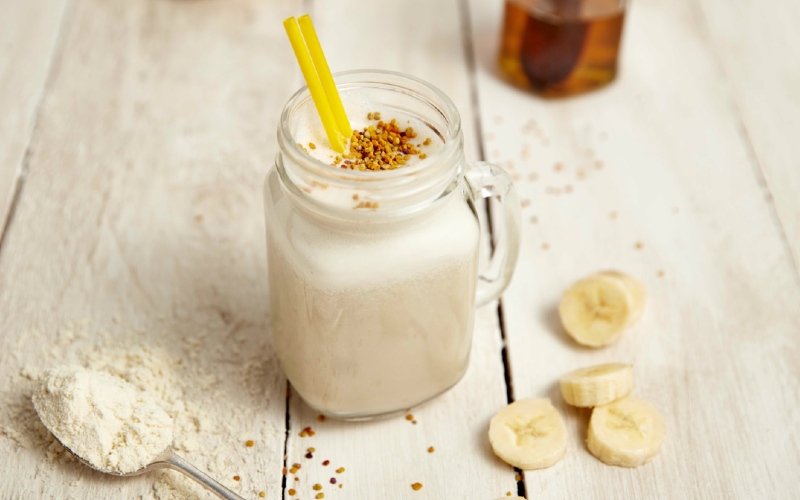 Ingredients:
1 frozen banana;
⅔ oz (25 g) organic whey protein;
1 tsp honey;
1 tsp cinnamon.
Instructions:
Beat all the ingredients in a blender and serve sprinkled with bee pollen or crushed cocoa beans. Isn't this one of the best healthy breakfast ideas?
7. Breakfast Smoothie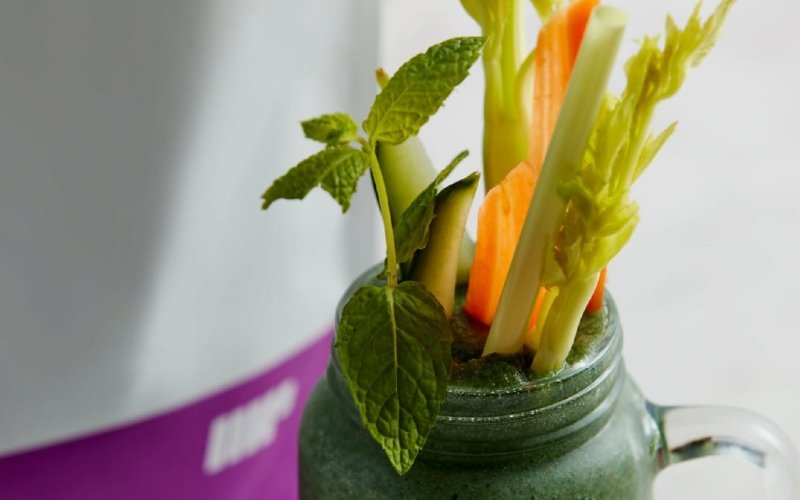 Ingredients:
1 scoop protein superfood mix;
6 ¾ fl oz (200 ml) coconut water;
1 apple;
2 carrots;
½ cucumber;
2 stalks celery;
juice of ½ lemon;
ice cubes.
Instructions:
Combine the ingredients and enjoy the taste!
8. Homemade Energy Bars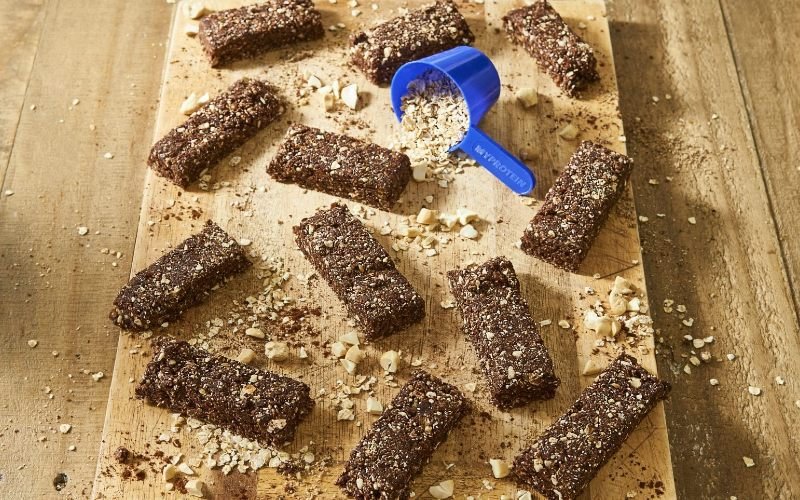 Ingredients:
7 oz (200 g) soft pitted dates;
4 tbsp maca powder;
2 ⅔ oz (75 g) oatmeal;
2 tsp cocoa powder;
5 ¼ oz (150 g) chopped cashews;
2 tsp cashew paste;
2 tbsp coconut oil;
1 pinch sea salt.
Instructions:
Combine dates, maca powder, oatmeal, cocoa powder, melted coconut oil, salt, and half of the cashew nuts in a blender. If the dough is not soft enough, add a drop of water and beat again.

Put the mixture in a bowl and mix in the remaining nuts with your hands (this way, the bars will be crunchy).
Line a baking sheet with cling film and distribute the mixture on it, slightly pressing down. Pop in the freezer for 30 minutes, then cut into bars. Store in the refrigerator in an airtight container.
9. Avocado Toast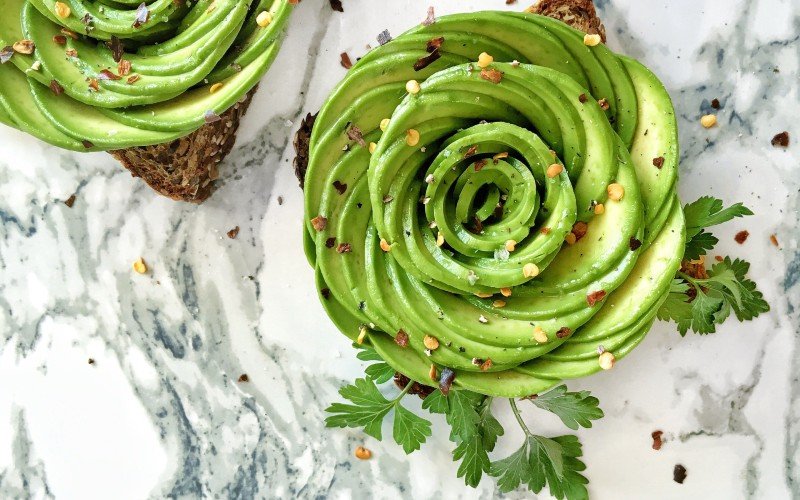 Ingredients:
1 slice of high protein bread;
½ avocado.
Instructions:
Toast a slice of bread in a toaster.
Cut the avocado lengthwise and remove the pit.
You can put avocado slices on top of the bread or make a "rose": cut the avocado lengthwise into thin slices.
Place them on the toast so that each slice slightly overlaps the previous one. Holding one edge, roll the slices inward to make a "rose".
10. Toast Slices and Eggs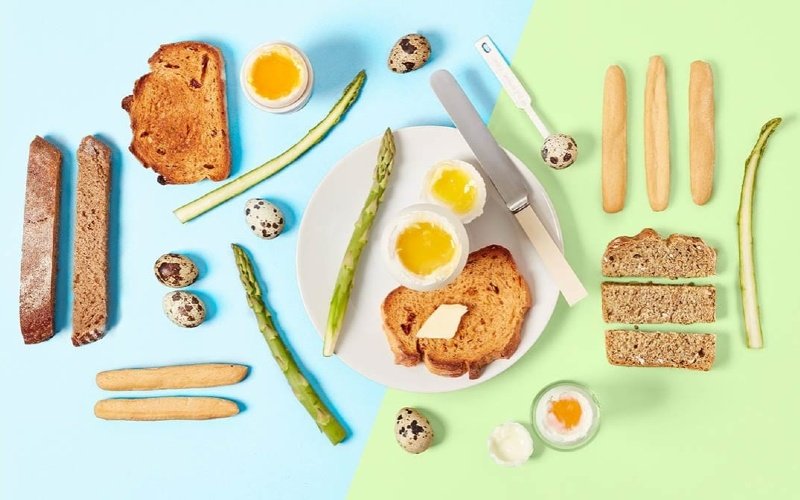 Ingredients:
Duck eggs;
goose eggs;
quail eggs;
2 slices rye bread;
2 tbsp peanut butter;
1 avocado;
asparagus tips;
2 slices Parma ham;
1 sweet potato;
1 tbsp green pesto;
seed mix;
1 tbsp coconut oil;
coarse sea salt;
ground black pepper.
Instructions:
Slice avocados and season them with sea salt.
Sprinkle asparagus tops with coconut oil, place them in a pan and fry over high heat for 8–10 minutes. Wrap ham around the asparagus.
Peel a sweet potato and cut it into wedges, sprinkle with coconut oil, season with salt, and bake on a baking sheet for 15—20 minutes.

To cook the eggs, place a large pot of water on the stove and bring the water to a boil. after the water has boiled, goose eggs cook for 8–9 minutes, duck eggs — for 4 minutes, and quail eggs — for one minute!
Toast the slices of rye bread in a toaster and cut them into slices. Spread peanut butter on some, pesto — on others.

Dunk the toast slices into the thick, nutritious yolk and enjoy the taste!
11. Egg Baskets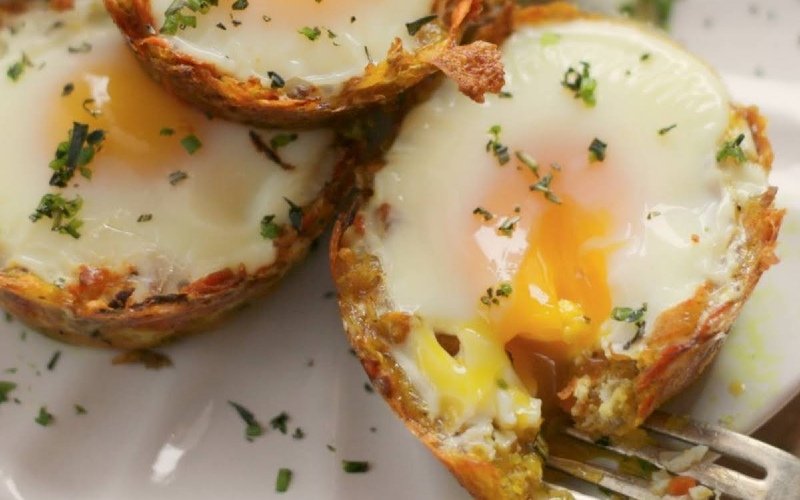 Ingredients:
½ tsp coconut oil;
2 eggs;
½ zucchini;
½ carrot;
salt, pepper to taste.
Instructions:
Preheat the oven to 320 °F.
Take a quarter teaspoon of coconut oil and grease the bottom and sides of two silicone muffin molds.

Grate carrots and zucchini.
Place the grated vegetables on the bottom and sides of both oiled molds.
Gently break an egg into the center of each mold. Season with salt and pepper to taste.

Pop in the oven for approximately 7–10 minutes. Enjoy your meal!
For most of us, it is hard to get out of bed in the morning. More often than not, all we can do is to lazily reach for a box of cereal or grab a granola bar to go. So many of our tasty, healthy breakfast ideas require surprisingly little effort, though! Use our selection of recipes and learn how to cook quick, protein-rich breakfasts that will provide you with energy and serve as a fabulous start to a productive day!