How to Make Home-Cooked Meals From Scratch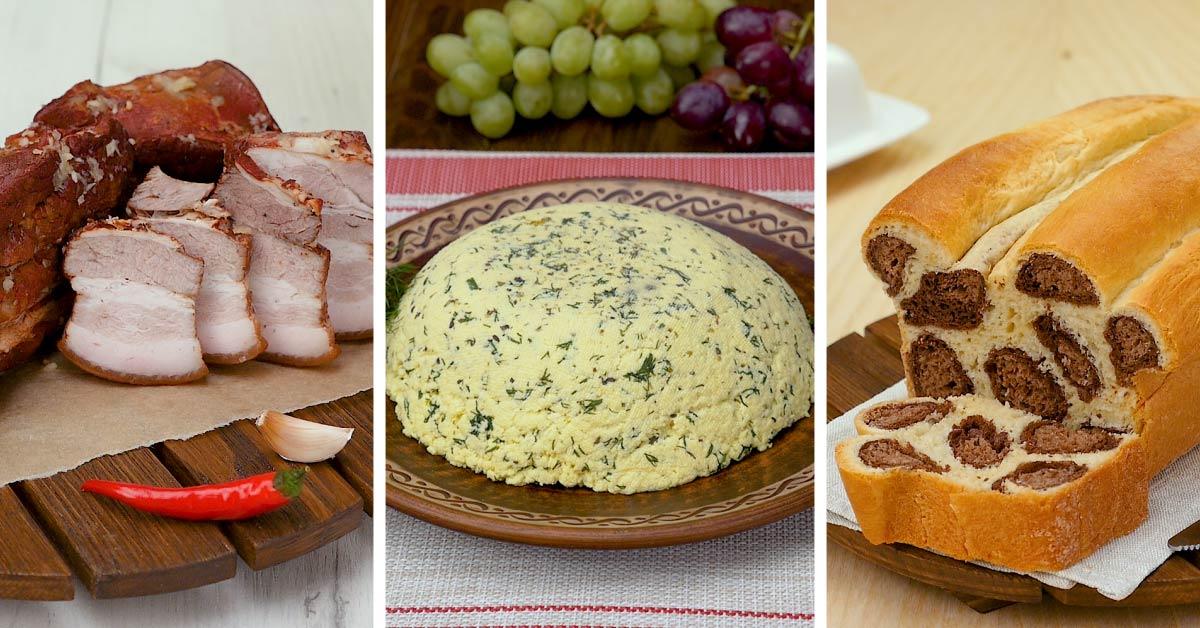 People who care about their and their loved ones' nutrition and make the effort of mainly making home-cooked meals deserve particular respect. After all, we know how much time it takes to go grocery shopping, prepare food, and make the dishes themselves.
If you, like us, cherish and appreciate food prepared with love, then our home-cooked meals will appeal to you. Spicy cured fatback, soft bread, and delicate cheese are the ideal trio for a family lunch or dinner.
Cured Fatback in Onion Peel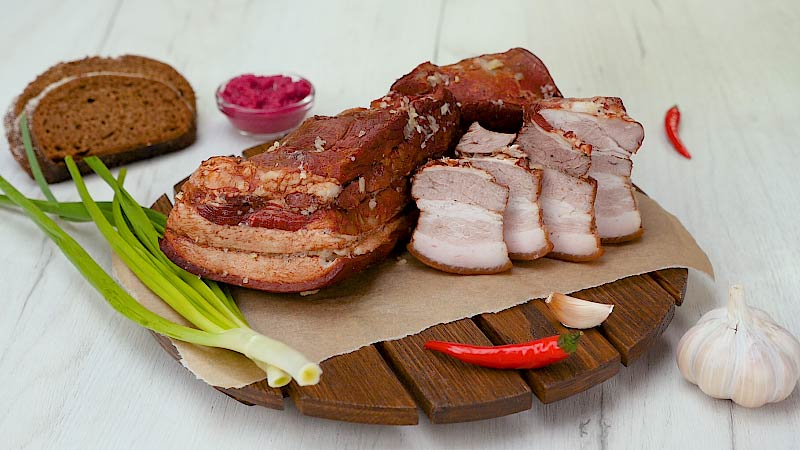 Ingredients:
3 lb (1 ½ kg) cured fatback;
5 ¼ oz (150 g) salt;
40 fl oz (1 ¼ l) water;
2 handfuls onion peel;
4 garlic bulbs;
ground black pepper to taste;
bay leaves to taste.
Instructions:
Wash onion peel in warm water and cover the bottom of a large pot with half the peel. Place cured fatback on top.
Season with salt, pepper, and add bay leaves. Distribute the rest of the onion peel on top.

Cover the cured fatback with water and cook for 20 minutes. Without taking off the lid, remove the pot from the heat and set it aside for 24 hours.
Take the cured fatback out from the pot and wipe it with paper towels.

Peel and crush the garlic. Season the cured fatback with pepper and grease it liberally with the garlic mass on all sides. Put it on a plastic wrap, place a few bay leaves on top, and tightly wrap it.
Put the cured fatback in the freezer for 8 hours. Before serving, let it sit for 15 minutes at room temperature.
Yeast Bread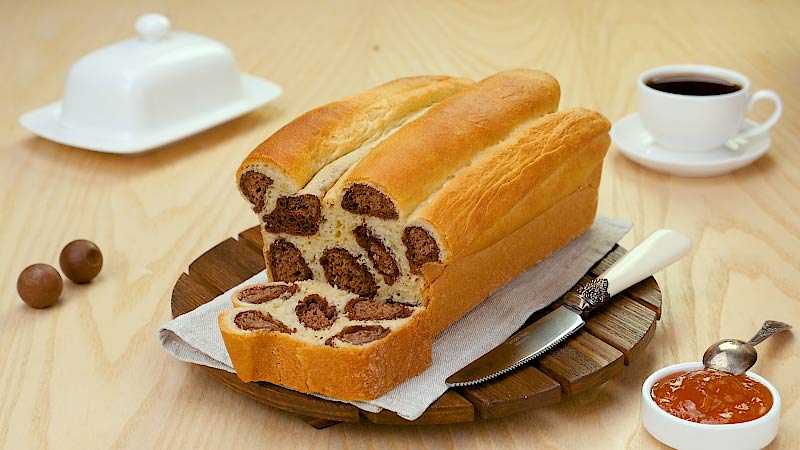 Ingredients:
10 ½ oz (300 g) wheat flour;
2 tsp dry yeast;
1 egg;
1 egg yolk;
¼ tsp salt;
4 ¼ fl oz (125 ml) milk;
3 ½ oz (100 g) butter;
4 tbsp sugar;
3 tsp cocoa powder.
Instructions:
Combine milk, yeast, sugar, and salt in a bowl and whisk.
Add egg and egg yolk, whisk again.
Sift flour into the mixture and add melted butter. Knead the dough.

Divide the dough into two equal portions. Divide one of the portions in half.
Add 1 teaspoon cocoa to one small portion, and 2 teaspoons to the other. Knead these pieces of dough: one will be lighter than the other.

Cover the dough with a clean towel and let it sit for 1 hour.
Make 8 small balls from each portion of the dough. Roll the light and the darkest pieces into cakes. Make thin sausages from the light brown balls.

Wrap the sausages first in dark brown cakes, and then in light cakes. Place the resulting sausages in a baking dish and set aside for another hour.
Bake bread for 45 minutes at 360 °F.
Cheese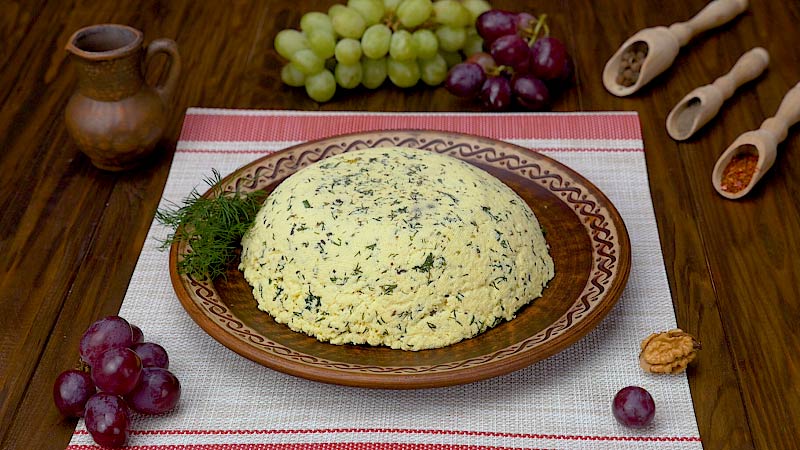 Ingredients:
70 fl oz (2 l) milk (2.5% fat);

1 ⅛

lb (500 g) sour cream (30% fat);

1 ½ tbsp salt;
6 eggs;
1 pinch soda;
1 pinch turmeric;
½ tsp Italian seasoning;
chopped dill to taste.
Instructions:
Beat eggs, add sour cream and mix thoroughly.
Heat milk without bringing it to a boil, add salt and mix. Pour in the egg mixture and stir.
Add turmeric, dill, Italian seasoning, soda. Stir again.
Pop a sieve over a bowl and cover it with clean gauze. Pour the milk mass into the gauze to filter out the unnecessary liquid. Wrap the future cheese with gauze, place a plate, and then a saucepan with water on top.

Leave for 1 hour.
After the cheese has completely cooled, pop it in the refrigerator for 3 hours. You can use whey to make dough for buns.
No semi-finished or pre-prepared supermarket foods can replace home-cooked meals. Try our recipes, and don't forget to share them with your friends.