Homemade Pate Recipes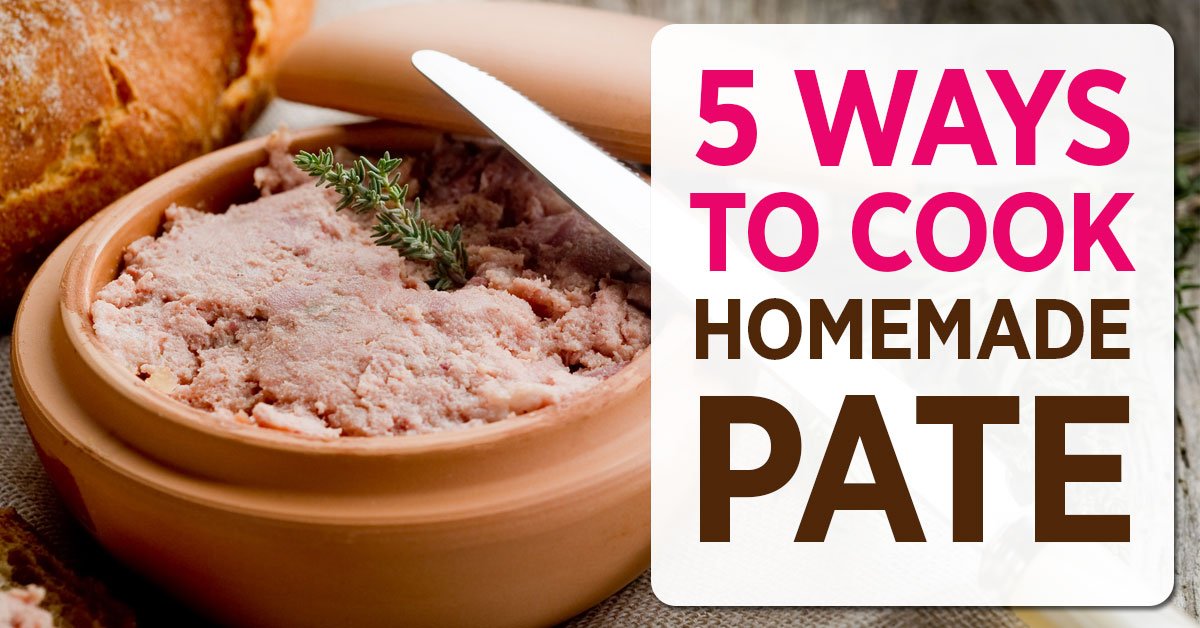 Pate is an appetizer, without which not a single feast is held in our family. Even when there are no holidays, there is always a bit of this amazing spread in our refrigerator. We all love a pate canape for breakfast or lunch. I also like to experiment with flavors, so that everyone can have a homemade pate to his or her liking.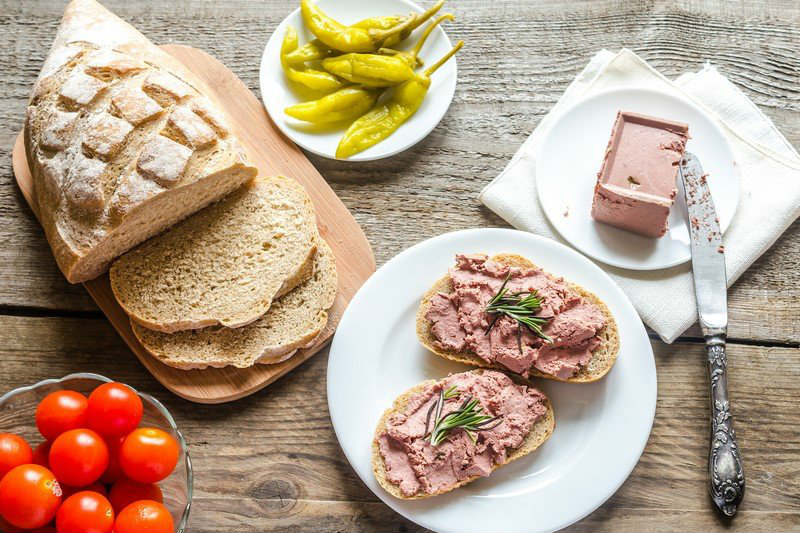 © DepositPhotos
So now I have 5 homemade pate recipes for every taste and would like to tell you how to make a pate that impresses anyone.
How to Make Pate
Classic Recipe
Ingredients:
1 lb (500 g) beef liver
3 ½ oz (100 g) fatback
3 ½ oz (100 g) butter
2 carrots
2 onions
Preparation:
The recipe for a classic liver pate should definitely be in everyone's cookbook. If you still don't have one, start writing down. Finely chop the onions and carrots, fry them in a pan with fatback. Cut the liver into slices and add to the vegetables. Fry until cooked, don't forget to season with salt and pepper. © DepositPhotos
Once the liver and veggies are ready, cool them. Then process the ingredients with a meat grinder twice or in a blender. Now add butter, mix thoroughly. Cool the dish and you're good to go! © DepositPhotos
French Recipe
Ingredients:
2 onions
5 eggs
7 oz (200 g) ground beef
10 ½ oz (300 g) ground pork
fresh herbs
salt and spices to taste
Preparation:
Hard-boil 4 eggs and leave to cool. Chop onions and herbs. In a separate bowl beat the rest of the eggs. Combine with meat, onions, parsley and spices. Mix thoroughly. Put the ground meat mixture in a baking dish lined with parchment paper. First, lay out half of it, then make small indentations and lay whole peeled eggs on top of the ground meat. Put the rest of the meat on top. © DepositPhotos
Put a couple of bay leaves and a piece of butter on top. Bake the pate for 20 minutes in an oven preheated to 350 °F (180 °C). It tastes better when it's cooled. You can serve such a dish both for an ordinary dinner and for a holiday table. © DepositPhotos
Pork Tongue and Bryndza Recipe
Ingredients:
1 ¾ lb (800 g) boiled pork tongue
½ cup (100 ml) cream with 33% fat content
5 ¼ oz (150 g) bryndza cheese
butter
Preparation:
Process boiled and peeled tongue, bryndza cheese and cream until smooth. Cut the butter into small cubes, melt in the microwave. Pour the pate with melted butter (previously scooped off the foam from it), you can also sprinkle spices on top. Let cool and place the pate in the refrigerator. Serve with rye bread or pickles.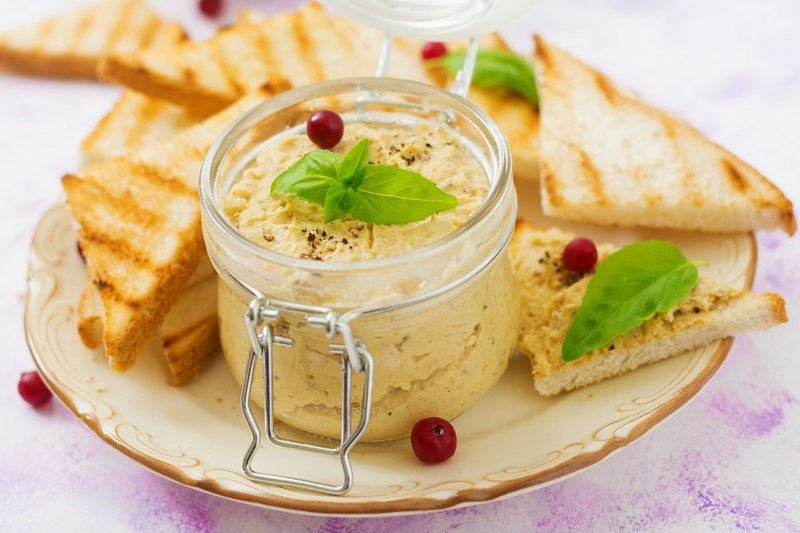 © DepositPhotos
Fish Recipe
Ingredients:
a fresh mackerel
1 onion
1 carrot
½ cup (100 ml) cream with 33% fat content
1 orange
Preparation:
Fill a peeled and gutted mackerel with slices of orange. Bake fish in foil until cooked. Then mash it with a fork, add the grated orange zest and mix thoroughly. Process it with a blender.

Separately, fry onions and carrots, adding your favorite spices. Stew until the liquid is reduced by half. Process the vegetables with a blender. Add the mashed veggies to the pate and mix thoroughly. Whip the cream separately and add it to the pate. Now that everything is ready, the amazing appetizer can be served!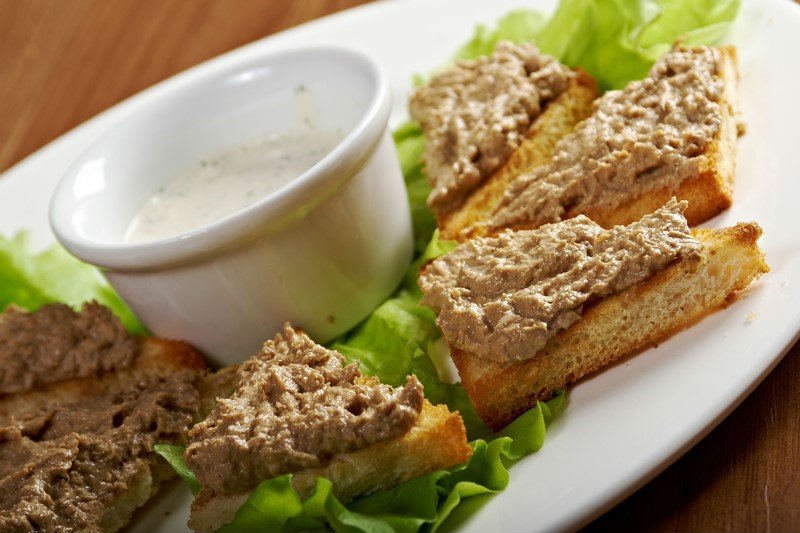 © DepositPhotos
Apple Recipe
Ingredients:
10 ½ oz (300 g) chicken liver
1 onion
¼ cup (50 g) butter
1 apple
Preparation:
Probably the easiest and most delicious pate. Fry the onion in a pan, add chopped liver to it. Fry until cooked. Finely grate an apple and add to the liver. Also add butter and stew until soft. Then grind everything in a blender and let cool. The pate is ready!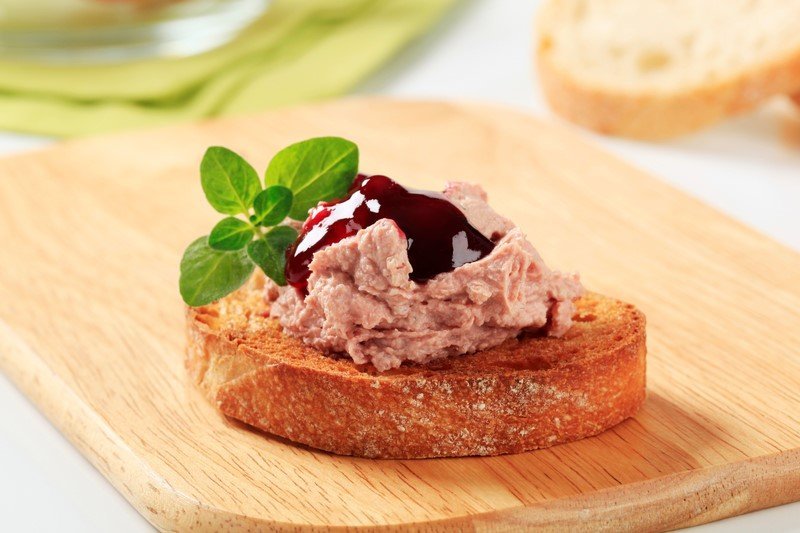 © DepositPhotos
As you can see, homemade pate is a very diverse dish. As long as you're ready to turn on your imagination, there are a lot of recipes for you to make. We hope these simple recipes will find a place in your cookbook. Which of the five pates did you like the most?