How To Cook Whole Mushrooms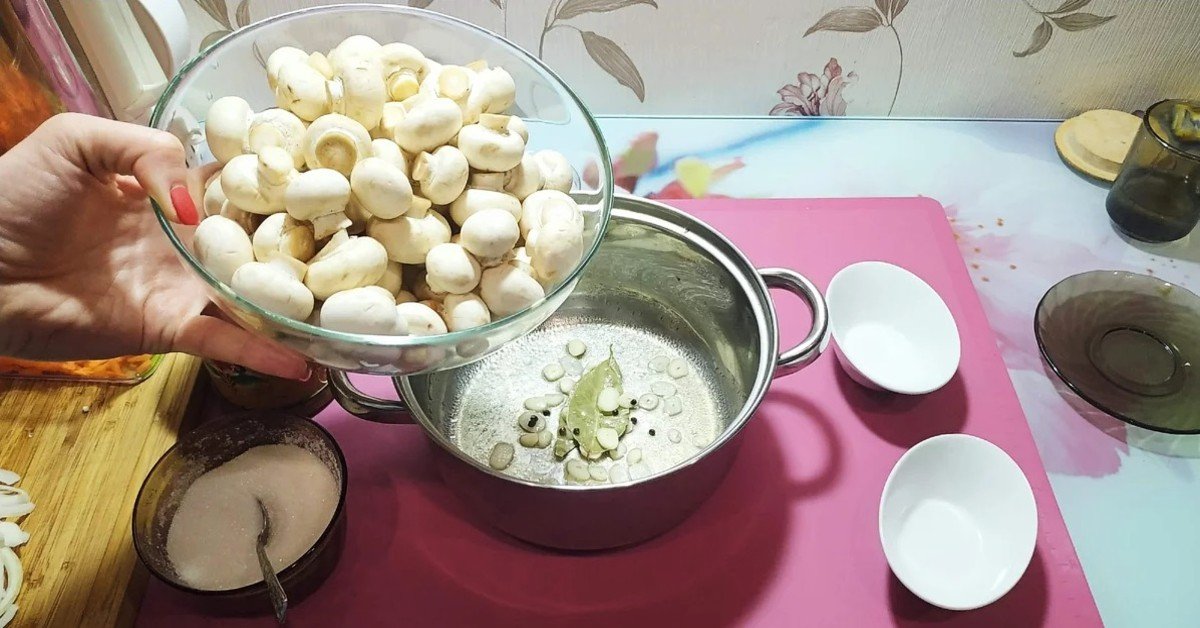 Recently, we have become very fond of that extra mushroom flavor in dishes. We use them in soups, add them to rice, to potatoes, to pies. This product absorbs the flavors of other ingredients beautifully, making it possible to experiment with mix-ins, spices, and seasonings. Most often, though, chopped mushrooms, sometimes fried with onions, go into dishes. But how to cook whole mushrooms so they make a visually appealing and elegant meal accompaniment?
Whole mushrooms look very beautiful and transform even the most ordinary day into something extraordinary. Today, Cook It will share with you tips on how to cook whole mushrooms, as well as ideas and unique food combinations that go well with them.
Ideas for How To Cook Whole Mushrooms
Marinated Button Mushrooms
For marinating button mushrooms, it is best to opt for small ones of approximately the same size. To prepare the marinade, use the ingredients in the following proportion: 1 quart (1 l) of water, 1 ⅓ cup (300 ml) of vinegar, 7 oz (200 g) of salt, 10 ½ oz (300 g) of sugar. Add spices such as garlic, ginger, cloves, bay leaves, cardamom, or cinnamon, if desired — they will flatter the flavor. When the mixture has cooled completely, pour it inside the jar with the mushrooms and refrigerate for a couple of days.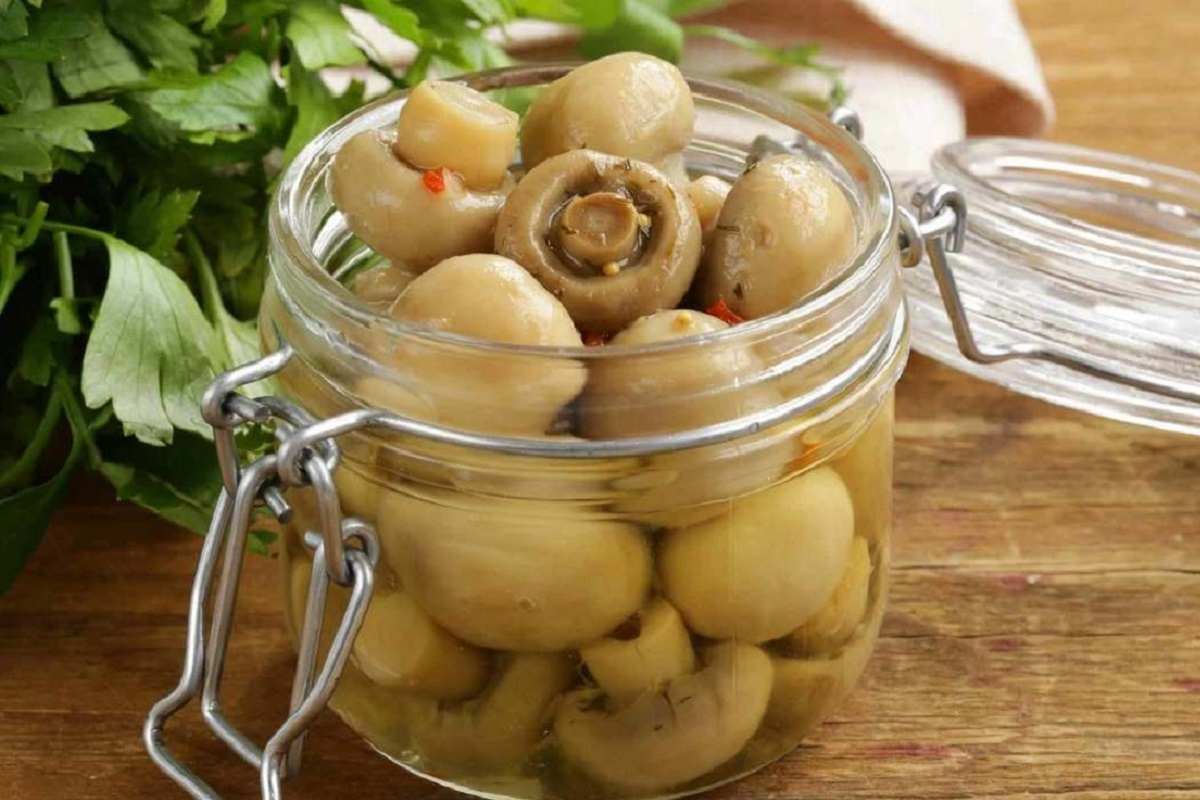 Salad With Whole Mushrooms
Making a salad with whole mushrooms is super easy. For this, again opt for small or medium-sized button mushrooms. Serve the salad with a dressing featuring butter or sour cream, mayonnaise, yogurt. Thus, the mushrooms will absorb the flavor of the ingredients. If using mayonnaise or sour cream, add radishes, cucumbers, and quail eggs or basil, mozzarella, and cherry tomatoes. Also try combining parsley, fresh and roasted bell peppers or cheese, ham, and red onions. If using a butter dressing, try adding paprika, ginger, herbs, garlic, and shallots.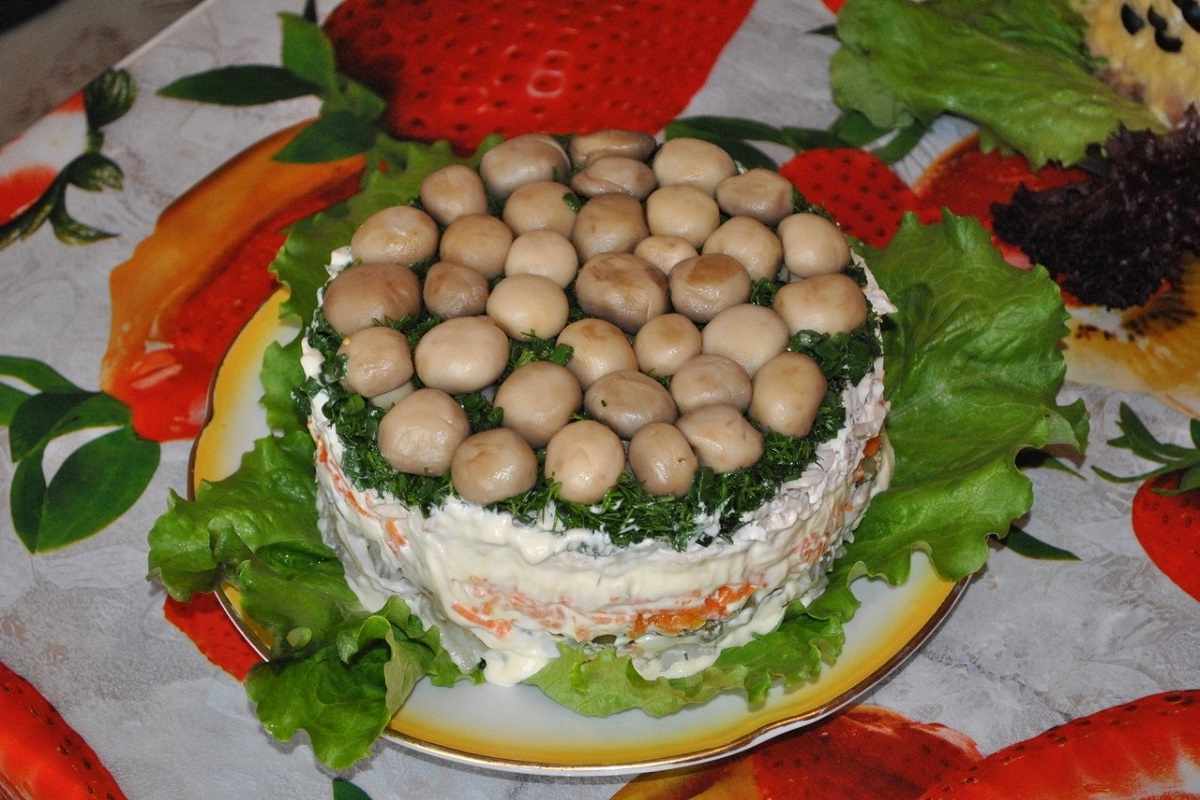 Fried Mushrooms
To prepare this quick and easy appetizer, first, pop mushrooms on a dry skillet and fry until golden brown without adding water, oil, or salt. Then add oil and spices to taste and fry until tender. Cooking time depends on the size of the mushrooms. A couple of minutes will be enough for small ones, but those that are on a larger side may need to be fried for up to 5 minutes. Bonus: you can use these fried whole mushrooms in soups.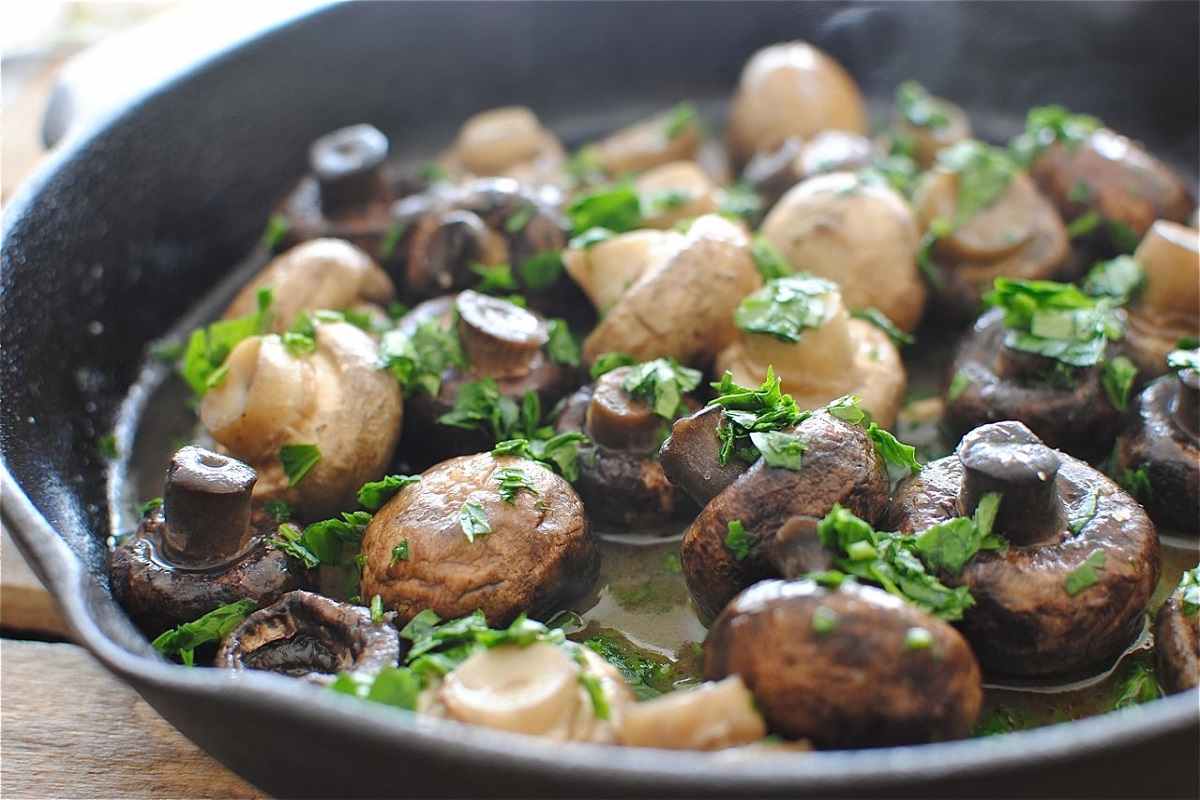 Roasted Mushrooms
To begin with, remove the stalks from the mushrooms. Next, make the sauce: combine olive oil with nutmeg, chopped garlic, paprika, or hot red pepper. Choose spices to taste. Dip the mushroom caps in the prepared mixture, arrange them on a baking sheet, and bake at 390 °F for about 15 minutes.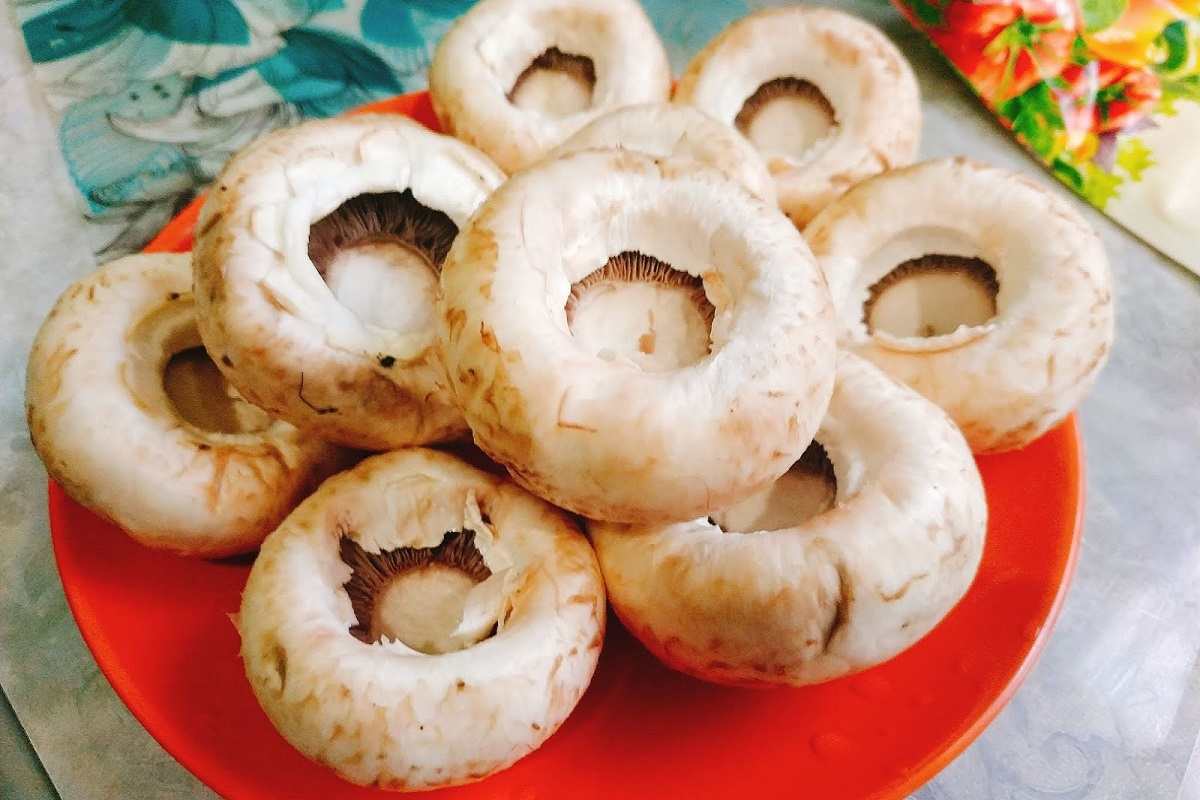 You can also bake mushrooms with a filling — the ingredient combinations are limitless. I suggest trying the combo of finely chopped mushroom stalks with garlic, parsley, and olive oil or with grated Parmesan cheese, bread crumbs, lemon zest, butter, parsley, and basil pesto. You can even stuff the mushrooms with mozzarella balls soaked in olive oil, pepper, and thyme. Meat lovers can opt for ground beef with grated Parmesan and herbs. Whereas seafood aficionados will appreciate the combination of shrimp, ginger, soy sauce, and garlic.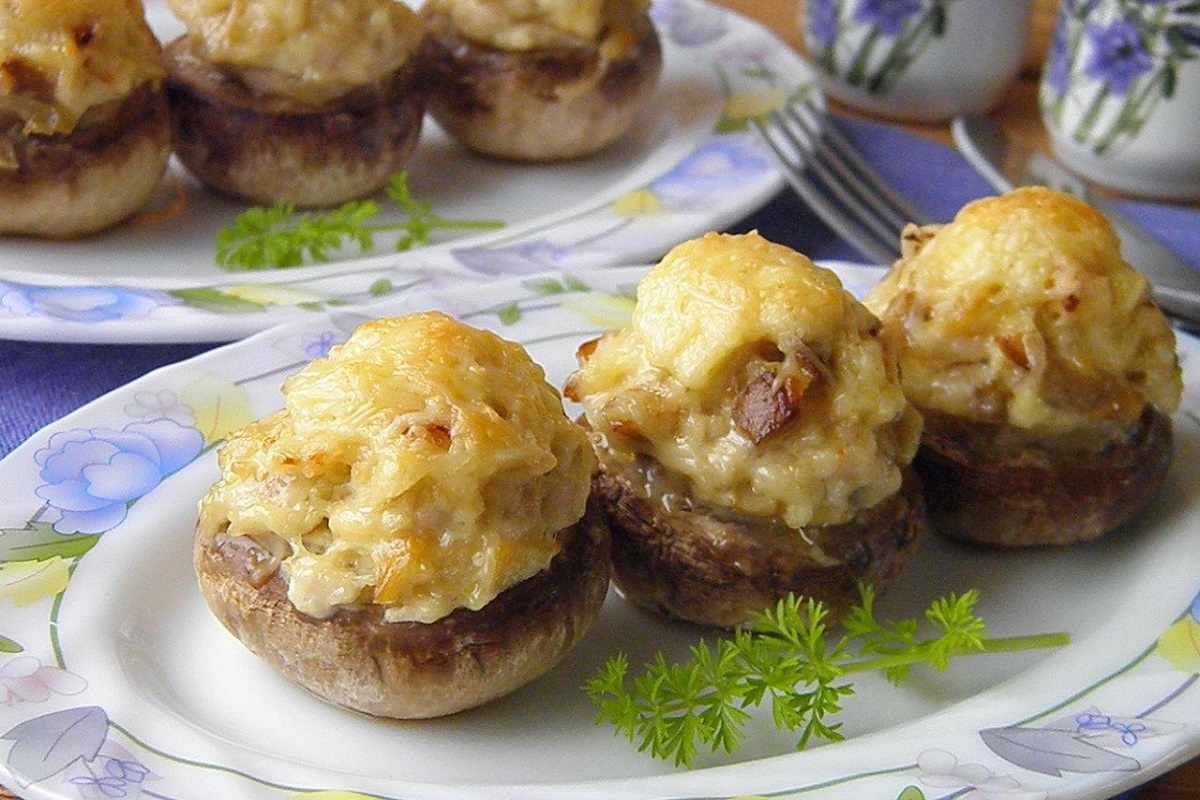 Mushrooms With Potatoes in the Oven
Potatoes and mushrooms is a classic yet superb flavor combination. It won't take much time or effort to cook this delicious and aromatic dish. Cut potatoes into quarters, pop them inside a baking dish, cover them with vegetable oil, season with salt and spices. Toss and place in the preheated oven for half an hour. Meanwhile, wash mushrooms and pat them dry with a paper towel, then sprinkle with oil. Add them to the potatoes, toss, and bake for another 10 minutes. Sprinkle with herbs before serving.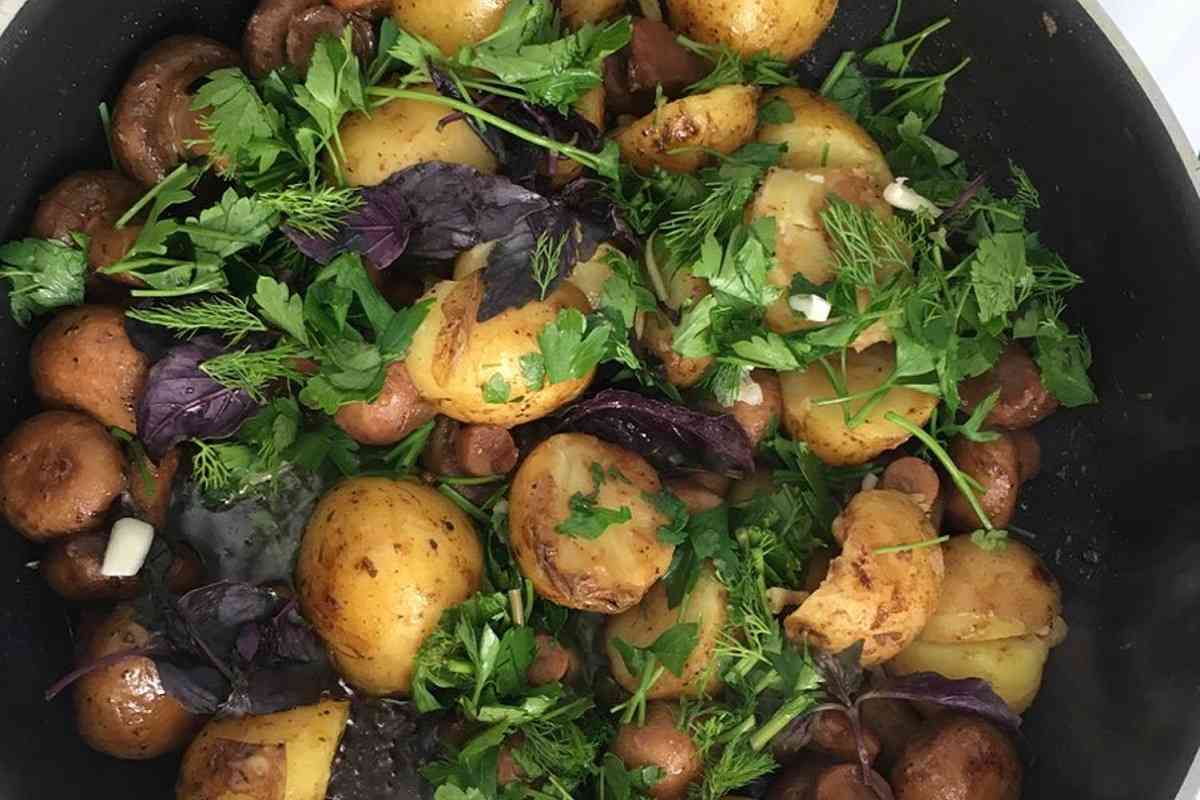 Large Portobello Mushrooms
You can roast medium portobellos just like regular mushrooms. The key is to prepare more filling. It is difficult to give an exact cooking time: it depends on the thickness of the mushroom caps.
Very large portobellos are difficult to stuff because of the flat edges of their caps. Therefore, it is best to marinate them and bake them without a filling. You can give the following marinades a try: garlic, drawn butter, and dried herbs or chili peppers, teriyaki sauce, and garlic. Alternatively, opt for soy sauce with sesame oil, ginger, and rice vinegar.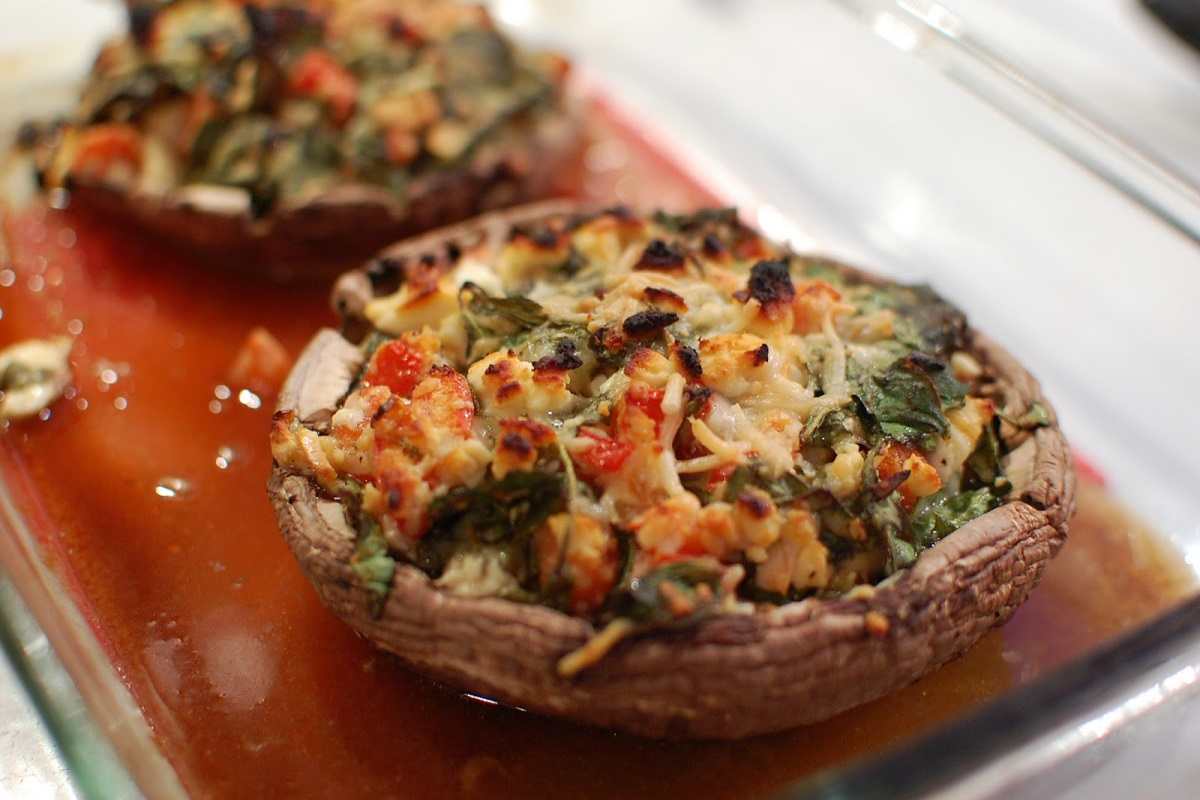 Festive Mushroom Appetizers
Use large mushrooms to make canapés with fried bacon, cheese, and olives or mozzarella, red onions, and bell peppers. You can also combine shrimp, green lettuce, and feta cheese.
You can also use mushroom caps as a holder for stuffing, such as eggs, garlic, cheese, mayonnaise, and paprika or tuna, scallions, and mayonnaise.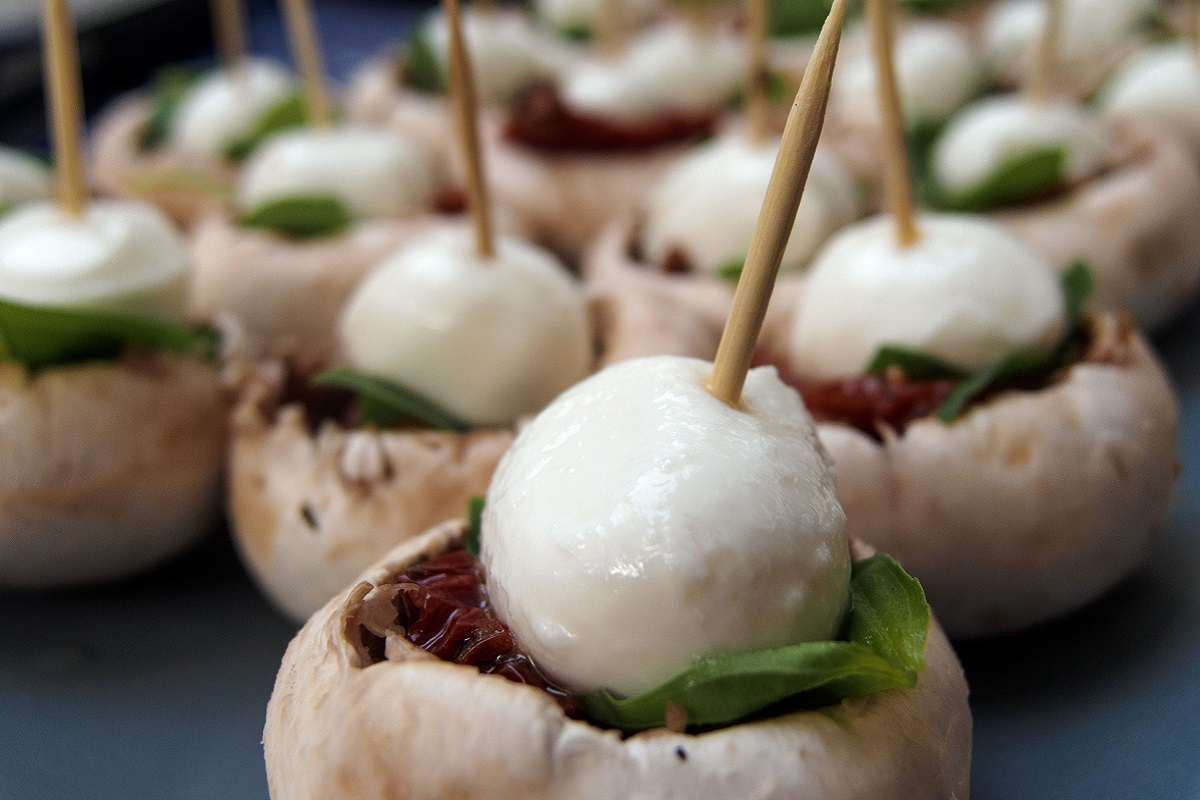 Who would have thought that you could make so many different dishes from ordinary mushrooms! Combine your favorite ingredients and don't stop experimenting. How do you cook whole mushrooms? Share your go-to recipes in the comments section below!