How to Make Homemade Hummus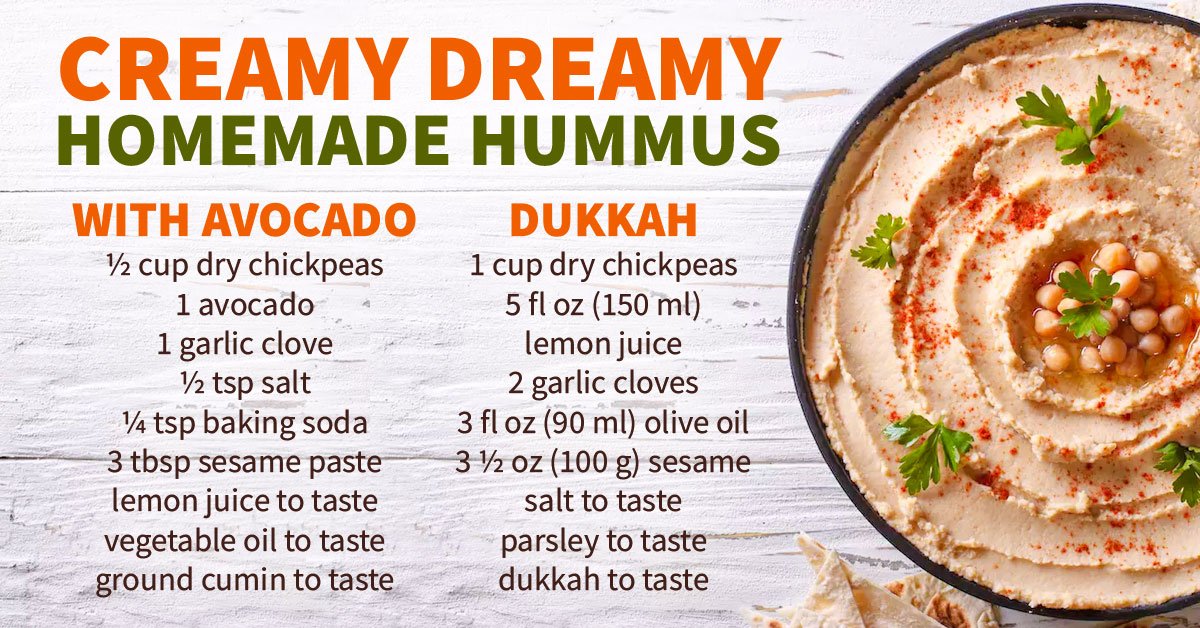 More and more often, cooking enthusiasts include hummus in their culinary repertoire. First, the popular chickpeas appetizer tastes positively sublime. Second, it contains a lot of vitamins and minerals. How could Cook It miss the opportunity to teach our readers how to make homemade hummus — the iconic Middle Eastern cuisine dip?
The classic set of ingredients for hummus includes boiled chickpeas, olive oil, sesame paste (tahini), and lemon juice. Depending on the extra ingredients, hummus acquires unique flavors. Let us see what it takes to make the perfect homemade hummus.
Dukkah Hummus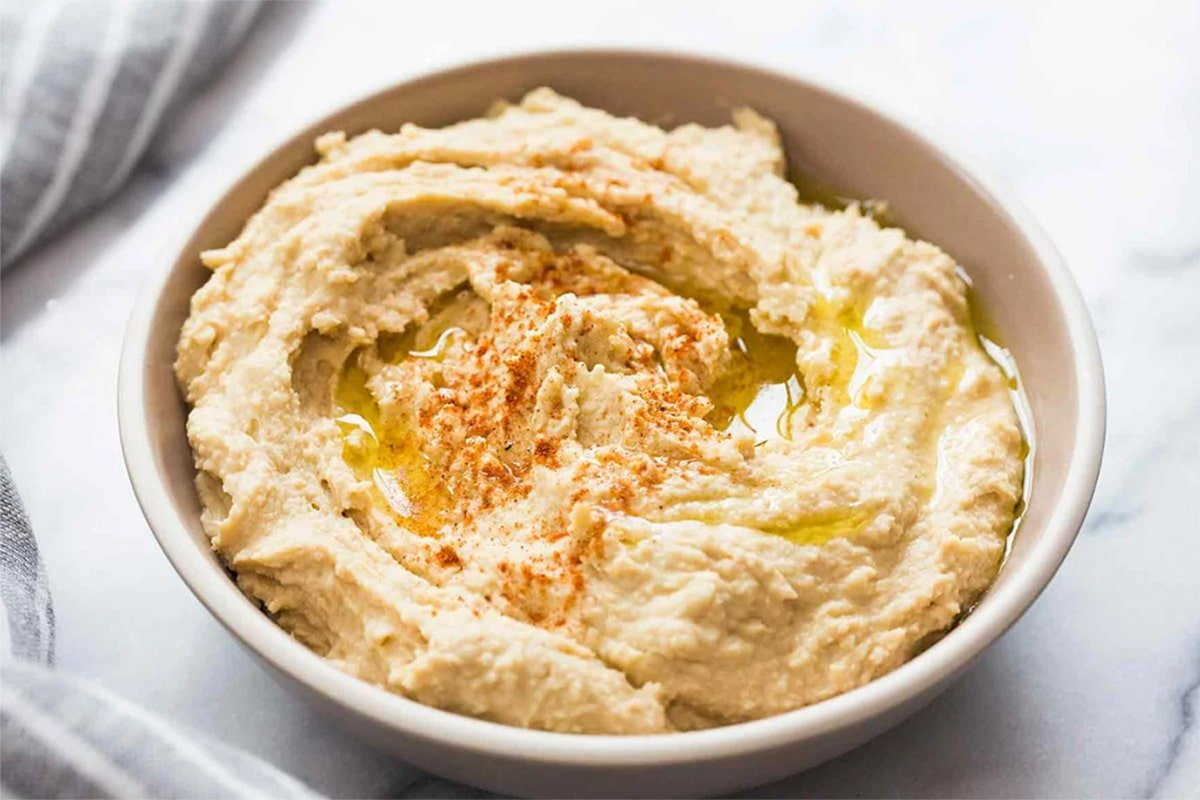 To make this glorious dip, you will need dukkah — an Egyptian seasoning featuring a mix of herbs, spices, and nuts. As a rule, it includes hazelnuts or almonds, sesame seeds, caraway seeds, and coriander.
Ingredients:
1 cup dry chickpeas or 1 can canned chickpeas;

5 fl oz (150 ml) lemon juice;
2 garlic cloves;
3 fl oz (90 ml) olive oil;
3 ½ oz (100 g) sesame;
salt to taste;
parsley to taste;
dukkah to taste.
Instructions:
Boil overnight-soaked chickpeas until soft (approximately 2 hours). Drain the liquid into a separate bowl. Canned chickpeas do not require cooking.
Place chickpeas in a blender with a little liquid and puree until smooth. Toast sesame seeds in a dry frying pan and also puree in a blender.

Combine sesame paste, chickpeas, lemon juice, garlic. If necessary, add more liquid so that the dip has a uniform, smooth consistency. Adjust the taste by adding salt.
Serve sprinkled with olive oil, dukkah, and chopped parsley.
Pesto Hummus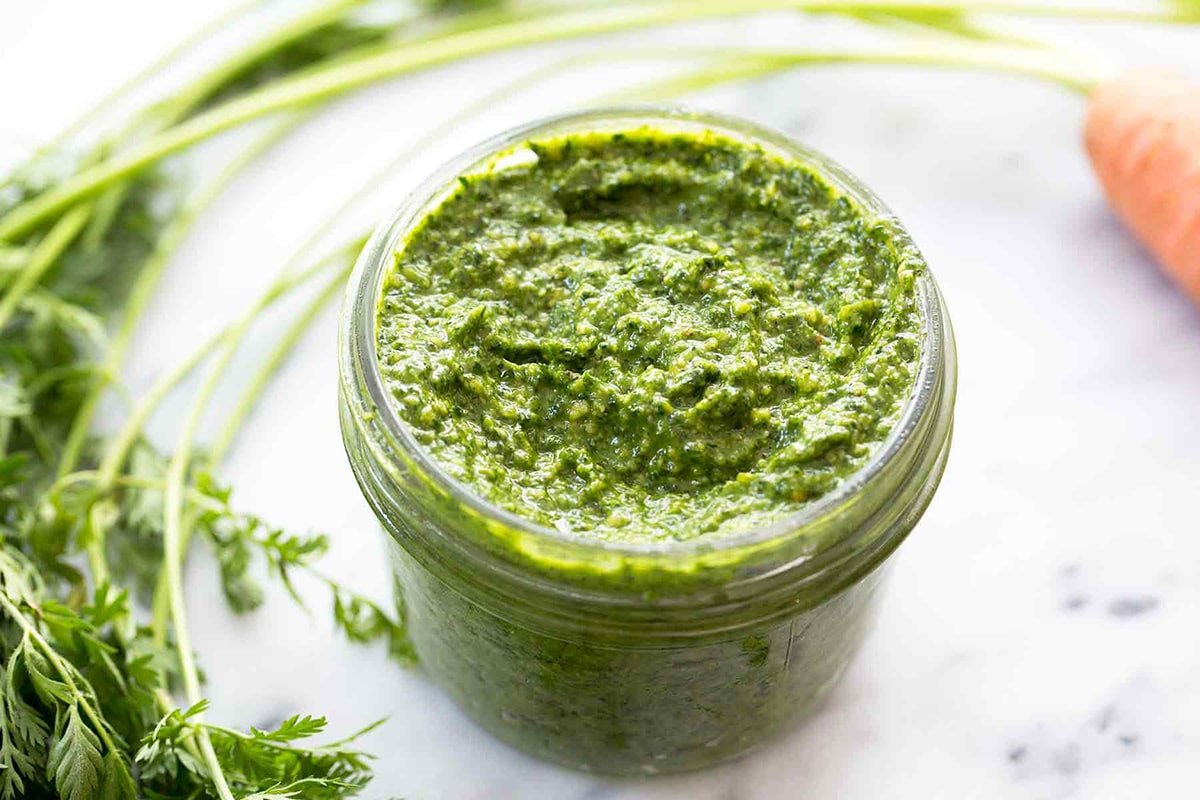 Italian pesto sauce will give hummus a light herbal flavor and a pleasant green color. We also recommend making pesto yourself.
Ingredients:
3 garlic cloves;
1 bunch basil;
1 oz (30 g) pine nuts;
3 fl oz (90 ml) olive oil;
2 oz (60 g) Parmesan;
1 pinch sea salt.
Instructions:
Combine olive oil, rinsed basil, peeled garlic, pine nuts, and grated Parmesan in a blender and puree until smooth.

Adjust the density and texture of the sauce yourself by adding more oil.
Pesto is ready! Now add one tablespoon of the sauce into homemade hummus and mix thoroughly.
Sweet Potato Hummus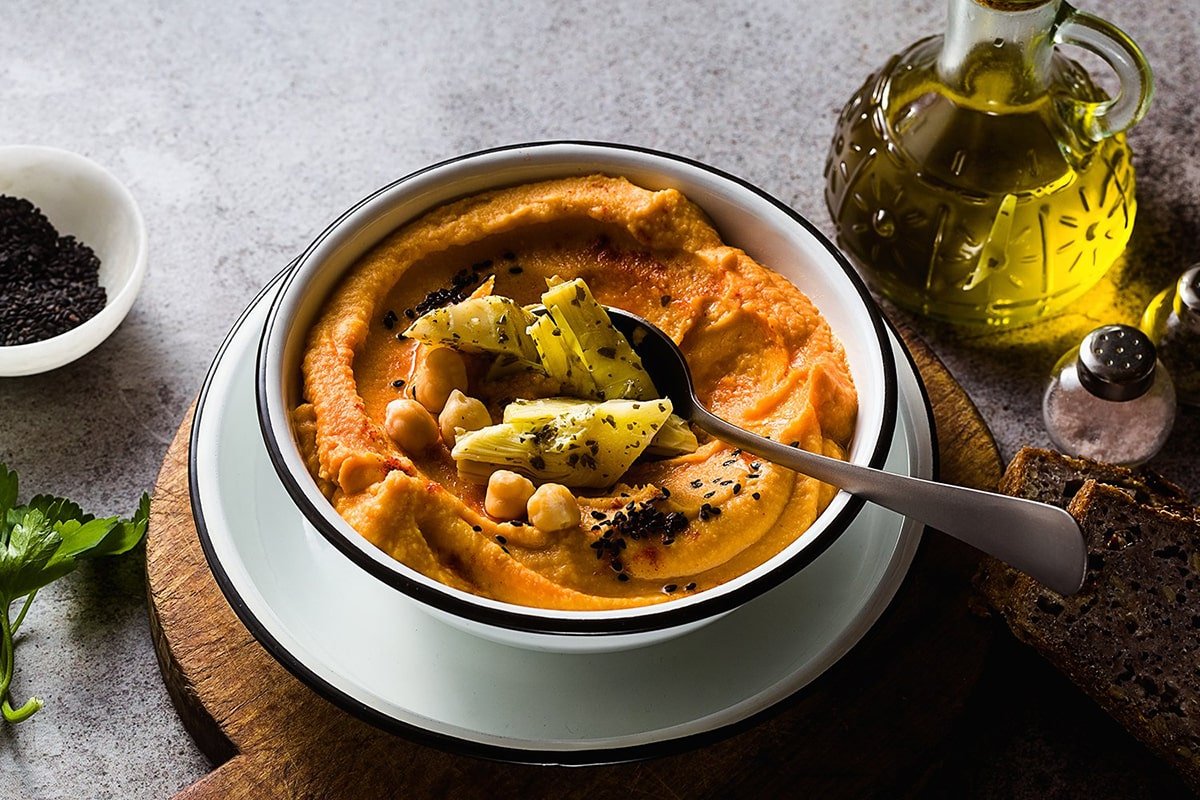 Use a sweet potato to add sweetness to the nutty dip. Sweet potato puree will enhance the flavor.
Ingredients:
7 oz (200 g) sweet potato;
1 pinch salt;
1 oz (30 g) butter;
2 fl oz (60 ml) cream;
herbs to taste.
Instructions:
Peel the sweet potato and cut it into several parts. Cover the vegetable with cold water, add salt, and boil for approximately 20 minutes.

Drain the liquid and mash the potatoes with butter until smooth. Warm the cream and pour half into the sweet potato puree. Whisk everything with a blender, then add the remaining cream. Whisk the mass again.
Add one tablespoon of sweet potato puree to ready-made hummus. Adjust the sweetness to taste.
Hummus With Avocado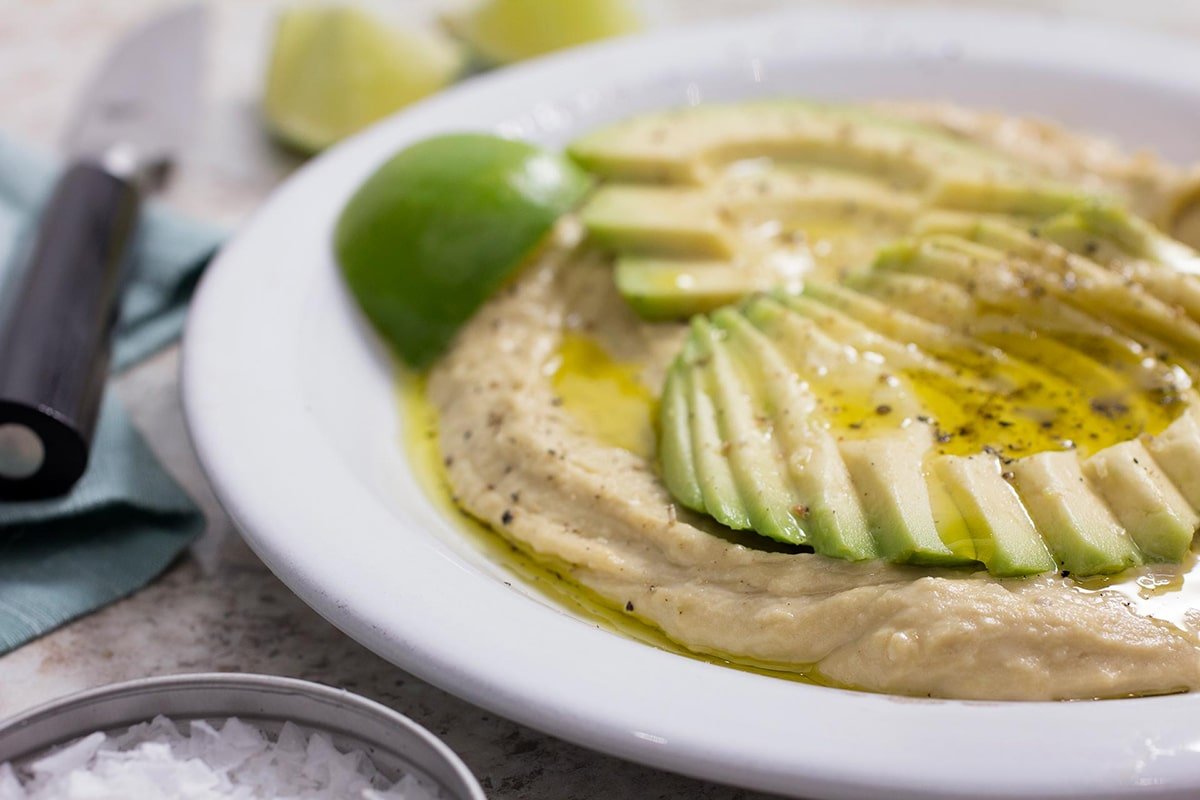 Avocados are a source of creamy taste and health benefits! We love it so much that we recommend adding it to hummus.
Ingredients:
½

cup dry chickpeas;
1 avocado;
1 garlic clove;

½

tsp salt;

¼

tsp baking soda;
3 tbsp sesame paste;
lemon juice to taste;
vegetable oil to taste;
ground cumin to taste.
Instructions:
Rinse and soak chickpeas overnight in cold water with soda. In the morning, drain the water, rinse the chickpeas under running water, place in a pan, and cover with clean water. Bring to a boil and simmer over low heat until tender. Remove foam when it forms.

Drain the liquid. Peel chickpeas by rubbing them with your hands.
Cut avocado in half, peel it and remove the pit. Combine with chickpeas and garlic in a blender. Puree until smooth.
Hummus With Greek Yogurt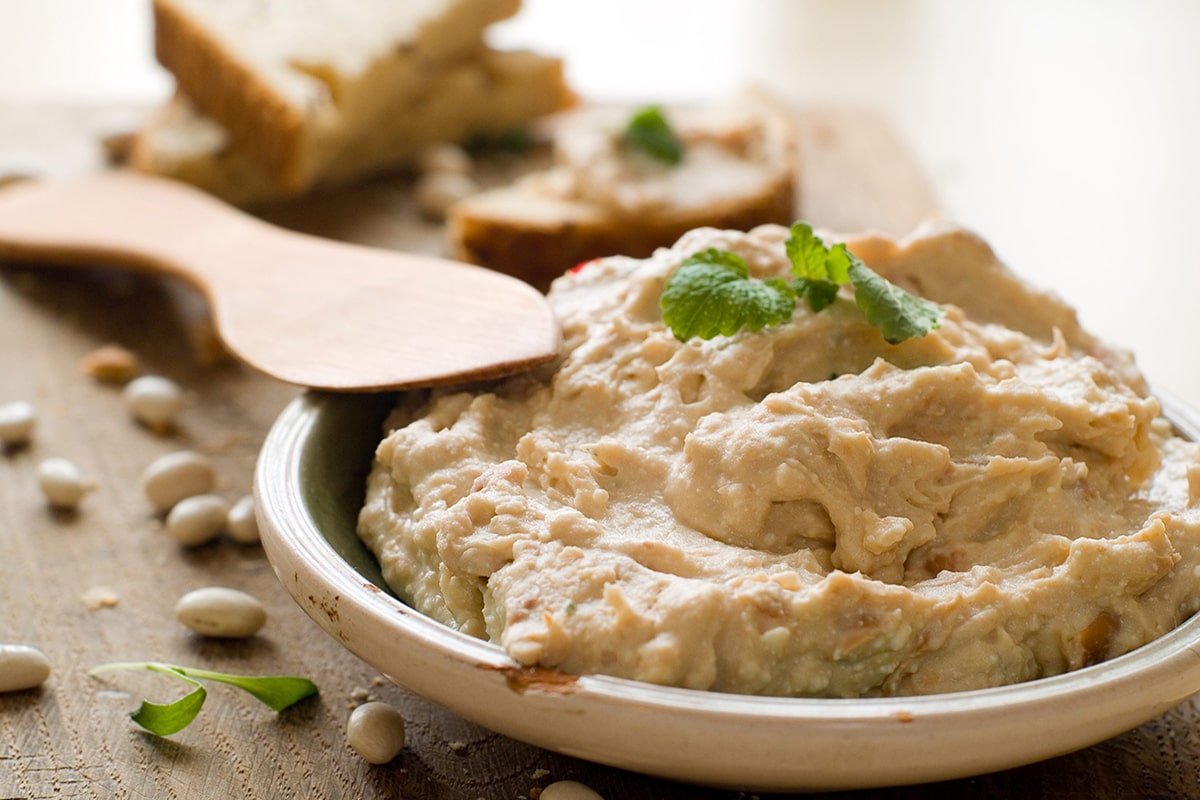 A tablespoon of natural Greek yogurt will give hummus a delicate, airy texture. As usual, you can adjust the taste to your liking. Also, we recommend completing this tandem with fresh herbs.
The abundance of diverse tastes and flavors is divinely mouth-watering. This healthy homemade hummus is perfect for dipping and is a fabulous addition to sandwiches, vegetables, and chips. For more hummus-making inspiration, check out our recipes for roasted garlic hummus and beetroot hummus.