How To Make Hot Chocolate Bombs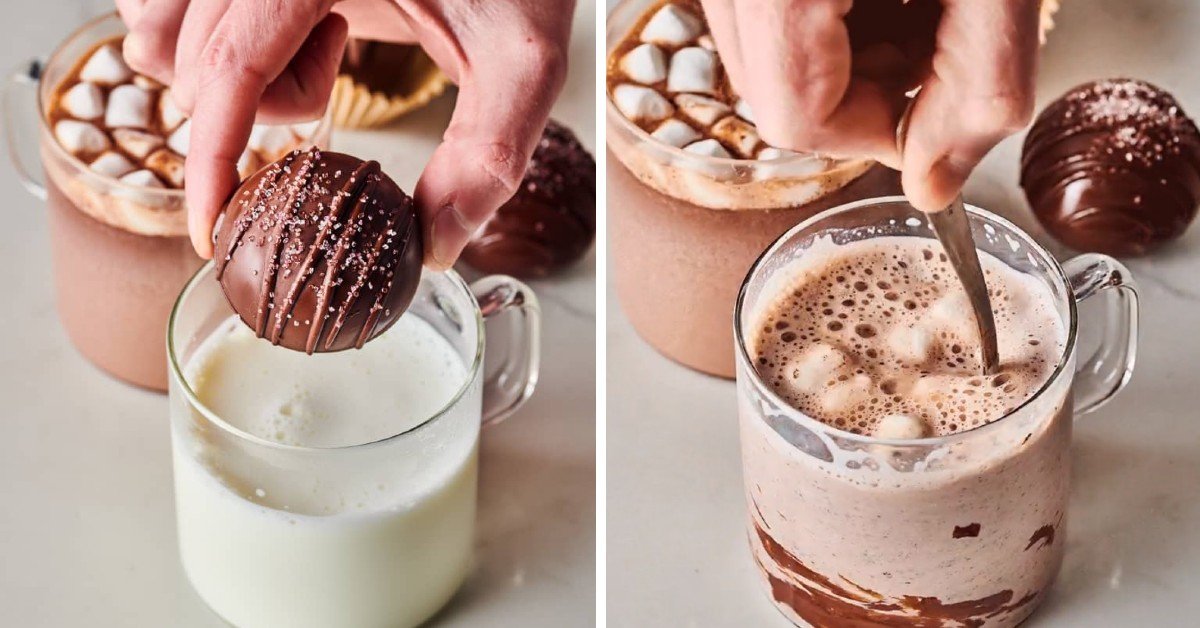 Today we would like to tell you how to make hot chocolate bombs — beautiful balls made of tempered chocolate and filled with hot cocoa mix, marshmallows, and sprinkles.
These are great homemade edible gifts that any chocolate fan will be happy to receive. Be sure to try!
How To Make Hot Chocolate Bombs
In this article, you will find two instructions for making hot chocolate bombs (with and without a silicone mold). Choose the one that suits you better.
Ingredients:
12 oz (340 g) semi-sweet chocolate
6 tbsp hot cocoa mix
1 cup mini marshmallows
sprinkles for decorating
6 cups (1 ½ l) milk (whole or 2%)
Instructions:
To make the bombs using a mold first finely chop the semi-sweet chocolate chips or bar. Set about 4 oz (115 g) aside. Set up a double boiler and melt the chocolate in it. Stir with a silicone spatula. Note that the mixture shouldn't get too hot to touch. Remove the bowl with chocolate from the double boiler. Stir in the rest of the chocolate until smooth. The mixture should be about body temperature.
Pour 1 tablespoon of the chocolate mixture into each silicone mold and use the brush to spread it up the sides. Let it harden for 15 minutes. To make the layer more even brush the molds with some more chocolate and let it harden for 15 to 30 minutes.

Fill half of the molds with 1 tablespoon hot cocoa mix, 1 heaping tablespoon mini marshmallows, and ½ teaspoon sprinkles each.
Coat the edges of the rest of the molds with melted chocolate. Cover each cocoa-filled mold with an empty one. Leave at room temperature for at least 15 minutes.

Decorate the chocolate bombs with the rest of the tempered chocolate and some sprinkles. Remember to wear gloves when touching the chocolate to prevent fingerprints.
Place each bomb into a cup of very hot milk. Stir and enjoy your delicious drink!
The Second Version
To make the bombs without a silicone mold use cupcake liners. Fill each one with 1 tablespoon of tempered chocolate, spread the mixture, let it harden. Add another layer as in the first recipe and let it harden completely.
Add the filling as in the first recipe. Then drizzle 1 tablespoon of tempered chocolate over the filling and use the back of a small spoon to smooth it out and enclose the bombs. Let the bombs sit for half an hour at room temperature. Decorate with the rest of the chocolate and some sprinkles.
Was this recipe useful? Then you might also like our other edible gift tutorials!