Kitchen Backsplash Ideas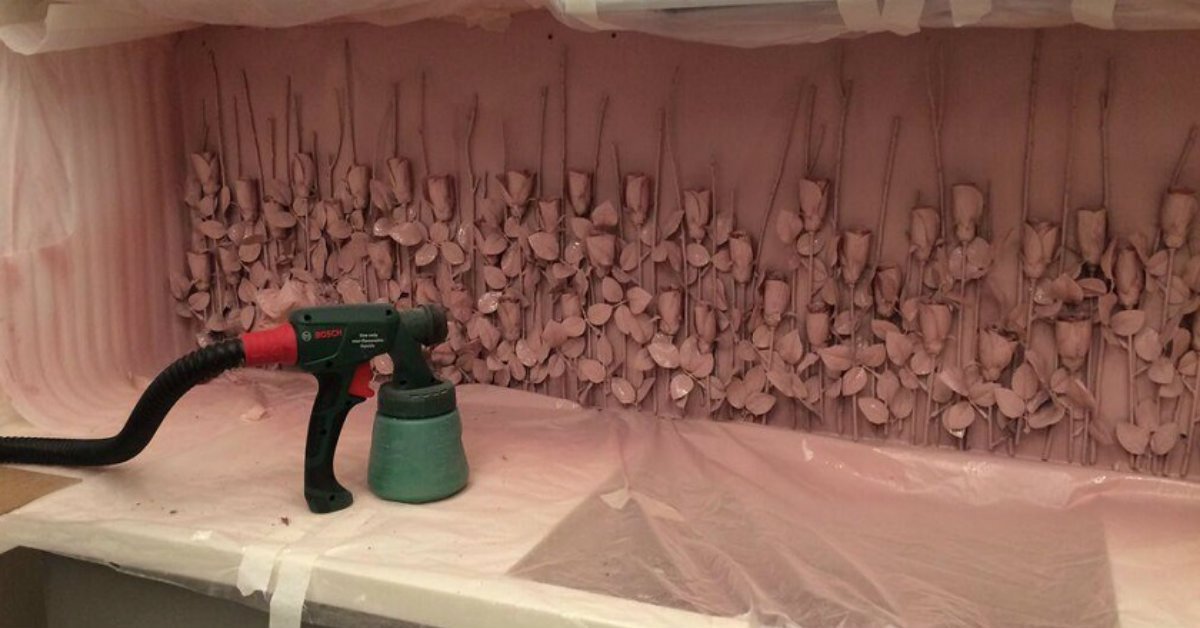 The decoration of kitchen panels was originally invented to protect walls from splashes of grease, but over time it acquired a new designer's meaning. You don't necessarily need to limit yourself only with tiles (even of different colors). Today Cook It is going to share with you some kitchen backsplash ideas to inspire you.
We listed some designs that will make the interior more sophisticated, practical or comfortable. All of them were chosen taking into account the main purpose of a backsplash — protecting the wall from moisture and grease.
Ideas for Kitchen Backsplash Designs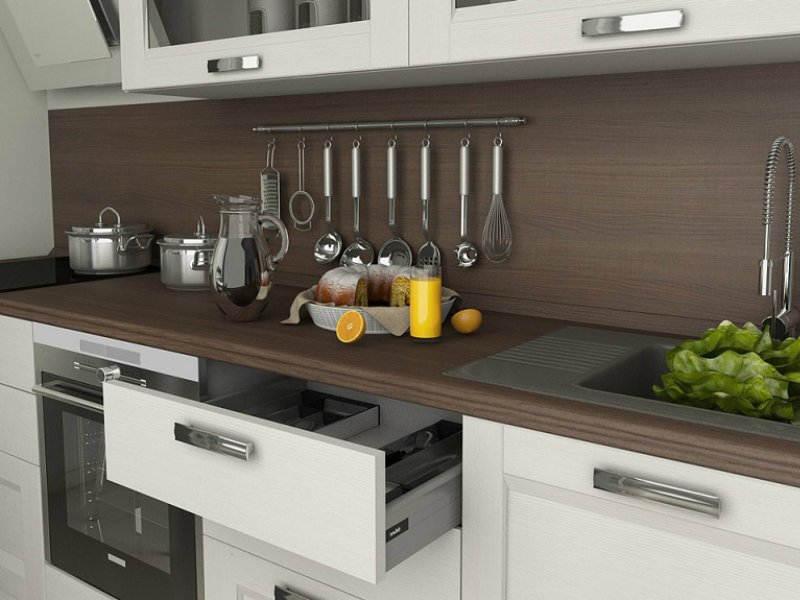 Chalkboard
Such decoration is great for those who make grocery lists, write down recipes or have children who have long wanted to paint a wall. Сoloured chalks, a couple of brush movements, and a message to the family is ready. Another advantage is that the appearance of the kitchen backsplash will constantly change and you will never get bored.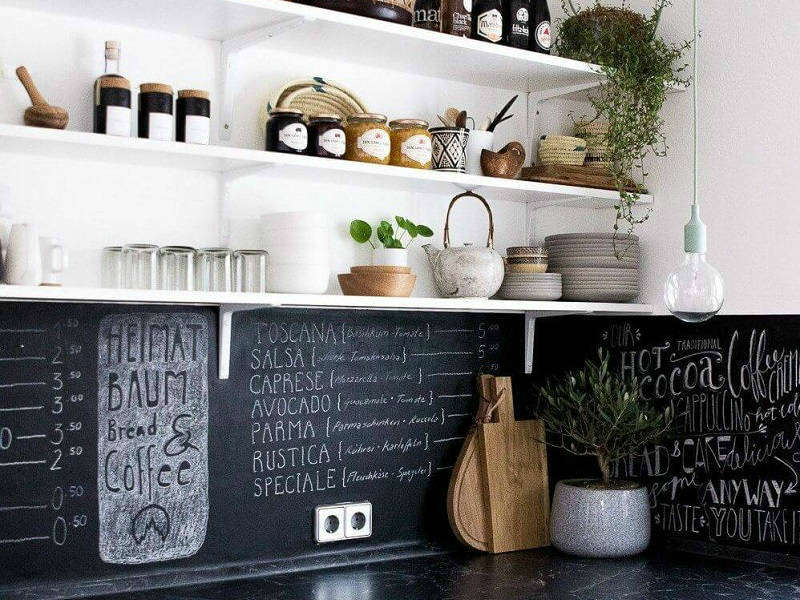 Stone
Maybe an expensive option, but how beautiful it is. Marble finish is going to strike a chord with any classics lover. A stone kitchen backsplash is both simple and monumental. Use veneer sheets or slabs to put a twist on the panel.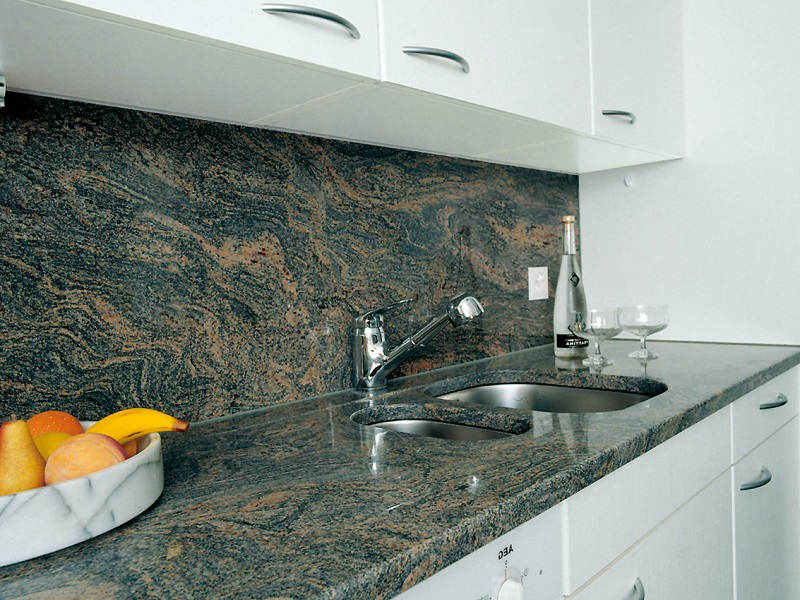 Wood
Versatile material suitable for a wide variety of styles. For some, this option may seem questionable, but be sure: wood is easier to care for, for example, the space between the tiles is quite difficult to clean.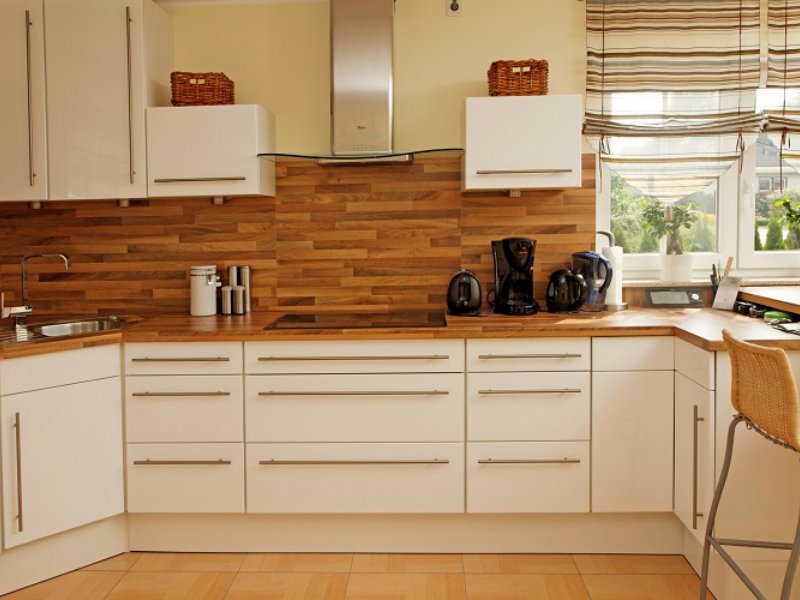 Glass
Tempered glass is available in a full color spectrum and complements any material. It is used as a self-sufficient element and as a coating, for example, when you want to make a wall mural. Care instructions are the same as for the mirror. By the way, mirror kitchen backsplashes look quite impressive and visually expand the kitchen.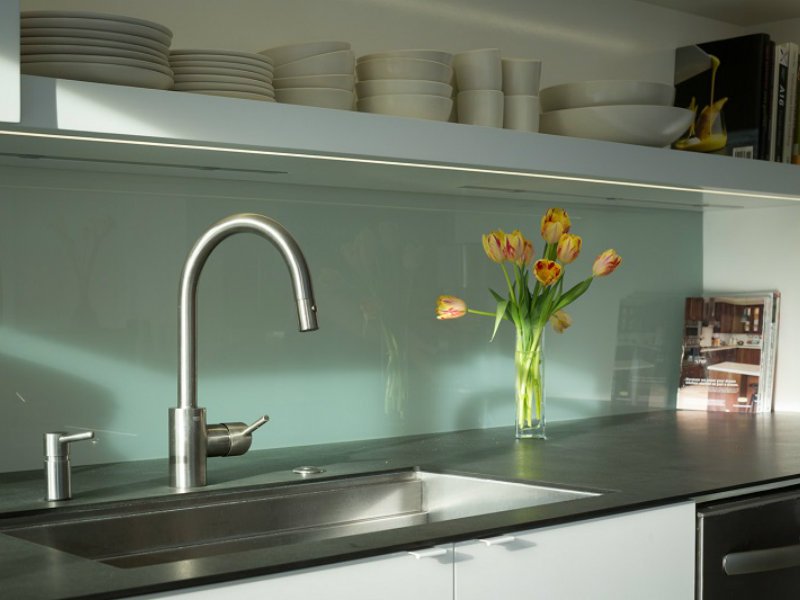 Metal
As tough as it is elegant. You can choose rough deformed plates in steel shades or copper sheets with turquoise stains. There's no better replacement for ceramic tiles than this! True, such a coating can hardly be called versatile from a design point of view: you need to choose the appropriate surroundings.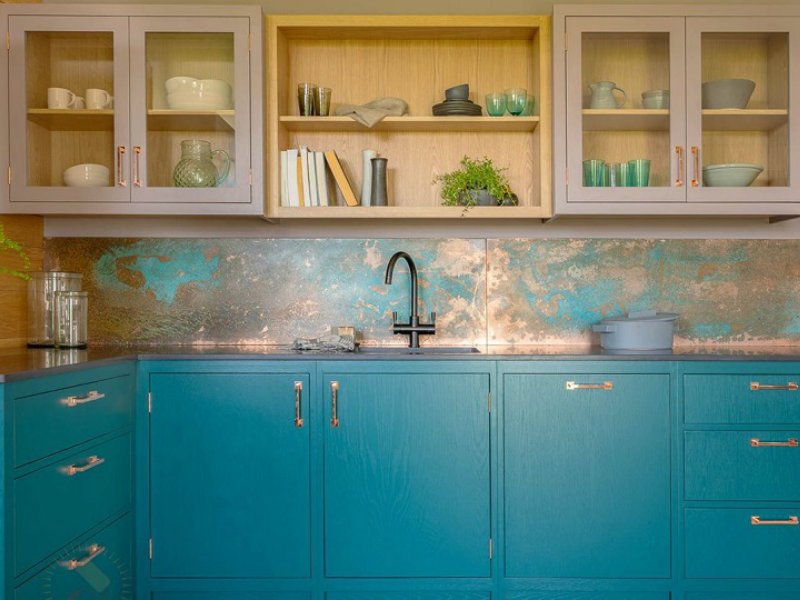 Brick
The loft style, which many people love, owes a great deal to brick, which gives the interior a rough touch. It's perfect for high wall panels (from floor to ceiling) when you need to cover the space between the wall cabinets. It is important to consider that brick is quite porous and requires a protective coating if placed next to a stove or sink.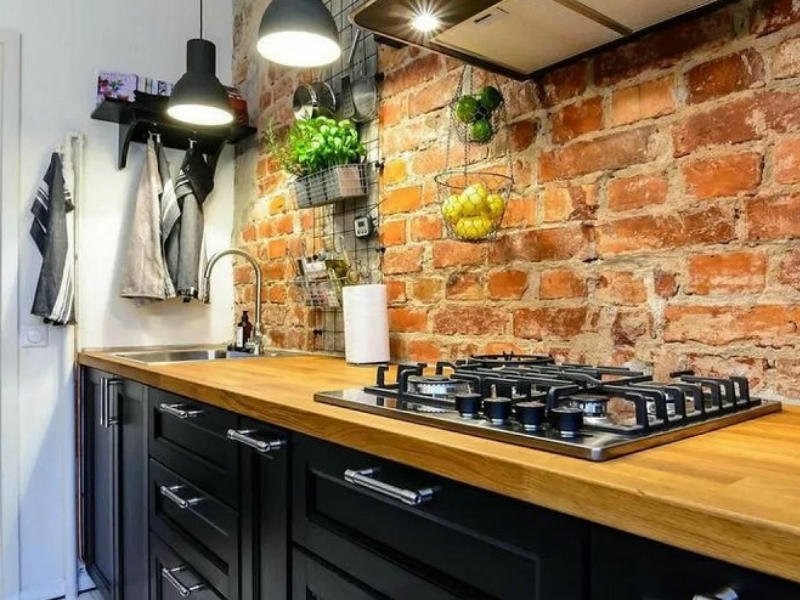 Mosaic
Although this is not a tile, the idea is great for those who don't want to stray from the concept. The price is slightly higher, but the idea is just as practical. On top of that you get much more room for creativity. If you have long wanted a Roman-style kitchen, mosaic is just what you need.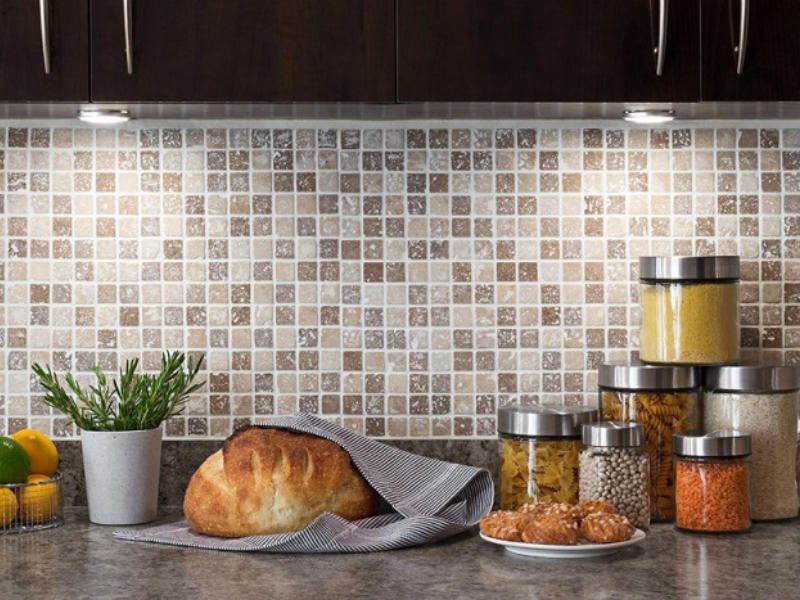 Kitchen Backsplash With Roses
In real life, materials are often combined with each other, as for glass, it's used in general to create compositions behind it. See how unique these roses look in the interior. Here's how to make a DIY kitchen backsplash with flowers.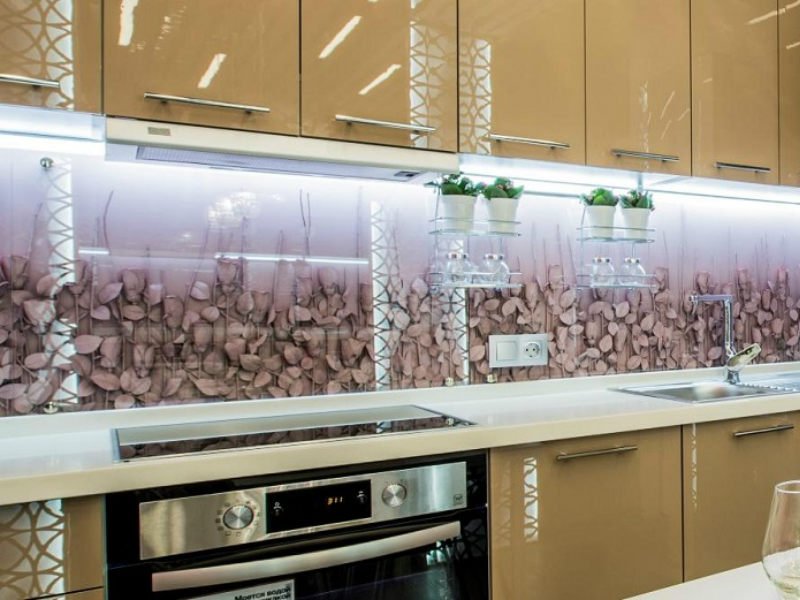 Cover the furniture with plastic to protect it from paint. Pick up the flowers and glue them along the countertop using hot-melt adhesive. Add a few plain branches to add some volume to the composition.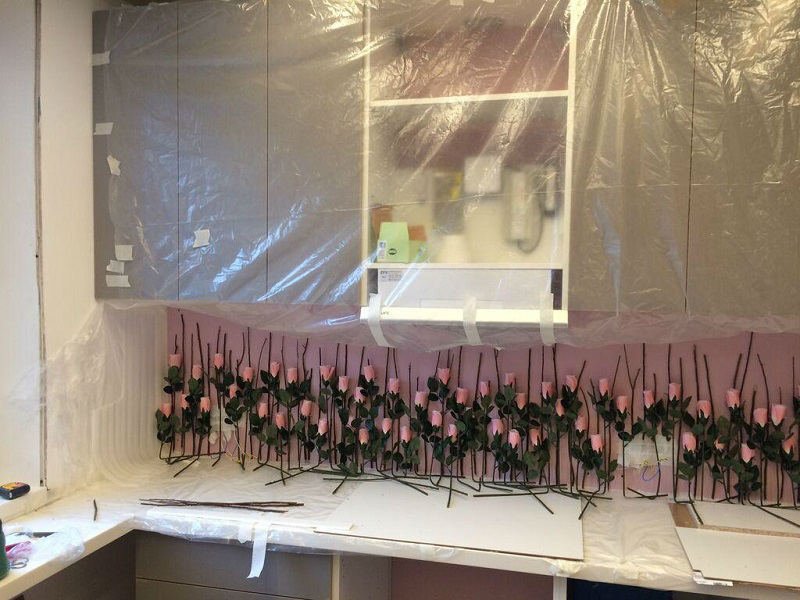 Now paint the flowers with a spray gun, choose a color that suits you (preferably to match the walls). Let the paint dry.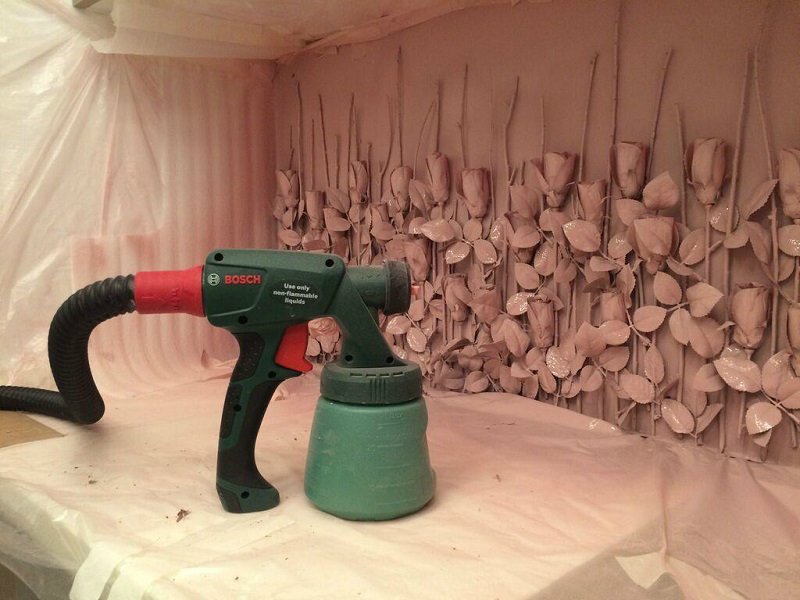 Cover the composition with tempered glass. Done!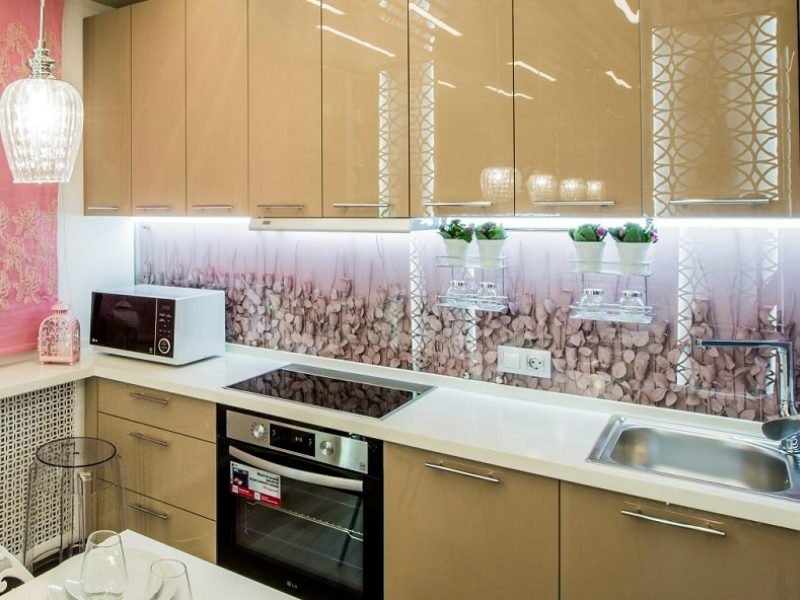 Wood and brick may be considered questionable among experienced cooks, which is fair: these materials work well as a wall panel only under glass or paint coat. However, this is definitely more interesting than tiles and looks much better than the wall murals and loft-style concrete, which modern kitchen catalogs are full of. We hope that at least a couple of our interior ideas will sink deep into your mind!