Mason Jar Salad Ideas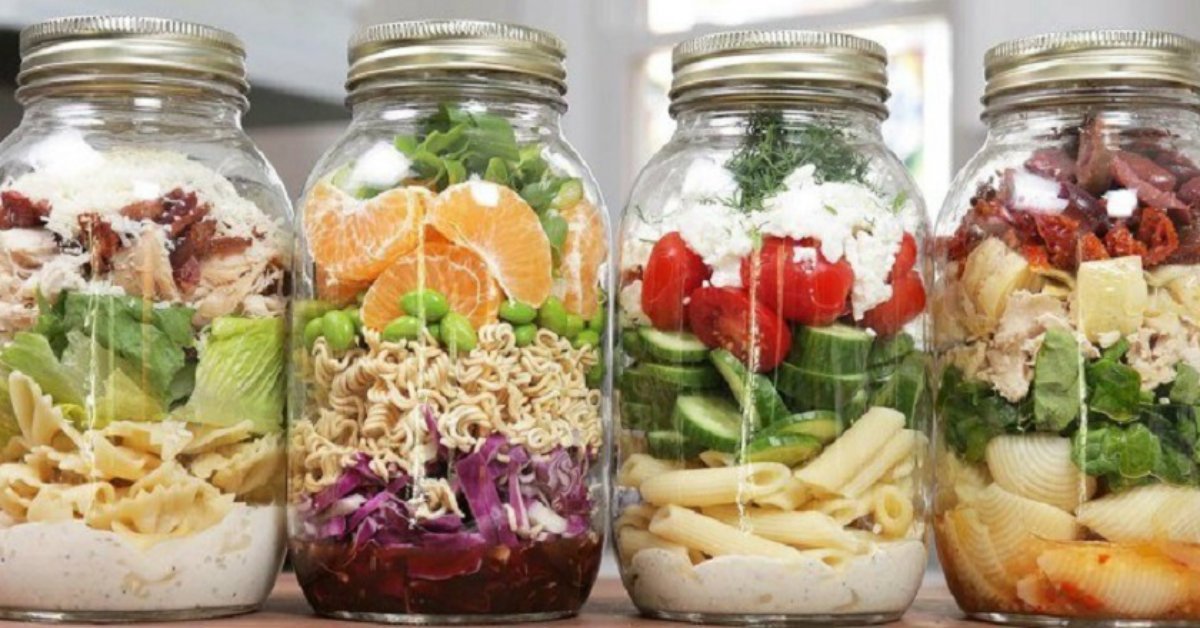 Earlier we shared with you a recipe for chicken baked in a jar. But this is not the only way to use such containers in cooking. Today we are going to share with you 4 mason jar salad ideas.
These recipes stay fresh for 4 days and are great for meal prepping. Shall we start making our hearty meals?
Mason Jar Salad Ideas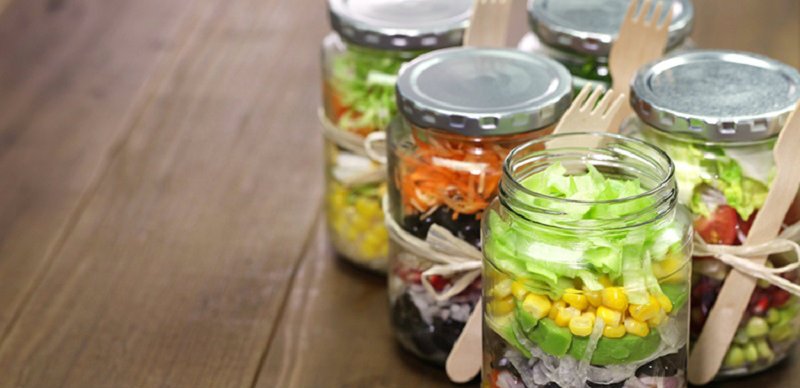 Caesar Salad
This variation of the classic recipe uses pasta. Also, all ingredients are laid out in layers in a jar. We suggest using farfalle for this dish.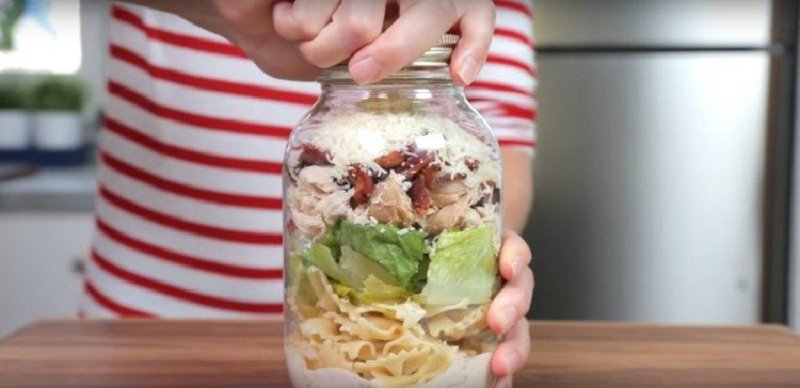 Ingredients
7 oz (200 g) Caesar salad dressing
9 oz (250 g) boiled pasta
1 romaine lettuce
7 oz (200 g) boiled chicken fillet
3 slices bacon
2 ¾ oz (80 g) Parmesan cheese
Instructions
Add the salad dressing to the bottom of the jar.

Top with chopped lettuce.
Add the sliced ​​chicken fillet.
Then add pasta, bacon, and grated Parmesan.
Shake the jar and serve.
It's hearty, tasty, and unique! Even a fan of the classic recipe cannot refuse such a Caesar salad. Give it a try and share your experience in the comments.
Hearty Greek Salad
Another great pasta salad. You can prepare it in advance, and take it with you to a picnic. Penne pasta works great for this recipe.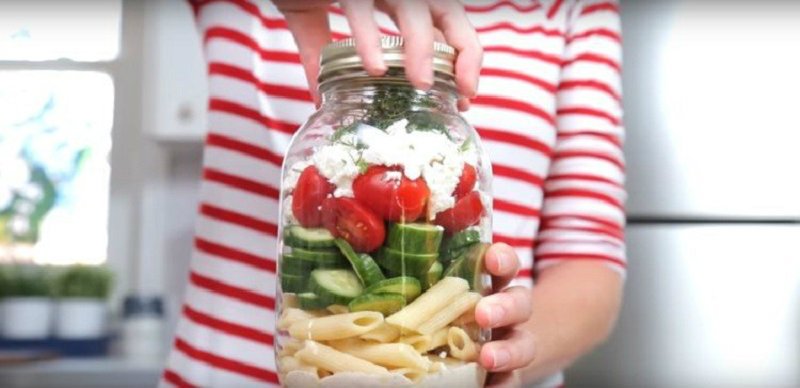 Ingredients
7 oz (200 g) Greek dressing
9 oz (250 g) boiled pasta
2 cucumbers
8 cherry tomatoes
2 ¾ oz (80 g) feta cheese
1 chopped bunch of dill
Instructions
As with the previous recipe, pour the dressing in the jar.
Place a layer of pasta on top.
Add sliced ​​cucumbers, then add tomatoes.
The next layer should be feta cheese.
Top off with dill.
Shake the jar.
Feta cheese combined with pasta and vegetables makes a perfect hearty salad option.
Tuna Salad
Amazing Mediterranean salad. Canned fish, tomatoes, and artichokes make a great flavor combination. We suggest using conchiglioni pasta for this one.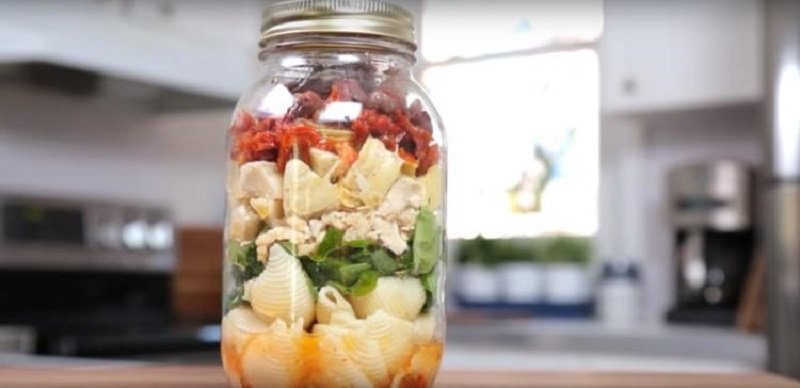 Ingredients
7 fl oz (200 ml) Italian dressing
9 oz (250 g) boiled pasta
2 ⅔ oz (75 g) chopped spinach
5 ⅓ oz (150 g) canned tuna in oil

3 ½ oz (100 g) artichokes
5 ⅓ oz (150 g) sundried tomatoes
8 chopped olives
Instructions
First, pour the Italian dressing.
Place the cooked pasta on top, then add chopped spinach.
Top off with tuna.
Make the last three layers from artichokes, tomatoes, and olives.

Shake the jar.
The salad dressing already contains spices. But if you want to add more flavor, you can also use chopped herbs.
Tangerine Salad
Fruit snacks are nothing new. But try adding cabbage, beans, and ramen to sweet fruit and top it off with unusual sauce. You won't regret it!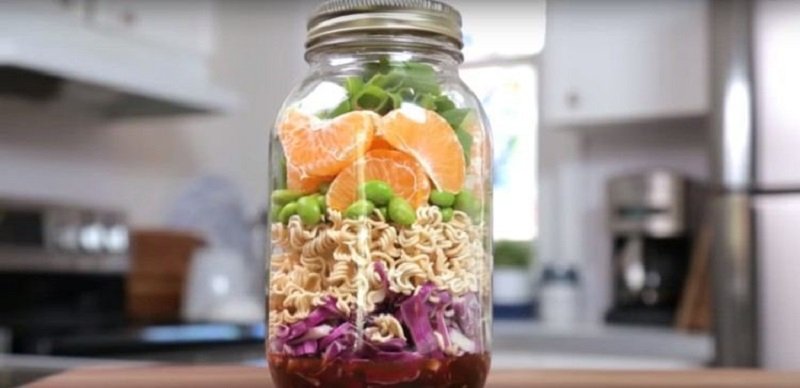 Ingredients
7 fl oz (200 ml) sesame-ginger dressing
7 oz (200 g) red cabbage
4 ¼ oz (120 g) ramen
3 ½ oz (100 g) beans
2 tangerines
1 bunch of scallions
Instructions
Pour the dressing into the bottom of a jar.
Place a layer of cabbage on top.
Prepare the noodles: Bake them on parchment paper at 350 °F (180 °C) for 5 minutes. Pour into the jar.

Then add a layer of beans, tangerines, and chopped scallions.
Shake the jar.
This recipe will become one of your favorites from the very first bite. Although it's so tasty, it doesn't require a lot of time or money spent.
Take a mason jar salad with you to work. Prepare several recipes at once and try something new every day of the week.