Modern Mexican Food Recipes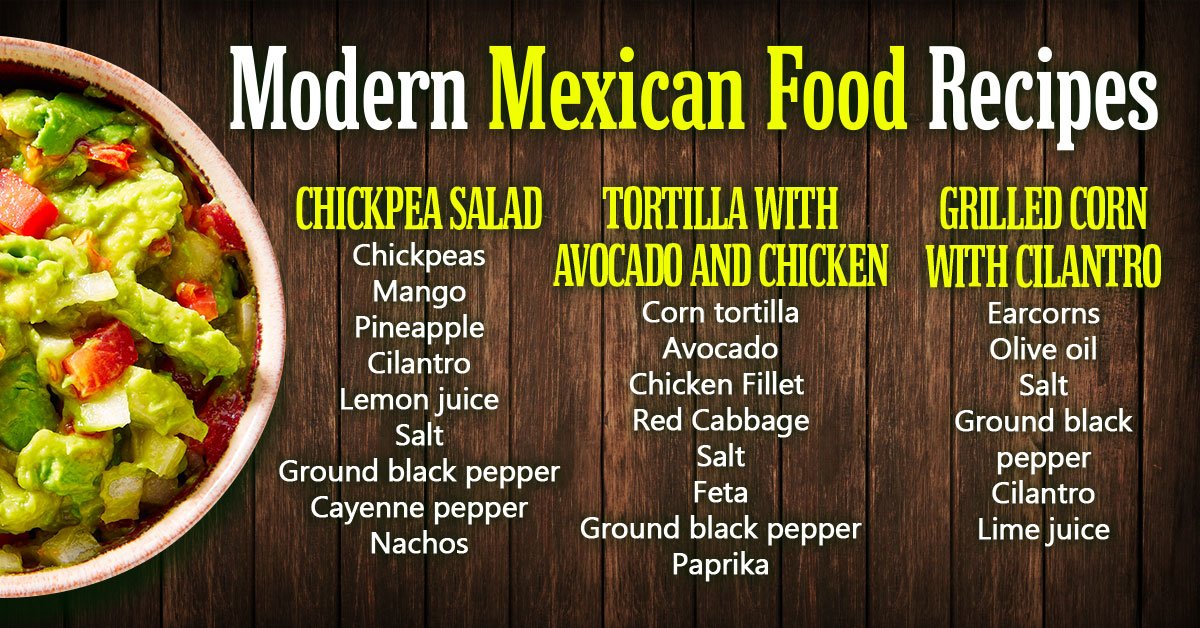 Mexican cuisine is one of the healthiest and most wholesome cuisines in the world. For the most part, Mexican food recipes feature nutritious legumes, low-fat beef and chicken, superfoods, such as chia and cocoa beans, as well as juicy fruits. Moreover, they make traditional Mexican tortillas and even local chips from cornmeal. Unlike wheat flour, it does not cause intestinal tract problems. Finally, the body's fat supply is replenished by avocados, thanks to which Mexicans look younger than their European peers.
With this in mind, we offer you six delicious and, of course, healthy Mexican food recipes for every taste. The list features vegetarian and vegan dishes, as well as gluten-free options. All meals are easy and quick to prepare, so you can cook them both for your family and a large company if you suddenly decide to throw a Mexican party.
Tortilla With Avocado and Chicken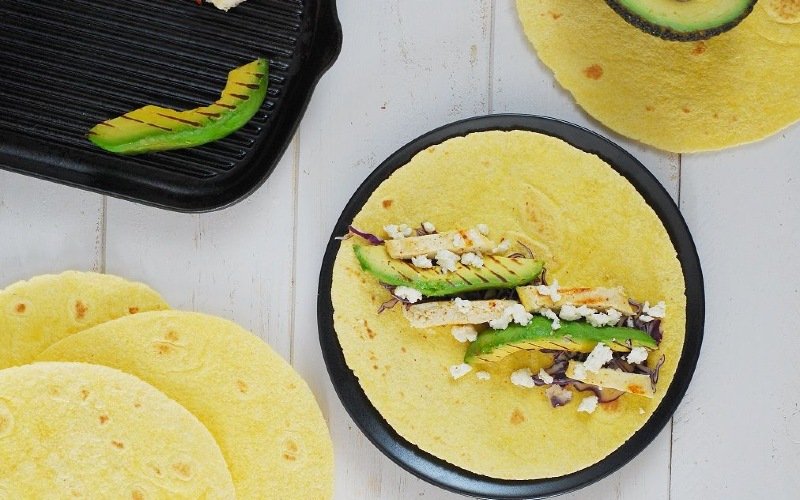 Ingredients:
4 corn tortillas;
1 avocado;
2 chicken fillets;

¼ r

ed cabbage;
2 oz (60 g) feta;
salt, ground black pepper to taste;
paprika to taste.
Instructions:
Shred red cabbage and put it on the tortilla.
Heat a grill pan and fry chicken fillet slices until cooked.

Meanwhile, peel the avocado and remove the pit. Cut it into slices.
Put the cooked chicken on the tortilla and fry the avocado slices in the same grill pan for 2 minutes on each side.

Place avocado slices on the tortilla, sprinkle with crumbled feta cheese, season with salt, pepper, and paprika.
Tropical Chickpea Salad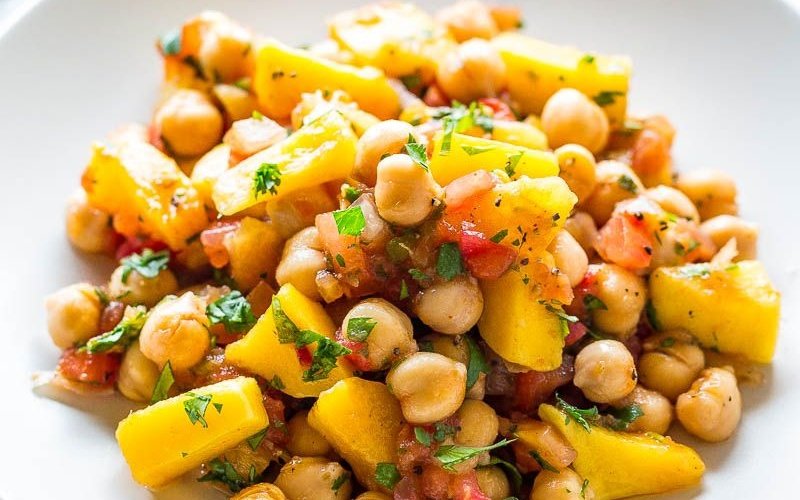 Ingredients:
1 lb (450 g) canned chickpeas;

¾ cup m

ango;

¾ cup p

ineapple;

¼ cup c

ilantro;
1 tbsp lemon juice;
salt, ground black pepper to taste;
cayenne pepper to taste;
nachos for serving.
Instructions:
Place chickpeas in a bowl.
Cut fruit into small pieces. Combine with the chickpeas.

Add chopped cilantro.
Season with salt, pepper, and ground cayenne pepper.
Add lemon juice. Toss.
Serve with nachos.
Grilled Corn Skewers With Cilantro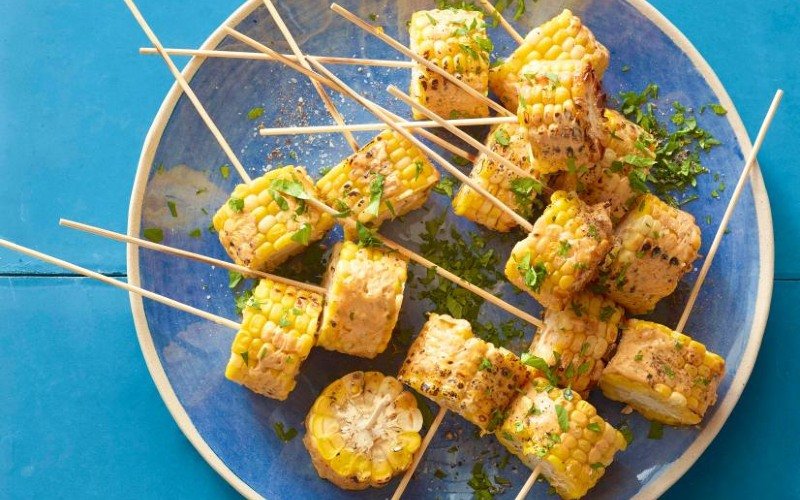 Ingredients:
2 ears of corn;
1 tbsp olive oil;
salt, ground black pepper to taste;

¼ cup c

ilantro;
1 tsp lime juice.
Instructions:
Cut each ear of corn into 6 pieces.
Chop cilantro.
Preheat grill over medium heat.
Combine corn and olive oil in a bowl. Season with salt and pepper.
Grill the corn for 10–12 minutes, periodically tossing to cook all sides.

Mix the grilled corn with lime juice and cilantro. Serve!
Vegan Tortilla With Quinoa
Ingredients:
7 oz (200 g) cornmeal;
7 oz (200 g) rice flour;
6 ¾ fl oz (200 ml) soy milk;
1 tsp salt;
1 tsp baking powder;
6 tbsp olive oil;
2 red onions;
1 green bell pepper;

½ cup rice;

½ cup quinoa;

salsa to taste;
salt, ground black pepper to taste.
Instructions:
Combine the two types of flour, salt, and baking powder. Gradually pour in the milk and knead the dough, adding olive oil.

Roll the resulting dough into a ball, cover with a towel and let sit for 30 minutes.
Divide the dough into 8 parts and roll each into a cake on a surface sprinkled with rice flour.

Fry the cakes in a hot pan without oil for 2 minutes on each side.
Boil rice and quinoa separately.
In a pan slightly greased with olive oil, fry peeled and diced onions first; then, add chopped bell pepper.

Place boiled rice and quinoa in a pan with vegetables. Season with salt and pepper, and mix.
Place the filling on the cakes and add salsa to taste.
Black Bean Taco With Radish and Feta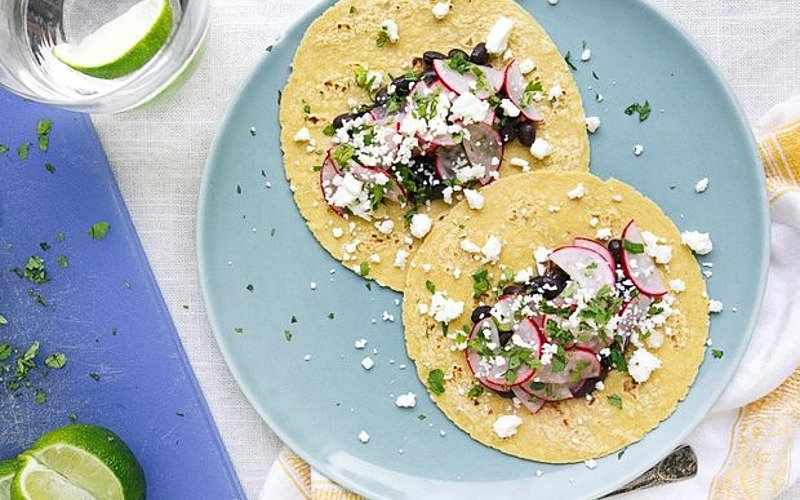 Ingredients:
1 clove garlic;
4 tbsp olive oil;
1 lb (450 g) canned black beans;
6 tbsp chopped cilantro;
1 bunch radishes;
4 scallion feathers;

½ jalapeno;

4 tbsp lime juice;

½ tsp salt;

¼ tsp ground black pepper;

12 tortillas;

¾ cup feta.
Instructions:
Chop garlic.
In a medium saucepan, heat 2 tablespoons of olive oil. Add the garlic and cook for 1–2 minutes.
Add black beans with the liquid, half of the cilantro, and salt. Bring to a boil, then simmer for 15 minutes until the liquid evaporates almost completely.

Meanwhile, thinly chop radishes, scallions, and jalapeno.
Combine the remaining cilantro with radish, green onions, jalapenos, lime juice, olive oil, salt, and pepper.
Place beans and then the radish mix on the warm tortilla.

Sprinkle with feta, chopped cilantro, and serve.
Vegan Fajitas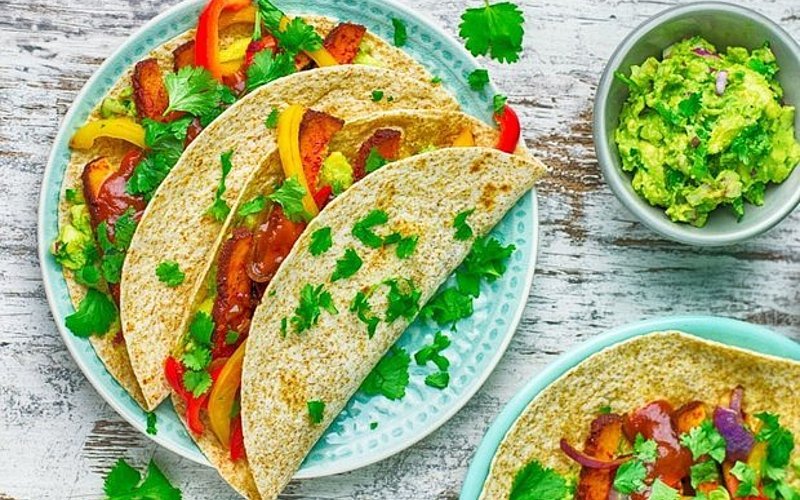 Ingredients:
7 oz (200 g) smoked tofu;
a few drops orange juice;
a few drops lemon juice;
hot sauce to taste;
1 yellow onion;
1 bell pepper;
4 small tortillas;
a few drops olive oil;
cilantro to taste;
3 ½ oz (100 g) guacamole.
Instructions:
Preheat the oven to 390 °F.
Place tofu in a baking dish, sprinkle with orange juice, lemon juice, and hot sauce.
Bake tofu for 15–20 minutes.
Chop onion and cilantro and slice bell pepper.
Fry the onion and pepper in a pan with a little oil.

Brush tortillas with guacamole, top with baked tofu and vegetables, and sprinkle with cilantro.
Fold the tortillas in half and serve.
Note that some recipes call for canned ingredients, such as corn or beans. Their use significantly reduces the overall cooking time. However, if you have enough time, you can cook them yourself. For more Mexican food recipes, check out rice, chicken, and beans enchiladas, turkey chili con carne, and baked beef burritos. As the Mexicans would say: full stomach, happy heart!