Onion Snacks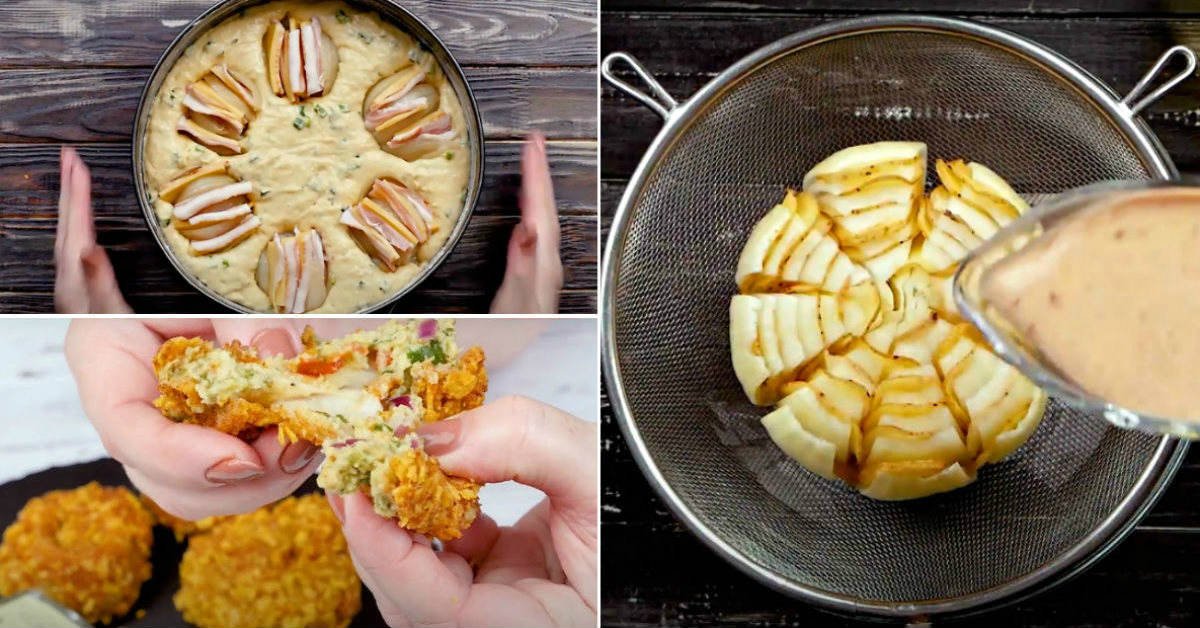 Very often, we underestimate onions, adding them as one of the components in different dishes. But what if you make onions the main ingredient, for example, in snacks. It will surprise you to see how many cute, simple and tasty dishes you can make from this vegetable. We'd like to share with you some onion snacks that can become your favorites.
Onions are a very healthy vegetable indeed. They also change their taste depending on the cooking method. Onions contain a large amount of vitamins. In folk medicine, they are used to treat diseases of the respiratory tract, burns, nervous fatigue. And today we are going to use onion's property to turn the dish into a masterpiece!
Onion Rings With Guacamole
Despite the large number of ingredients, onion rings stuffed with guacamole are very easy to make. Delicate and fragrant sauce perfectly complements this dish.
Ingredients:
2 avocados
a tomato
a red onion
a yellow onion
1 tbsp lemon juice

¼ oz (7 g)

green onions
2

½ oz (

70 g) hard cheese
3 eggs
1 bell pepper
3

½ oz (

100 g) chips
3 tsp mayonnaise
a clove of garlic
1 cup (110 g) bread crumbs
1

⅔ cups

(200 g) flour
a bundle of cilantro
1 tsp caraway seeds
3 tbsp sour cream
1 tbsp smoked paprika
1 tsp cayenne pepper
4

¼ cups

(1 l ) of vegetable oil

salt to taste
pepper to taste
Preparation:
Peel the avocado and grind it until smooth. Add the diced tomato and red onion. Season with salt and pepper and drizzle with

⅔ tbsp (10 ml)

of lemon juice. Add chopped chives and mix.
Cut the onions into large rings and separate them.

Line the baking sheet with parchment paper, put the onion baskets onto it and fill them with the prepared filling.
Dice the hard cheese and put one cube into each onion basket.

In a separate bowl, mix flour, caraway seeds, smoked paprika, and cayenne pepper.
Crush chips into crumbs and mix with bread crumbs. Mix the eggs separately.

Dip each basket first in the flour mixture, then in the egg mixture, and finally in the mixture of chips and breadcrumbs.
Heat some oil in a skillet and fry the onion snacks in it. Dry them on a paper towel.

To make the sauce, bake the bell pepper for half an hour at 350 °F (180 °C). Cut it, peel. Mix the pepper in a blender with sour cream, mayonnaise, cilantro, garlic, the rest of the lemon juice and salt.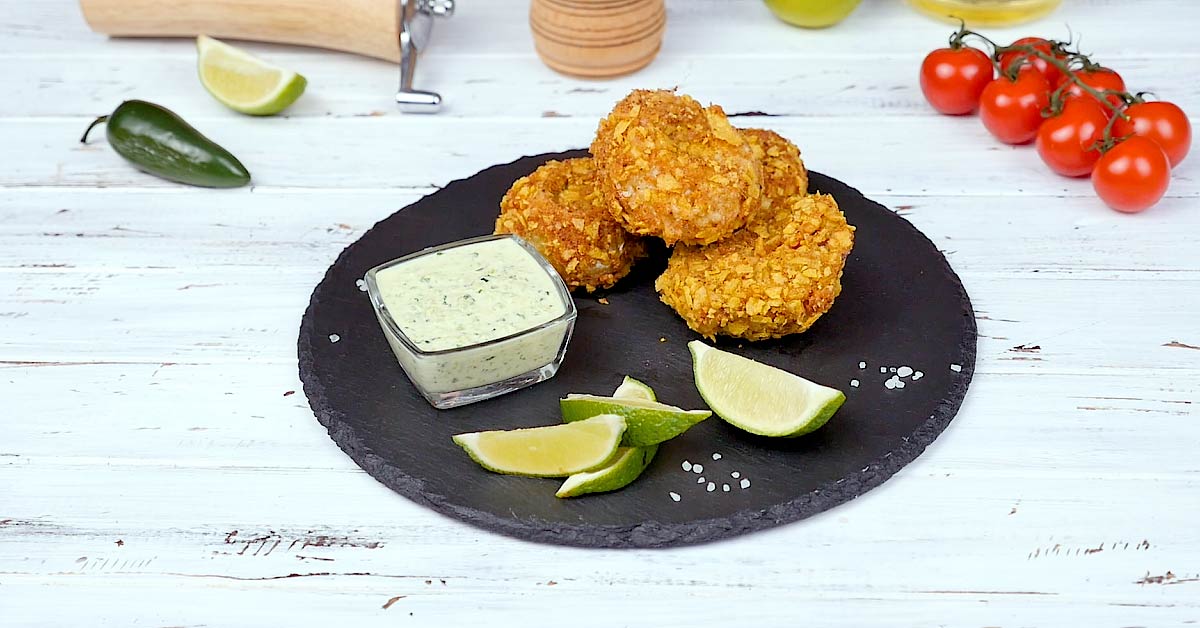 Lotus-Shaped Onion Appetizer
Your family or guests have definitely not seen such a beautiful and delicious treat. Who would have thought that the main ingredient in the delicious snack would be onions!
Ingredients:
2 cups (250 g) flour
1 onion
12

½ cups (

3 l) vegetable oil
1 tbsp garlic powder, paprika, onion powder, and cayenne pepper
2 tbsp pepper
1 cup (240 ml) of milk
2 potatoes
parsley to taste
ketchup to taste
salt to taste
Preparation:
Combine the flour, garlic powder, paprika, pepper, cayenne pepper and salt.

Add 2 tbsp of the flour mixture into the milk and mix.
Rinse and cut the potatoes into thin slices, season with salt and mix.

Peel the onion and make 8 cuts from the center to the edge. Separate each onion slice slightly, and place the potato slices between them.
Place your potato and onion snacks in a sieve, pour with milk and flour mixture, and sprinkle with flour on top.

Heat the oil in a deep frying pan, fry for 10 minutes, and then put it on a paper towel.
Serve the appetizer with ketchup, garlic sauce, or the sauce of choice. Sprinkle the treat with chopped parsley right before serving it.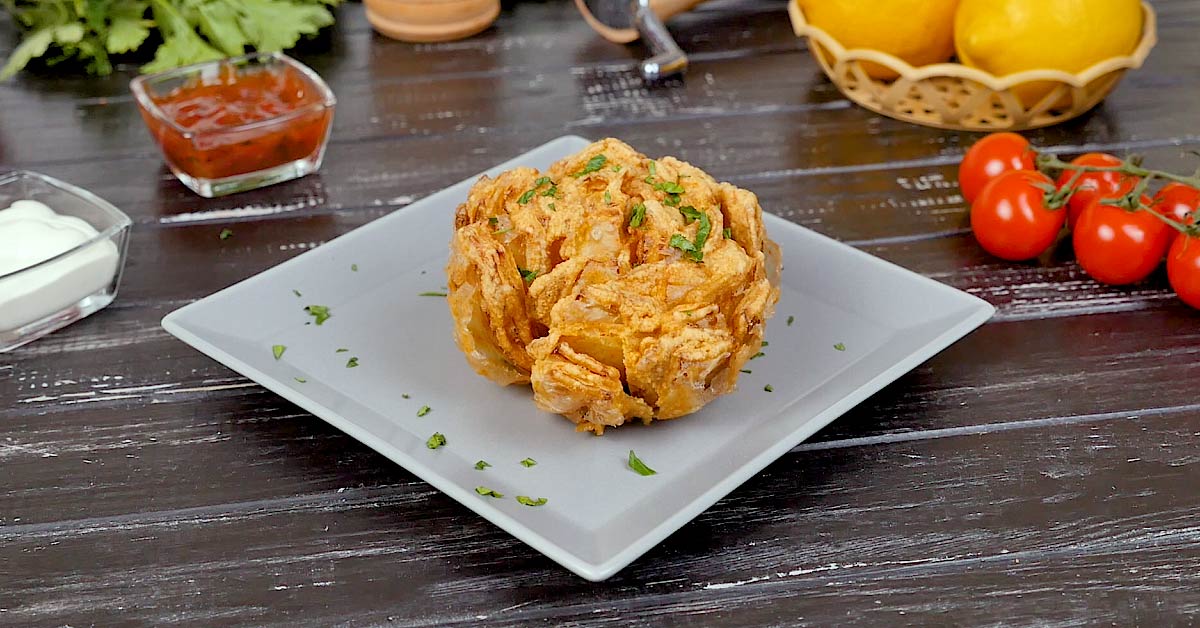 Onion Pie
This fragrant golden-brown pie will be a jewel on any table. The taste of the treat is incredibly rich thanks to the delicious dough and the stuffed onions stewed in the broth.
Ingredients:
3 onions
1

¼ cups (

300 ml) vegetable stock

½

tsp caraway seeds
6 eggs
7 tbsp of milk
7 tbsp of vegetable oil

⅓ cup (

80 g) butter
2 tbsp sour cream
3

¼ cups (

400 g) flour
2 tsp baking powder
1 tsp sugar
1 feather of green onion
10

½ oz (

300 g) hard cheese
9 oz (250 g) bacon
pepper to taste
Preparation:
Peel the onions and cut them in half. Make cuts on each half.

Put the onions in a deep pan, pour with the broth, add caraway seeds. Cook under the lid for 15 minutes.
Beat the eggs, add milk, vegetable oil, melted butter and sour cream to them, beat again.

Pour in the flour and baking powder, mix. Add sugar, pepper and chopped green onions, mix again.
Cut the cheese and bacon into thin slices and put them into each cut on the onions.

Butter the baking dish, evenly distribute the batter and put the onions. Bake for half an hour at 350 °F (180 °C).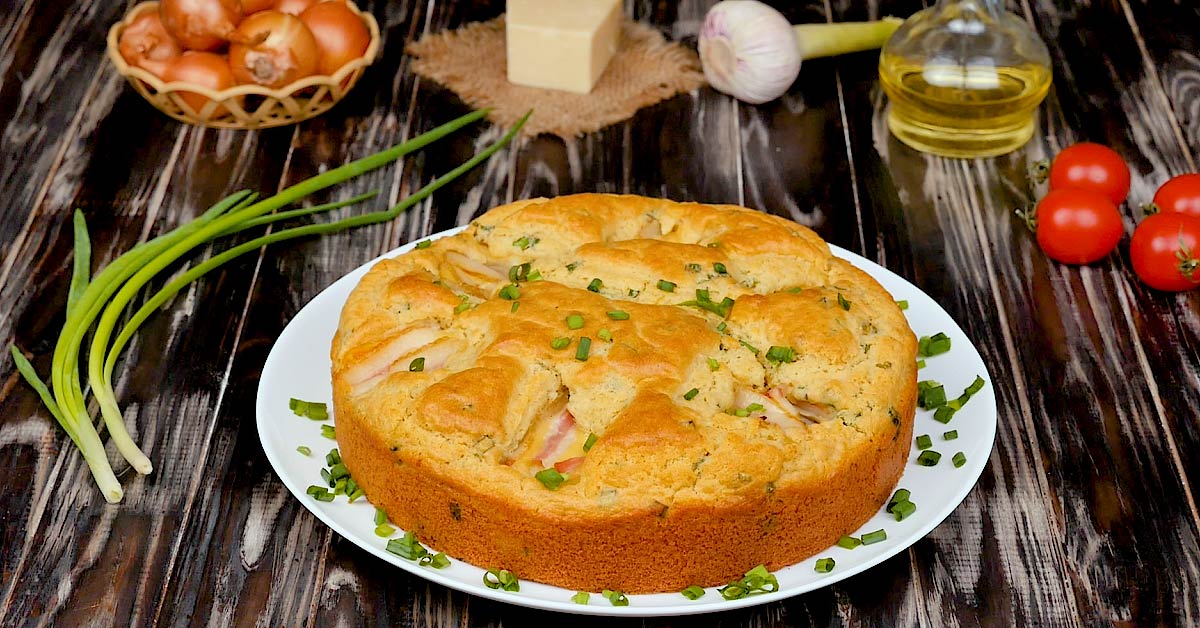 In addition to these obvious advantages, onions are also a very affordable food. They are cheap and are available at every grocery store. Therefore, cooking onions is as easy as shelling pears! Be sure to try each one of onion snacks to see the great potential of this vegetable.