How To Make a Perfect Pan Pizza at Home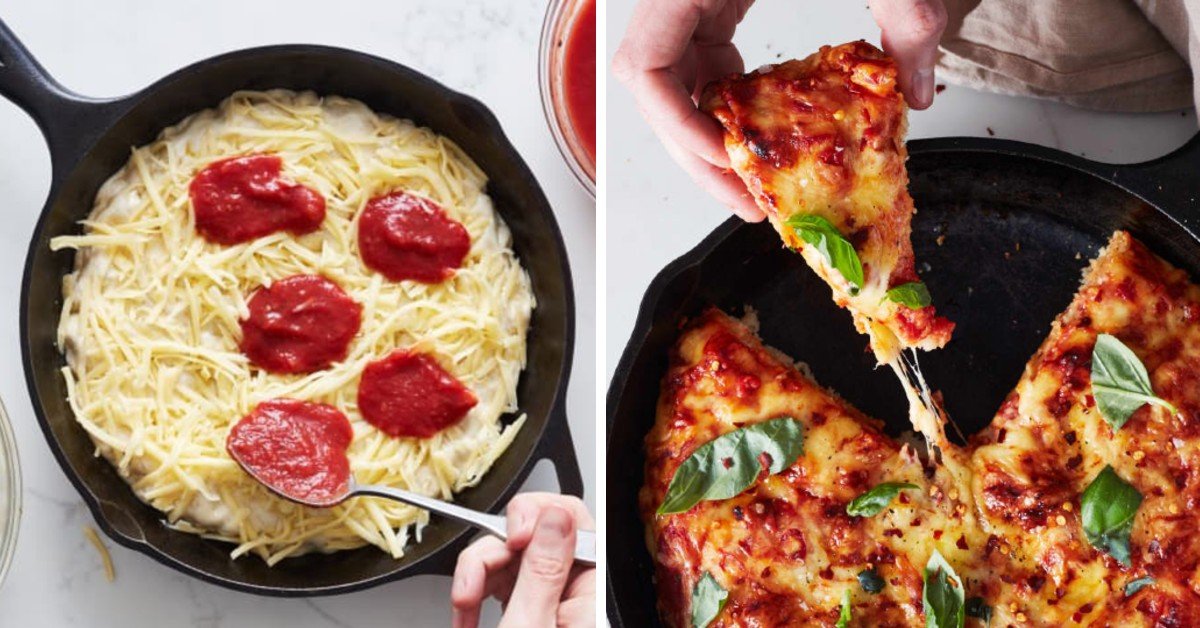 If you love to experiment in the kitchen and are a fan of Italian cuisine, be sure to try a pan pizza. In this article, we are going to tell you how to easily make pizza dough for this recipe from scratch. But feel free to use store-bought dough instead to save some time on cooking.
Read on to learn amazing tips on how to make the best crispy and cheesy homemade pizza in a skillet.
How To Make a Perfect Pan Pizza at Home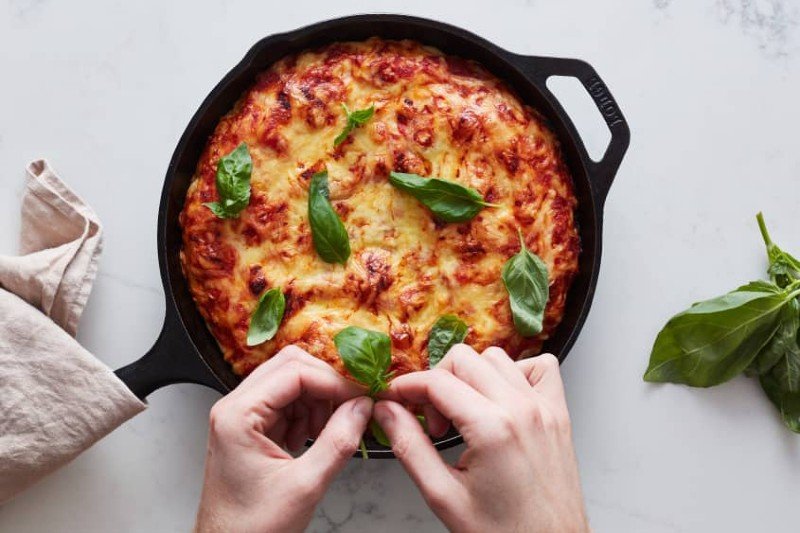 Useful Tips
If you want the sides and bottom of your pizza to be crisp, use a heavy cast iron pan. Such pans are great at conducting heat.
To prevent the dough from getting soggy, sprinkle half of the cheese on the dough before adding the sauce.

To get the crispiest crust bake your pan pizza in the lower third of your oven.
Be patient. It usually takes about 30 minutes for the crust to get golden brown at the bottom. If you're worried that it will get too dark use a thin spatula to carefully check the crust.
Pan Pizza Recipe
Ingredients:
2 ¼ cups all-purpose flour
1 ¾ tsp kosher salt
¾ tsp active dry yeast
¾ cup plus 3 tbsp lukewarm water
2 tbsp olive oil
2 cloves garlic
¾ cup tomato sauce
½ tsp dried oregano
¼ tsp red pepper flakes
6 oz (170 g) full-fat, low-moisture mozzarella cheese
5 large fresh basil leaves
Instructions:
Combine the flour, 1 ¼ tsp of the salt, and active dry yeast in a large bowl. Stir with a spatula. Add the lukewarm water and 1 tbsp olive oil. Stir again. Knead the dough for 1 to 2 minutes.
Drizzle the rest of the oil into a cast-iron skillet. Place the dough into the skillet and coat it in the oil. Press the dough into a disc. Cover the pan with plastic wrap and leave it in a warm place for 2 hours to rise.

Remove the plastic wrap from the dough. Stretch the dough with your fingertips. Cover the dough again. Leave it to rise for another hour.
Meanwhile, rinse the bowl from the dough. Mince the garlic and add it to the bowl. Add in the tomato sauce, dried oregano, the rest of the salt, and red pepper flakes. Shred the mozzarella.

Preheat your oven to 450 °F (230 °C) with a rack in the lower third of the oven. Sprinkle ¾ cup of the cheese over the pizza dough. Spoon the tomato sauce over the mozzarella. Top off with the rest of the cheese. Bake the pizza for 28 to 35 minutes.
Let the cooked pizza cool for 5 minutes. Carefully remove it from the skillet and garnish with basil leaves.
Was this article about pan pizza useful? Here are some other pizza recipes you might like!