5 Recipes for Vegan Dinners Featuring Beans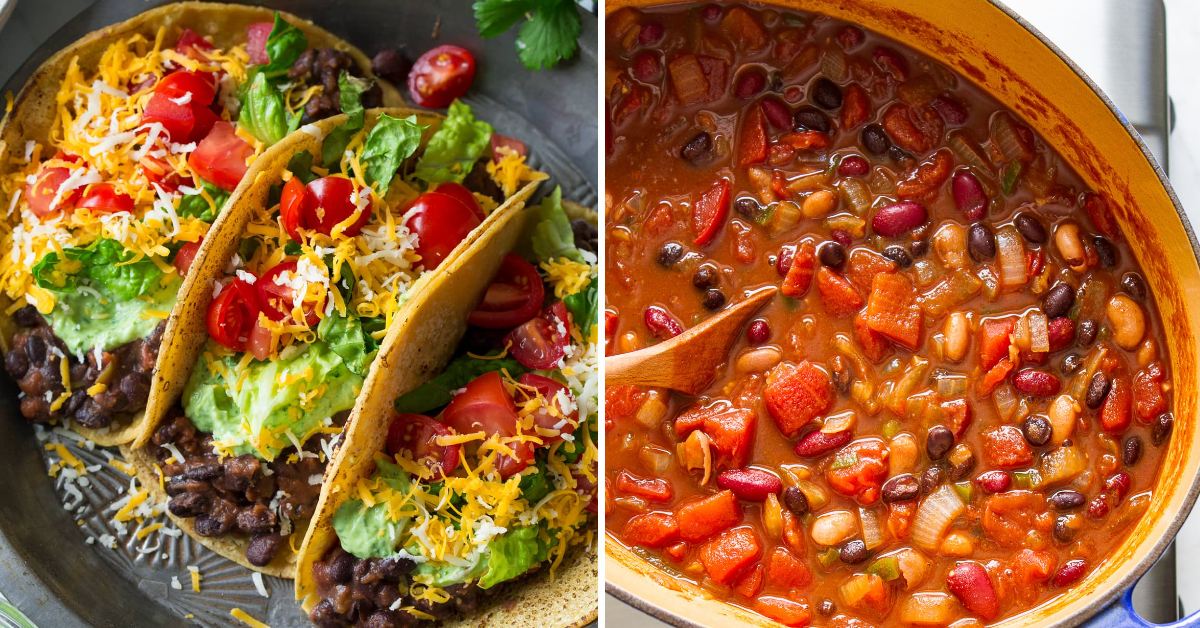 No matter where you are in the world, there is every likelihood that ever-popular beans are a staple in your kitchen. It is no wonder since they are versatile, low-priced, can be stored for the longest time, and taste great in virtually every meal. Plus, beans are often an essential part of recipes for vegan dinners, as they are a wonderful source of plant-based protein. Moreover, they are rich in vitamins and minerals, which is beneficial for health.
With this in mind, we are very excited to share with you five great recipes for vegan dinners featuring delicious, nutritious beans. These ideas will surely enrich your culinary options and give you inspiration for healthy, hearty meals.
3-Bean Chili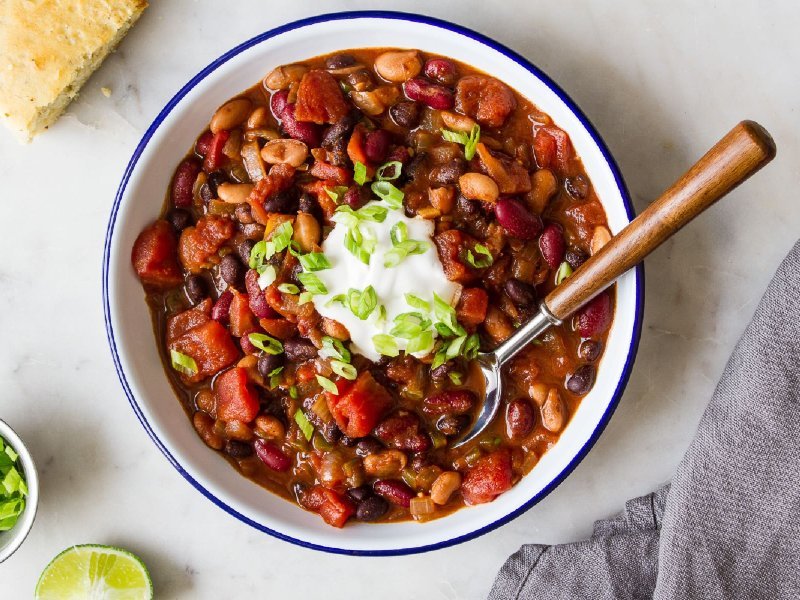 Ingredients:
1 tbsp olive oil;
1 onion;
3 cloves garlic;
2 jalapeños;
3 tbsp chili powder;
1 tsp chipotle powder;
15 oz (425 g) black beans;
15 oz (425 g) kidney beans;
15 oz (425 g) pinto beans;
28 oz (800 g) diced tomatoes (with juices);
1 tbsp cocoa powder;
1 ½ cups water or vegetable broth;
mineral salt, pepper to taste.
Instructions:
In a large pot, heat olive oil over medium heat. Saute one large diced onion until tender and translucent. Add minced garlic, seeded and diced jalapeno, chili, and chipotle powder, and cook for 1 minute.
After that, add drained and rinsed beans, tomatoes, cocoa powder, and water. Bring to a boil, reduce heat. Set the lid askew over the pot, and simmer for 15–20 minutes, stirring occasionally. Add more water as needed. Finally, season with salt and pepper.
Warm Salad With White Beans, Sun-Dried Tomatoes, and Kale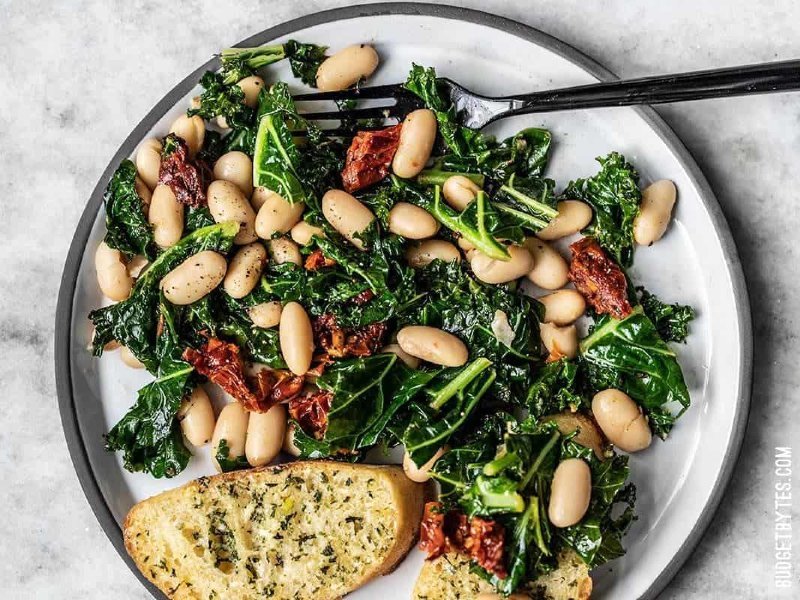 Ingredients:
30 oz (850 g) white beans;
3 ½ oz (100 g) sun-dried tomatoes in oil;

1 tbsp apple cider vinegar;
½ tbsp dried basil;
¼ tsp salt;
ground black pepper to taste;
1 pinch red pepper flakes;
1 tbsp olive oil;
2 cloves garlic;
6 oz (170 g) fresh kale.
Instructions:
Firstly, drain and rinse white beans, coarsely chop sun-dried tomatoes. In a small bowl, combine two tablespoons of the oil from the jar of sun-dried tomatoes with apple cider vinegar, basil, salt, pepper, and a pinch of red pepper flakes. Set aside.
Secondly, add minced garlic to a large skillet with olive oil. Sauté over medium heat for one minute.

Thirdly, add chopped kale, two tablespoons of water and cook over medium heat until the kale has wilted.
Finally, add the beans and sun-dried tomatoes to the skillet. Continue to stir and cook until the beans are thoroughly heated. Drizzle with the dressing and toss to coat. Season with salt. Serve warm.
Black Bean Tacos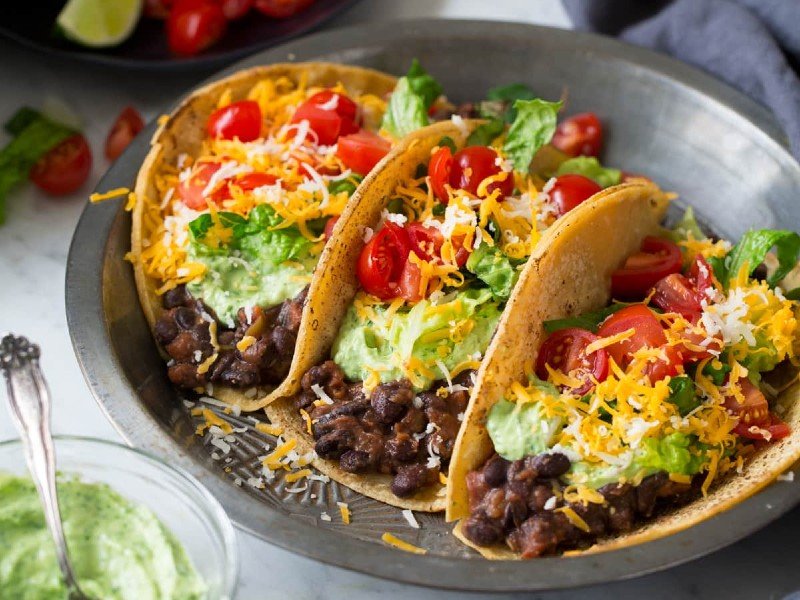 Ingredients:
30 oz (850 g) black beans;
1 cup salsa;
1 ½ tsp chili powder;
1 tsp ground cumin;
½ avocado;
½ cup plain Greek yogurt;
1 cup fresh cilantro;
1 tbsp lime juice;
1 clove garlic;
salt and ground black pepper to taste.
For Serving:
8 yellow corn tortillas;
shredded romaine lettuce, grated vegan cheese, diced tomatoes.
Instructions:
Combine drained and rinsed black beans, salsa, chili powder, and cumin in a saucepan. Simmer for approximately 5–10 minutes, stirring occasionally.
Meanwhile, combine avocado, Greek yogurt, cilantro, lime juice, and garlic in a food processor and pulse until cilantro is finely minced. Add salt and pepper.

Finally, put together tacos by layering the black bean mixture, the avocado cream, lettuce, cheese, and tomatoes on each tortilla. Serve right away.
Hummus Bowl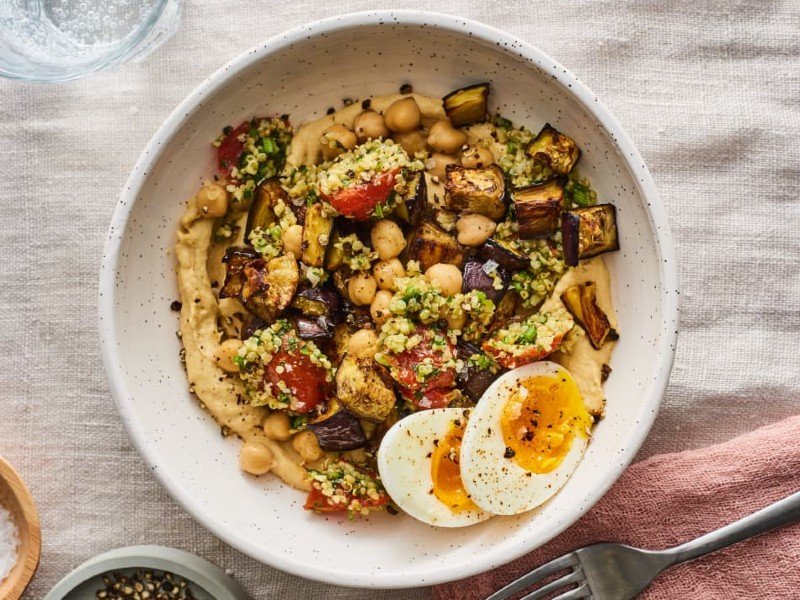 Ingredients:
½ cup hummus;
½ cup cubed, roasted eggplant;
½ cup cooked chickpeas;
1 soft-boiled egg;
¼ cup tabbouleh salad.
Instructions:
Firstly, put a layer of hummus on the bottom of a bowl.

Secondly, top with the eggplant, chickpeas, halved egg, and tabbouleh.
Slow Cooker Hearty Bean Soup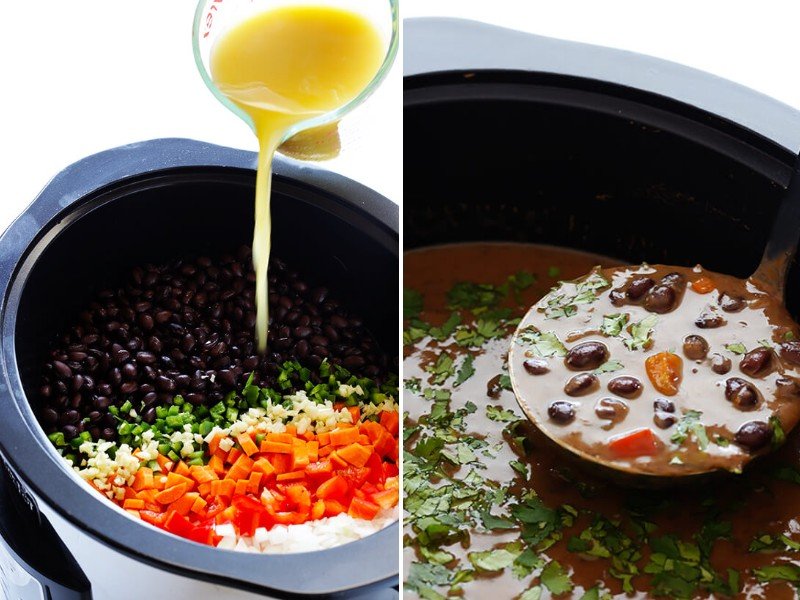 Ingredients:
1 onion;
2 bell peppers;
2 carrots;
5 cloves garlic;
1 jalapeño pepper;
4 cups vegetable stock;
60 oz (1 ¾ kg) black beans;
1 bay leaf;
2 tsp ground cumin;
2 tsp chili powder;
½ tsp cayenne;
2 tsp kosher salt.
Instructions:
Firstly, combine all ingredients in the bowl of a slow cooker and stir.

After that, cook on the Low setting for 6–8 hours or on the High setting for 3–4 hours until all of the vegetables are tender.
As you can see, not only these recipes for vegan dinners are quick and effortless to prepare but they are also packed with nutritional goodies. If beans are not your preferred food or you think that dishes with them are boring, we hope this article has changed your perspective — after all, they have never tasted yummier! Which of these recipes are you most excited to try? Share your thoughts in the comments.