Red Caviar: Which Type to Choose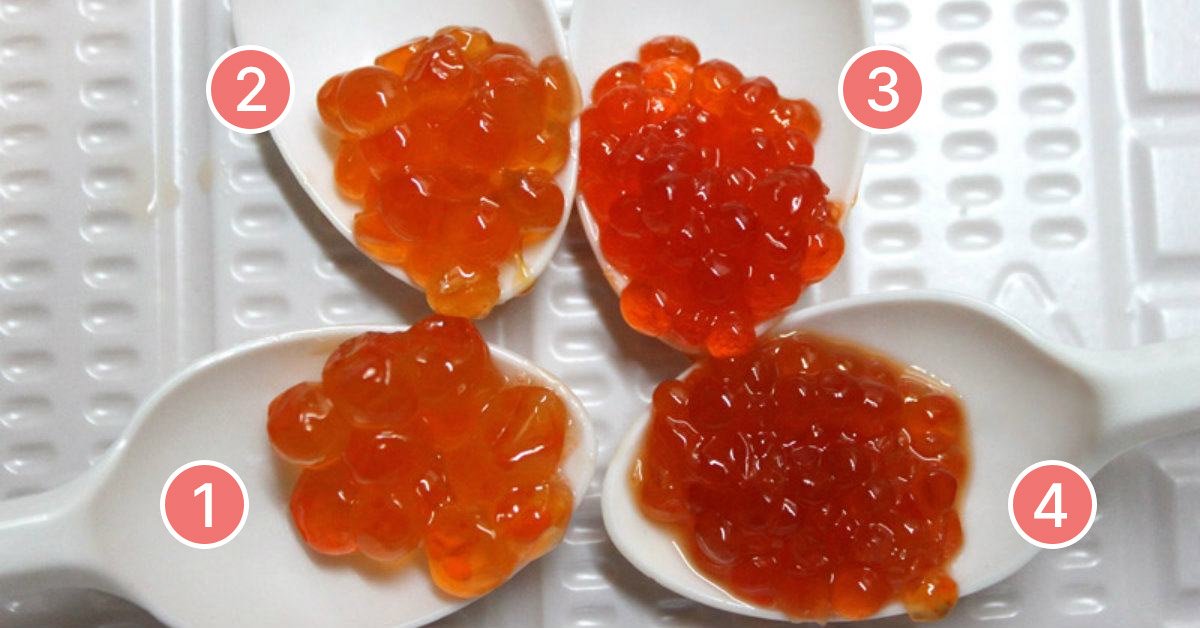 Many types of red caviar has long been listed among the holiday attributes. Not everyone can afford to eat it every morning, spreading it on toast with butter. However, at least one jar of this treat is a must-have for a holiday table. Especially in a cold season.
The benefit of red caviar is huge! This is especially true when our immune system is under constant stress. But don't rush to buy a delicacy that you saw first: there are different types of caviar, and each type has a special effect on the body.
What Type of Caviar to Choose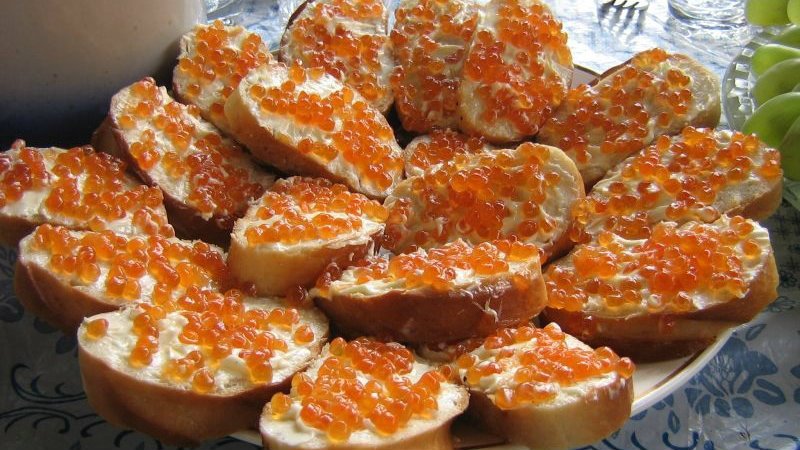 There are four salmon types whose caviar is sold: chum salmon, humpback salmon, sockeye salmon and coho salmon. Each one is different in its chemical composition, price and taste. We compared the characteristics of different types of caviar and determined which one is best for a feast, and which one should be used for health purposes.
Chum Salmon Caviar
It is considered the most delicious of all, since chum salmon caviar is the largest (up to ¼ inch (7 mm) in diameter) and have a delicate taste with almost no fish oil bitterness to it. In addition to the size, this type of caviar is different in color — light orange, usually, lighter than the humpback salmon one.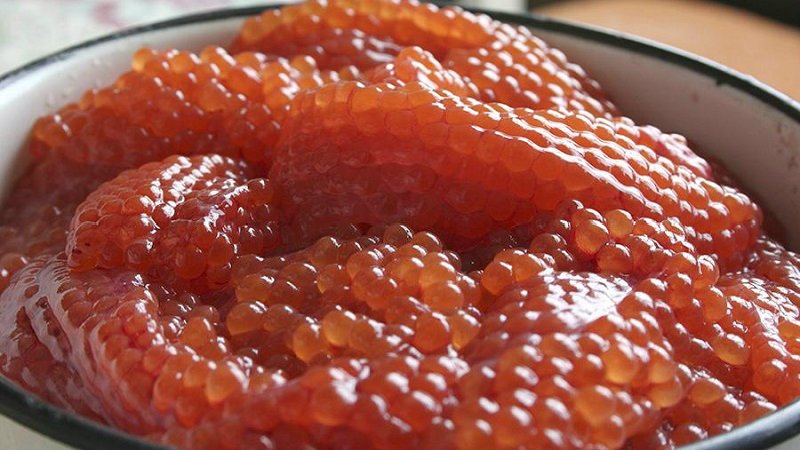 The Benefits of Chum Salmon Caviar:
strengthens bones
reduces the risk of blood clots
restores eyesight
tones the body up
reduces the risk of developing atherosclerosis
Humpback Salmon Caviar
It's the most common and therefore not the most expensive one. Humpback salmon caviar is on the second place in size and reaches ⅕ inch (5 mm) in diameter, has a more saturated orange color and a thin shell. It has a slightly bitter flavor, which, however, doesn't make it worse.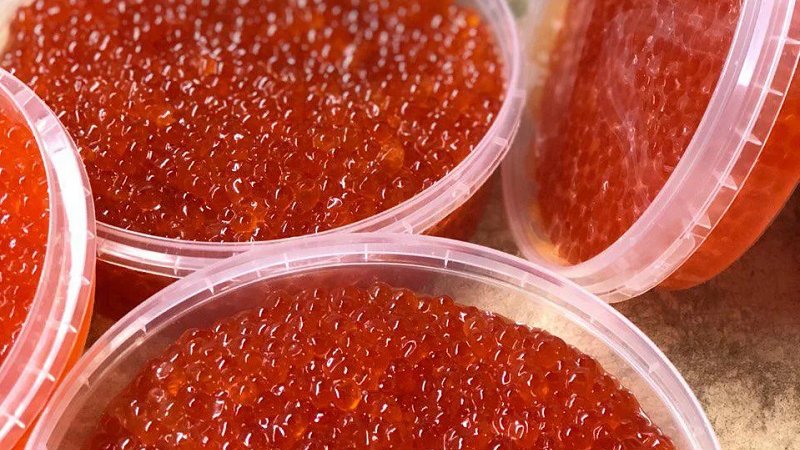 The Benefits of Humpback Salmon Caviar:
increases blood circulation

increases vascular flexibility
strengthens the nervous system
stimulates brain activity
boosts skin renewal and hydration
provides nutriment to nails and hair
Sockeye Salmon Caviar
Such caviar doesn't reach a size bigger than ⅙ inch (4 mm). It has a bright red, saturated color, but lighter than coho salmon caviar. It tastes bitter and, what's important, has a strong fishy smell, unlike the first two.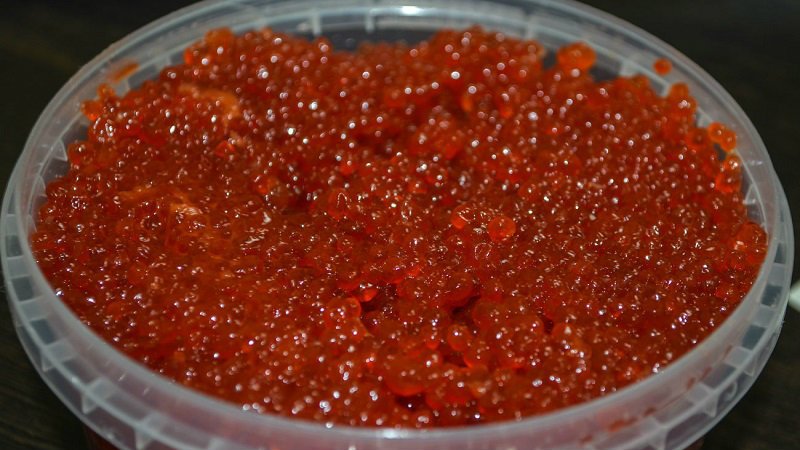 The Benefits of Sockeye Salmon Caviar:
improves the digestion

normalizes blood sugar
strengthens the bones
neutralizes free radicals, which slows down the aging of body tissues (in other words, it is considered a natural antioxidant)
Coho Salmon Caviar
The caviar of this fish is difficult to confuse with any other kind because of its color — it's not even red, but burgundy even. In addition, it's the smallest one (the size of caviar varies from ⅛ to ⅕ inches (3–5 mm)). This one is the most high-calorie, bitterest and healthiest of all!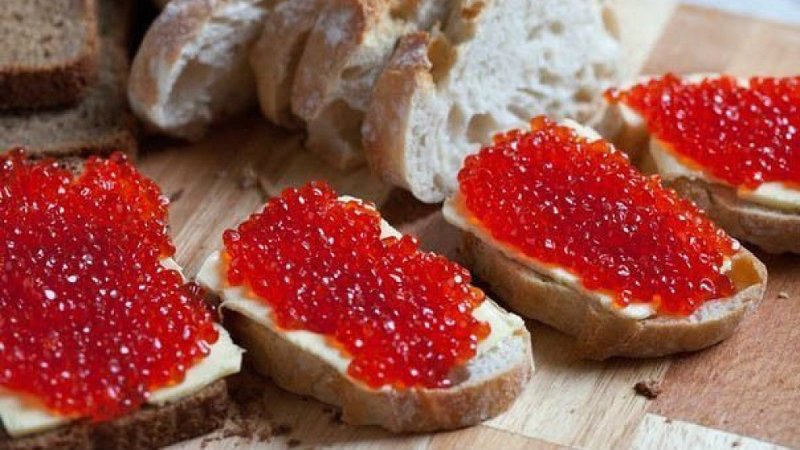 The Benefits of Coho Salmon Caviar:
increases the production of endorphins and serotonin (hormones of happiness)
normalizes metabolism
reduces the risk of cancer
reduces the risk of developing atherosclerosis
stimulates brain activity
improves blood circulation
boosts tissue regeneration
Coho salmon caviar has the highest nutritional value, while chum salmon caviar, which almost doesn't have bitterness at all, is more suitable for feasts. Moreover, absolutely any red caviar strengthens the immune system and increases hemoglobin level.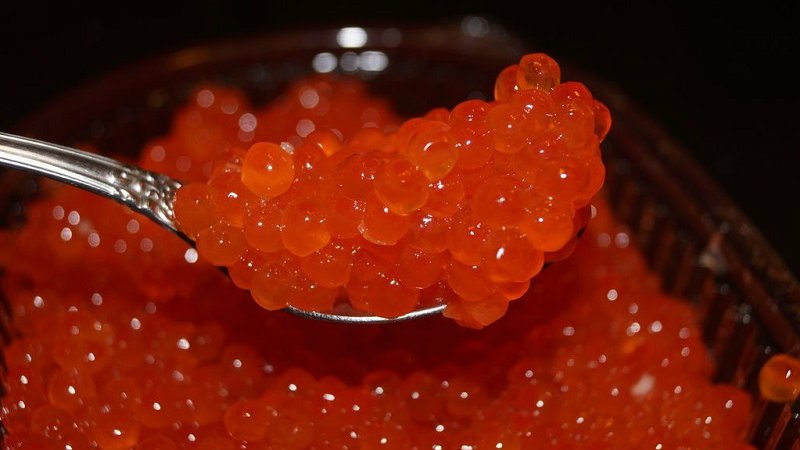 At the same time, such a healthy product has contraindications. Binging on red caviar is not worth it for people with arthritis and diseases of the genitourinary system. All because of the fact that there is quite a lot of salt in there. People with gastrointestinal diseases should also abstain from it. Other than that, the delicacy will only strengthen the health. Now you know exactly how to choose red caviar that suits you the most.