Sour Cream Cake Recipes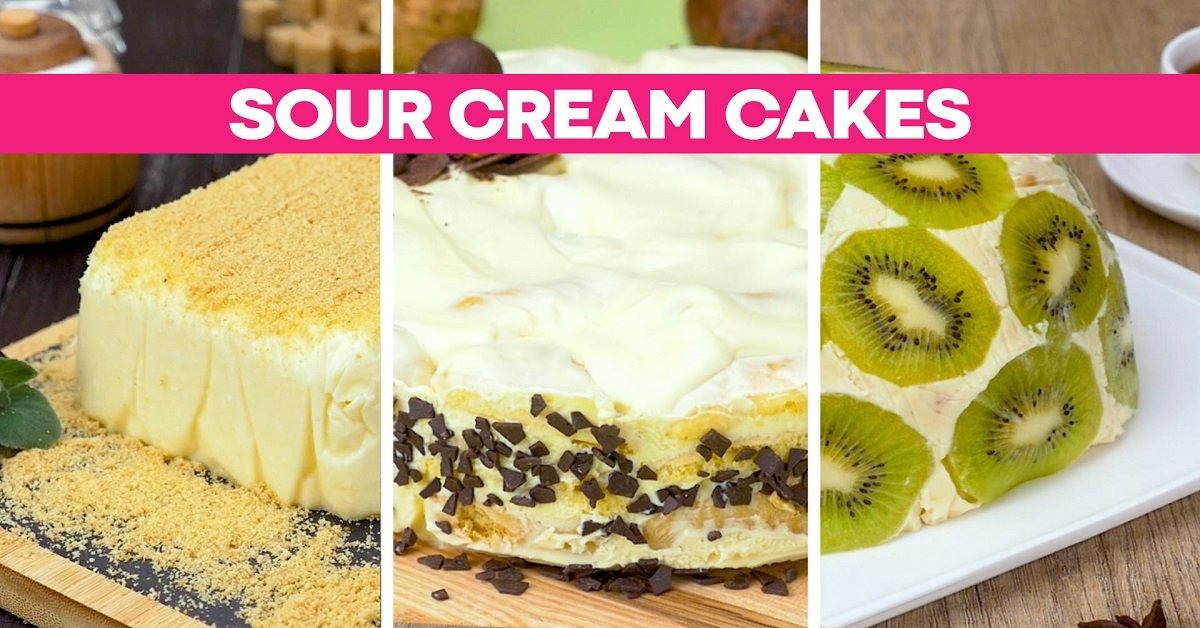 Add some warmth and comfort to the windy and cold season by making a wonderful homemade dessert. We have prepared for you three simple sour cream cake recipes for every taste.
The main advantage of these desserts is that they are easy and quick to prepare. We recommend making them in the evening, as they need time to set. Any of these sour cream treats will make a great holiday dessert that will delight both adults and children.
Sour Cream Cake From Little Pastries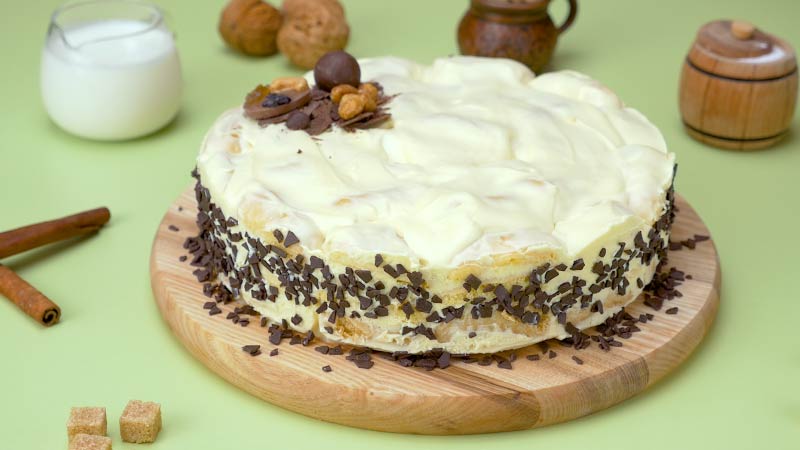 Ingredients:
8 ½ fl oz (250 ml) water;
5 ¼ oz (150 g) butter;
½ tsp salt;
8 ¾ oz (250 g) flour;
6 eggs;
1 ½ lb (700 g) sour cream;
powdered sugar to taste.
Instructions:
Pour water into a stewpan, add salt and butter. Bring to a boil, stirring the mixture.
Add flour and continue stirring until homogeneous.
Cool the dough and whip it with eggs, adding them one at a time. Place the dough in a pastry bag.

Make small cakes of the same size on a baking sheet lined with parchment. In shape, they should resemble ladyfingers, only smaller. Bake them at 360°F for 30 minutes.
Meanwhile, prepare the cream. To do this, beat sour cream with powdered sugar until homogenous.

Line the bottom of a detachable mold with parchment. Roll the cakes in the sour cream and lay them circle-wise in 2 layers.
Pop the cake in the refrigerator for 3 hours. Garnish it with chocolate and chocolate flakes before serving.
Sour Cream Cake With Kiwi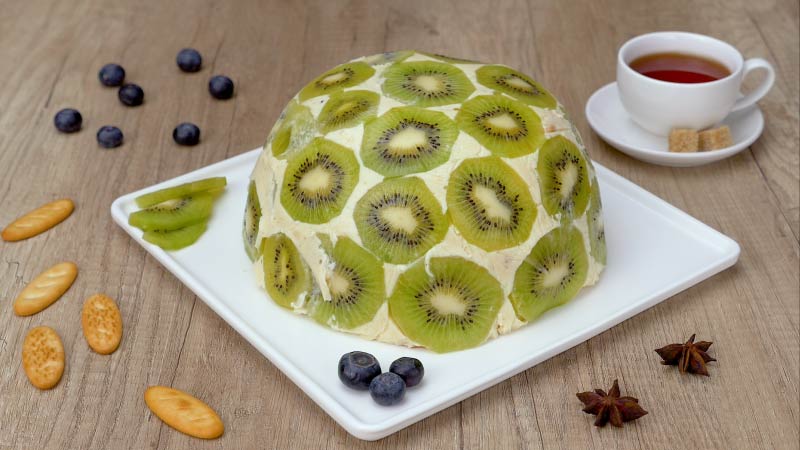 Ingredients:
1 lb (500 g) sour cream;
10 ½ oz (300 g) crackers;
6 ½ oz (180 g) sugar;
2 bananas;
2 kiwis.
Instructions:
Combine crackers, sugar, sliced bananas, and sour cream in a bowl. Put the mass in the refrigerator for an hour and a half.
Line a deep bowl with cling film. Place slices of kiwi along the entire surface. Put the mass of crackers and sour cream inside.

Wrap the cake in cling film and refrigerate for 8 hours.
Unwrap the film, place a flat dish on top and turn it over. Carefully remove the bowl. The cake is ready to serve!
Mousse Sour Cream Cake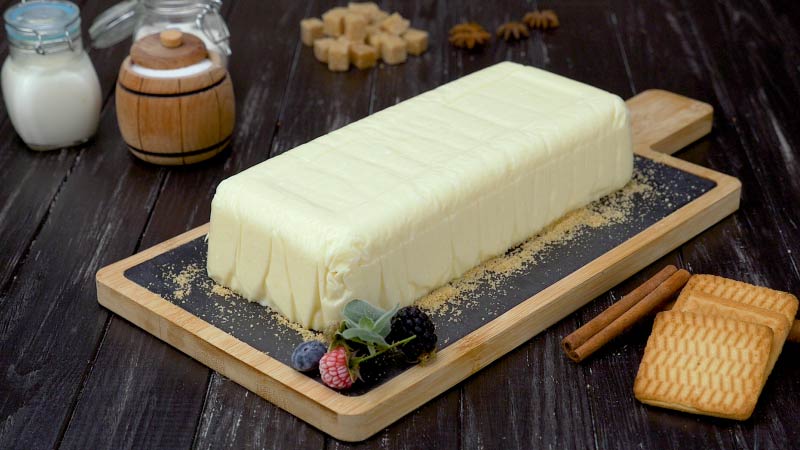 Ingredients:
13 ½ fl oz (400 ml) milk;
14 oz (400 g) sour cream;
12 oz (340 g) cottage cheese;
6 tbsp cornstarch;
3 ½ oz (100 g) sugar;
1 fl oz (25 ml) lemon juice;
2 tsp vanilla;
shortbread cookies to taste;
6 gelatin sheets.
Instructions:
Combine starch with 3 ½ fl oz (100 ml) of milk; mix well.
Cover gelatin sheets with water and set aside.
Pour the remaining milk into a stewpan and start heating. Add sour cream, sugar, and cottage cheese. Whip the mass with a blender.

Add the mixture of starch and milk and stir. Then add the gelatin sheets, lemon juice, vanilla, and mix. Remove from heat.
Pour the mass into a rectangular cake pan lined with parchment and make the surface even.

Put the cake in the refrigerator for 8 hours.
Crush the cookies into crumbs and use them to garnish the cake before serving.
Homemade sour cream cakes will be a great alternative to store-bought treats. They are tender, light, and therefore not as high in calories as multi-layer cakes with cream.