How To Make a Dutch Baby Pancake
Food trends come and go, but not all are as delicious as the Dutch baby pancake: a pancake-crepe-popover hybrid. Forget what you know about the traditional flapjacks with butter — pancakes are getting a complete makeover all over the globe.
Originated in Seattle, Washington in the early 20th century, the popularity of this thrilling breakfast goody is soaring. The quarantine has made a lot of us more adventurous in the kitchen, and what better way to test our skills than to make a giant pancake with a unique flavor and texture? If you love the idea, here's everything you need to know about making one.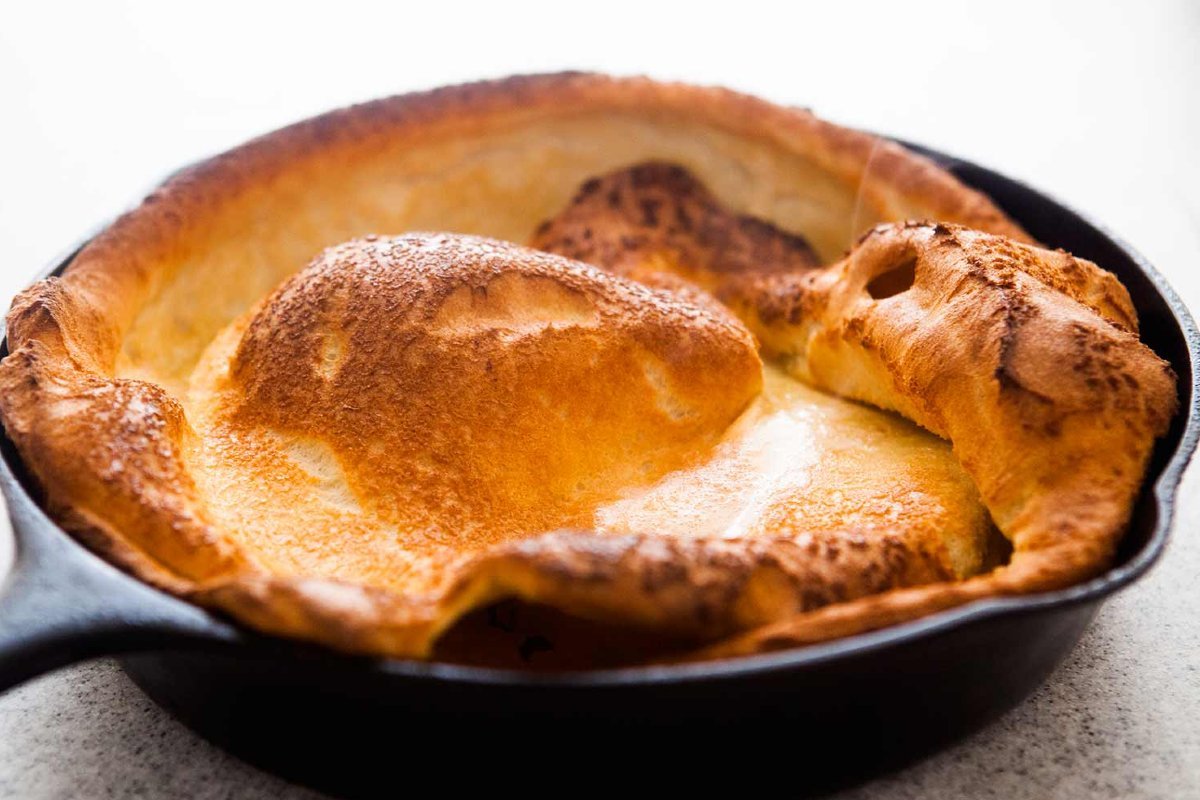 What Is a Dutch Baby Pancake?
Long story short, a Dutch baby, sometimes referred to as a Bismarck, Dutch puff, the David Eyre pancake, or a German pancake, is a large, fluffy popover-like flat cake. Not only is it thicker than a typical pancake, but it is also baked in the oven as opposed to the stovetop. The term "Dutch baby" was coined by an American restaurateur Victor Manca. Supposedly, he pronounced the German word "Deutsch" as "Dutch."
How To Make a Dutch Baby Pancake a Weekday Morning Go-To
Dutch babies may look highly sophisticated, but making them is easier than you may think. The batter features staple items from the pantry and takes only minutes to put together. Besides, once you get the hang of the process and learn the portions by heart, you'll fast-track the process that much more. The beauty of this dish is that you can add whatever toppings you have in the fridge, both sweet and savory.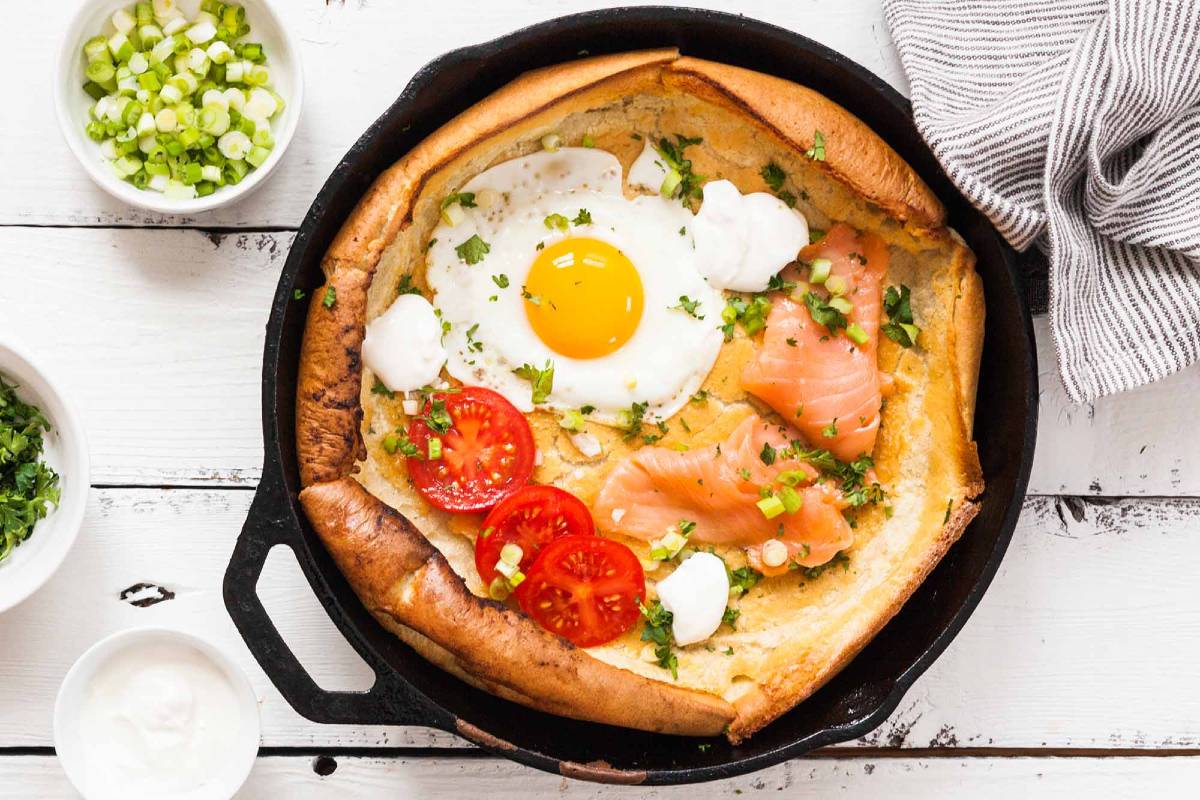 Although it may not seem so at first, this dish is made for weekday mornings. To make the delightful pick-me-up, consider mixing up the batter in a small blender. Thus, you won't have to yank out your food processor or heavy-duty blender and avoid extra cleanup. Furthermore, you can save time and utensils by measuring ingredients in one measuring cup. To do so, crack two eggs into the blender bowl, then add ½ cup flour, a pinch of salt, and a spoonful of sugar. Finally, use the same measuring cup to add milk.
Let your batter rest right there in the blender bowl, put a cast-iron skillet in the oven, turn it on and set the temperature to 425 °F. Then go back to bed for 20 minutes, or get ready for your day, round up the kids, catch up on the news. The choice is yours.
When the skillet has heated properly, add butter and pulse the batter once more in the blender before pouring it into the hot pan. In the time it takes for the Dutch baby pancake to bake, set the table and chop some fruit for topping. Voilà!
Dutch Baby Pancake Recipe
Ingredients:
½ cup flour
½ cup milk
2 eggs
2 tbsp sugar
1 tsp vanilla extract
½ tsp salt
2 tbsp butter
Instructions:
To begin with, combine all ingredients except butter in a blender. Pulse for a few seconds before scraping down the sides and pulsing for another few seconds.

Let the batter rest in the blender for up to half an hour.
In the meantime, place a cast-iron skillet in the oven and heat it to 425 °F.

Once the skillet has heated up, carefully remove it from the oven and place it on the stovetop. Add butter, let it melt, and swirl it around to grease the pan evenly.
Next, pour the batter into the pan and pop it in the oven.

Bake until the Dutch baby pancake is puffed in the center and golden brown along the edges (approximately 15 minutes).
How to Serve Dutch Baby Pancakes
Serve the whole skillet immediately and put all your and your family's preferred toppings on the table: Nutella, jam, peanut butter, maple syrup, pieces of fruit, or even ice-cream. The options are limitless.
Served on its own, this Dutch baby pancake is excellent for two adults to eat their fill. If, however, you're serving it as part of a full morning meal that includes eggs, bacon, and cheese, slice it like pizza, and it will make a delightful addition to your spread. If you're feeding a crowd, double the recipe and make two Dutch babies in the oven simultaneously.
Dutch baby pancake makes a fabulous breakfast, brunch, or dessert. After all, who wouldn't like a fluffy, mammoth of a pancake with a bunch of delicious toppings? Do you make this sophisticated breakfast treat at your household? If not, perhaps you'd like to try it. And while on the subject of toppings — which is your favorite? Please tell us in the comments section below, as we'd love to know!