How to Root Rose Cuttings Using a Sponge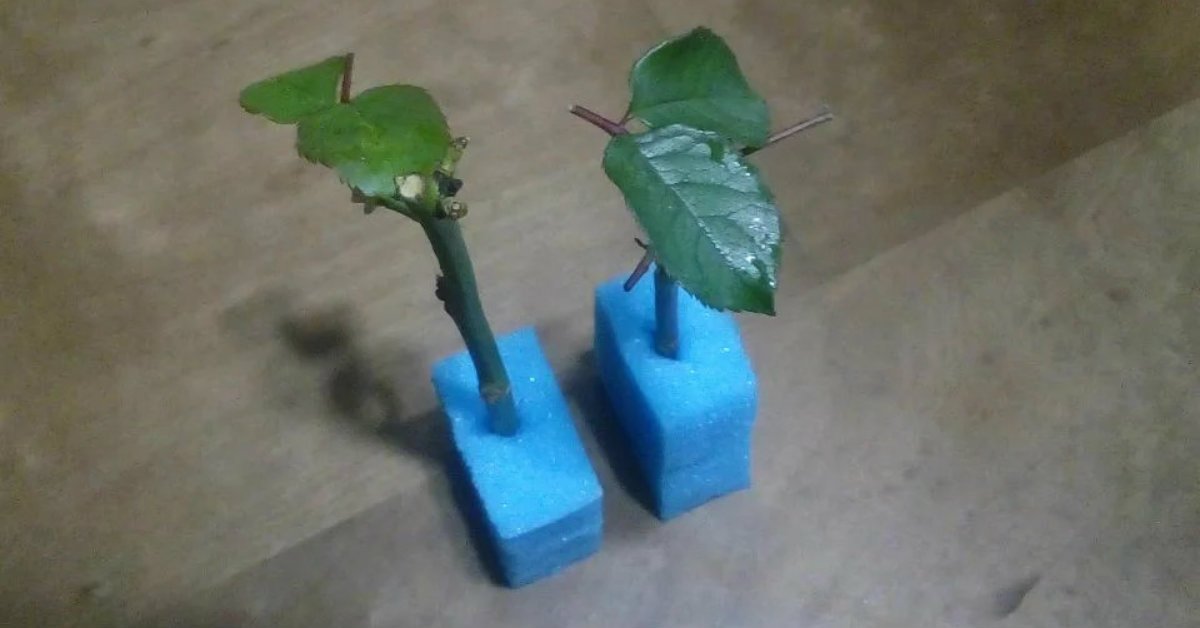 Did you know that flower cuttings can take root in an ordinary sponge? The process might seem tricky but today we are going to tell you how to successfully root rose cuttings using a dishwashing sponge.
First, it is best to use a sharp blade so that the cut is precise. Scissors are not suitable for this purpose, as the damaged tissue will start to rot.
How to Root Rose Cuttings Using a Sponge
Take a clean sharp knife to make a few cuts in the bottom of the cutting. The roots will grow faster due to such cuts.
Take a brand new dishwashing sponge and cut it into 2 pieces or more, depending on the size. Remove the firm part.

Then, using scissors or a knife, make a pocket-like hole in each of those pieces.
Take 1 part of aloe juice and dilute it with 9 parts of water. Aloe will act as a biostimulant.

Dip a sponge into the solution, let it soak, and then wring it out. The sponge should be semi-dry.
Now insert the cuttings into the holes you made in the sponge.

Place the sponges with cuttings in a plastic jar and put them in a plastic bag. Fill the bag with air like a balloon. You can use a cocktail straw for this.
Place the bag with cuttings in a warm and bright place. It can even be hung next to a window.

7 days later, callus will appear on the lower parts of cuttings.
When you notice that the roots have begun to sprout, remove the sponge and plant the cuttings into the soil.
The sponge can be replaced with a piece of foam rubber or floral foam. If you're into gardening, here's another useful article you might like! Feel free to leave your comments below.