People That Failed So Spectacularly They Deserve an Award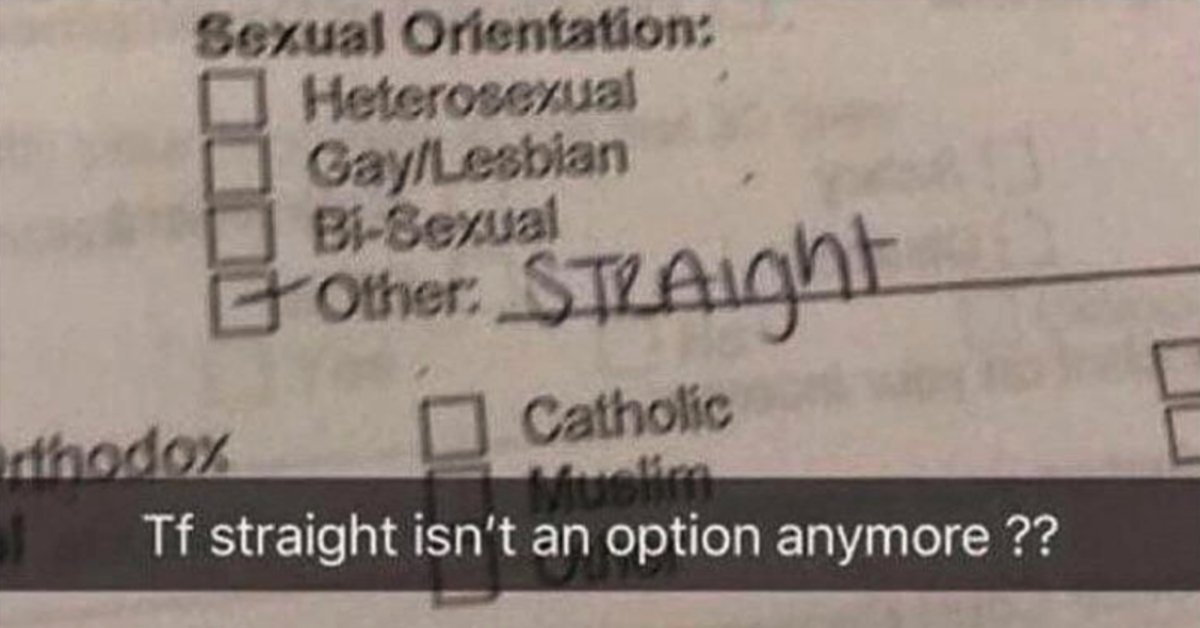 These are uncertain times but we all need to stay positive. Staying positive, however, isn't solely about finding the optimistic viewpoint in a negative situation, cultivating a positive mindset, staying active, and not forgetting to love and take care of yourself. Although these are all good things, sometimes all you need is some harmless, simple fun to take your mind off of things.
Today, Cook It would like to help you lift your mood with this compilation of fifty-one people that failed so spectacularly they deserve an award. If none of these make you laugh out loud, absolutely nothing will.
51 People That Failed Spectacularly
Funny memes about looking for the glasses that rest on top of your head have been a thing for ages. Now we can make a meme out of this.
Hopefully, it is those pregnancy hormones at work already.

There is no question that Corona beer is suffering because of the coronavirus.
The two emojis are also trying to decipher exactly what this confused person is trying to say.

The passage of time truly is a strange thing.
Better get that Caucasian checked out as soon as possible!

Who loves Arthur Writes a Story, raise your hand!
No, blind people cannot drive cars legally! No, its not Braille!

That ear ringing problem is no joke, of course!
At the end of the day, it's the thought that counts!

That looks so goo… oh, wait, hold on!
I don't think that chicken would actually allow this, though.
Socks for our hands… socks for our hands? There might be a good startup pitch there somewhere.

Next she'll tell him Pluto is not actually considered a planet.
Someone decided to take fraud to the next level.

This 'drug' dealer should definitely be ashamed of themselves!
When you're so close, but also way, way off.

At least they know their nine times table, so not everything is lost.
Oh, Have we GOT a TV show for you!

At least someone realized their mistake. A tad late, but still.
Some people are a bit more technically savvy than others.

And here I though caramel was a candy. Go figure!
Something went hilariously wrong here. Don't sweat it, Beyoncé!

This is the perfect example of why you should be habla gated to do a spell check.
Apparently, some people's parents were very convincing telling the story of storks delivering babies.

Could you please do neither of those things, okay? 
Can't argue with that. Roman numerals are absolutely delicious.

How did the 1nd, 2st, and 3th time go?
What's worse than the false equivalency is making one without understanding the terms.

Well, Rob did give his best guess, what can you do?
The short fountains are actually called bidets, and you definitely should not drink from them.

Enjoy! There's no denying that synonyms are delightfully fascinating.
I think he is, mate, I think he is.

Hopefully, McDonald's can distinguish between a plane and a cheeseburger.
Darn, those 710s are very hard to come by.

Let's hope yours does not end the same, huh?
Don't repeat this at home, kids! And don't believe everything you read.

Is anyone even surprised anymore when identity thefts happen?
Life really is a mysterious journey toward the unknown.

This is an example of a post about losing hope in humanity.
'Rotisserie' might not be the easiest word to spell, but it shouldn't be this hard.

The lack of options can be totally frustrating. Not in this case, though.
Those 'so-called' scientists can be real tricksters, can't they?

A moment of pure, unadulterated face-palm. Good thing they gave it a moment.
In all honesty, we have heard of crazier things.

Oh, the art philosophy! It doesn't, it really doesn't.
There are no stupid questions, there are no stupid questions…

That time when you don't end up sounding as smart as you had hoped.
The year's hottest subscriptions. I have one of these, as well!

A serious house number problem… Fair enough, don't push yourself!
We hope you enjoyed looking through these images of the moments people failed miserably. For more fun, check out this array of weird and, sometimes, ridiculously funny misspelled food labels. Which of these made you laugh the most? Tell us in the comment section!