Sicilian Recipes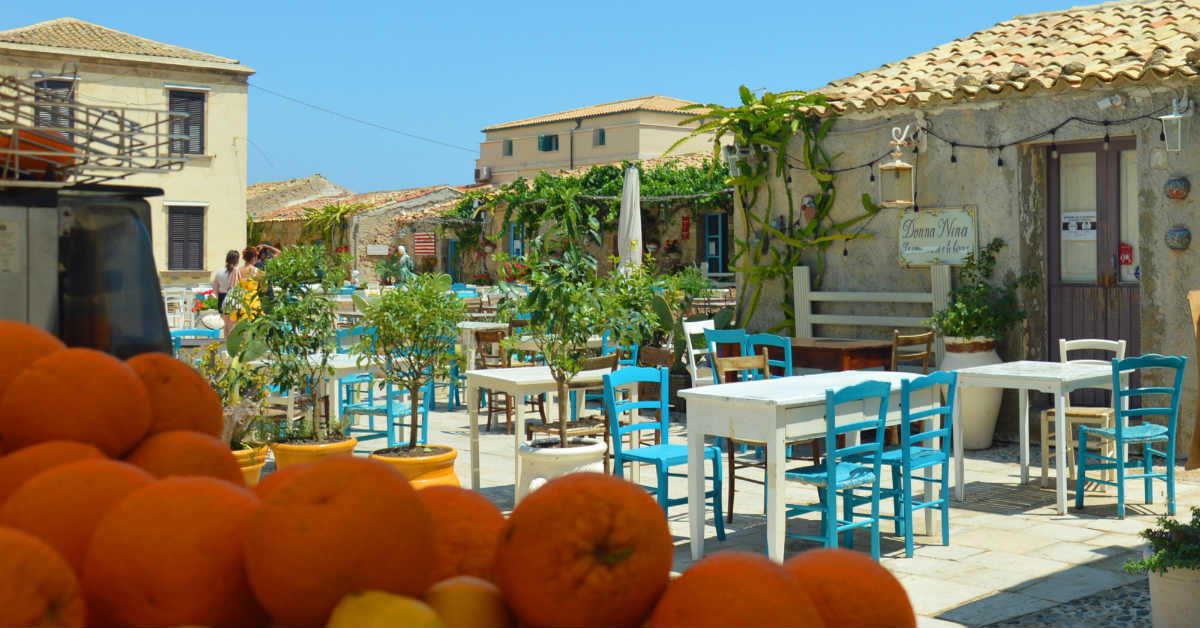 In times when everyone stays in and works from home, cooking becomes not only about sustenance but entertainment. Today we offer you to travel to beautiful Italy without leaving your kitchen! Here are eight delicious Sicilian recipes everyone should try.
Sicily is an island full of contrasts. From light salads to filling pasta, Sicilian recipes will definitely win you over.
Sicilian Recipes
Shaved Cucumber, Fennel, and Watermelon Salad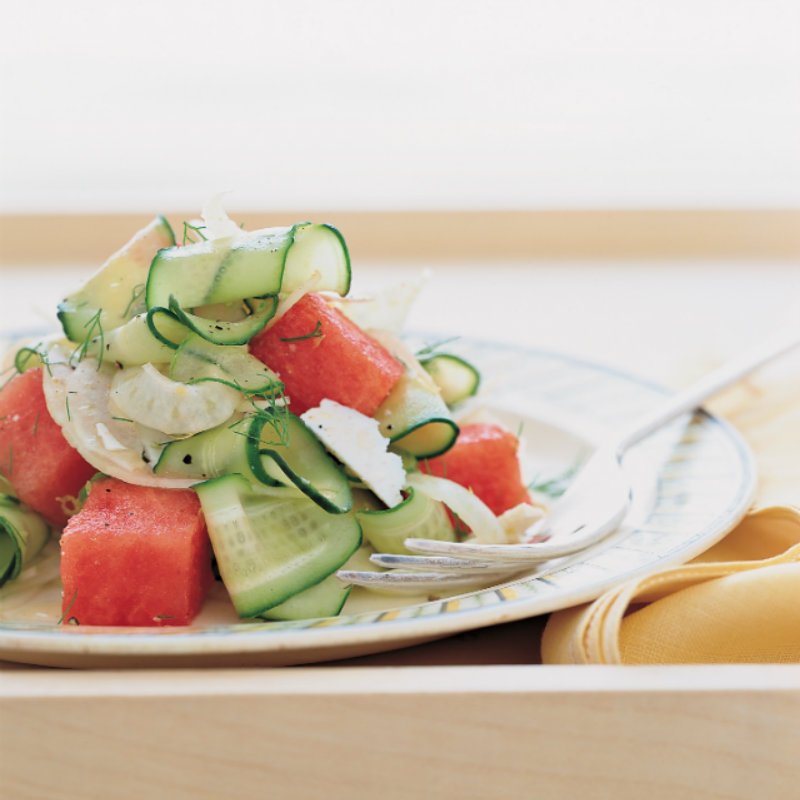 Ingredients:
4 cucumbers sliced lengthwise
1 fennel bulb sliced crosswise
1 tbsp chopped fronds
3 ½ lb (1 ⅔ kg) watermelon, cut into 1-inch cubes
2 tbsp freshly squeezed lemon juice
2 tbsp olive oil
coarse salt and freshly ground pepper
4 oz ricotta salata
Instructions:
Add the ingredients into a large bowl. Toss to combine. Top off with shaved ricotta salata and serve.
Bruschetta with Poached Tuna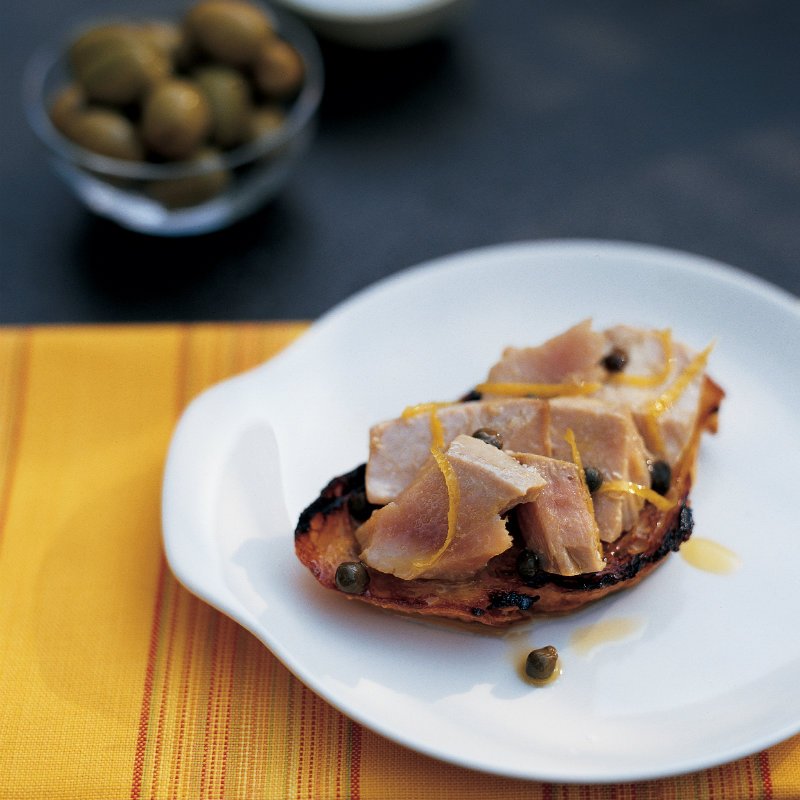 Ingredients:
½ to ¾ cup extra-virgin olive oil
4 lemon slices
coarse salt
8 oz (230 g) tuna steak
1 tbsp freshly grated lemon zest
1 tbsp capers, drained and rinsed
freshly ground pepper
8 slices classic bruschetta
Instructions:
Heat the oil and the lemon slices in a small saucepan until warm. Generously salt the tuna. Poach it in the oil for about 15 minutes. Remove the fish from the pan, but save the oil.
Flake the tuna with a fork. Pass the oil through a sieve into a bowl. Add the fish, lemon zest, and capers. Stir and add pepper.

Place a spoonful of the mixture onto bruschetta slices. Top off with some of the poaching oil.
Blood-Orange Salad with Ricotta Salata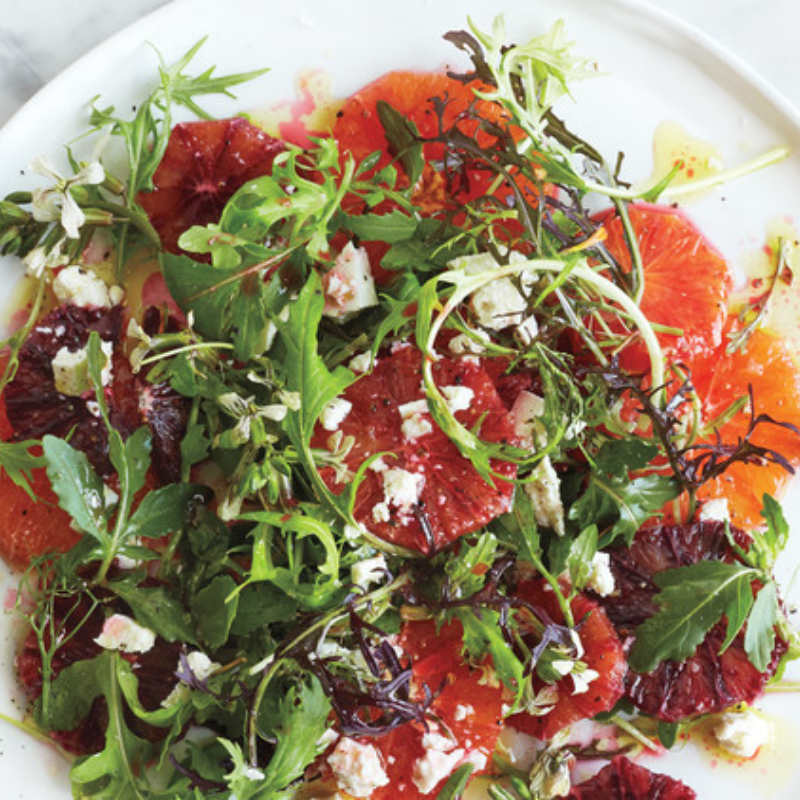 Ingredients:
3 Cara Cara oranges
3 blood oranges
juice of 1 blood orange
4 cups mixed salad greens
6 oz (170 g) ricotta salata, crumbled
¼ cup (60 ml) extra-virgin olive oil
freshly ground black pepper
Instructions:
Peel the oranges, then thinly slice them crosswise.
Place them into a shallow serving bowl.
Top with salad greens and sprinkle with ricotta.
Add blood-orange juice and oil to a small bowl, whisk together and drizzle over the salad. Sprinkle with freshly ground pepper.
Clementine Granita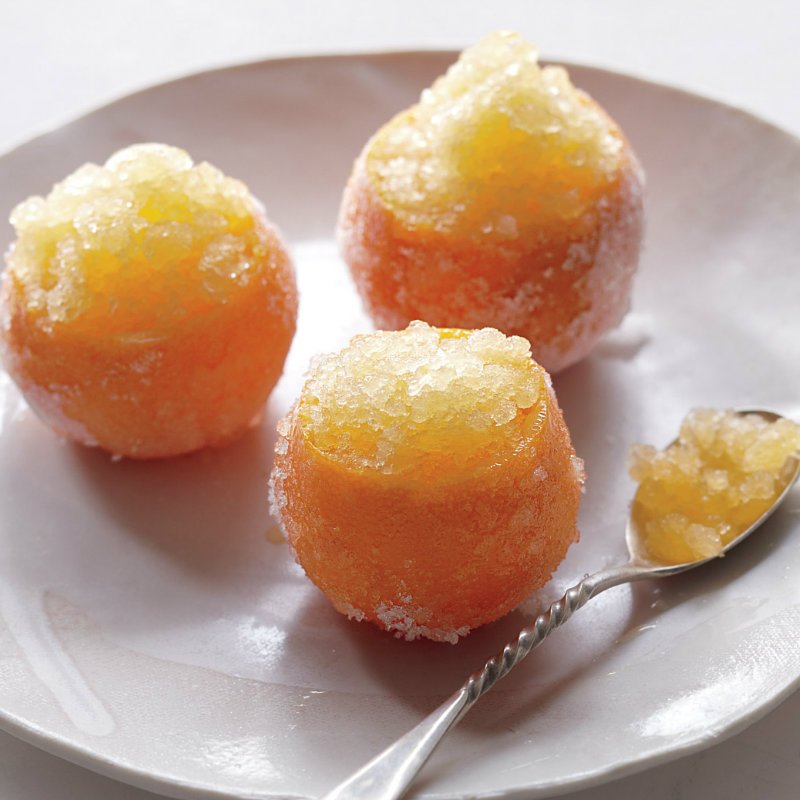 Ingredients:
12 clementines, plus 12 more for juicing
½ cup (100 g) cup sugar
1 slice (½ inch) peeled fresh ginger
1 tbsp fresh lemon juice
Instructions:
Slice the top ½ inch off each clementine, reserve. Scoop out the flesh into a sieve set over a bowl. Reserve the skins. Juice the flesh. Squeeze in juice from the tops. Juice more clementines if needed to have 2 cups of juice.
Moisten clementine skins with juice or water and roll them in some sugar. Freeze for 2 hours.

Bring ¼ cup (50 g) sugar, ¼ cup (60 ml) water, and ginger to a boil in a saucepan. Stir, until the sugar dissolves. Set aside for half an hour. Remove the ginger. Stir in 2 cups juice and the lemon juice. Pour into an 8-inch square baking dish. Put in the freezer for about 3 hours.
Scrape granita with a fork. Spoon it into the clementine skins. Freeze for about 10 minutes before serving.
Ricotta with Lemon, Basil, and Honey Bruschetta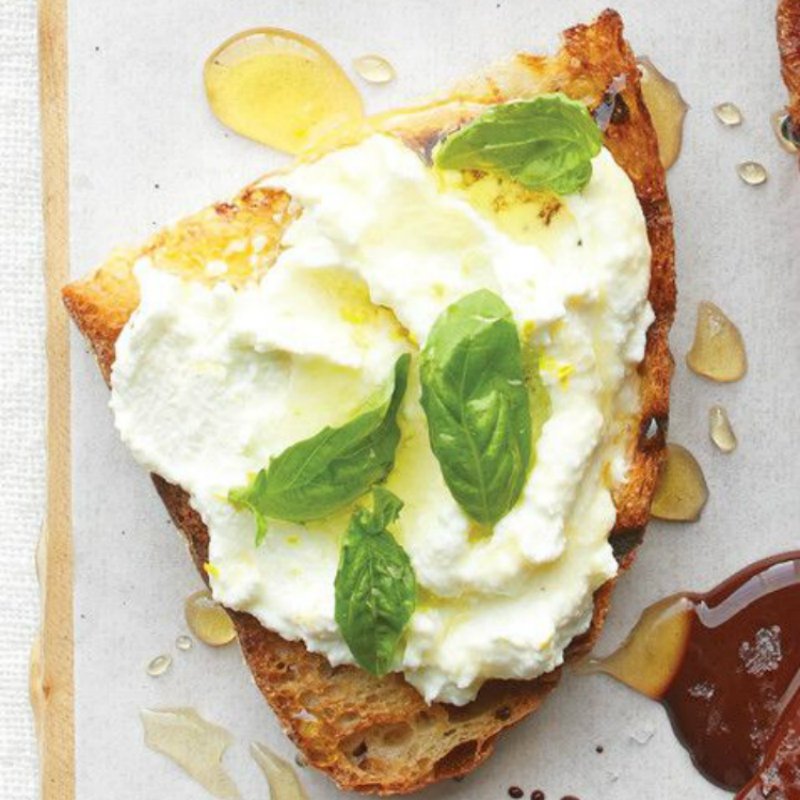 Ingredients:
fresh ricotta
lemon zest
toasts
basil leaves
delicate honey
Instructions:
Combine the ricotta cheese and lemon zest. Spread the mixture on your toasts. In this recipe, you don't need to rub the bread with garlic or drizzle with oil.
Top off the toasts with a few basil leaves, drizzle with honey.
Penne alla Norma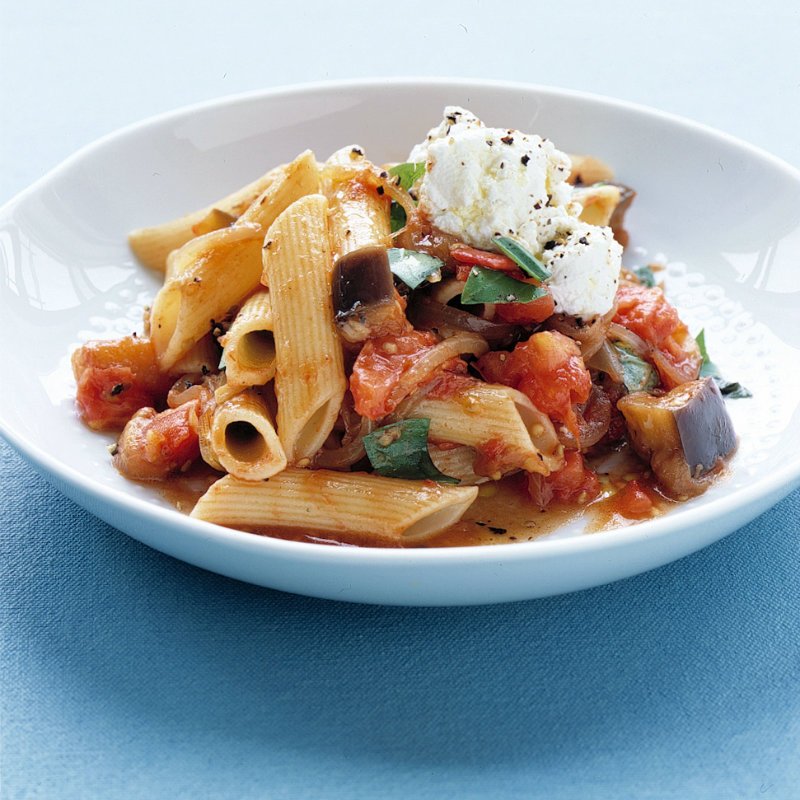 Ingredients:
1 lb (450 g) penne rigate
coarse salt and ground pepper
4 tbsp olive oil
1 medium onion, halved and thinly sliced
4 garlic cloves, thinly sliced
¼ tsp crushed red pepper
1 large eggplant, cut into ¾-inch chunks
1 ½ lb (680 g) plum tomatoes, cored and cut into ½-inch chunks
2 tbsp tomato paste
½ cup torn fresh basil, plus more for garnish

¾ cup ricotta
Instructions:
Cook the pasta until al dente. Drain your penne and return to the pot.
Heat the oil in a skillet. Cook the onion, garlic, and crushed red pepper in it for 5 minutes, stirring.

Add the eggplant, salt, and pepper. Cook with the lid on for another 5 minutes. Then remove the lid and cook stirring until tender.
Then add the tomatoes, tomato paste, and ¼ cup (60 ml) water to the skillet. Cook the same way for another 5 minutes.

Combine the sauce and basil with pasta. Add a spoonful of ricotta cheese to each serving. Garnish the dish with more basil.
Lemon Gelato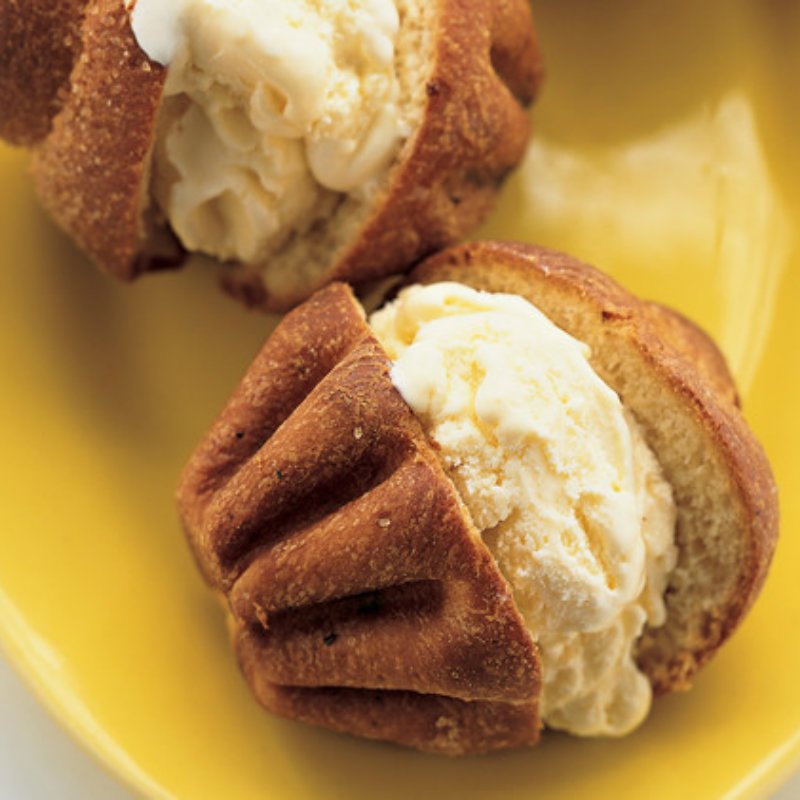 Ingredients:
¾ cup (180 ml) freshly squeezed lemon juice
2 cups (470 ml) milk
grated zest of 1 Meyer lemon
5 large egg yolks
1 cup (200 g) sugar
1 cup (240 ml) heavy cream
Instructions:
Cook the juice in a saucepan until reduced by three-quarters. Then let it cool completely.

Bring the milk and lemon zest to a simmer over medium heat. Remove from heat. Cover and steep for 30 minutes.
Beat the egg yolks and sugar until very thick and pale.

Prepare an ice bath. Return the milk mixture to a simmer. Whisk half of it into the egg mixture. Return to saucepan. Cook over low heat stirring constantly until it coats the back of the spoon.
Remove from heat and quickly stir in the cream. Pass it through a sieve into a bowl set in the ice bath. Stir until chilled. Then stir in the lemon juice.

Freeze the ice cream in an ice-cream maker. Store in an airtight container in the freezer for up to 1 week.
Couscous with Pistachios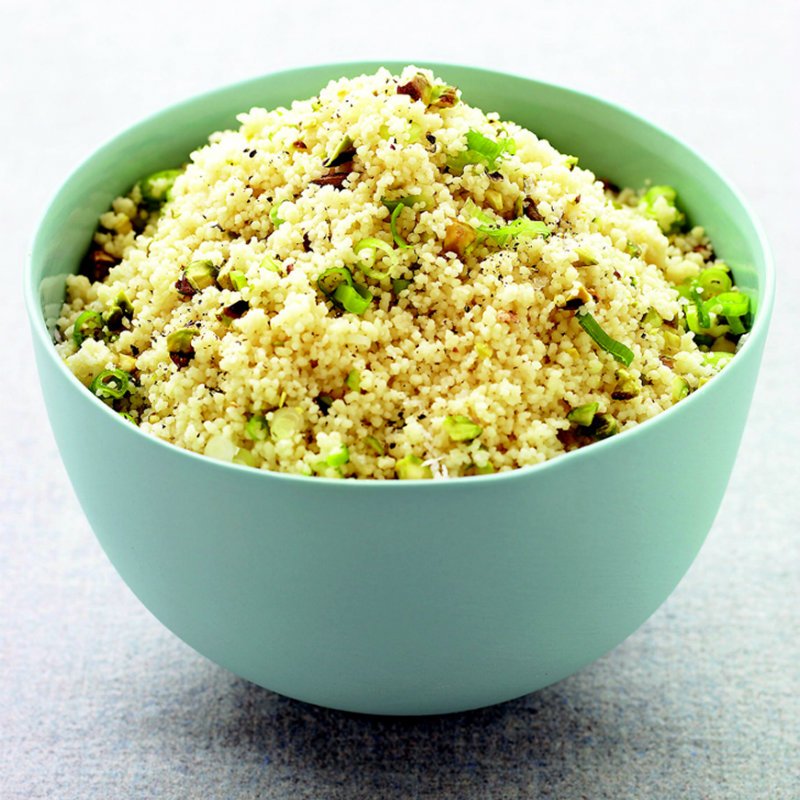 Ingredients:
1 tsp olive oil
1 scallion, white and green parts separated and thinly sliced

coarse salt and ground pepper
¾ cup couscous
⅓ cup shelled pistachios, chopped
Instructions:
Heat the oil over medium heat in a saucepan. Add the white part of the scallion. Add the spices and cook for 1 minute or until soft.
Pour in 1 cup (240 ml) of water and bring to a boil. Add the couscous, remove from heat, and cover. Let it stand for 5 minutes. Add the nuts and the rest of the scallion. Season to taste, and fluff with a fork.
Did you like these Sicilian recipes? Be sure to check our article on how to make authentic pasta carbonara!