30 Pictures of Stunningly Accurate Food Art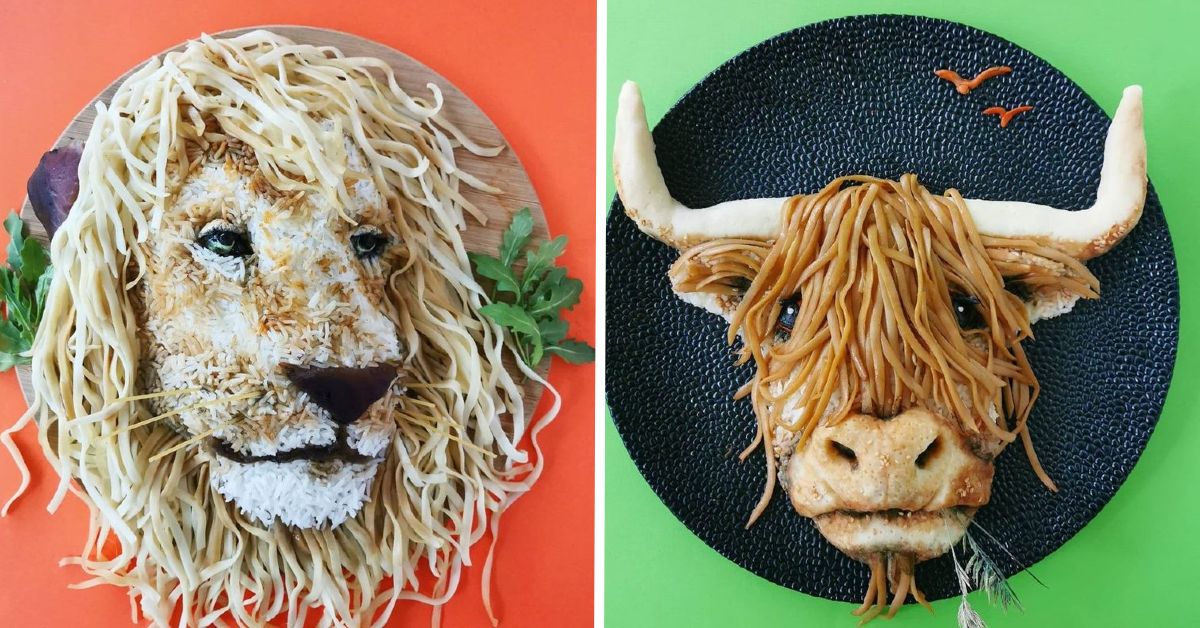 Belgium-based food artist Jolanda Stokkermans has the eye for all things delicious and beautiful. She creates stunningly accurate food compositions in the shape of movie characters, monuments, lovely flowers, and cute animals. The woman showcases her astonishing food art on her website, De Meal Prepper, and her edible pictures are a sight to behold. The intricately constructed compositions that surely require meticulous attention to detail even feature such organic materials like spices as pigments, adding dimension to the overall appearance of the pieces.
"When I started De Meal Prepper, it was meant to be about preparing food for several days in advance one afternoon, convenient for busy people and families," Stokkermans said. "Trying to search for nice stock photos on the Internet, I decided to take my own." The artist confessed that she became very passionate about her project. "Eventually, I ended up with human portraits, landscapes, and animals. My children told me to post pictures of my creations on Instagram. I listened, joined the platform, and now am at 14,000 followers."
As all creative people tend to, the woman keeps generating new and exciting ideas. After all, sometimes a thought is all you need to jump-start a project. "In the beginning, I look in the fridge to see what ingredients we have. Sometimes I notice a special vegetable or pasta, and I come up with something new."
For the most part, she opts for using vegetables, tomato and soy sauce, natural food coloring, and spices to color the dishes. Everything on the plate is edible.
Stokkermans shared that each dish takes two to four hours to complete, depending on the complexity of the subject and the ingredients she has on hand.
Stunning Food Art
King of the jungle. Basmati rice with fresh tuna sashimi, noodles, and soy sauce.

Hedgehog featuring rice, chili oil, black truffle, turmeric, and fresh parsley.
Bright and colorful rooster-shaped side dish with delicious, healthy veggies.

Plate of black and Thai jasmine rice in the form of a Bengal tiger.
Adorable Highland cow out of rice, noodles, and cauliflower puree.

Turtle-shaped sushi plate with fresh salmon and cucumber.
Panda mama and baby side dish with wild and white Basmati rice, black beans, and bean puree.
Madagascar red owl out of cauliflower puree, Greek pasta, sesame seeds, and turmeric.

Peacock featuring appetizing mashed potatoes with nutmeg, salt, and white pepper.
Gorgeous giraffe-shaped veggie vermicelli with homemade fresh tomato sauce, carrots, green peppers, onions, and garlic.

Dish featuring rice noodles and basmati rice with creamy mushrooms and black truffles!
Beautifully intricate platter featuring an assortment of cold cuts.

Fresh green salad with spinach, lettuce, figs, chives, and bell pepper.
Koala out of bean puree with couscous and Greek yoghurt dressing.

Playful monkey from mashed potatoes, cauliflower, carrots and basil.
One-of-a-kind basmati rice dish, spiced with green and yellow curry.

Spicy sushi plate with rice, carrots, edamame beans, peppers, and bacon!
Creamy risotto with lentils and pearl barley in the shape of an adorable little dog.

Crunchy pie crust featuring shortcrust pastry to cover a carrot cinnamon cake.
Delicious chocolate crust to cover a creamy rice pie.

Fox-shaped spicy side dish with bulgur, Thai rice, and chili sauce!
Butterfly out of mashed potatoes, dyed with squid ink, topped with rice, roasted bell peppers, pineapple, carrots, apple, and capers.

Poke platter with sushi rice, fresh tuna, and nori seaweed.
Lovely mix of seafood and smoked salmon with rice and samphire.

Fun plate in the shape of a salamander featuring shortcrust and colorful pancakes.
Marine inhabitant out of beetroot and potato mash with steamed zucchini, tomatoes, and mozzarella.

Woodpecker poke plate with sushi rice, tomatoes, wild mushrooms, and shiitake mushrooms.
Greek pasta with homemade tomato sauce, green haricots, chives and feta cheese.

Sweet strawberry kitten cheesecake makes a perfect dessert for a sunny day!
Mother and child kangaroo out of hummus, bulgur, and couscous.
The artist said that it is hard to choose which of her pieces is her favorite, but if she had to, it would be either the lion, the unicorn, the zebra, or the Bengal tiger. In case you feel it's a shame to eat such beautiful food art, Stokkermans assures that her plates are absolutely meant to be eaten, and we wholeheartedly agree — after all, food waste is no small issue.
Which of Jolanda Stokkermans' food art creations is your favorite? Tell us in the comments section, as we would love to know.